WWE Clash of Champions 2019 Live Results & Updates- 15 September 2019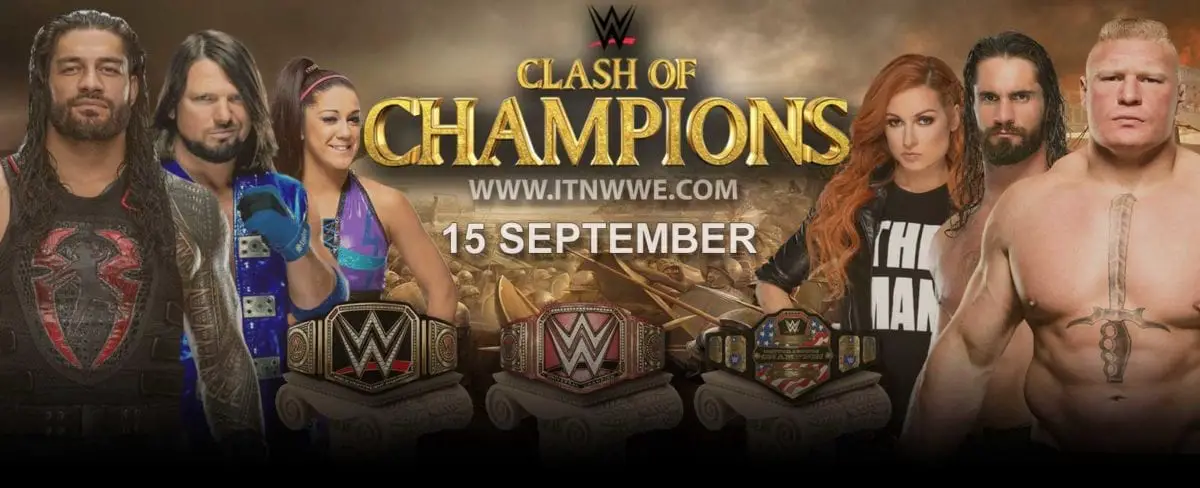 Welcome to the Live Results and Updates Blog for WWE Clash of Champions 2019 show on 15 September 2019.
Location: Spectrum Center, Charlotte, North Carolina, United States
Date: 15 September 2019
Time: Kick-off Show: 6 PM EST(10 PM GMT/ 16 September 3:30 AM IST)
Main Show: 7 PM EST (11 PM GMT/ 16 September 4:30 AM IST)
After SummerSlam 2019, a pleasant 5 weeks break has come between two WWE PPVs as Clash of Champions come around. Renewed pushes is the highlight of the card as the faces like Cedric Alexander, Robert Roode, a returning Sasha Banks, a heel Bayley, Sonya Deville and Mandy Rose get place on the card.
Another feature of the card is convoluted storylines. Seth Rollins and Braun Strowman on the RAW side of the championships, and the New Day vs Randy Orton & the Revival will be gunning for SmackDown side of championships. And lastly, 4 horsewomen- Becky Lynch vs Sasha Banks and Bayley vs Charlotte Flair, go against each other for the respective championships.
If WWE would play their cards right, this show might become the steller hit of the year. Find all the details and match card for the show below. (Quick Results on the last page)
WWE Clash of Champions 2019 Quick Results Match Card
Drew Gulak defeated Lince Dorado and Humberto Carrillo to retain the WWE Cruiserweight Championship
AJ Styles defeated Cedric Alexander to retain the WWE United States Championship
Robert Roode and Dolph Ziggler defeated Seth Rollins and Braun Strowman to become the new WWE RAW Tag Team Champions
Bayley defeated Charlotte Flair to retain WWE SmackDown Women's Championship
The Revival defeated the New Day to become the new WWE SmackDown Tag Team Championship
Alexa Bliss & Nikki Cross defeated Fire and Desire to retain the WWE Women's Tag Team Championship
Shinsuke Nakamura defeated The Miz to retain the WWE Intercontinental Championship
Becky Lynch defeated Sasha Banks to retain WWE RAW Women's Championship
Kofi Kingston defeated Randy Orton to retain WWE Championship
Erick Rowan defeated Roman Reigns in a No DQ Match
Pre-Show Results Coverage for Clash of Champions 2019
The kick-off show starts with Jonathan Coachman welcoming us with Kayla Braxton, WWE Hall of Famer Booker T and David Otunga. The team joke around about everyone being the tag team champion before starting to run down with the card for tonight's show.
The discussion starts with Becky Lynch vs Sasha Banks match. After the short recap, David Otunga comments that Sasha was bitching when Becky was taking her chances. Booker T notices that Sasha has put on 8-10 pounds. Next up is the SummerSlam rematch between Randy Orton and Kofi Kingston and we see how vicious Orton can be. Kofi and Big E join the show and Braxton asks them about Xavier Woods. He also enters the frame. Kofi says that he feels ready for tonight as it going to be him vs Randy one on one. The trio assures us that they are going to remain our champions.
We revisit the complete Roman Reigns Saga as his match against Rowan comes up for discussion. Booker mentions that sometimes you try to get up by hogging on the spotlight from someone who is already successful and Otunga agrees but he does not agree with Rowan's way of pulling it out. The camera now shifts to the ringside where Vic Joseph welcomes us for the first match of the night.
Drew Gulak(c) vs Humberto Carrillo vs Lince Dorado-Triple Threat Match, WWE Cruiserweight Championship
Lince Dorado enters first followed by Humberto Carrillo and Drew Gulak in quick succession. Gulak starts with a quick dropkick on Carrillo before both challenges takes him down with moves in tandem. They send him out with dropkicks and starts going in between them. Gulak pulls Carrillo out and Dorado takes them out with a suicide dive. Dorado is pushed from the top by Gulak and Carrillo and Gulak go at it. Gulak counters Carrillo before taking him down and putting in an armbar/shoulder stretch.
Carrillo fights out with some punches and kicks while Dorado also returns into action with a dropkick on him. Humberto manages to hit Gulak with a springboard overhead kick but is taken out by Dorado's splash. Gulak also dropkicks Dorado and puts him to the mat to get a quick 2-count. And now it's Dorado's turn to get into shoulder stretch. Dorado fights out and hits a springboard move.
Carrillo hits a rolling Moonsault for a near fall. He hits the Springboard Armdrag and throws Gualk to the outside. He sends Dorado outside too, right on Gulak's shoulder. Humberto follows them out with an incredible dive, taking them both out. Carrillo connects the missile dropkick only for the pin to be broken by Gulak. Gulak puts Carrillo in the corner and unloads. Gulak catches Carrillo off the top but he locks in the Sharpshooter. Dorado locks in Carrillo and Gulak picks him up to slam him on Carrillo.
Everyone is down in the ring after a series of moves which ends with a clothesline from Gulak. Carrillo and Dorado start trading strikes and they fight on top. Dorado hits the Hurricanrana off the top rope, and tries for a Shooting Star but misses it. Humberto hits the Aztec Press and Gulak comes in and throws him into the corner post. He hits a rolling German suplex on Dorado which gets him the pin.
Winner- Drew Gulak(retains the Cruiserweight Championship)
A video package for SmackDown Women's Title match. Sarah Schreiber is backstage with champion Bayley and Sasha Banks now. Banks and Bayley joke around and even mock Schreiber. Banks says they are going home with all the gold and we can bank on that.
---
AJ Styles(c) vs Cedric Alexander – WWE United States Championship
Shockingly, AJ Styles will be defending the US championship next on pre-show. Cedric Alexander comes out to a reception from his hometown crowd before AJ enters with his OC mates. AJ sends Gallows and Anderson back from the stage, telling them that he has got this one. Cedric is psyched as his name is announced.
Cedric comes out of the block with a falcon arrow to get a near fall. As Styles goes to the outside, he hits a plancha and then a springboard enziguiri to get another near fall. He hits another enziguiri from the apron before Styles punches him out. Styles hits a suplex, slamming him at the apron and then a Styles Clash on the mat outside. Back in the ring, an Ushigaroshi gets him near fall.
Cedric tries to come back in the match but gets into a calf crusher. After Alexander reaches the ropes, Styles has started to work on his leg. Cedric comes back into the match regardless by slamming Styles onto the mat. AJ counters Cedric, hits the phenomenal forearm and finishes things off with the second Styles clash of the match.
After getting the pin, he continues to stomp on Cedric and even brings out the Good Brother to take their frustration out on Alexander. That was a quick match, which looked like Flash in work.
Winner- AJ Styles(retains the United States Championship)
After a quick recap of the situation of Seth Rollins and Braun Strowman strolling backstage. Their RAW tag team championship will be defended to open the main show.
Main Show Results Coverage for Clash of Champions 2019
After the opening promo of the show, Seth Rollins comes out followed by Braun Strowman before their opponents make their way to the ring.
Seth Rollins & Braun Strowman(c) vs Dolph Ziggler and Robert Roode – WWE RAW Tag Team Championship
Seth Rollins & Braun Strowman(c) vs Dolph Ziggler and Robert Roode – WWE RAW Tag Team Championship
Roode and Strowman will start the match for their teams. The crowd gets amped up with 'get these hands' chants. Roode is thrown on the corner to start and Roode is shocked. They restart and Roode tries to headlock Strowman, only to be thrown in his corner to tag in Ziggler. Roode distracts Strowman but he is too good for them. Ziggler is put in the corner and Strowman hits a corner splash before tagging in Rollins.
Rollins hits a suplex on Ziggler after some strikes. Roode gets the blind tags and takes advantage of the distraction from Ziggler to send Rollins out. He distracts the referee as Ziggler hits a jumping DDT on the outside. Roode and Ziggler are keeping Rollins in their corner and making quick tags. Rollins backdrops Ziggler but he hits him by a scissor kick. Roode is keeping him down after a belly to back suplex.
Rollins finally comes back in the match with a Blockbuster to Roode. But Roode gets to the tag first. Ziggler tries to put Rollins in the sleeper and stalls the tag for some time. Rollins finally tags in Strowman after hitting a vertical Suplex on Ziggler. Strowman runs riot on Roode and Ziggler, destroying them with splashes ans tackles. Ziggler rakes him eyes and hits a superkick with a tag in Roode. Roode goes for the Glorious DDT but is backdropped.
Rollins gets into the ring, slams Roode into the mat. He hits a superkick, avoids Ziggler's distraction to hit a swing blade, suicide dive on Ziggler and gets ready for the stomp. But Strowman comes into the ring and pushes Roode onto Rollins. Ziggler low bridges Strowman, Roode hits Glorious DDT on Rollins and gets the pin.
Winners- Robert Roode and Dolph Ziggler, to become the new WWE RAW Tag Team Champions
Roode and Strowman celebrate and run off with the titles. Strowman and Rollins are not seeing into each other. Charly Caruso stops Braun Strowman backstage where he blames the loss on Seth Rollins. Strowman says Rollins is on a losing streak and he will make sure it stays that way when Rollins gets these hands tonight and take away the Universal Title from him.
---
RAW Women's Champion Becky Lynch is with Kayla Braxton now. She disagrees with Braun Strowman's comments on Rollins losing again. She addresses Sasha Banks now. Becky says she's had all this success and the greatest 12 months run in WWE history, but all Banks did was dye her hair. She goes on about how she's earned success, but all Banks has earned is this beating she will get tonight.
Bayley(c) vs Charlotte Flair – WWE SmackDown Women's Championship
Flair starts with a big boot and gets a quick 2-count. Bayley rolls out quickly and Flair follows her out. As they return to the ring, Charlotte hits a few chops before Bayley also gets some strikes. Flair hits a suplex and unloads on her. Bayley again moves out of the ring and gets slammed into the barricade a couple of times. Back in the ring, Flair gets another two count. Charlotte puts Bayley in the corner and hits corner tackles a couple of times.
Flair stomped on her leg and tries to lock in figure four. Bayley counters into a small package to get a two-count. Flair slams her into the corner and gets a few more strikes. Bayley trips Charlotte into the low turnbuckle and gets the pin. It turns out that she has removed the padding from the turnbuckle and Flair's head was slammed into the exposed part.
Winner-Bayley(retains the WWE SmackDown Women's Championship)
Bayley grabs the title and runs back quickly. Flair is distraught as we get to the replay.
The New Day(c) vs The Revival- WWE SmackDown Tag Team Championship
Dawson distracts Woods as he starts against Dash Wilder. Woods hits a knee to the face and takes Dash down with a chop while Big E runs over Dawson at ringside. Big E gets the tag and hits an urinagi for a two count. Woods and Big E both get taken out at ringside to give The Revival the upper hand. The Revival use the tag team tactics to keep Big E away from his corner. Dash and Dawson beat him down in the corner after he tries to mount a comeback.
Big E counters a sleeper but Dawson rakes his eyes and runs him into the turnbuckle. Big E whips Dawson into the corner hard as Woods starts to stir at ringside. Xavier gets back on the apron and both men make the tag. Woods comes in and takes the match to his opponents with a series of quick strikes. He hits a head-scissor takedown on Dawson followed by the Honor Roll on Wilder. He hits Dawson with a DDT but Dash stomps on his knee to break the pin.
Big E goes for a spear but gets sent out of the ring. The Revival hits him with a Shatter Machine at ringside. Woods tries desperately to fight off both men but they continue to go after his injured knee. The Revival rip off Woods' knee brace before Dawson locks him in a reverse figure four. Woods claws his way to the bottom rope but he is eventually forced to tap out.
Winners- The Revival(become new SmackDown Tag Team Champions)
After the match, Wilder and Dawson take the titles and celebrate. The reach the ramp as Woods and Big E are selling their injuries. The Revival say the WWE Universe are welcome because finally the titles are no longer coated in proverbial pancake batter and could consider themselves revived. They also say that later tonight we get an even bigger treat as Kofi Kingston loses the WWE Title to Randy Orton, who will extinguish his flame and it will finally be a New Day.
---
Backstage, Alexa Bliss and Nikki Cross are interviewed by Braxton. Bliss is in another one of those Harley Quinn cosplay. She deflects a question and Cross says she thinks she made her point on Tuesday and tonight is about retaining their titles. The boom mic drops into frame and we see that R-Truth as the mic operator, with Carmella at his side. He compliments Alexa's voice and she grabs the mic to tell all the 24/7 title folks that Truth is here. R-Truth starts running for his life once again as everyone start chasing him.
Alexa Bliss & Nikki Cross(c) vs Fire and Desire(Sonya Deville & Mandy Rose) – WWE Women's Tag Team Championship
Nikki and Mandy start and Rose hits Cross with a slam. Cross lays her out in return and mocks her with some dance moves. Sonya tags in and Nikki rolls her up for two before a headbutt to the body. Alexa tags in and they double team. Bliss hits a snap suplex for two-count. Mandy tags back in and Bliss drills her with a right hand. She does it again when Rose yells at her for hitting her in the face. R-Truth and Carmella are chased to the ring by a bunch of Superstars. As the referees try to keep the crowd out of the ring, Alexa rolls Truth up for a two count before he makes his escape.
take control after the mayhem dies down. Rose holds up Bliss for a vertical suplex for about 10 seconds before Deville hits a running knee for a two count. Alexa fights out of a body scissor submission but can't get to her corner. Mandy and Alexa knock each other down with stiff right hands. Cross gets the hot tag and goes wild. She hits a suplex followed by a crossbody for two. Deville rips Bliss from the top turnbuckle. Mandy and Sonya hit their double team finisher but Cross breaks up the pin at the last second. Nikki comes in and hits a hanging neck breaker on Mandy to get the pin and the win.
Winners- Nikki Cross and Alexa Bliss(retain the Women's Tag Team Titles)
The Miz enters for his match against Shinsuke Nakamura. Sami Zayn makes his entrance in a neck brace and complains about the Undertaker hurting him with a chokeslam. He also berates Miz and hypes his guy Shinsuke Nakamura. Nakamura makes his way to the ring and is wearing a red cape apart from the black outfit.
Shinsuke Nakamura vs The Miz- WWE Intercontinental Championship
Miz takes Nakamura down with an arm drag but Nakamura counters it into a hammerlock.
Miz hits a series of chops before hitting a knee strike after whipping Nakamura. He corners Nakamura and back body drops him out of the ring. He grabs the mic from Sami and throws it away. The distraction allows Nakamura to hit a big boot on Miz at the apron. He hits a diving clothesline next and brings Miz back to the ring. He unloads in the corner before Miz comes back with a kick on his shin.
After a couple of strikes, Miz starts the series of his signature running knee strikes and then a reverse splash. Nakamura counters the figure four attempt and locks in Miz briefly. Miz hits a DDT to get two-count. Nakamura takes control and drops Miz on his face with a front suplex. Miz dodges the Kinshasa and locks in the Figure Four. Nakamura reaches the bottom rope before rolling Miz up for a near fall.
Sami distracts the referee after Miz hits his the Skull Crushing Finale. The Miz chases him around the ring and runs right into a kick from Nakamura. The Artists rolls him back into the ring for the Kinshasa to score the win and retain his title.
Winner- Shinsuke Nakamura(retain the WWE Intercontinental Championship)
Becky Lynch(c) vs Sasha Banks – WWE RAW Women's Championship
After the usual entrances and announcements, they start the match. They circle around and Becky decks Sasha to start. She slams her face into the match and continued to dominate for the next 30 seconds. She slams Sasha into the mat once more but as Sasha ran off the rope, she tried to lock in the Bank Statement early on. Becky replied with her own attempt of the DisArmHer. Sasha moves out of the ring and Becky hits the sliding dropkick. She throws her around the ringside and hits a couple of sidekicks at the apron.
Sasha finally takes over the control by pushing Becky from the apron. She hits a knee to her face and a few kicks on her back. Sasha tries a stretch but could not hold onto it. Becky tries to come back but Sasha hits a knee to her face to get two-count. They battle and trade counters as each tried to hit the suplex. As Sasha sets up for the splash off the top, Becky gets her knees up, hitting into Sasha mid-section.
Both women were down and get up after the referee reaches 5 counts. Becky takes Sasha down with running tackles and clotheslines. She hits a back to back suplex but as she runs in from the rope, Banks locks her into the Bank statement but only for a brief period. Becky hits a clothesline but could only get two. Sasha counters and hits a splash off the second rope to get a two-count of her own.
Sasha hits the running double knee stomp and tries to lock in the Bank statement. Becky masterfully counters it into the DisArmHer. Sasha struggles but gets her feet to the ropes. Becky hits a missile dropkick off the top to get another two-count. She unloads on her in the corner but as she goes for the springboard kick, Sasha counters and hits a backstabber, followed by the Bank Statement. Becky reaches the ropes and Sasha uses the ropes to hurt her arm.
Sasha frustratingly grabs a chair and hits it to Becky's midsection from behind the referee. She gets in the ring and hits a running knee to once again only get a near fall. Sasha brings in the chair but the referee grabs it. As Sasha argues with the referee, Becky grabs it. But her strike hits the referee instead. She continues to strike Sasha with it. The fight spills into the crowd and both women ran up and down beating each other, trading control briefly.
They reach the ring and Sasha grabs another chair. Becky kicks her into the midsection and put the chair to good use. She slams it on her back and then on her arm. She goes on to lock the DisArmHer using the chair to hurt Sasha's arm. Some referees and backstage crew finally runs out to control the proceedings. The announcer tells us that Becky has been disqualified for striking the official but will retain the title.
Winner- Sasha Banks by DQ, Becky Retains the title
Kofi Kingston(c) vs Randy Orton – WWE Championship
They size each other up to start and Kofi uses a waistlock. Orton breaks the hold with an elbow to the face. Kofi hits a back elbow and follows up with a forearm in the corner. Randy rolls out of the ring to recover. Kofi hits a bunch of chops but Orton stops him with a poke to the eye. Randy corners him for some chops of his own. Orton hangs him up on the top rope and blasts him off the apron into the barricade.
They take the fight out of the ring and Orton drops Kofi onto the barricade before hitting a suplex on the floor. Kingston hits a dropkick from the corner to give himself some time to recover. Randy grabs him and throws him into the ring post. He slams Kofi's head into the steel steps before bringing him back in. The champ starts to make a comeback but Orton counters Trouble in Paradise with a backbreaker to get a near fall.
Kofi regains the upper hand and hits a high crossbody for a two count. Orton pokes him in the eyes when the ref has his back turned. Kingston counters a superplex and drops Orton's face onto the turnbuckle. Orton hits a snap powerslam out of nowhere for a close two count.
Orton lines up for the RKO but Kofi rolls him up for two. Orton hits the RKO but Kofi is able to get his foot on the rope to force a break. Kofi hits Trouble in Paradise for the pin and the win.
Winner- Kofi Kingston(retains the WWE Championship)
Roman Reigns vs Erick Rowan – No Disqualification match
Roman meets Rowan outside the ring as he was making his entrance. He hits some punches and slams him into the barricade. Back in the ring, he unloads in the corner but Rowan hits a shoulder tackle as Reigns runs off the rope. The action once again goes to the outside as Rowan tosses him around and into the barricade a couple of times. Reigns dodges a spear as Rowan crashes into the steel steps. Reigns grabs the kendo stick but Rowan break it on his back.
Rowan uses the steel steps to send him into the crowd. They fight among the crowd for a while before coming back to the ringside. Back in the ring, Rowan hits a standing splash and then a clothesline off the top to get a two-count. He hits a punt kick and another kick. Reigns hits a punch but Rowan slams him with urinagi to get another two-count. Rowan runs over Reigns with a clothesline and brings him back into the ring. He hits a running splash but doesn't go for a cover. Rowan hits a flying elbow from the middle rope for a two count.
Roman tries to fight back but side slam puts him down for another two count. Rowan exposes the top of the LED board and drops Reigns on top. Rowan charges but runs into a Samoan drop. Upon his next charge, Rowan once again gets slammed into the turnbuckle and then eats the steel steps. Reigns hits the Superman Punch but could only get two. Rowan gets out of the ring. Reigns follows him. Rowan catches him in the charge and hits a chokeslam onto the announce table. He quickly takes Reigns to the ring, only for a near fall.
Roman drills Rowan with a Superman Punch for a two count. They end up outside the ring and The Redwood powerbombs Reigns through a table. He rolls Roman back in but only gets a near fall. He pulls Reigns back out of the ring and uses the ring bell as a weapon. Rowan once again takes the action to the crowd and stikes Reigns for some time. Reigns tries to come back and gets a few punches of his own. But Rowan hits Iron Claw Slam and sends him through a production crate.
They reach the ramp where Rowan once again tries to use the Jimmy Jib Camera. Roman grads a rod lying around and hits it into Rowan's midsection. He uses the Jimmy Jib to hurt Rowan some more. After a Superman punch, he was taking Rowan to the ring…. When Luke Harper attacks him from behind. The Bludgeon Brothers have reunited once again. They combine to punish Roman. And finally, Rowan hits the Iron Claw Slam to get the pin.
Winner- Erick Rowan
Seth Rollins vs Braun Strowman – WWE Universal Championship
Strowman runs over Rollins right away but The Beastslayer is able to counter a power slam. Seth hits three superkicks in a row to take him down. He climbs up and hits a frog splash for less than one count. Braun counters a Stomp and slams him to the mat. Strowman tosses him a couple of times across the ring and headbutts him. He hits a couple of punches in the midsection and then an uppercut.
Strowman charges to him after another headbutt. But Rollins sidesteps, leading Braun into the ring post. Rollins follows it with a springboard knee. Strowman counters a splash attempt to send Rollins to the outside. Strowman uses the running tackle a couple of times and brings Rollins back. Rollins rolls outside once again and trips Strowman's charge into the announce table. As they get up, he hits back to back suicide dives.
Braun catches the third dive but Rollins rolls out as Strowman goes for the power slam. Rollins hits a superkick which sets Braun on the table. Rollins climbs the turnbuckle but Braun runs up the steps and pushes him off. Seth attempts a superplex but Braun sends him crashing to the mat. Strowman gets on the top turnbuckle and hits a huge splash. He makes the cover for a two count. Rollins applies a sleeper hold and gets Braun down to his knees.
Strowman gets out of the sleeper but Rollins hits the stomp. However, Strowman kicks out even before the first count. Rollins hits a second stomp but Braun kicks out again at two. Seth hits the third Stomp but Strowman once again kicks out at two. Strowman counters the fourth attempt but his knee gives out when he goes for a power slam. Rollins positions him to a Pedigree and hits it. He follows with the fourth Stomp and gets the pin for the win.
Winner- Seth Rollins(retains the WWE Universal Championship)
Rollins gets to the ramp while celebrating. He stands there and poses with the title. Suddenly, the lights went off and the screams start. Focus lights get on the ramp and its the Fiend. He already has Rollins in the Sister Avigail Position and nails it. He grabs Rollins in the Mandible Claw to choke him. Lights go off once again and the show goes off air after Wyatt's laugh.
PPV Results Chronology