Bobby Lashley On His Wish For WrestleMania Opponent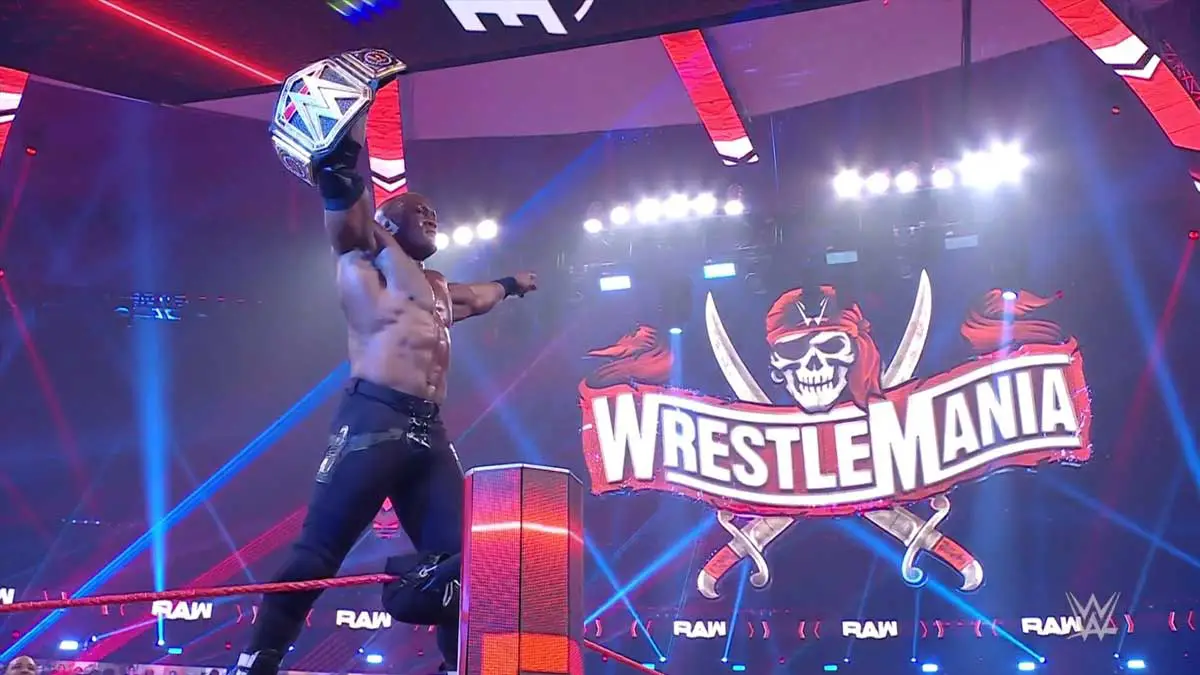 Bobby Lashley joined Ryan Satin for Fox Sports after his WWE Championship win earlier this week. Lashley was asked against whom he wants to defend the title at WrestleMania.
The first name that Lashley has on his mind is that of Drew McIntyre. Lashley believes Drew McIntyre has been one of the most dominant WWE Champion in history. He also added that betting odds might go crazy if he and Drew face-off at WrestleMania 37.
"Drew, definitely. Drew has been one of the most dominant WWE Champions in history. In history. He's definitely a force to be reckoned with, and to have a match against Drew would be just incredible," he said. "Because, right now, Drew is unstoppable. 'The Chosen One.' But the only man that can stop Drew [points to self]. The betting odds are gonna go crazy on that one. Me against Drew. What's the over/under. Who wins that? Who's the favorite? And if you say him, you're wrong!"
The next name on Lashley's list is that of Brock Lesnar. WWE Champion almost taunted Lesnar by asking where the Beast has been, is he in the woods somewhere. Lashley also added that while he has been calling out Lesnar for a match, Lesnar did not have any reason to come after him, but having the WWE Championship gives Lesnar a reason to come after him.
"Another person, 'The Beast.' Where is he? Is he trapped in the woods somewhere? Is he hiding? Is he ready for his big return? Like, where you at, bro? Everybody knows. You know. I know. Drew knows. Everybody knows that when Brock comes back, there's gonna be a lot to answer to, and I welcome it. Before, it was one of those things where everybody said they wanted to see that match, and that match was probably not ever gonna come. Didn't have anything that he wanted. But I do now. So it's different. We'll see. We'll see if 'The Beast' comes back out to play."
Lashley also mentioned wanting to face Roman Reigns but added that Roman is busy with Edge for now. He also namedropped John Cena who always comes back for a big match at WrestleMania every year. Braun Strowman was also on Lashley's mind until their match last week on RAW.
"And then, I am looking at the top there are so many other people that I can put in the last spots. Roman is already there with Edge. John Cena always comes back for WrestleMania for that big show match.
The one, before having the match last week, I would definitely throw in Braun Strowman in there, because I like fighting with Braun. I like the matches that are not easy matches. And Braun, just saw last night on RAW, just throwing people around. So, that would be a hard match."
Lashley also called Randy Orton the greatest wrestler in the history of wrestling. He is also excited for the guys like Ricochet, Mustafa Ali, Drew Gulak and Matt Riddle and to matches against them.
"Randy is probably the greatest wrestler in the history of wrestling. I can watch Randy do nothing for hours and he makes it something that just blows your mind. Because the guys is incredible. I would like to be able to in the ring just to learn more from Randy. I have nothing but good things to say about him.
But there are so many other guys on the roster. There are some guys that are just not being mentioned right now, are incredible. You have Ricochet, [Mustafa] Ali, Drew Gulak.. just so many guys. They are amazing when they get the opportunity to show things. There is also Riddle. He is doing big things. We just had a big angle."
WWE Champion also wants John Morrison to be given the opportunity to shine and even proposed to recruit him to Hurt Business if it came to that.
"John Morrison came back. He is just like being the handyman. John isn't the handyman. We need to bring him in the Hurt Business so he can show people What's Up. We need to put some respect on his name because John Morrison is a superstar when given the right opportunity. He came in just like I came. He is like not rocking the boat… Just having fun. But there is going to be a time when he is gonna be like – I am tired of this.. I am tired to gifting instead of taking. I have to make that statement. That's what I told him. I told him yesterday- stop giving and start taking because you deserve it."
Bobby Lashley is most likely to face Drew McIntyre at WrestleMania 37. However, his opponent for Fastlane 2021 is not clear yet. Keep tuning in for the latest updates.