AJ Styles vs The Undertaker – WrestleMania 36 (2020) Complete Storyline
This is the complete storyline for the WrestleMania 36(2020) match between AJ Styles and The Undertaker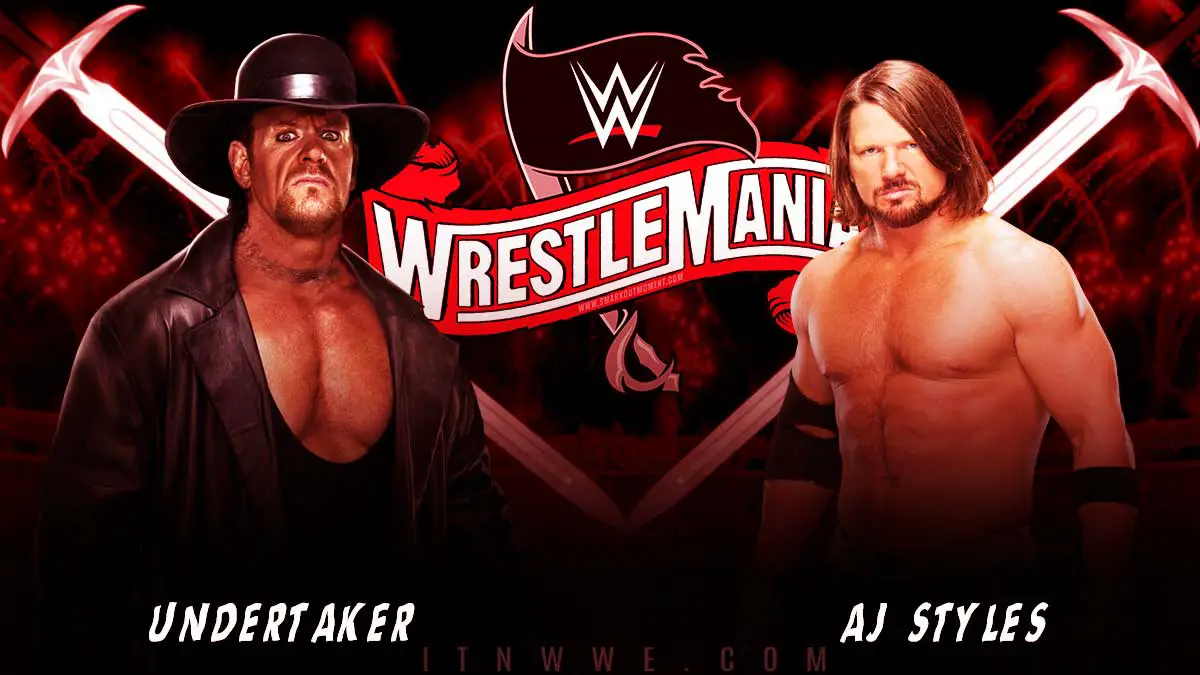 WWE Super ShowDown 2020 – 27 February 2020 – AJ Styles eliminated R-Truth from the Gauntlet match for Tuwaiq Mountain Trophy and only had one more participant to face in Rey Mysterio. However, before Mysterio could enter the match, Styles' stablemates- Luke Gallows and Karl Anderson attacked Mysterio backstage.
Upon insistence from Styles, the referee started counting down to 10 for Mysterio to enter the match. In between this, Anderson and Gallows were attacked backstage by some unseen fellow. The next moment, the camera cut to The Undertaker's legs. The Undertaker then made his grand entrance and choke-slammed AJ Styles to pin him, winning the inaugural Tuwaiq Mountain trophy.
2. WWE Elimination Chamber 2020 – 8 March 2020 – AJ Styles faced Aleister Black in a No-Disqualification match. After Black fought brilliantly throughout the match, Styles was once again aided by Gallows and Anderson against Black. The Undertaker then appeared in the ring as the lights went off. He choke-slammed Anderson and Gallows and then Styles, before leaving. Black hit his finisher on Styles and pinned him.
3. WWE RAW – 9 March 2020 – AJ Styles cut a promo on The Undertaker. He blamed his wife Michelle McCool for The Undertaker coming back to WWE again and again, when he was clearly past his best. The Phenomenal One made more insulting comments on Undertaker before challenging him for a match at WrestleMania. Styles also referenced that he will put the final nail in the coffin for The Undertaker.
4. WWE RAW – 16 March 2020 – WWE then announced a contract signing segment for RAW episode of 16 March between The Undertaker and AJ Styles for WrestleMania 36 match. Taker entered the ring in a short entrance. He has also ditched his hat and his resemblance was more towards the Biker gimmick he used around 2002.
After not finding the contract in the ring, Undertaker started throwing away tables and chairs from the ring. AJ Styles appeared on the screen and cut another promo. He then signed the contract backstage and ordered Gallows and Anderson to take it to the Undertaker. As Gallows and Anderson approached the ring, Taker attacked them at the ringside. Styles and Taker had a staredown with Styles being projected on the entrance LED and Taker standing in front of the screen.