AEW Rampage Live Results & Updates December 30, 2022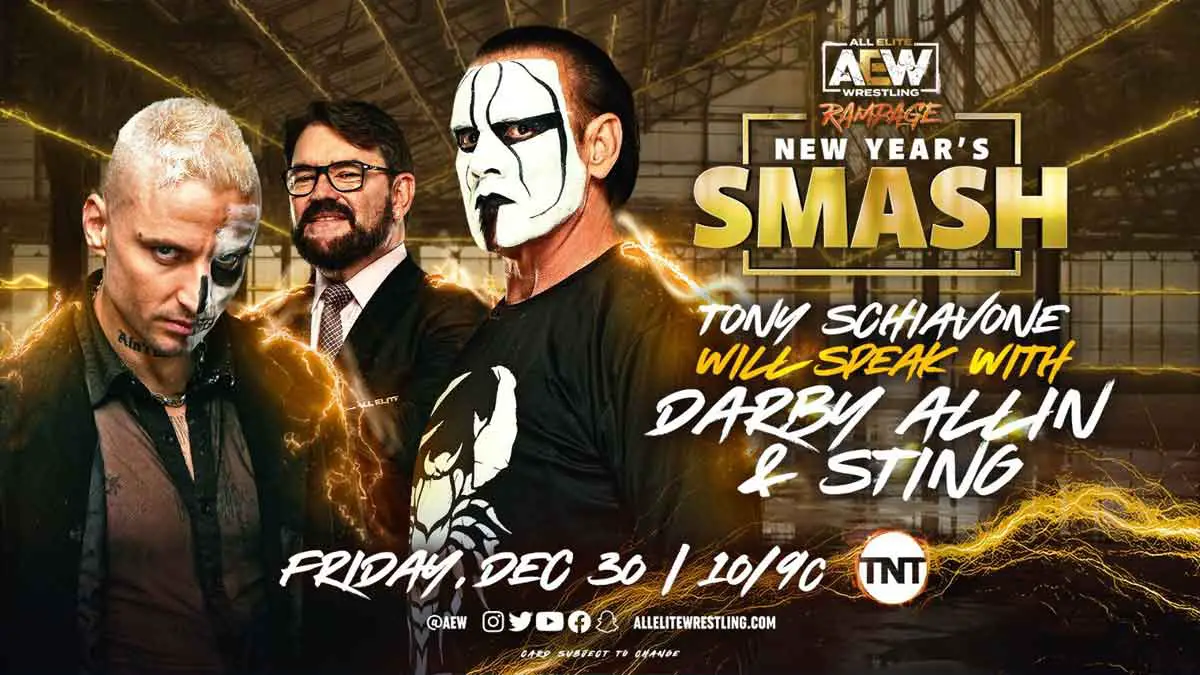 Welcome to the live results blog for AEW Rampage December 30, 2022 episode which will feature two title matches.
Orange Cassidy defends All Atlantic Championship against his own stablemate Trent Baretta while Jade Cargill defends TBS Women's title against her former stablemate Keira Hogan. Wheeler Yuta will face Swerve Strickland.
We will hear from Jon Moxley as well as AEW Women's Champion Jamie Hayter. Darby Allin and Sting will also get a backstage promo. The same goes for Jeff Jarrett, Jay Lethal and their group.
Check below for the results from AEW Rampage December 30, 2022 episode with live updates, complete action, videos and more.
RESULTS
Orange Cassidy(c) defeated Trent Baretta in a singles match via pinfall to retain AEW All Atlantic Championship.
Kip Sabian defeated An Enhancement Talent in a singles match via pinfall.
Jade Cargill(c) defeated Keira Hogan in a singles match via pinfall to retain AEW TBS Women's Championship.
Swerve Strickland defeated Wheeler Yuta in a singles match via pinfall.
LIVE UPDATES
Orange Cassidy(c) vs Trent Baretta – AEW All Atlantic Championship
Respectful start to the match with a handshake that goes a long. Baretta hits a back-to-back arm drags as the action picks up. Cassidy blocks the third armdrag. He hits a shoulder tackle after they run the ropes. They face off in the middle. They block arm drags from each other before Cassidy is thrown to the floor. Baretta asks for Best Friends hug but Cassidy goes for a waistlock and pushes him out to the floor.
Baretta goes for a suicide dive but Cassidy walks away. Baretta almost hits Chuck Taylor with it but they turn it into a hug. Cassidy hits a dive next. He hits a diving crossbody from the top next. Baretta throws Cassidy to the floor. He hits a dive to push Cassidy into the barricade. Cassidy avoids a tackle and Baretta crashes into the corner. We cut to a break.
Back from the break, Cassidy hits his lazy shots. Baretta take them before dropping him with a clothesline. Baretta blocks stundog millionaire and hits a suplex. Cassidy hits back with Michinoku Driver to get a close two-count. Baretta blocks Beach Break and goes for Piledriver. Baretta sends Cassidy to the corner. Cassidy hits a DDT and follows up with a diving DDT but Baretta kicks out.
Cassidy removes his elbow pad. Baretta goes for a piledriver but Cassidy turns it into a crucifix to get a two-count. Baretta hits him with twisting tombstone to get a close two-count. Baretta hits a piledriver next to get a near fall. Penelope Ford walks down the ramp and to the ringside. She gets Baretta into talking. Cassidy hits Beach Break for a near fall. He follows up with Orange punch to get the pinfall.
Winner – Orange Cassidy
Baretta walks away while Chuck Taylor follows him. Cassidy walks out alone.
---
Tony Schiavone caught up with Darby Allin and Sting to ask Darby about match against Samoa Joe next week. Darby says he is glad that the match is in his hometown. Darby says he was 115 lbs in high school and nobody believed that he could become a pro-wrestler. He does not know if anybody in his hometown believes in him. He also does not know if Sting also believes in him. Sting says if he says he believes in Darby, Darby will get cheap off his shoulder, which he does not want. Sting says it is on Darby to prove it to everyone.
Kip Sabian vs Enhancement Talent
Sabian starts with a headbutt. He hits a step-up enzuigiri in the corner before hitting a cannonball. Sabian hits a diving foot stomp next. Sabian puts on Orange Cassidy's elbow pad and hits a Orange Punch to get the pin.
Winner – Kip Sabian
Preston Vance is interviewed backstage. He says his new name is Pero Peligrosa. Vance says he was forced to wear a mask for the past two years and made some stupid gestures. He also says he does not have any remorse since he is able to get a spotlight.
---
Jon Moxley is in the ring with Tony Schiavone. Tony asks him about Adam Page inserting himself in any of his match for the past few weeks. Moxley says two men stood above the rest in AEW for the first three years – Adam Page and Jon Moxley. So, a showdown was inevitable and when that showdown took place, he was the one standing tall. Moxley says he slept like a baby after he knocked Page unconscious since Blackpool Combat Club work harder than anyone else and does nto care about anyone's safety. Moxley challenges Adam Page for a match in two weeks if he gets himself cleared. And if Hangman can get to that match, he will make everyone remember how hard this business can be.
---
Sonjay Dutt leads a backstage promo from his stable. Jay Lethal screams at The Acclaimed as he takes offense on their latest rap. Jeff Jarrett says he has done a few things in his career that he regrets and Max Caster will regret that rap against him.
Jade Cargill(c) vs Keira Hogan – AEW TBS Women's Championship
Hogan tries to take Jade down but fails. Jade hits a kick to midsection. She goes for a suplex but Hogan lands on her feet. Jade thwarts her attack and drops her with a chokeslam. We cut to a break.
We return to see Jade in control. She argues with the referee when she stops her from attacking in the corner. Jade tackles Hogan to the floor. Leila Gray holds Hogan but Velvet stops Jade from attacking Hogan. Hogan hits a kick to midsection.
Back to the ring, Jade hits back with a kick before Hogan starts creating momentum with a tackle and a back splash. She hits a diving crossbody off the top to get a close two-count. Hogan looks for her finisher but Jade turns it into The Jaded to get the pinfall.
Winner – Jade Cargill
Red Velvet walks away alone while Jade watches her from the ring.
Wheeler Yuta vs Swerve Strickland
We get a final face-off between the main event players with Mark Henry. They start by jockeying for position as they try to get control with a vertical base. The slow start continues as they work more on grappling. Swerve goes for a single-leg crab. Yuta gets a takedown and hits a senton. Swerve trips him with a leg sweep but Yuta blocks a suplex.
Yuta goes for a single-leg suplex of his own and then transitions into a bow & arrow stretch. Swerve rolls him up with a pin attempt. Yuta hits a dropkick to send him to the floor and then hits him with a suicide dive. The Mogul Affiliates distract Yuta and Swerve catches him with a kick and follows up with a dive to take us to a break.
Yuta hits a hurricanrana as we return. He hits a couple of back body drops. Yuta reverses an inside cradle for a two-count. Yuta goes to the top and hits a flying elbow before a one-legged kip up. Yuta is selling an injured leg. Yuta hits a German suplex bridge to get a close two-count.
Swerve hits a rolling elbow and follows up with a brainbuster for a close two-count. Swerve hits some uppercuts. He blocks a counter with kicks to Yuta's knees. Yuta still gets roll-up for a two-count. Swerve nails him with a big punch. Yuta jumps back off the ropes to nail Swerve with a shot to get a two-count. Swerve gets him to the corner and unloads. He hits a dropkick to the knee.
Swerve goes to the top for the stomp but Yuta hits him with an enzuigiri. Yuta hits a superplex. Yuta hulks up and hits hammer elbows across his neck. Swerve hits back heel kick to get a close two-count. Yuta blocks JML driver but the referee is hit with an elbow. Swerve hits a low blow as Yuta was coming off the corner. Swerve follows up with JML Driver to get the pinfall.
Winner – Swerve Strickland