AEW Fyter Fest 2022 Results, Week 2 Live Updates (Dynamite July 20)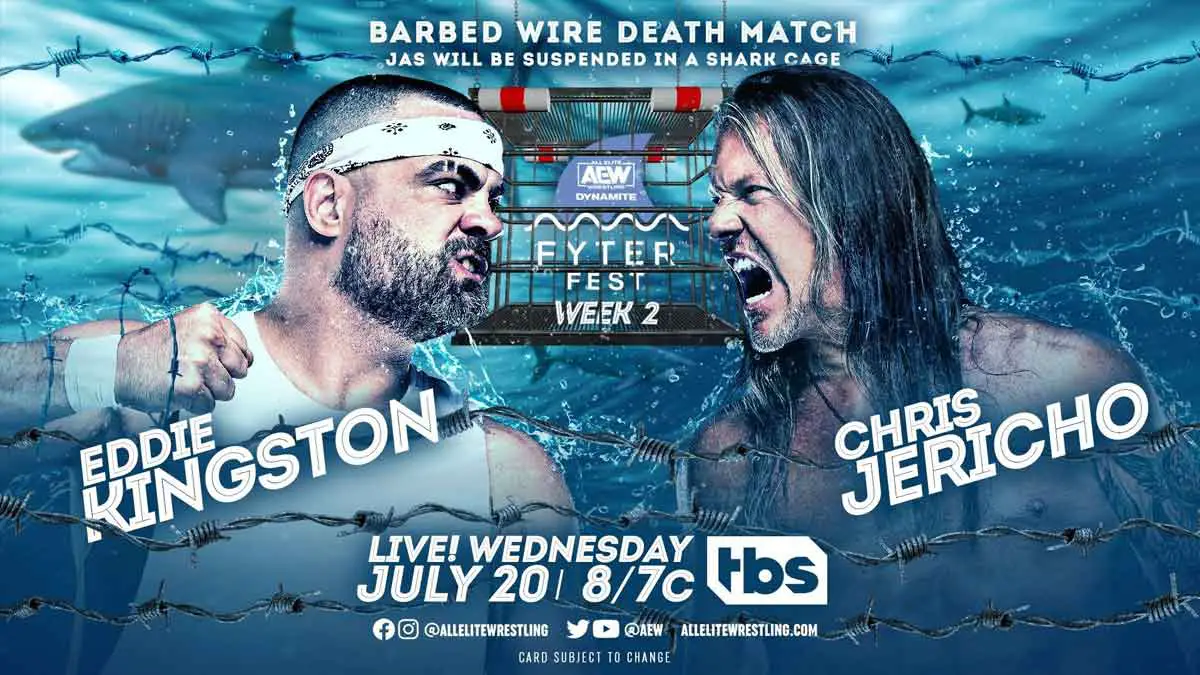 Welcome to the live coverage blog for AEW Fyter Fest 2022 Week 2 results which will be a Dynamite special episode on July 20, 2022.
The most anticipated match is a barbed wire match between Chris Jericho and Eddie Kingston. Jericho Appreciation Society will be suspended in a shark cage. Wheeler Yuta & Jon Moxley will take on Best Friends in a tag team match. Christian Cage and Luchasaurus will also be in action in a tag team match against Varsity Blondes.
Darby Allin continues his feud with Brody King in a singles match. The Baddies will face Athena, Kris Statlander and Willow Nightingale. Tune in as we bring in the results from AEW Fyter Fest 2022 Week 2 with live updates, winners, videos, highlights and more.
Live Updates
Live updates will be posted from 8 PM EST onwards.
Darby Allin vs Brody King
Darby comes out of the gate with a dropkick. Brody goes to the floor and catches Darby's dive. Back to the ring, Brody cuts him off with a big shot. Darby jumps on his back and Brody shakes him off, follows with a senton. Big chops from Brody in the corner. Darby jumps on him from the top but Brody just swats him away. He throws Darby around with ease for a while. Brody follows him to the floor and throws Darby into the barricade a few times. Back to the ring, Darby hits some forearms. Brody drops him with just one forearm. Brody hits another big chop and throws Darby to the floor again. We cut to a break.
After the break, Brody takes Darby back to the ring. Darby slips out from the other side and has a belt in his hands. Darby puts the belt on Brody's legs. Darby unloads on Brody and then hits a suicide dive. Back to the ring, Brody drops him on the top turnbuckle and slugs him with chops to the front and back. Brody misses a cannonball. Darby hits Code Red to get a near fall. He puts on a shoulder lock before transitioning to a rear naked choke.
Brody gets up and cannonballs with Darby into the corner. Darby slams Brody's neck on the turnbuckle. Brody puts him in a rear naked choke on the apron on Darby and hangs him in the air. The referee starts to count as Darby is dropped to the floor. He manages to beat the count somehow. Brody hits Gongo bomb to get the pin.
Winner – Brody King
Brody continues to beat up Darby after the match. Sting comes out to make the save. Sting was about to hits Scorpion Death Drop when the lights went out. Sting and Malakai Black are staring down at each other when the lights return. Brody puts on rear naked on Sting and Black hits him with Black mist. Miro's music hits and he comes out to the ramp and stares down at Brody and Black.
---
Cole Carter is interviewed backstage and is interrupted by Ricky Starks and Powerhouse Hobbs. Starks says he is the FTW Champion and that will remain so. Cole claims that he is winning tonight.
Best Friends(Trent Baretta & Chuck Taylor) vs Blackpool Combat Club(Jon Moxley & Wheeler Yuta)
The bell rings and Mox takes down Baretta with a waistlock takedown. Baretta turns it around with a headlock. Mox puts on a hammerlock. Baretta hits him with back elbows before starting a battle of chops. Mox hits a dragon screw and tags in Yuta. Yuta calls out Taylor to come into the ring. Taylor pushes him to the corner. Orange Cassidy is on the commentary and "arguing" with William Regal. Taylor hits a shoulder tackle to drop Yuta.
Some struggle on the mat before they come to a stalemate. Taylor hits a big chop. Baretta tags in and takes down Yuta with double leg and some ground and pound. Yuta does the same with Baretta also. A manhattan drop and an enzuigiri from Yuta. Baretta counters and nails him with forearm shots. Taylor tags in and sends Yuta into the barricade a few times. Moxley is pissed off at Taylor and throws a chair towards him as we cut to a break.
We return to see Yuta and Taylor laid out in the ring. Moxley and Baretta tag in. Mox hits a lariat, snapmare and elbow shots. Taylor breaks the pin. Mox throws Taylor into the timekeeper's area. Beretta hits back with elbows before Moxley counters with Ace Crusher for a near fall. Yuta tags in and Taylor interferes. Moxley gets involved and Taylor drops him. Trent hits a two back to back piledrivers on Yuta to get a close two-count.
Yuta avoids Strong Zero and hits a German suplex in reply. Baretta hits a rolling elbow and Beach Break. Moxley breaks the pin. Taylor hits Moxley with a neckbreaker. Taylor tags in and Yuta puts him in a guillotine choke. Moxley puts Baretta in a figure-four leglock on the floor. Taylor fights back in the ring and hits a suplex. Yuta rolls him up and gets the pin.
Winners – Blackpool Combat Club
AEW Tag Team Champions Swerve In Our Glory come out to the ring for a celebration of their title win. Shane "Swerve" Strickland gives a shout out to rapper Kevin Gates in the front row. Keith Lee says they are ready to defend the titles against anyone. They get interrupted by Mark Sterling and Tony Nese. Sterling tries to get Gates sign his petition to get Swerve removed from the AEW roster. Sterling has some insulting words for Gates. Gates tries to attack Sterling but Nese stands in between them. Gates drops Nese with a punch. Swerve slams Sterling with a cake to his face.
---
Tony Schiavone is with Dark Order and The Butcher and The Blade. John Silver hands Butcher with a "Butch" shirt and says he is his favorite wrestler. Butcher and Blade attack Dark Order. Adam Page runs in to make the save.
The Varsity Blondes(Griff Garrison & Brian Pillman Jr.) vs Christian Cage & Luchasaurus
Luchasaurus drops Pillman with a headbutt as the bell rings. He asks Garrison to come into the ring. Garrison comes in and hits elbow shots. Luchasaurus drops him on Pillman with a slam. Christian tags in and gets the pin.
Winners – Christian Cage & Luchasaurus
Christian gets on Luchasaurus' shoulder to celebrate. Jungle Boy returns to Dynamite after a month, and has a chair in hands. Luchasaurus stands in between JB and Christian, but then gives JB a clear path to take on Christian. Christian runs away and JB gives him a chase into the crowd.
Ricky Starks vs Cole Karter – FTW Championship
They circle the ring. Starks starts with kicks to midsection and chops. Starks whips him to the corner and hits a back splash. Another whip to the corner and Starks hits a lariat this time. Karter unloads with some shots of his own and hits a dropkick. Karter gets his boot up and then hits diving crossbody. Starks is sent to the floor as we cut to a break.
We return from the break. Karter hits a couple of clotheslines and a big boot to get a two-count. Starks goes for Roshambo but Karter slips out. Karter hits a cutter. He goes to the top and misses 450-splash. Starks hits a spear to get the pin.
Winner – Ricky Starks
After the match, Starks calls for an open challenge. Danhausen comes out to answer the challenge. Starks says he is worried for his neck and they will clash next week at Fight for the Fallen.
---
Willow Nightingale, Kris Statlander and Athena are backstage. Statlander is banned from ringside for tonight's match. They come to a conclusion that they should focus on titles now.
---
ROH World Champions FTR are out to the ring. They talk about 2022 being a great year for them, but nothing was bigger than Supercard of Honor where they won the ROH tag titles from The Briscoes. They say that they will fight hard just like Dax's eight year old daughter who fought through a hole in her heart in the last three years.
---
Jay Lethal is with Sonjay Dutt and Satnam Singh backstage. They are asked about Christopher Daniels. They talk trash about Daniels and then about Samoa Joe. Daniels comes in and challenges Lethal. They will clash at Rampage this week.
The Baddies(Jade Cargill & Keira Hogan) vs Athena & Willow Nightingale
The Baddies make their entrance. Stokeley Hathaway talk about Leila Grey's injury and that Statlander is banned from ringside. Jade cuts a brief promo as she comes down the ramp, saying that she is that bitch.
Athena hits a couple of armdrag. Hogan slams her face to the mat. Athena drops her with a big shot. Willow tags in and Hogan goes for a waistlock on her. Hogan cannot take her down with a tackle. She trips Willow but then misses a dropkick. Willow hits a low clothesline. Willow hits a body slam and then slams Athena on top on Hogan for a two-count. Athena knocks off Jade and throws out Hogan. Willow takes out both opponents with a cannonball into a neckbreaker. Athena also takes them out with a suicide dive. We cut to a break.
Back from the break, Hogan is in control against Athena. Athena hits a Death Valley Driver. Willow comes in and hits clotheslines on Hogan while also knocking off Jade. Willow hits a spinebuster and Jade breaks the pin. Jade and Athena face-off in the ring. They start trading shots. Jade sends Athena to the corner. Athena hits a big boot. Jade hits her with a Fallaway slam. Athena counters with Meteora. Jade goes to the floor. Athena hits a powerbomb on Hogan on the apron. Stokeley distracts Athena and Cargill sends her into the steel steps. Jade tags in and Willow gets her in a cradle to get a two-count. Jade hits a spinout powerbomb and then hits the Jaded to get the pin.
Winners – The Baddies
Thunder Rosa and Toni Storm are backstage with Tony Schiavone. Rosa talks about defending her title against Miya next week at Fight for the Fallen. Britt Baker and Jamie Hayter interrupt them and announce that they will compete on Rampage this week.
Eddie Kingston vs "The Painamker" Chris Jericho – Barbed Wire Match
Jericho Appreciation Society members are suspended in a Shark Cage. Jericho comes out as the Painmaker and has a barbed wire bat. Eddie Kingston comes out.
Eddie hits Jericho with a barbed wire mic as the bell rings. He gauges the mic on Jericho's head. Eddie chokes Jericho when he goes to the floor. Eddie slams Jericho's face on the timekeeper's table. Jericho hits him with the bell which is also wrapped with barbed wire. Jericho tries to drive Eddie into a barbed wire table but Eddie slams him into it instead. Back to the ring, Eddie throws Jericho into the ropes with barbed wire on it. Eddie sets up a wired table in the middle. He grinds Jericho's face in the barbed wire before hitting him with wire laden chair. Eddie goes for a powerbomb but Jericho fights back with rights. Jericho drops Eddie into the wired table with a headscissor. We cut to a break.
Eddie drops Jericho on the wired ropes as we return. They fight on the apron. Eddie puts Jericho through a table on the floor with a suplex. Tay Conti runs out and attacks Ruby Soho, who was at ringside already. Anna Jay runs out to separate them. Anna then turns on Ruby and smacks her with a forearm. Anna brings down the Shark Cage and Conti unlocks JAS from it. Garcia runs down and breaks the pin from Eddie. JAS beat down Eddie in the ring.
Ortiz, Claudio, Yuta and Moxley run down to make the save. Eddie puts Jericho through a wired table with a Saito Suplex. Jericho kicks out of the pin though. Jericho hits Codebreaker and gets a near fall. Jericho hits Eddie with a wired chair. Jericho goes for the Lionsault but Eddie throws the chair at him. Eddie hits a spinning backfist but Jericho kicks out of the pin. Eddie puts on stretch plum using a barbed wire. Sammy Guevara runs in and hits a superkick on Eddie. He unloads on Eddie and holds him up. Eddie tries to fight back but Sammy sends Eddie into a Judas Effect from Jericho for the pin.
Winners – Chris Jericho
Eddie throws Sammy out of the ring after the match. He then throws Jericho into a wire mash on the floor. The show closes with Jericho writhing in pain.