AEW Fight for the Fallen 2019 Live Results & Updates
Welcome to the Live Results and Updates Blog of AEW Fight for the Fallen 2019 show.
Date- 13 July 2019
Location- Daily's Place Amphitheater, Jacksonville, Florida, United States
Time- Pre-show- 7:30 PM EST(11:30 PM GMT/14 July 5 AM IST)
Main Show- 8:30 PM EST(14 July 12:30 PM GMT/6 AM IST)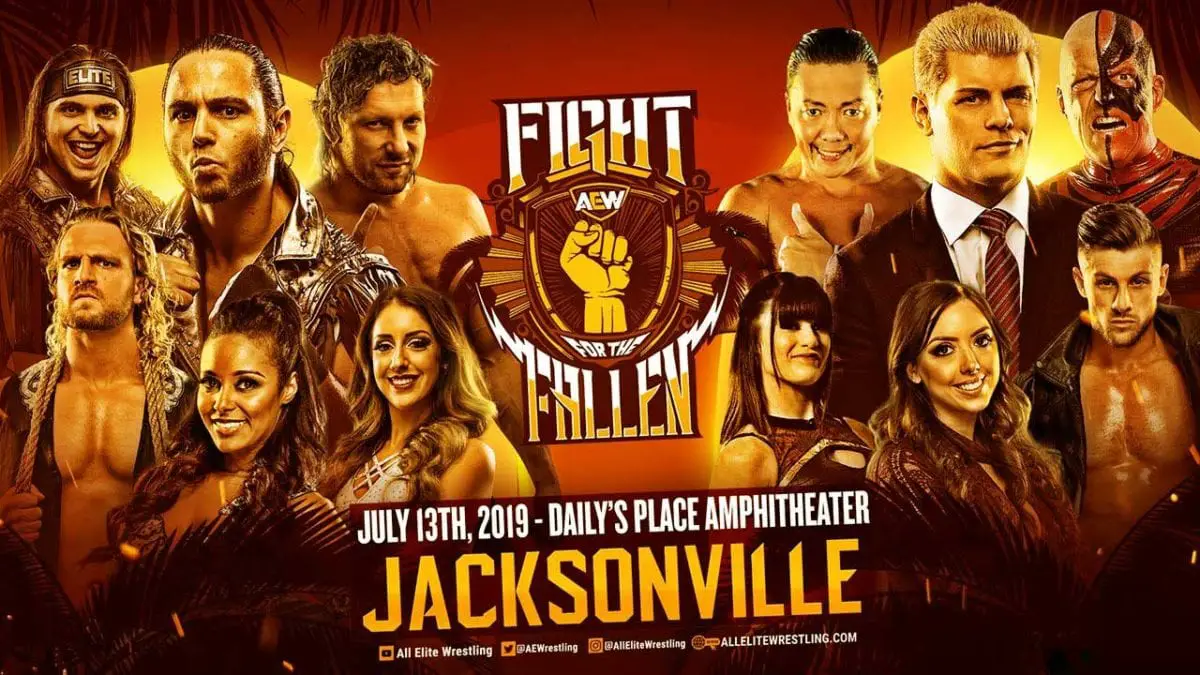 AEW Fight for the Fallen Kick-Off Show
Alex Marvez and Excalibur welcomes us to the show and go through the lineup for the night. The first match for the night is Sonny Kiss vs Peter Avalon.
Sonny Kiss defeated Peter Avalon(w/ Leva Bates)
Avalon sushes Kiss to start the match but Kiss does not take too pay heed to it. Kiss takes Avalon down with a hurricanrana before Avalon comes back with a leg lariat taking Kiss down. Kiss comes with the multiple back handsprings turned into a slap to the face. He twerks at Avalon, goes for a kick but gets blocked. He goes down into a split but eats a kick to the face followed by a pin attempt from Avalon. Kiss hits a suplex to get a two-count. Avalon replies with a dropkick.
Avalon sends Kiss to the outside and Leva Bates helps Kiss up and gently puts Kiss back in the ring. Sonny Kiss hits a Springboard and then ducks Bicycle kick with a Standing Arch. He hits a Moonsault to get a two-count. Bates distracts Sonny Kiss and Avalon takes advantage immediately. However, Kiss comes back without a pause. A Kiss Split from the top rope gets Peter Avalon pinned and Kiss has picked up his first win in AEW.
Backstage, Jen Decker talks with Cody and Dustin Rhodes. He asks about tonight's show and giving back to victims of gun violence. Cody said he couldn't be happier to give it back to a community that needs it. They are asked about facing The Young Bucks. Dustin says he plans on slamming them both to the mat so hard that their souls will leave their bodies. Cody is then asked if he's feeling 100% after taking that chair shot from Shawn Spears at AEW Fyter Fest. Cody said he wouldn't be here if he wasn't 100%, and says the Brotherhood is better than the Bucks.
Bea Priestley and Shoko Nakajima defeated Riho and Britt Baker
Nakajima and Britt Baker are starting the match for their two teams. Baker is taken down with a side headlock, Nakajima is able to transition into a single leg Boston crab, Baker able to easily get to the bottom rope. Nakajima tries to sneak through Baker's legs, Baker grabs Nakajima by the tail and kicks her.
Nakajima uses some misdirection to fly all around Baker, dropkick brings her down. Priestley is tagged in, stomp to the back. Baker sent into the corner, dodges Priestley. Baker with an arm drag, roll-up, one-count. Baker looks for the tag, ends up going to the wrong corner, goes to the corner and tags in Riho. Riho flies off the top rope, but Priestley is back up and hits a power slam.
Britt Baker finally makes it in, only to have Nakajima hit a Neckbreaker. Nakajima hits a Dropkick, but Britt Baker rolls and tags Riho. Riho comes in off the hot tag and immediately wipes out Bea Priestley. She gets a near fall on Nakajima, but Nakajima reverses and hits a 619. Bea Priestley interferes with Riho's comeback and results in Baker coming in and hitting her with a Slingblade.
Riho and Nakajima exchange strike in the center of the ring. Priestley and Baker come in and the two start to exchange big shots to the face. Priestley gets the better of it and hits the Double Knees. Baker gains back some control with Riho's help. Priestley sends Riho out with a Roundhouse Kick. She sends Baker out as well, and Nakajima hits both Riho and Baker with the Suicide Dive.
Bea Priestley tries a Northern Lights suplex for a near fall. Nakajima hits a Senton, but Riho breaks up the pin attempt. Riho comes in and hits a running knee to the back of Priestley's head. Riho hits the Double Stomp but Nakajima kicks out. Nakajima goes for a Senton and misses. However, as Riho runs in for a Hurricanrana, Nakajima reverses and gets the pinfall.
Post-match, Baker and Priestley go after each other a bit before Priestley smiles and heads to the back.
Please switch to the next page for more!!