AEW Dynamite Results & Live Updates February 8, 2023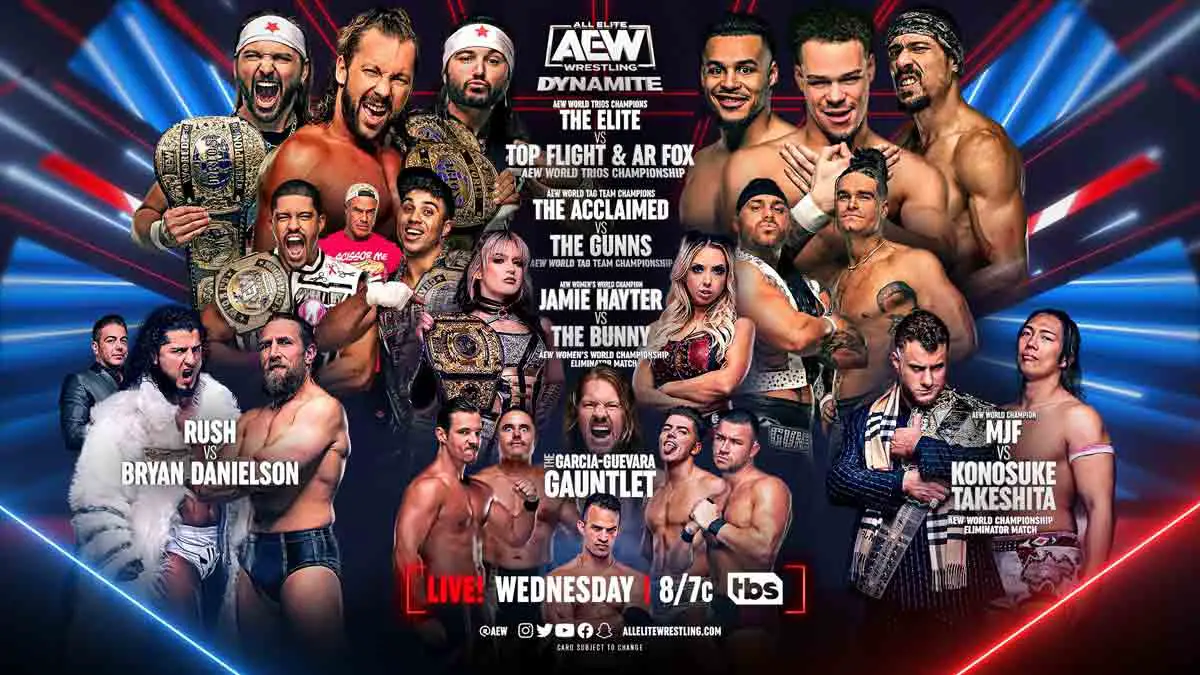 AEW Dynamite will be live from El Paso, TX, on February 8, 2023, and we will be posting results and live updates from the show here as the build-up for AEW Revolution 2023 continues.
AEW Champion MJF will be in action to take on Konosuke Takeshita in a singles match. Bryan Danielson is on the verge of becoming the #1 contender for AEW World Championship and he just had to beat Rush on tonight's episode. Will MJF try to do something to stop Bryan to do so?
Ricky Starks will run through Garcia-Guevara Gauntlet, where he will face Angelo Parker, Matt Menard and either one of Daniel Garcia and Sammy Guevara. If he wins, he will get a rematch against Chris Jericho. Jamie Hayter will face The Bunny in a Women's Title Eliminator match on February 8 edition of Dynamite.
Two title matches are also set for the show. The Elite(Kenny Omega & The Young Bucks) will defend AEW Trios titles against Top Flight and AR Fox. The Acclaimed will defend AEW Tag Team Championship against The Gunn Club with Billy Gunn at the ringside.
Tune in below as we post results from AEW Dynamite February 8, 2023 episode with live updates, winners, highlights and complete action.
RESULTS
MJF defeated Konosuke Takeshita in AEW World Title Eliminator match via pinfall.
Jamie Hayter defeated The Bunny in AEW Women's World Title Eliminator match via pinfall.
Daniel Garcia won the Garcia-Guevara Gauntlet Match

Ricky Starks eliminated Angelo Parker via pinfall.
Ricky Starks eliminated Matt Menard via pinfall.
Daniel Garcia eliminated Ricky Starks via pinfall.

Bryan Danielson defeated Rush in a singles match via pinfall.
The Elite(Kenny Omega, Matt Jackson & Nick Jackson)(c) defeated Top Flight(Darius Martin & Dante Martin) & AR Fox in a trios via pinfall to retain AEW Trios Championship.
The Gunn Club(Colten Gunn & Austin Gunn) defeated The Acclaimed(Max Caster & Anthony Bowens)(c) in a tag team match via pinfall to retain AEW Tag Team Championship.
LIVE UPDATES
MJF vs Konosuke Takeshita – AEW World Title Eliminator
MJF comes out to open the show. Takeshita comes out shortly afterward. MJF asks for a handshake and kicks KT into midsection. KT runs the ropes and hits a twisting flying shoulder tackle. KT unloads with punches from the second rope. MJF hits an inverted atomic drop before KT hits a jumping knee. MJF blocks another knee by pulling in the referee.
MJF starts to work on his arm now. He drives the arm into the canvas when Takeshita tries to counter. Biting, punches, knees and everything is used on the arm before KT counters an arm wringer into an exploder suplex. Takeshita hits running boots in the corner. He misses the third boot but comes back to hit a kick when MJF ducks him with a leap frog.
Takeshita hits a suplex before he goes to the top, gives Eddie Guerrero a tribute, and hits a frog splash to get a two-count. MJF manages to get him in position for a Piledriver. Takeshita counters and slams MJF's head into the mat before a dead lift German suplex to send MJF to the floor. Takeshita misses a dive on the floor. MJF comes to the floor and Takeshita slams his head into the ring post.
Back to the ring, Takeshita gets to the top rope. MJF trips him. Takeshita goes for a lariat but MJF lands on his feet and manages to drop Takeshita to the mat. MJF hits back with a pump knee before Takeshita hits a rolling elbow. MJF puts him in Salt of Earth, but Takeshita is quick to come out of it. MJF is thrown to the floor and hit with a suicide dive. MJF hides behind a referee and hits a kick to Takeshita's arm.
MJF misses a knee drop. Takeshita answers a punch with a series of elbow to his face. MJF rakes his eyes and hits a powerbomb on his knees. Takeshita hits a falcon arrow and a pump knee but MJF gets his legs on the ropes to break the pin. MJF avoids a senton as Takeshita comes from the ropes and puts on the Salt of Earth Fujiwara armbar. Takeshita tries to get to the ropes, but MJF changes position and puts more pressure on it to get a submission.
Winner – MJF
After the match, MJF punches Takeshita with his Dynamite Diamond Ring. MJF continues to unload on Takeshita until Bryan Danielson runs out. Takeshita's head is split open. Medical team comes out to check on him and helps him to get back.
---
We get a video package from Samoa Joe who praises Darby Allin being a worthy opponent. He adds that Wardlow is not a worthy opponent. He brings up his past wins over Wardlow and how he cut his pony.
Jamie Hayter vs The Bunny – AEW Women's World Title Eliminator
Penelope Ford, The Butcher & The Blade are out with The Bunny. Britt Baker & Rebel are in Hayter;s corner. Hayter starts with a side headlock. Hayter hits several running shoulder blocks. Bunny uses the ropes to choke Hayter. Hayter hits a suplex. Bunny drops her neck on the ropes. She hits a suplex where Hayter's knee lands on the steel steps.
Penelope Ford rips off a Haytered sign. Hayter hits a German suplex. She follows up with another one before hitting a Haytered lariat to get the pinfall.
Winner – Jamie Hayter
After the match, Baker and Rebel get into the ring to celebrate with Hayter.
---
Renee Paquette is with Saraya and Toni Storm. Saraya calls Hayter a loser. They bring in Leila The Librarian, hit her from behind and paint an "L" on her.
---
MJF gets interviewed backstage. He gives props to Takeshita but says he was coming up against generational talent. He starts to talk about Bryan Danielson now and asks him what kind of man he is. He tells a story about how his car slipped off the road on a rainy night and a girl on the passenger seat smashed her head in the windshield. MJF reveals that he switched the seats with this unconscious girl when the cops arrived. MJF says this is the kind of man he is and is ready to do anything to keep AEW World title with him.
Ricky Starks vs Angelo Parker, Matt Menard and Daniel Garcia/Sammy Guevara – Gauntlet Match
Part 1 – Starks vs Angelo Parker: They start with punches before Parker hits a suplex. He follows up with a dropkick. The referee does not allow a pinfall attempt as Parker uses the ropes. Parker takes his eyes as Stark was going for Roshambo. Starks hits a spear to get the pinfall on Parker.
Part 2 – Starks vs Matt Menard: Menard tries to attack Ricky from behind but Starks ducks him and rolls him up for the pinfall.
Daniel Garcia comes out first and it looked like he will be the one facing Starks. Sammy Guevara also comes out moments later to confuse everyone. They surround the ring before Garcia eventually attacks Starks from behind.
Part 2 – Starks vs Daniel Garcia: Garcia stomps on Starks for a while before hitting a hard Irish Whip. Ricky fires back with chops but Garcia is able to cut off his spear. Garcia stomps in the corner and poses as we cut to another break.
Garcia rolls up Starks as we return. Garcia counters once again with a Guillotine choke along with a body lock. Ricky overpowers him to hit a powerbomb. Starks gets to the top but Garcia meets him there. He hits a superplex before Starks hits a brainbuster for a near fall. They get to the apron and trade shots there. Starks hits a spear on the apron. A masked man in the front row hits Starks with an elbow as the referee checks on Garcia. Garcia takes Starks into the ring and gets the pinfall.
Winner – Daniel Garcia
Renee Paquette is with The Acclaimed and Billy Gunn. Billy says he cares about all 4 of them. He says they have decided to stay back, not in Acclaimed's corner.
---
Bryan Danielson is backstage checking on Konosuke Takeshita. The door is locked from the outside Rush makes his entrance for the match. Danielson does not come out as he is locked. MJF comes out and tells the referee to ring the bell and start a countdown. The referee starts a countdown. Bryan breaks the door down and fights off Perro Peligrosso and runs out.
Bryan Danielson vs Rush
Rush starts with clotheslines before sending Bryan to the corner. He hits corner clotheslines and splashes. Rush keeps Bryan on the mat. Bryan comes back as they start to trade strikes. Bryan hits a big boot but Rush comes back and takes action to the floor. Rush sends Bryan into the ring post and barricade. Rush hits a dropkick on Bryan against the ropes.
Rush hits a big chop on the floor. The referee asks him to get back to the ring. Rush breaks the countdown and comes back to the floor to start working on Bryan again. Bryan's head is split open. More chops from Rush on the floor. Bryan is thrown back to the ring. He catches Rush with chops on the apron. He hits more and more strikes before Rush hits him with a German suplex to throw him to the floor. We cut to a break.
Bryan suddenly counters Rush and goes for a Labell lock but Rush gets to the ropes before Bryan could put on the lock. Bryan stops in his tracks as Rush gets away from a dive. Bryan hits him with a dive in the new position. Bryan hits a dropkick against a barricade. Back to the ring, Bryan hits a missile dropkick to get a near fall.
Bryan hits roundhouse kicks. Rush gets up and starts trading chops. Bryan starts hitting Yes Kicks. Rush puts Bryan in the corner and hits back with chops and kicks. Bryan hits him with two running dropkicks before Rush cuts off the third one with an elbow strike. Rush hits a piledriver but Bryan kicks out of the pin.
Rush unloads with elbows in the corner. Bryan cuts him off with a Busaika knee. Rush also kicks out of the pin. They trade more elbow strikes in the middle. They resort to headbutts next. They both batter each other with headbutts. Rush drops Bryan with a slap. Rush hits a German suplex but Bryan rolls through. Bryan hits another Busaika knee to get the pinfall.
Winner – Bryan Danielson
MJF gets into the ring and hits Bryan with a punch with dynamite diamond ring. MJF continues to unload before putting on arm bar on Bryan. MJF keeps the security out of the ring. More security comes out and separates MJF from Bryan.
---
Impractical Jokers are backstage and they have stolen Chris Jericho's baseball bat. We will see more on this on Impractical Jokers tomorrow.
The Elite(Kenny Omega, Matt Jackson & Nick Jackson)(c) vs Top Flight(Darius Martin & Dante Martin) & AR Fox – AEW Trios Championship
Dante starts against Nick. Dante dodges a few attacks and hits a dropkick. Quick tags between Top Flight to hit sentons on Nick. Matt comes in and is tripped on top on Nick. Fox hits a senton on Nick. Omega comes in and is kicked to the floor. Matt takes a blind tag for a combination offense on Darius. They work on Dante and hits him with a double dropkick. Omega runs over Fox.
Omega tags in and hits chops on Darius. He hits a backbreaker before some double team from Young Bucks. Kenny hits a backbreaker to get a two-count and takes us to a break.
Matt hits kicks to Dante and Fox on the apron as we return. Darius hits a Spanish fly on Matt and gets his knees up on a splash from Nick. Omega keeps Dante off the ring but Fox jumps over him and hits a senton on Nick. Fox hits a cutter on Omega next. He fights off a double team from the Bucks and hits both of them with cutters. Fox hits a crossbody on The Bucks on the floor before a suicide dive on Omega.
Fox hits another suicide dive on The Bucks before hitting a senton from the top on Omega to get a near fall. Omega hits him with punches before a big boot. Fox hits a Spanish Fly from the top. Tags to Dante and Nick. Dante hits a couple of dropkicks. Matt is tagged in. Dante hits Tijeras on Matt after dodging more attacks. Matt hits locomotive suplexes. Darius and Fox come in and Matt hits them with Northern light bridge for a near fall.
Darius tags in and hits a DDT on Matt. Nick breaks the pin. Fox takes out Omega and Matt on the floor. Top Flight hit a double team move on Nick. Fox hits a senton from the top but Omega breaks the pin. Omega hits a dragon suplex on Fox. Everyone starts to hit big moves on each other one by one. Omega helps The Young Bucks to hit a spiked piledriver on Fox but Top Flight breaks the pin.
Omega goes for a V-Trigger on Fox but he rolls him up. Omega hits a V-Trigger and a Doctor's bomb for a near fall. Fox counters One Winged Angel with a roll-up for a near fall. Omega gets him in a crucifix to get the pinfall.
Winners – The Elite
We get a video package on Hook. We cut to Stokeley Hathaway who is complaining about Hook. Hook appears and twists his arm to intimidate him.
The Acclaimed(Max Caster & Anthony Bowens)(c) vs The Gunn Club(Colten Gunn & Austin Gunn) – AEW Tag Team Championship
Max and Colten start the match. Colten gets the first takedown. Max comes back with a takedown. Colten hits a shoulder tackle before Max hits an arm drag. Bowens comes in and hits chops. Max hits a double ax handle from the top before a hip toss. Bowens hits Scissor me Timbers before The Acclaimed do scissoring. We cut to a break.
We return to see Colten in control against Max. Max hits a punches to midsection but Colten hits back and tags in Austin for some quick double team offense. Max hits a headbutt on Austin. Colten misses a corner splash. Bowens gets the tag who unloads with punches on both the Gunns. A thrust kick to Austin before several shots on Colten. Austin is hit with Fameasser by Bowens, and Colten has to break the pin.
All four men are down after they trade clotheslines. The referee is hit with a rolling elbow. Austin drops Bowens in the ring with a hip toss. Austin brings in the title to hit Bowens but Billy Gunn comes out to stop him. Colten runs over Billy Gunn with the title belt from behind.
The Acclaimed get enraged and start beating up The Gunns. Max hits a mic drop on Austin Gunn in the ring. Max goes and fetches the referee. Colten sends Max into the barricade before he breaks the pin. Bowens counters Austin with a roll up but he kicks out. Colten nails Bowens with the title belt. Austin rolls up Bowens to get the pinfall.
Winners – The Elite