AEW Dynamite April 19, 2023 Live Results & Updates, Highlights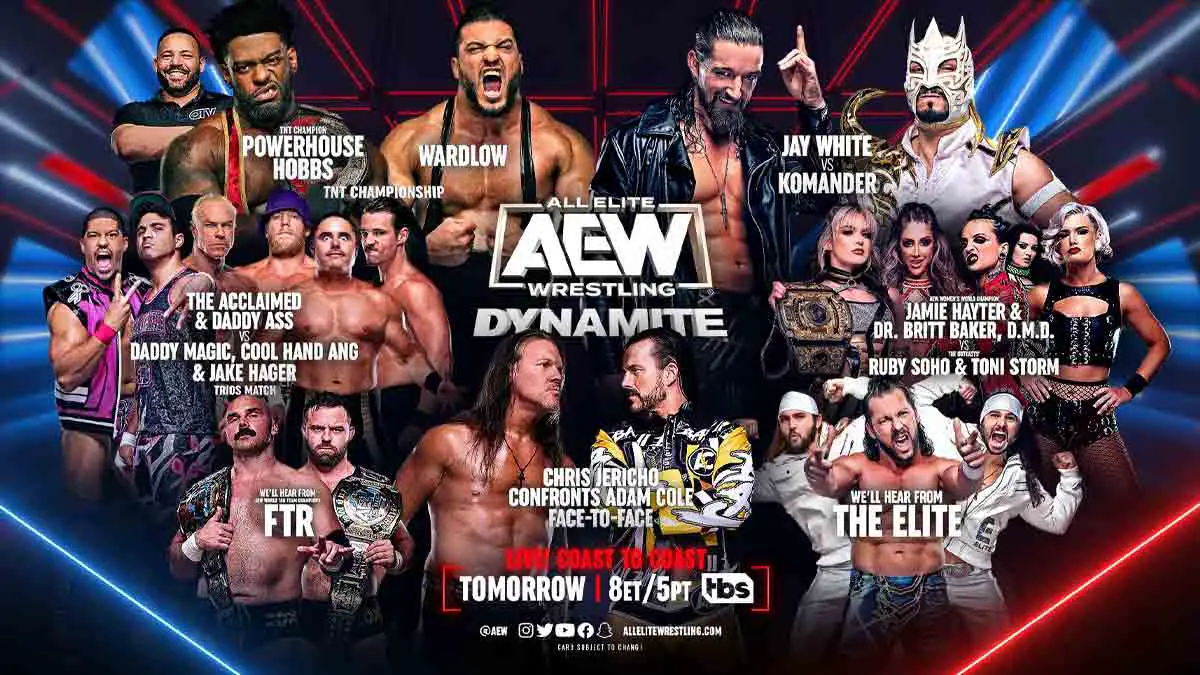 Welcome to the live results blog for AEW Dynamite April 19, 2023, which was live from Petersen Events Center in Philadelphia, PA.
A rematch was set for the show for TNT Championship between Powerhouse Hobbs and Wardlow after Wardlow returned last week. Jay White was to be in-ring action for the first time since signing a contract with AEW as he faced Komander.
A women's tag team match was set as the team of Britt Baker & AEW Women's Champion Jamie Hayter took on The Outcasts' Ruby Soho and Toni Storm. A trios match between JAS' Matt Menard, Angelo Parker and Jake Hager saw them facing The Acclaimed and Billy Gunn.
We also heard from AEW Tag Team Champions FTR. Chris Jericho and Adam Cole came face-to-face to discuss their issues. We also heard from The Elite on their rivalry against Blackpool Combat Club. Tune in below as we post results from AEW Dynamite April 19, 2023 episode with live updates, winners, highlights and complete action.
RESULTS
Britt Baker & Jamie Hayter defeated The Outcasts(Ruby Soho & Toni Storm) in a tag team match via pinfall.
Wardlow defeated Powerhouse Hobbs(c) in a singles match via pinfall to win AEW TNT Championship.
Jay White defeated Komander in a singles match via pinfall.
Anthony Bowens, Max Caster & Billy Gunn defeated JAS(Matt Menard, Angelo Parker & Jake Hager) in tag team match via pinfall.
Sammy Guevara defeated Jungle Boy Jack Perry in match 1 of #1 Contender Pillars Tournament via pinfall.
LIVE UPDATES
4 Pillars!
Jungle Boy comes out to open the show. Before he can say anything, Sammy Guevara's music hits and he also comes out. Guevara's promo is also shut down before it can start with the arrival of Darby Allin. Darby takes the mic and tells Sammy that he has known him the longest of the pillars and he is least deserving of them for a title shot. He says Chris Jericho is holding him back and unlike him, he is not in a stable called Sting Appreciation Society.
Darby then turns his attention to Jungle Boy and wonders which name he is going by nowadays. He finalizes on Jungle Jack and tells him that he was not intimidated by Jungle Boy when he first got to know him but was jealous when Jungle Boy was signed to the company first. Jungle Boy takes the mic and says he wonders if all the little kids with face paint on in the crowd get to know the real Darby Allin. He turns to Sammy and says he respects Sammy in that matter that we get same thing that we see from Sammy for better or for worse.
Sammy takes the mic and says Jungle Boy is actually just like MJF. Both MJF and Jungle Boy were handpicked in AEW. They both were in the ring with Bret Hart on AEW's first PPV, and they both were on the last PPV also while Darby and Sammy were not. Sammy says he respects Darby for the same matter and brings up Darby winning TNT Championship, but Sammy did better and won the title 3 times. He then goes on and claims that he will beat Darby in winning AEW World Championship.
MJF comes out to the stage. He shuts down the crowd by taking a shot at Britt Baker. MJF then announces that there is going to be a pillars tournament and the winner will face him for AEW World Championship at Double or Nothing. He brings out a man with a hat and brings out Darby Allin's name from it to give him a bye in round 1. MJF then announces that Jungle Boy and Sammy will clash in the first round tonight.
Britt Baker & Jamie Hayter vs The Outcasts(Ruby Soho & Toni Storm)
The Outcasts attack Baker and Hayter on the ramp. Storm slams Hayter into the apron and barricade a few times. Soho unloads with some punches before some chops against the apron. Hayter and Storm get into the ring. Hayter hits a trio of running shoulder tackle on Storm. She hits double shoulder tackles on Ruby and Storm before hitting corner splashes and a double suplex. Saraya tries to interfere but runs away when Hayter chases her.
Hayter fights off Ruby with chops. She catches Storm's dive and hits a spinebuster into the barricade. Storm finally counters and pushes Hayter into the ropes. She distracts the referee and Ruby hits a superkick on her face. Ruby and Storm beat up Hayter on the floor. Britt comes out and tries to hit Panama Sunrise but Storm blocks it and Ruby hits him with a Russian Leg Sweep on the floor. We cut to a break.
Hayter hits a Death Valley Driver on Storm as we return. Baker gets a hot tag and knocks Ruby off the apron. She hits shoulder tackles on Storm before hitting her with a slingblade. Ruby is thrown to the floor once again before throwing Storm into the corner. She counters Storm Zero with an Air Raid Crash but Ruby breaks the pin. Hayter throws Ruby out of the ring and hits a backbreaker on Storm. Hayter hits Hayt-red on Storm and Baker covers her but Ruby pushes Hayter into the pin to break it.
Ruby throws Hayter out of the ring. They double-team on Baker and hit her with a hip attack. Baker is put to the top. Ruby and Saraya attack Hayter on the floor and hit dropkick at her arm against the steel steps. Baker counters Ruby off the top. Baker hits a Panama Sunrise on Ruby but she kicks out. Baker knocks Storm off the apron. She hits the curbstomp on Ruby but she kicks out once again. Baker outs on the lockjaw to get the submission.
Winner – Britt Baker & Jamie Hayter
Britt cuts her celebration short and runs to join the crew member who was helping out Jamie Hayter to get to backstage.
The Elite Call Out BCC
The Elite trio come out to the ring. Kenny says BCC were the four most respected guys in the business until they attacked his friends and Don Callis. He adds that he keeps seeing images of the screwdriver in the turnbuckle and wants to smash that screwdriver on Jon Moxley's face. He does not have much more to say and wants BCC to come out and squash this feud like man. Bryan Danielson appears on the big screen and diverts their attention by calling them amateurs.
The other 3 men of BCC attack The Elite from behind. They brawl on the floor with both sides getting the upper hand at different times. The action gets back into the ring and Claudio hits a powerbomb on one of the Jackson Brothers. Kenny comes in and hits Claudio with a snap dragon suplex. Moxley comes in and hits Kenny with a Deathrider. Bryan Danielson comes out and starts berating Omega on the mic.
Don Callis runs out with a chair but runs back. Bryan brings out a screwdriver and is about to attack Omega. Callis brings out Konosuke Takeshita who runs into the ring to save Omega. Takeshita and Omega work together to send BCC members to the floor one by one. Callis gets into the ring raise both Omega and Takeshita's hands. The Young Bucks also join in.
Powerhouse Hobbs(c) vs Wardlow – AEW TNT Championship
Wardlow pushes Hobbs to the corner to hit shoulder tackles. Hobbs comes back with a trio of belly-to-belly suplexes. The action spills to the floor. They trade shots and Wardlow hits a kick to midsection. He hits a clotheslines to put Hobbs over the barricade. Hobbs runs into the crowd. Wardlow brings him back near the barricade and attempts a powerbomb. Hobbs counters with a back body drop but Wardlow lands on his feet. Wardlow hits more punches to take us to a break.
Hobbs got control during the break. He has Wardlow on the top turnbuckle as we return. Wardlow fights him off and drops him back to the mat. Wardlow hits a Swanton bomb but is hurt himself and could not get to cover. They get up and trade punches. They no-sell clubbing blows from each other. Wardlow hits a clothesline and a couple of German suplexes. Hobbs blocks a suplex but Wardlow hits him with a headbutt before dropping him with a lariat.
QTV crew distracts the referee. QT Marshall sneaks in and hits a cutter on Wardlow. Hobbs hits a spinebuster but Wardlow kicks out of the pin. QT gets into the ring as he is mad at not getting the pinfall. Arn Anderson also gets into the ring. QT runs out. Pentagon Jr. gets to the ramp and forces QT back into the ring where Arn hits QT with a DDT. Hobbs hits a DDT on Wardlow for a two-count. Wardlow hits a powerbomb. He hits the powerbomb two more times and gets the pinfall.
Winner – Wardlow
After the match, Wardlow's celebration is quickly cut off by Christian Cage and Luchasaurus coming out to the stage.
Jay White vs Komander
They shake hands before locking up. White pushes Komander to the corner and come to a stalemate. White hits a kick to midsection and some more stomps to take him to the corner. He hits a big chop next. White gets caught with a big boot. Komander hits a back heel kick before some stomps in the corner. Komander jumps on the ropes for a few times and hits a hurricanrana on White to send him to the floor. White gets back to the apron as Komander wastes some time on the ropes. White manages to hit a brainbuster on the apron to take us to a break.
They are trading chops in the ring as we return from the break. Komander starts punching White in the face. He gets White in a crucifix to get a close two-count. White runs him over with a lariat. Komander blocks Blade Runner but White is able to keep control. Komander hits quick shots on White to take over control.
Komander leaps over White and hits a kick to send him to the floor. Komander walks the ropes and hits a senton on White on the floor. He hits the rope walk shooting star press. White rolls away and kicks out when Komander goes to pin him. Komander hits a springboard moonsault for another two-count. They block each other before White hits Blade Runner to get the pinfall.
Winner – Jay White
Shawn Spears was giving numbers out of 10 during the match. He gives the Blade Runner a 5. Juice Robinson attacks Spears and brings him into the ring. White joins the attack. Ricky Starks runs out and hits a spear on Robinson. White and Robinson runs out to the floor.
---
Chris Jericho and Adam Cole are in the ring. Cole credits Jericho as one of his heroes. Things turn ugly quickly, though, and Cole ends up attacking Jericho. Daniel Garcia comes out and teams up with Jericho to take control over Cole. Britt Baker runs out and slaps Jericho. The Outcasts are in the ring now and beat up Baker. Jericho and Garcia tie up Cole to the ropes. Jericho hands a kendo stick to the Outcasts and Saraya lays it out on Baker. Cole is devastated watching this but is unable to do anything. He keeps screaming to stop and apologizes to Baker. Saraya beats up Baker to her heart content. Baker is laid out in the ring.
Anthony Bowens, Max Caster & Billy Gunn vs JAS(Matt Menard, Angelo Parker & Jake Hager)
Max Caster insults Jericho Appreciation Society in his rap. The Acclaimed get into the ring and are attacked by JAS right away. Gunn and Acclaimed fight back and stand tall in the ring as the bell rings. Bowens kicks at Parker before tagging in Caster for a body slam. Bowens hits Parker with Scissor Me Timbers before Gunn, Caster & Bowens to 3-way scissoring. We cut to a break.
Billy Gunn gets the hot tag and hits big clotheslines on all 3 opponents. Hager avoids fameasser and hits a big slam. Menard and Bowens get the tags and start brawling. Bowens blocks a powerbomb and hits a series of elbows before a superkick. Parker tags in. Bowens is hit with a loaded comb from Angelo Parker, but he manages to kick out of the pin after a delay in the pin attempt.
Hager holds Bowens on the ropes but Parker catches Hager with the comb when Bowens ducks. Gunn breaks the comb after it. Bowens nails Parker with a rolling elbow. Bowens hits the Arrival and Caster hits Mic Drop to get the pinfall.
Winner – Billy Gunn & The Acclaimed
Jungle Boy Jack Perry vs Sammy Guevara – Match 1 of Pillars Tournament
JB starts quickly with a dropkick to send Sammy to the floor and hits a tope suicida. Sammy hits back with a suicide dive himself. JB hits a hurricanrana off the apron to send Sammy to the floor. Sammy hits a Spanish fly as JB goes to the top. Both men are down in the ring. The referee starts a countdown. They get up at 6. JB sends Sammy to the apron. Sammy blocks a powerbomb. JB tries to trip him but Sammy remains on his feet. JB hits a superkick on Sammy on the apron. Sammy counters with a rising knee strike and hits a Spanish fly to the floor. We cut to a break.
Sammy slams JB's face into the mat as we return. Sammy hits chops before JB comes back with a big lariat. Sammy is sent to the apron once again and JB is able to hit a powerbomb this time around. He hits a sunset flip powerbomb as they get back into the ring. Sammy hits back with a superkick and cutter off the top. He hits tilt a whirl brainbuster to get a near fall. Sammy goes for GTH but Perry blocks it and hits a reverse hurricanrana. Sammy hits a poisonrana but Perry lands on his feet and hits a clothesline from behind. The referee starts the countdown.
They get up to their knees at 7 and start trading punches. Perry puts on a Snear Trapp. Sammy gets to the ropes. Perry puts Sammy in a tree of woe. Sammy gets back up before Perry could do anything. Sammy hits a dropkick to send Perry into the timekeeper's area. The referee starts a countdown. Sammy catches the referee to stop him seeing that Jungle Boy has got up. MJF runs over Jungle Boy with Diamond Ring shot. Sammy lets go off the referee and asks him to resume the countdown. The referee resumes and completes the countdown. Sammy is declared the winner via countout.
Winner – Sammy Guevara(via countout)
Sammy and MJF hug in the ring after the match and celebrate to close the show.