AEW Battle of the Belts 2022 Results-Baker vs Riho Live Updates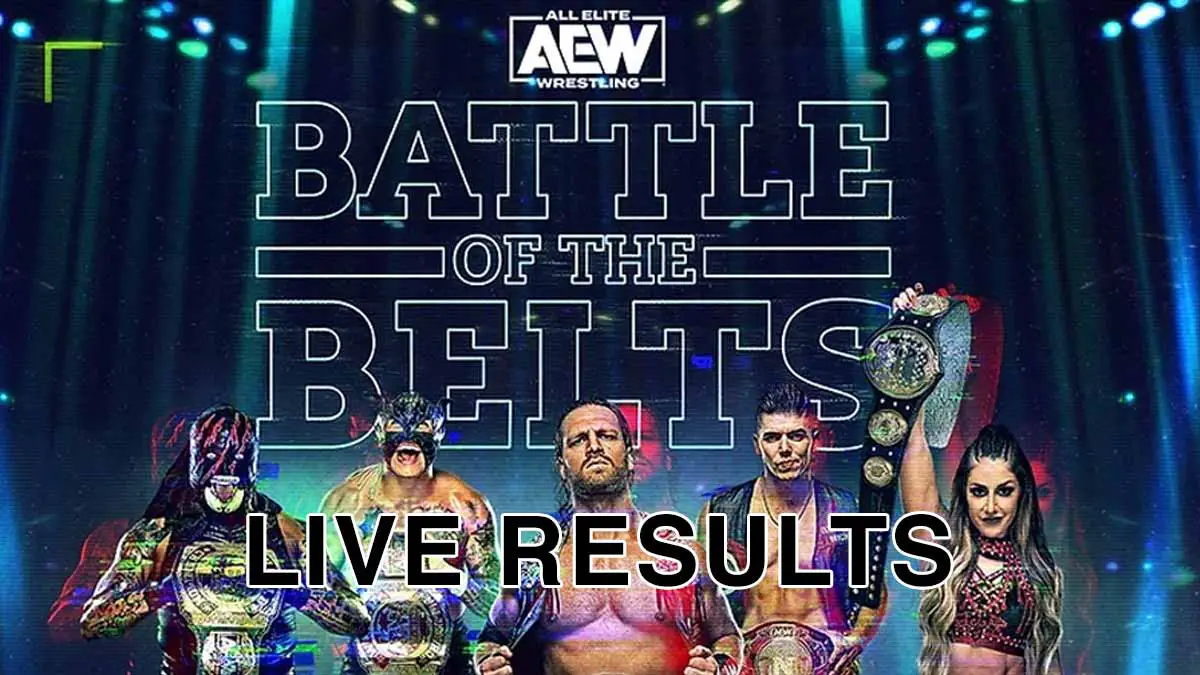 Welcome to the live results blog for AEW Battle of the Belts 2022 TNT Special Saturday Fight Night on January 8, 2022. The event features three championship matches with interim AEW TNT title, FTW Championship and the Women's World titles on the line.
Cody Rhodes was supposed to defend the AEW TNT title. But, he is replaced by Dustin Rhodes against Sammy Guevara for the interim title now. FTW title will also be contested as Ricky Starks takes on Matt Sydal.
An interesting scenario will play in the Women's title match. Riho has managed to defeat Britt Baker in two singles matches between them. Will Baker be able to break their losing streak against Riho?
Find out as we bring the live results, updates and highlights from AEW Battle of the Belts 2022 event.
Show – AEW Battle of the Belts 2022
Date – January 8, 2022
Location – Bojangles Coliseum, Charlotte, NC, US
Time – 8 PM EST(January 9- 1 AM GMT)
AEW Battle of the Belts 2022 Results
Sammy Guevara defeated

Dustin Rhodes via pinfall to win Interim AEW TNT Championship

.
Ricky Starks(c) defeated Matt Sydal via pinfall to retain FTW Championship.
Dr. Britt Baker DMD(c) defeated Riho via pinfall to retain AEW Women's Championship.
AEW Battle of the Belts 2022 Live Updates
Dustin Rhodes vs Sammy Guevara – Interim AEW TNT Championship Match
A good back and forth match. Dustin was knocked to the floor. Arn Anderson was at the ringside and asked the referee for an injury break. Dustin comes back in the match with crossroads and code red. Sammy hits GTH but Dustin kicks out. Fuego Del Sol comes out and sets up a table on the floor for Sammy. But Dustin is the one to take advantage and hit the code red on it. Dustin hits two crossroads back to back but Sammu comes back with a superkick and a clothesline. Sammy wins the match at last as counters with a sitout pin.
Winner – Sammy Guevara(interim AEW TNT Champion)
After the match, Dustin shows him some respect to Sammy. David Crocket hands him the interim title. Daniel Garcia comes out to confront him. Some brawling between the two.
Ricky Starks(c) vs Matt Sydal – FTW Championship
Powerhouse Hobbs is sitting ringside. Back and forth action to start. Starks takes the upperhand on the floor. He keeps control of the match in the ring for a while. Sydal fights back with kicks to the knee. Sydal tries to take the pin after an avalanche hurricanrana. Sydal goes on a role with quick and innovative moves. Starks hits a spear and Roshambo to get the pin.
Winner -Ricky Starks
After the match, Hobbs and Starks beat up Sydal. Dante Martin runs out to make the save and sends Hobbs and Starks packing.
Dr. Britt Baker DMD(c) vs Riho – AEW Women's Championship Match
Riho gets the early advantage but Rebel runs a distraction for Britt to come back. Baker works on Riho for a while. Riho comes back with a sunset flip and a foot stomp. Riho hits move after for the next two minutes. Rebel pulls Baker out of the way and sheilds her. Riho hits Rebel with double foot stomp. Baker comes back with a forearm strike and a spear. Riho avoids the stomp but Baker counters dragon suplex attempt to attempt to put on the lockjaw. Riho rolls over for a pin attempt. Baker gets a near fall with the curb stomp.
Hayter throws in the title belt. Rebel hands Baker with the title belt but the referee catches her and boots her from the ringside. Riho hits a crucifix bomb and northern light suplex to get a near fall. Baker counters the running knee with thrust kicks. Baker hits a superkick and puts on lockjaw after a failed pin attempt. Riho gives us quickly after lock jaw is locked for good.
Winner -Britt Baker
After the match, Hayter and Baker make peace as Rebel also comes in. All three hug as the show comes to an end.