UFC 277 Results: Brandon Moreno vs Kai Kara-France 2 Live Blog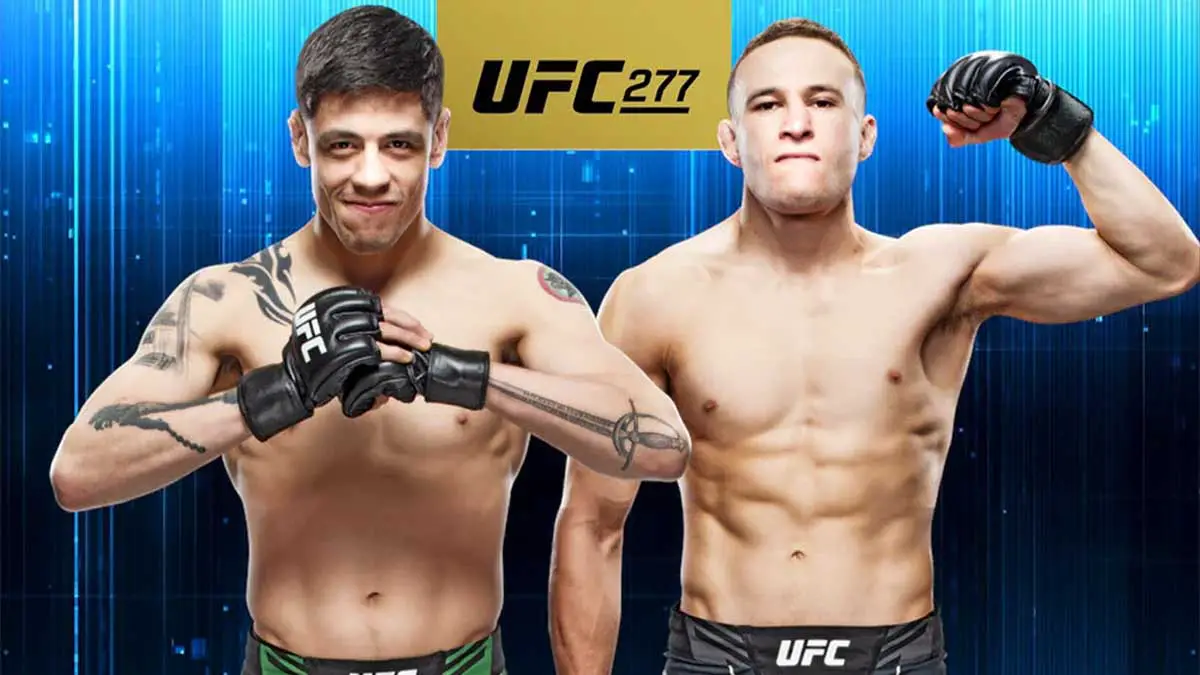 Brandon Moreno and Kai Kara-France will clash for the second time in the co-main event of UFC 277 PPV.
We will be here with play-by-play and round-by-round updates from the bout which will have Interim UFC Flyweight Championship on the line.
Moreno's last three bouts have three different results as he first drew with Deiveson Figueiredo, then defeated him via knockout to win the title and then lost to him via unanimous decision. However, Moreno should be far more confident for a win here as he has previously defeated Kai Kara-France comfortably.
Kara-France has been 4-1 since that loss to Moreno and has been convincing in his last three fights with two Performance of the Night award. Will he be able to cause an upset here?
Brandon Moreno vs Kai Kara-France 2 Live Updates
Round 1: Kai tries to set the pace. Both men keep their distance early on. Moreno hits a left hook. Kai goes for a calf kick and fires in some more. He catches Moreno in groin with a kick to cause a break. Both men are keeping it slow as the things resume. Moreno misses a high kick but Kai nails him with a low on the counter. Moreno's punches forces Kai to backtrack a bit. More kicks from Kai. Moreno nails a left hook. Kai lands more kicks. Moreno ducks under a punch and goes for a single leg. Moreno gets him in a waistlock but Kai breaks free quickly. Kai lands a kick and a punch. Moreno pushes him back and lands punches and kicks of his own.
Round 2: They move around a lot as they try to take center stage. Moreno gets on a body lock but Kai breaks it. Kai counters a couple of jabs with a kick. Moreno keeps pinning him with jabs whenever Kai tries to get inside. Moreno is in control for now. More ducks under a kick and goes for a waistlock. They are at the cage now and Moreno fails to complete the takedown. He nails an elbow on the break. Moreno keeps nailing him with jabs and punches while Kai is only looking for kicks. Kai counters with a left when Moreno for a rally. Kai goes for a couple of high kicks and goes back to keep his distance. Moreno goes for a high kick but gets tripped with a low kick from Kai. He gets back to his feet quickly.
Round 3: Kai manages a takedown. Moreno wraps his legs around Kai's body. Kai comes out of the trap and lands big shots. They both are back to the center now. Moreno is back to working his jabs while Kai is firing his low kicks. Moreno counters with punch when Kai fires in another low kick. Kai lands an elbow. Moreno connects a punch. Kai hits back with a good combo. More calf kicks from Kai follow. Moreno pushes him back as he attempts more jabs. They trade outside leg kicks as we enter final two minutes. Moreno lands an uppercut but misses a high kick on the follow up. Moreno lands a spinning backfist amid a bit of scramble. Moreno then hits a kick to midsection which drop Kai to the floor immediately. Moreno follows with a barrage of strikes to force the referee to stop the bout.
Official Decision: Brandon Moreno won via TKO at 4:34 in round 3 to win Interim UFC Bantamweight Championship.