UFC 265: Lewis vs Gane Live Blog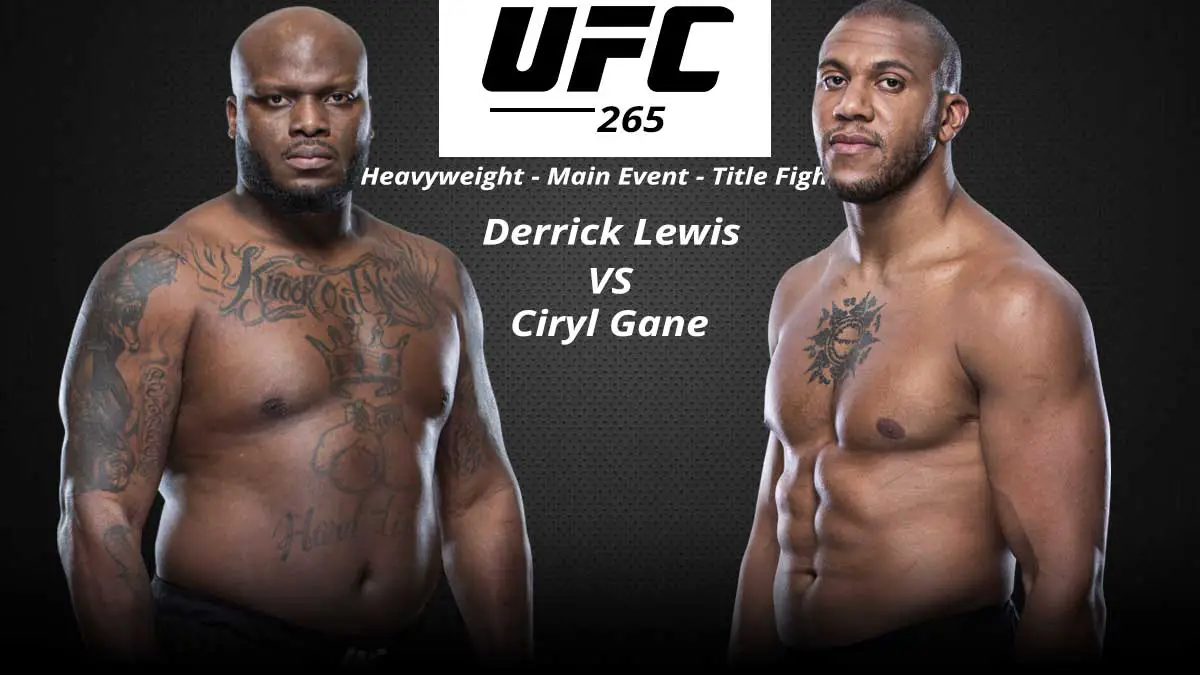 This is the live blog for Derrick Lewis vs Ciryl Gane bout for the interim UFC Heavyweight Championship at UFC 265.
While mostly everyone agrees that the interim Heavyweight title does not need to be introduced, both the fighters involved are sure to give us fireworks. While Lewis is famous for his outrageous power, Gane is considered one of the best technical heavyweight fighter in UFC. No one is expecting a cagey fight and hardly anyone will be in shock if the fight ends in a couple of rounds.
Who will come on top? The Hometown Hero Lewis or "Bon Gamin" Ciryl Gane?
Join us as we bring you the complete action from the fight between Derrick Lewis and Ciryl Gane from UFC 265.
Event Name – UFC 265
Date – 7 August 2021
Start Time – 7 PM PST(Main event around 9 PM PST)
Location – Toyota Center, Houston, TX, US
Check here for the other results and statistics from UFC 265 here.
Pre-Match
In the hype video, Derrick Lewis talks about being under pressure due to performing in his hometown of Houston. We get the comments from both fighters along with the best moments from both fighters' careers.
Temps Mort hits and Ciryl Gane is walking out. Some boos from the crowd as he walks out of the tunnel and get himself checked. The lights go off and we see many in the crowd using the flash from their mobile phones. Tops Drop hits and Derrick Lewis is coming out with heavy cheers from the crowd. We certainly know that the crowd is right behind the hometown hero. Lewis takes a moment to remember God as he moves into the octagon.
Bruce Buffer screams into the mic to introduce both fighters. Heavy boos as Gane is introduced. As expected, the crowd goes berserk as Lewis is announced.
Round 1
Both men are trying to gauge each other. Lewis goes for a kick but gets tripped. Gane is unable to take advantage as he quickly gets on his feet. Gane with some sidekicks as he pushes Lewis in the corner. One and a half minutes are gone and no significant action. Lewis is moving back into the center now. Both men are cautious against engaging. Lewis pushes Gane into the corner and but he escaped quickly without taking any strikes. More sidekicks from Gane, but he remains out of reach from Lewis. First stike from Lewis but he catches Gane in the groin.
Gane takes his time to recover before they restart. Gane shows his back to Lewis but Lewis is unable to land a perfect strike there. Gane survives. Gane is coming back with more significant strikes. Both men catch each other with jabs in the eyes. The round clearly goes to Gane.
Round 2
Round two starts and Gane start with more kicks to the leg. Good jab from Gane but Lewis gets back. Lewis gets a punch on Gane now. Both men are still very reserved in their attack. Gane is still the aggressor as we go to round two. Lewis ducks a punch and tries to grab Gane. But Gane defends well to avoid getting hit. Lewis tries to explode out of the corner with a knee strike, but he does not land properly. Gane has pushed Lewis against the wall. He tries to trip Lewis but Lewis maintains his balance. Lewis ducks a jab and hits a punch himself. Gane lands more kicks before catching Lewis in the corner again. Both men take shots at each other in the final minute of round two. Gane avoids a switch hit as Lewis tries to force the issue. Round two ends and Gane still seems to be leading the match.
Round 3
Lewis attempts a kick at the ribs. Gane lands more sidekicks at his leg. Gane switches his stance and lands a jab. More kicks from Gane. He has defended well till now and landed his strikes whenever he gets the chance. Gane hits a big elbow and almost gets caught by Lewis. But once again Gane's defense saves him. More kicks from Gane and uppercut give him an upper hand before he starts to unload with body shots. Gane lands another uppercut and more body shots. Lewis is completely on the back foot as he loses his mouthguard.
Lewis is stumbling now and Gane capitalizes on to land strikes on the back of his head. The referee stops the fight. Gane wins by TKO in a one-sided fight.
Result
Winner by TKO in the third round is Ciryl Gane.
Post Fight
Gane is looking very excited in his post-fight interview. He tells the fans that he can hear them booing but he wants them to know that he is with them. Gane then talks about hurting Lewis with the leg kicks and how he started getting a bit wild for the finish. Gane addresses his former teammate Francis Ngannou that he's ready to face him.