UFC 269: Charles Oliveira vs Dustin Poirier 155 Lbs Main Event Confirmed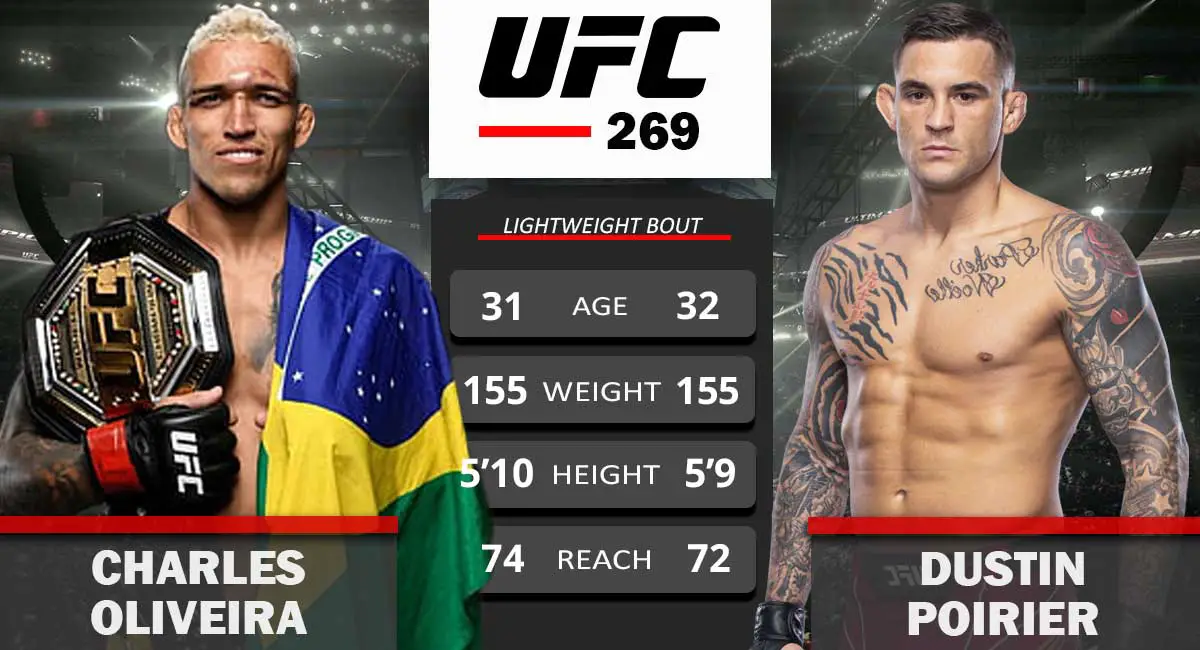 Dustin Poirier will challenge Charles Oliveira for the UFC Lightweight Championship at UFC 269.
Earlier, both Poirier and Oliveira mentioned that they are talking about the potential title bout projected for December this year. Now, ESPN has reported that Poirier's representatives confirmed the bout for December 11 at UFC 269. Poirier also confirmed the bout via Twitter account as he wrote, "Signed, Sealed, Delivered."
Poirier was in line to contest for the vacant Lightweight title back in June after Khabib Nurmagomedov vacated the belt. Charles Oliveira defeated Michael Chandler with TKO in the third round to win the 155 lbs title at UFC 262. This was Oliveira's ninth straight win in the octagon.
Instead of the title match, Poirier chose to complete the trilogy against Conor McGregor and defeated him after the doctor stoppage after the second round in the main event of UFC 264. This was Poirier's second win over McGregor this year and his third straight win since losing the Lightweight title bout against Khabib in September 2019.
The win also took Poirier to #1 ranking in the UFC Lightweight division and he even ranked higher than Oliveira in UFC Pound for Pound ranking. Also, Poirier opened as a heavy favourite to clinch the title away from Oliveira when the bout first came into discussion right after UFC 264.
Coming out from UFC 264, UFC briefly discussed Poirier vs Nate Diaz bout and they seemed to have agreed on the bout too. But the fight never materialized. Oliveira was confident that he would be able to defend the title against Poirier if it would come to that stage.
UFC 269 now has three title fights scheduled on its main card. Amanda Nunes vs Julianna Pena Bantamweight title and Brandon Moreno vs Deiveson Figueiredo Flyweight title trilogy were already confirmed for the event. Sean O'Malley vs Raulian Paiva bout was also confirmed on Saturday for UFC 269.
Keep tuned in for more news and updates from UFC.