UFC 279: Nate Diaz vs Tony Ferguson Live Blog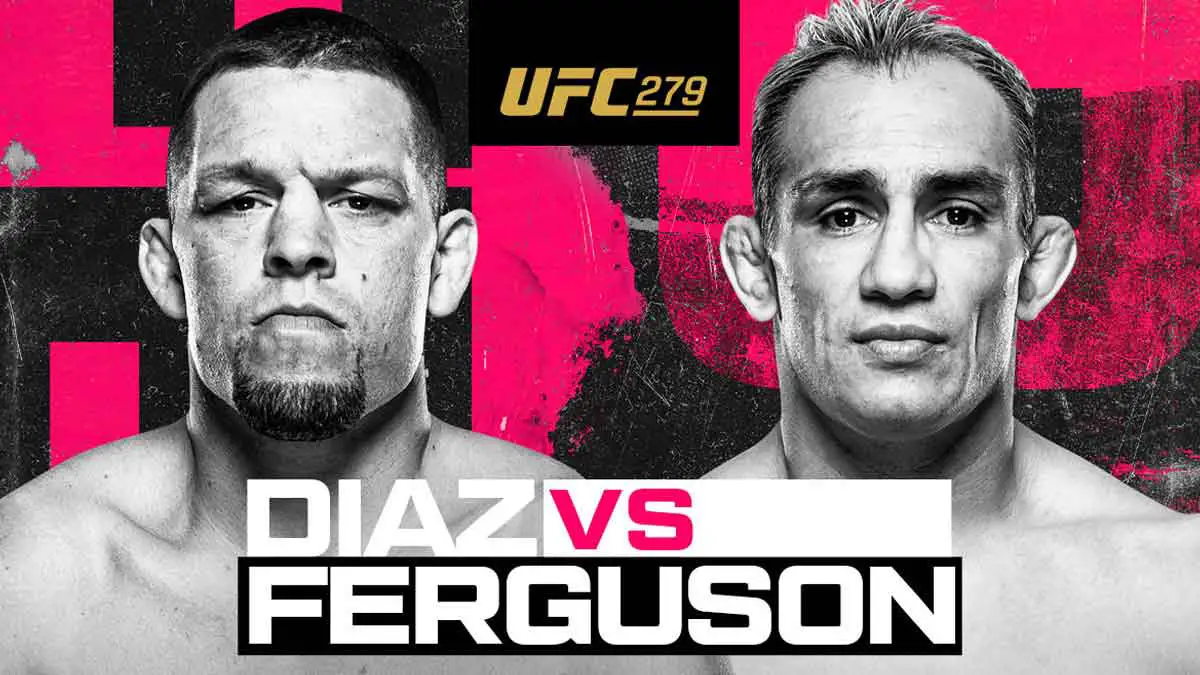 Nate Diaz and Tony Ferguson finds themselves facing each other in a rearranged main event at UFC 279 PPV in a welterweight bout.
Diaz was preparing for the last fight of his UFC contract against Khamzat Chimaev, but Chimaev's weight miss at weigh-in event forced UFC to change the plans. Ferguson was getting ready for his return to Welterweight to face Li Jingliang, but is now headling the event to take on another veteran in Diaz.
Both Diaz and Ferguson have not won anything for the last few years. Diaz lost to Jorge Masvidal in November 2019 at UFC 244 and then lost to Leon Edwards last year at UFC 263. Ferguson's last win also came in 2019 when he defeated Donald Cerrone, and has lost last 4 of his bouts. Will Diaz get a win in his last UFC fight? Or will Ferguson return to winning ways?
Tune in as post round-by-round and play-by-play live updates from Nate Diaz vs Tony Ferguson welterweight main event bout from UFC 279 PPV.
Nate Diaz vs Tony Ferguson Live Updates
We have quickly moved on from the co-main event to the main event video package and onto the entrances. Tony Ferguson walks out first. Nate Diaz makes his entrance now. Not much drama in the entrances!
Round 1: They get into exchange quickly. Tony misses a spinning back elbow. He trips Diaz though after catching his kick. Diaz switches his stand a few times. A kick on calf has opened up a wound on Tony's leg. Tony hits a calf kick. He misses a punch. A lot of movement from both men. Tony hits a body shot. They exchange some shots. Diaz pulls back to avoid a swing. Tony hits a kick to thigh. Ferguson goes for some fancy shots but not much connects. Shots fired from both sides! Tony misses another spinning back elbow. Diaz connects some on the body. Tony pushes the pace as the round comes to an end.
Round 2: Diaz is vary of Tony as the round starts. He lands a punch and kick combo. Tony fires back with his shots. Tony hits a combo to push him back. Diaz counters with a right. Diaz catches him with another jab on the counter. Tony decides against committing fully to his kicks a few times. And Diaz has countered it. Tony lands an uppercut. Diaz connects a left. Tony hits a outside kick and a calf kick. tony connects a quick jab and sways away. Diaz catches him with a couple of shots. Tony hits a body kick. Tony trips after Diaz's punch. Diaz connects a right and follows up with a combo. Tony gets his composure back and next few seconds goes by without anything. Tony hits inside calf kicks and Diaz is forced to change his stance from southpaw to orthodox.
Round 3: Tony ducks a kick. Nate connects one punch. Tony goes for a couple of high kicks. Tony tries different kicks and catches Diaz's left leg again. Tony catches him with another shot. Diaz walks away and wastes some time. Tony catches him with more calf kicks which seems to be compromised now. Diaz comes back with a flurry of shots now. He is tired though. Ferguson lands more calf kicks and some good punches. He was going for a takedown but Diaz defends it. Ferguson keeps pinning hits shots at will now. Diaz is struggling due to his leg. But, he fights back valiantly and Tony has to walk away to avoid some good attack. Diaz lands a flurry of strikes until he gets tired again. Ferguson lands a stiff jab and followed with body shots. Diaz counters an inside kick with more punches. Tony is back to hitting calf kicks as we come to the end of round 3.
Round 4: Diaz starts by catching Tony with a shot as Tony was reaching out for body shot. Diaz hits a combo. Tony is back to connecting his low calf kicks in between the action. Diaz catches him with a hard punch to wobble him. Not much on the follow up though. Diaz connects a flurry of shots after a few seconds. Tony hits an uppercut to body after more punches from Diaz. Tony is back peddling but then suddenly goes for a takedown. Diaz puts on a Guillotine and gets the tap out. That finish was sudden.
Official Decision: Nate Diaz wins via submission(Guillotine Choke) at 2:52 in round 4.