Isaac Dogboe vs Robeisy Ramirez Results Live, Card, Time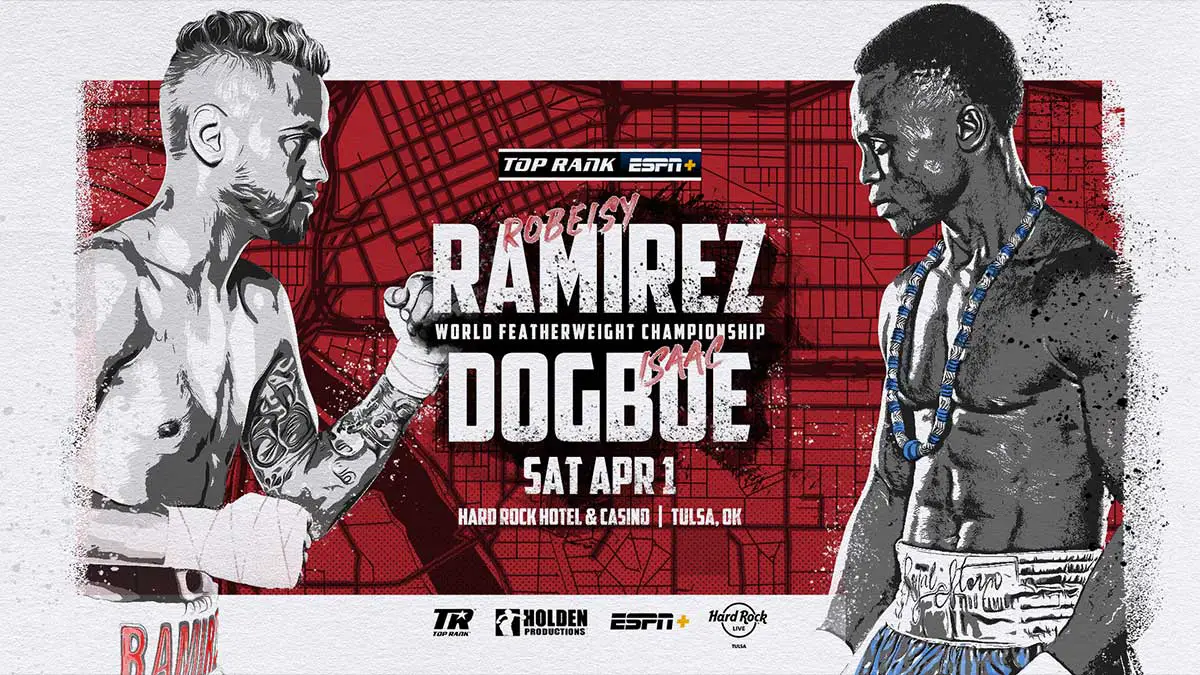 Robeisy Ramirez and Isaac Dogboe will headline a Top Rank Boxing card on ESPN+ on April 1, 2023, from Hard Rock Hotel & Casino in Tulsa, OK.
The fight is over the vacant WBO Featherweight World Championship which was vacated by Emanuel Navarrete, who has gone up one weight class to become WBO Super Featherweight Champion now.
Ramirez has not lost any of his bouts since suffering a setback in his debut bout. In 2022, he has wins over Eric Donovan, Abraham Nova, and Jose Matias Romero. Dogboe's has just 2 losses in his resume, which both came to Navarrete for the Super Bantamweight title in 2018-19. Since moving up to featherweight, he has won 4 bouts in a row against Chris Avalos, Adam Lopez, Christopher Diaz, and Joet Gonzalez. Will he become a World Champion in his third attempt?
The undercard will also feature unbeaten prospects Jahi Tucker and Delante Johnson while Joet Gonzalez would try to get back to winning ways as he faces Enrique Vivas. The event will start streaming at 7 PM ET on ESPN+ streaming service here. Tune in below as we post live results from Robeisy Ramirez vs Isaac Dogboe event with complete fight card, and other information.
RESULTS
Rohan Polanco def. Ricardo Quiroz via unanimous decision(60-54, 60-54, 60-54) – 6 Round, Junior Welterweight Bout
Abdullah Mason def. Erick Garcia Benitez via KO in round 1 – 6 Round, Lightweight Bout (Watch Video)
Emiliano Fernando Vargas def. Edgar Uvalle via KO in round 2 – 4 Round, Lightweight Bout (Watch Video)
Dante Benjamin Jr. def. Jasper McCargo via TKO in round 2 – 6 Round, Light Heavyweight Bout (Watch Video)
Tiger Johnson def. Alfonso Olvera via unanimous decision(80-72, 80-72, 80-72) – 8 Round, Junior Welterweight Bout
Jeremiah Milton def. Fabio Maldonado via unanimous decision (80-70, 78-72, 80-70) – 8 Round, Heavyweight Bout
Jahi Tucker def. Nikoloz Sekhniashvili via unanimous decision (77-74, 77-74, 77-74) – 8 Round, Junior Middleweight Bout
Joet Gonzalez def. Jose Enrique Vivas via unanimous decision (98-92, 99-91, 98-92) – 10 round, Featherweight Bout
Main Event: Robeisy Ramirez def. Isaac Dogboe via unanimous decision (117-110, 118-109, 119-108), 12 round, Vacant WBO Featherweight World Championship Bout