Gamebred Boxing 4: Roy Jones Jr vs Anthony Pettis Results Live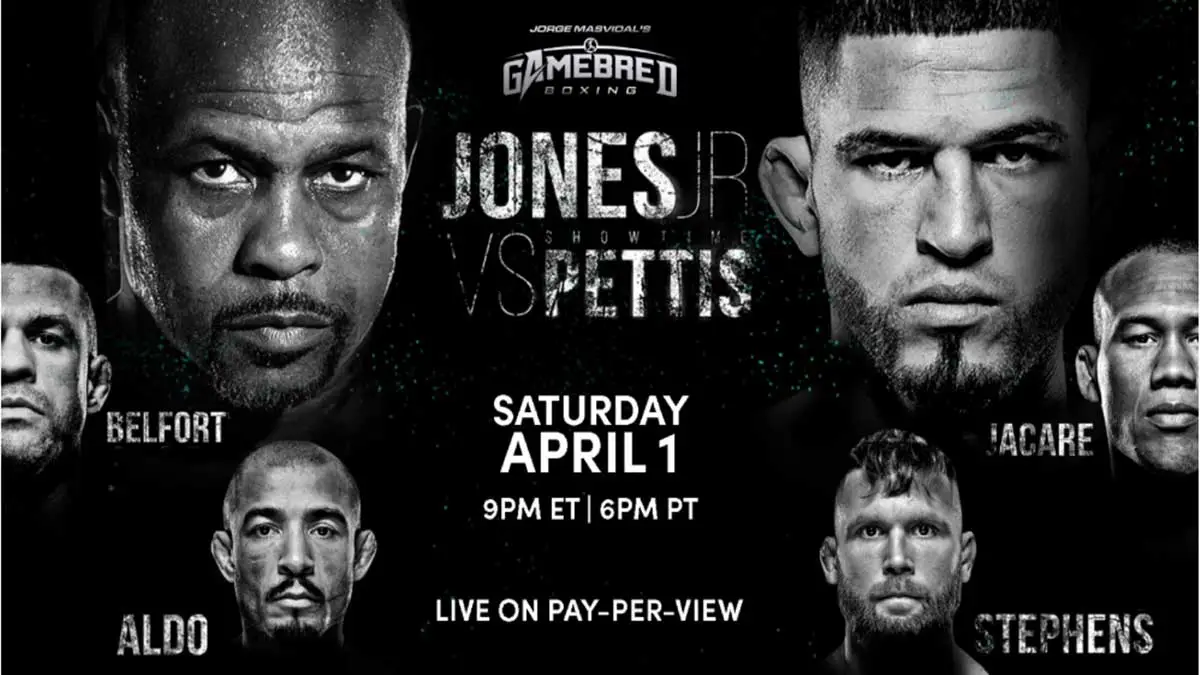 Jorge Masvidal's Gamebred Promotions will present Gamebred Boxing 4 event on April 1, 2023, which will feature the legendary Roy Jones Jr. in the headliner.
Jones, 54 years old now, returns to the boxing ring for the first time since 2018. Jones has won his last 4 fights between 2016 to 2018. He will take on MMA Fighter Anthony Pettis who has moved towards boxing now after a disastrous 2022 PFL season. This will be a heavyweight bout.
The co-main event will feature another legend and UFC Hall of Famer Jose Aldo making his boxing debut. He will face another UFC and PFL fighter making his boxing debut in Jeremy Stephens in a Welterweight bout. The pair previously clashed in UFC in 2019 where Aldo won the MMA fight via first round TKO. Will Aldo repeat his performance in boxing?
UFC Veteran Vitor Belfort takes to the boxing ring for the second time. He has a previous win over Josemario Neves in 2016 and a win over Evander Holyfield in an exhibition bout. The prelims card starts at 7 PM ET with the main card starting at 9 PM ET. Tune in below as we post live results from Gamebred Boxing 4: Roy Jones Jr. vs Anthony Pettis event with complete fight card, and other information.
RESULTS
Prelims
Danielle Cohen def. Danielle Wynn via unanimous decision – 4 round, Lightweight Bout
Cade Howell def. Christopher Wingate via unanimous decision (40-36, 39-37, 39-37) – 4 round, Welterweight Bout
Javier Zamarron def. Roberto Armas via unanimous decision(39-37, 39-37, 40-36) – 4 round, Super Featherweight Bout
Mandeep Jangra def. Ryan Reber via TKO in round 2 – 4 round, Super Featherweight Bout
Markus Perez def. Joe Riggs via TKO at 1:19 of round 3 – 4 round, Cruiserweight Bout
Main Card
Bi Nguyen def. Andy Nguyen via unanimous decision (39-37, 39-37, 39-37) – 4 round, Bantamweight Bout
Dillon Cleckler def. Joshua Burns via TKO at 1:20 of round 1 – 6 round, Heavyweight Bout (Watch Video)
Gina Mazany def. Pearl Gonzalez via majority decision (57-57, 58-56, 59-55) – 6 round, Featherweight Bout
Devin Cushing def. Damian Marchiano via TKO at 2:59 of round 3 – 6 round, Super Featherweight Bout
Luis Felicianovs def. Clarence Booth via unanimous decision(79-73, 78-74, 77-75) – 8 round, Super Lightweight Bout
Jose Aldo vs Jeremy Stephens (Majority Draw (58-56, 57-57, 57-57)) – 6 round, Welterweight Bout
Vitor Belfort def. Ronaldo Souza via unanimous decision (58-54, 58-54, 57-55) – 6 round, Heavyweight Bout
Anthony Pettis def. Roy Jones Jr. via majority decision (76-76, 77-75, 78-74) – 8 round, Heavyweight Bout