Gervonta Davis vs Isaac Cruz – Live Results, Play by Play Updates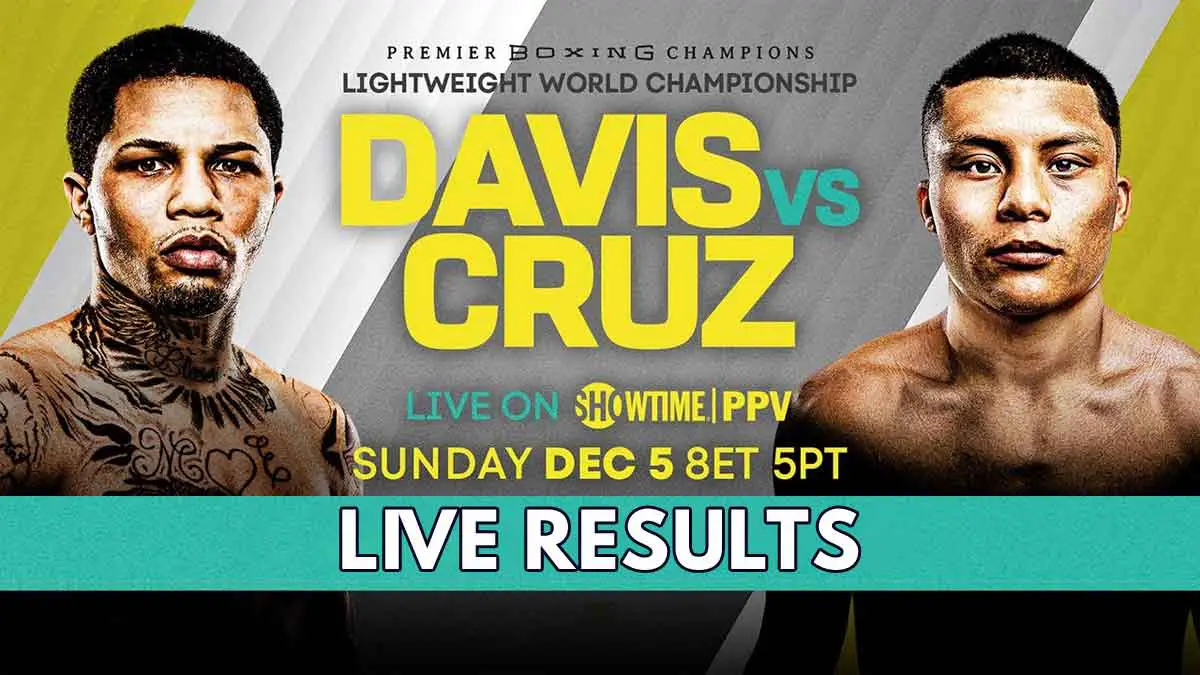 Welcome to the live results blog of the Gervonta Davis vs Isaac Cruz Showtime Boxing PPV on December 5, 2021.
Davis(25-0) will defend WBA(regular) Lightweight Championship in this bout. This will be his third title defense since he won it from Yuriorkis Gamboa in December 2019. The earlier title defenses came against Léo Santa Cruz and Mario Barrios.
Earlier, Rolando Romero was his opponent on this event, but the promoters replaced Romero after an investigation opened against him in a sexual harassment case. Cruz(22-1-1) was brought in as a replacement one month back.
Join us as we bring the round-by-round and play-by-play updates from Gervonta Davis vs Isaac Cruz and results from the undercard.
Results
Gervonta Davis defeated Isaac Cruz via unanimous decision(116-112, 115-113, 1115-113) to retain WBA (regular) lightweight title.
Sebastian Fundora defeated Sergio Garcai by unanimous decision(115-113, 117-111, 118-110) to win 12 rounds WBC super welterweight title eliminator bout.
Carlos Adames defeated Sergiy Derevyanchenko via majority decision (95-95, 97-93, 96-94) : 10 rounds – WBC middleweight title eliminator bout
Eduardo Ramirez defeated Miguel Marriaga via unanimous decision (99-90, 99-90, 99-90) : 10 rounds – featherweight bout
Davis vs Cruz Live Updates
The undercard is done and we will shortly move towards the main event. You can check the undercard results above.
National Anthems are done now. Isaac Cruz is out now. Davis follows shortly.
Round 1: Davis is cautious to start. Cruz swings but Davis is out of his reach. Cruz gets a few body shots. Davis moves away from the ropes. Cruz gets more body shots. Davis lands a left uppercut. Cruz staggers Davis with punches near the ropes. Davis fires back with his shots. Cruz slips near the end of the round with a punch on the side.
Round 2: Cruz is on the offensive again to start. Davis lands a left uppercut after they dance around a bit. Cruz lands jabs and body shots before they get into a clinch. Cruz is firing his shots but Davis also lands another uppercut in between. Cruz swings for a big shot. Davis counters with a punch. More body shots from Cruz as the round ends.
Round 3: Cruz is moving his head swiftly to avoid punches. He manages to land more body shots. They ultimately get into a clinch. Cruz lands more body shots and Davis also catches Cruz's body with an uppercut. Davis counters with a right uppercut. Davis with uppercut and hook combo. Cruz forces him to the corner and they come to a clinch. Davis is looking much better in this round now.
Round 4: Davis is avoiding Cruz with some good movement. Cruz lands some uppercuts and body shots. Cruz is forcing Davis towards the ropes with more body shots. Both men miss their shot and get into a clinch. A left uppercut from Davis catches Cruz's body and another one lands on his jaw. Davis hits another uppercut now. In the replay, we see that Cruz has blocked uppercut with his arm.
Round 5: No engagement for the first 30 seconds. Similar next 30 seconds. Cruz swings big and lands a shot. Cruz lands an uppercut on the body before Davis gets him in a headlock. Davis lands shots on the body. They exchange some quick strikes. The referee warns Davis for the second time in this fight. The action picks up in the last 40 seconds. Davis is landing better shots.
Round 6: No clear aggressor in this round. Both men are able to get their shots going in between lull periods. A very uneventful round comes to an end.
Round 7: Davis is coming out strong in this round. He keeps the aggression on with his power punches. Complete domination from Davis in this round.
Round 8: Davis continues to stun Cruz with his left hands. Cruz lands a jab in between. Davis dodges a punch to send Cruz to the corner. Cruz also lands his shot. Davis misses an uppercut. Cruz lands an uppercut before they wrestle to the ropes again. Cruz lands another uppercut as the round comes to an end.
Round 9: Cruz lands some shots. Davis also hits him back with his left. Quick exchange between them. Davis hits an uppercut and jab combo. A lull period in between as both fighter remain cautious. Davis lands a body shots. Davis hits an uppercut. Cruz counters with a hook.
Round 10: Cruz forces Davis to the corner but Davis manages to avoid much damage. Davis shoots at the body. Cruz is also firing back with his shots. Cruz goes on a flurry of punches. Davis is no backfoot now. Davis lands a body shot. Cruz also lands a body shot as the round comes to an end.
Round 11: Cruz hits a good body shot before they get into a clinch. Cruz lands jabs. Both men has got their shots going. Both men remain cautious but have landed some shots in between. Cruz looking better as the round comes to a close.
Round 12: We are in the final round. It does not look that we will get a knockout here. Davis goes for jabs but is unable to land. Cruz swings big. Davis is looking better in this round. Good exchanges in this round so far. Davis slips just before the final minute. They get into a clinch. Cruz lands some more shots as the final round comes to an end.
Official Decision- Gervonta Davis wins the bout via unanimous decision with scores of 116-112, 115-113, 1115-113.
In post-match interview, Davis revealed that he injured his hand after sixth round.