BKFC Thailand 2 Results, Fight Card, Streaming Link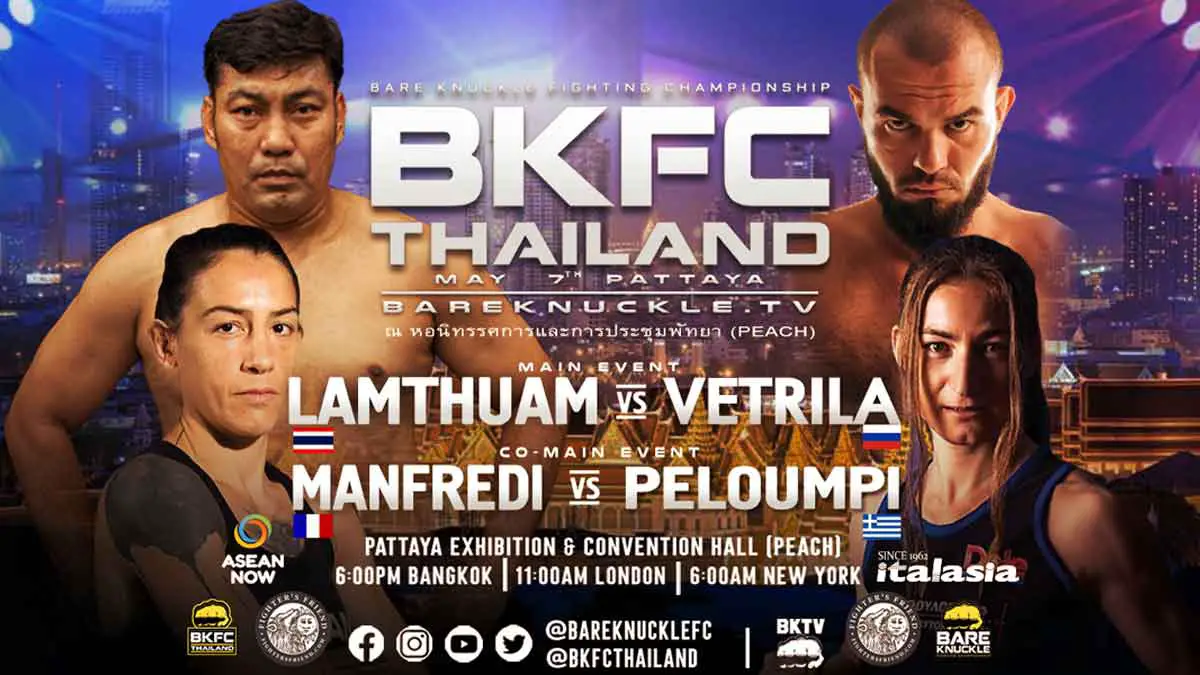 BKFC will return to Thailand 2 event, their second event from Pattaya, Thailand, on May 7, 2022. The event will be at Pattaya Exhibition and Convention Hall from 6 AM ET. The event is listed to air on Fite TV and Bare Knuckle TV from 9 PM ET on the same day.
The event will see Sirimongkhon Lamthuan vs Mikhail Vetrila Light Heavyweight bout in the main event. Vetrila makes his BKFC debut, while Lamthuan enters the bout with one win in the promotion. The co-headliner will see Souris Manfredi take on Fani Peloumpi. 7 more fights are scheduled for the card(complete card below).
Check the complete details for BKFC Thailand 2: Lamthuan vs Vetrila event below with results, fight card, date and start time.
Results & Card
Sirimongkhon Lamthuan defeated Mikhail Vetrila via Majority Decision (49-48, 48-48, 49-48) – Light Heavyweight Bout
Fani Peloumpi defeated Souris Manfredi via Split Decision (49-48, 47-48, 49-48) – Women's Strawweight Bout
Steve Banks defeated Akbar Karimi via TKO at 0:14 of Round 2 – Heavyweight Bout
Keivan Soleimani defeated Paitoon Jaikom via Unanimous Decision (48-46, 50-48, 50-44) – Welterweight Bout
Maseng Kantiphong defeated Naeem Binhar via Unanimous Decision (49-47, 48-47, 48-47) – Lightweight Bout
Pongpisan Chunyong defeated Sudan Kulubon via KO at 1:50 of Round 1 – Featherweight Bout
TJ Chang defeated Fabiano Hawthorne via Unanimous Decision (48-45, 49-44, 50-46)
Sadudee Srimueang def. Phatiphan Krungklang via TKO (Retirement) at 2:00 of Round 3 – Lightweight Bout
Thanatorn Kamwan defeated Thodsaphon Wannahat via KO at 1:23 of Round 1 – Flyweight Bout
U. Thawilsuhannawang defeated Benjamat Phakra via KO at 0:49 round 3 – Women's Flyweight Bout