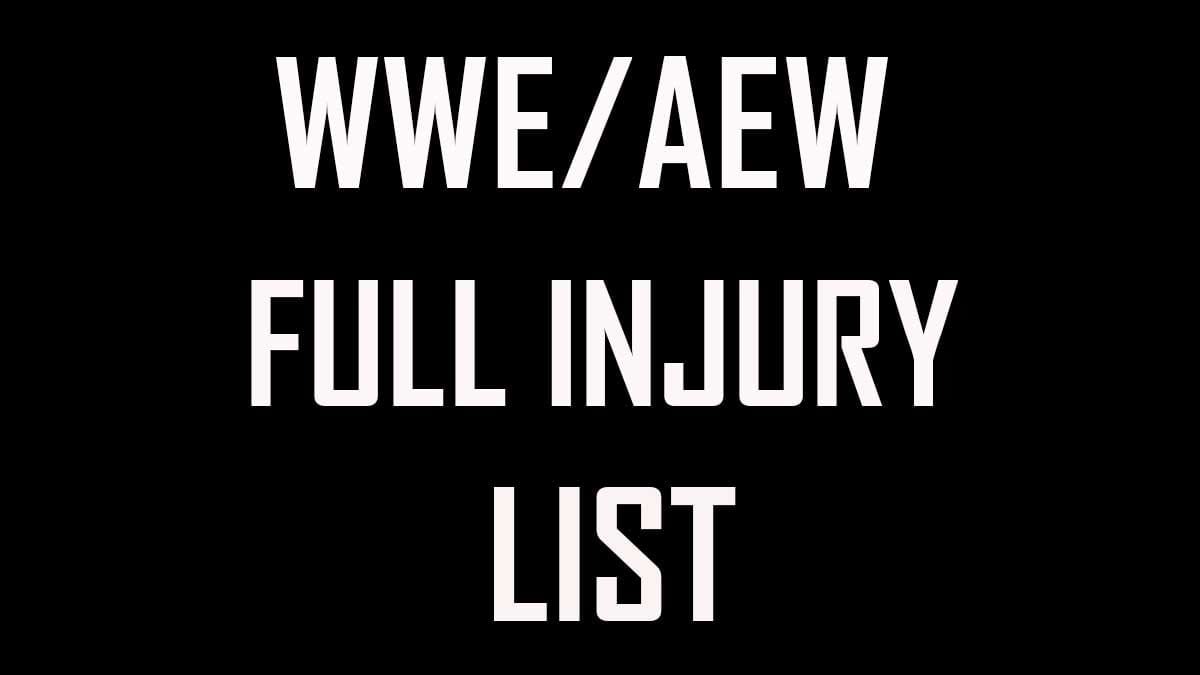 While any kind of injury is unfortunate, they are part and parcel of sport. And professional wrestling also gets its fair share of injuries. We maintain the list of injuries, surgeries and expected return dates for wrestlers from all the major wrestling promotions like WWE, AEW, IMPACT, ROH, NJPW, and others. The list will be updated timely with names being added and removed based on their injury and return to in-ring action.
**Last Updated on 3 March 2020
WWE Injuries List
Name
Promotion
Injury
Injured Date
Return Date
Remarks
Rusev
RAW
Minor back injury
Feb-2020
Unknown
Asuka
RAW
Sprained wrist
Feb-2020
March 2020
Possibly she will recover at elimination chamber
Kalisto
Smackdown
Separated shoulder 
Dec-2020
Unknown
Io Shirai
NXT
Knee Injury
Jan-2020
April 2020
Boa
NXT
Shoulder Surgery
Nov-2019
Unknown
EC3
RAW
Concussion
Sept-2019
Unknown

More info here

Aliyah
NXT
Nasal Surgery
Nov-2019
Unknown
Possibly going for nose job due to some condition
Xavier Woods
SmackDown
Achilles Tendon Injury
Oct-2019
Jun-2020
Ember Moon
SmackDown
Ankle Injury
Sep-2019
Aug-2020
Kona Reeves
NXT
Possible Orbital Bone Damage
Sep-2019
Mar-2020
Rachael Ellering
NXT
Torn ACL
Aug-2019
Feb-2020
Kavita Devi
NXT
Torn ACL
Aug-2019
Feb-2020
Karen Q
NXT
Broken Leg
Jul-2019
Jan-2020
Mickie James
RAW
ACL Injury
Jun-2019
Apr-2020
Lars Sullivan
WWE Unassigned
Knee Injury
Jun-2019
Apr-2020
Jinder Mahal
SmackDown
Ruptured Patella Tendon
May-2019
Unknown
Hit a roadblock in recovery
Jeff Hardy
WWE Unassigned
Knee Injury
Apr-2019
Unknown
Possibly recovered, put on the

shelf by WWE

Nia Jax
RAW
Double Knee Surgery
Apr-2019
Jan-2020
Eddie Dennis
NXT
Torn Pectoral Muscle
Apr-2019
Jan-2020
Tino Sabbatelli
NXT
Torn Pectoral Muscle
Apr-2018
Unknown
Started Working as a commentator
Jason Jordan
WWE Unassigned
Neck Injury
Jan-2018
Unknown
Started Working as a Backstage Producer
Impact Injuries List
| Name | Injury | Injured Date | Return Date | Remarks |
| --- | --- | --- | --- | --- |
| Rich Swann | Ankle Injury | Jan-2020 | Unknown | |
ROH Injuries List
| Name | Injury | Injured Date | Return Date | Remarks |
| --- | --- | --- | --- | --- |
| Flamita | Torn Meniscus | Feb-2020 | Unknown | |
AEW Injuries List
| Name | Injury | Injured Date | Return Date | Remarks |
| --- | --- | --- | --- | --- |
| Cody Rhodes | Toe Fracture | Feb-2020 | N/A | Minor Injury, Will continue to work |
NJPW Injuries List
Currently, there are no injuries listed for NJPW.
WWE ImPACT Test for Concussion Cases
WWE uses an ImPACT test for the Concussion cases. ImPACT results are evaluated by Dr. Mark Lovell who is a neuropsychologist and director of the Concussion Program at the University of Pittsburgh Medical Center & Sports Medicine.
All WWE Talent have been given a baseline ImPACT test score annually which is mandatory for all prospective talent during pre-contract screening. If a WWE wrestler or referee shows symptoms of a concussion or has suffered a concussion, then he/she will not be cleared for a return to wrestling until he/she passes an ImPACT test and is medically cleared by a certified physician.
ImPACT tests are typically taken by WWE Talent within 24-72 hours post-injury and WWE star will not be cleared until he/she retakes the ImPACT test, passes the ImPACT test and is subsequently cleared clinically by a certified physician.
If symptoms dictate and/or ImPACT scores warrant, WWE will send WWE Talent for direct consultation with Dr. Lovell. Also, if any talent suffers a second concussion within an annual year, that talent will not return to in-ring work until after a one on one evaluation by Dr. Mark Lovell
Prevention Programs and Initiatives For Concussion Prevention
The WWE conducts a yearly educational seminar for all talent, referees, producers & medical personnel that addresses the topic of concussions. The seminar, conducted by Dr. Joseph Maroon, MD, covers topics like:
concussion awareness
WWE's protocols for treatment
Latest medical information regarding concussion
In addition to education, the WWE has also modified its training program to emphasize techniques and timing of maneuvers to prevent unnecessary shots/strikes to the head. WWE has also eliminated using the folded metal chairs to hit strike an opponent on the head. WWE also penalizes through the wrestlers with fine and/or suspension for the following:
The intentional use of a folding metal chair to hit an opponent in the head.
Any other strike to the head that is deemed an Intentional act.