WWE SmackDown Live Results & Updates- 7 May 2021: Throwback Edition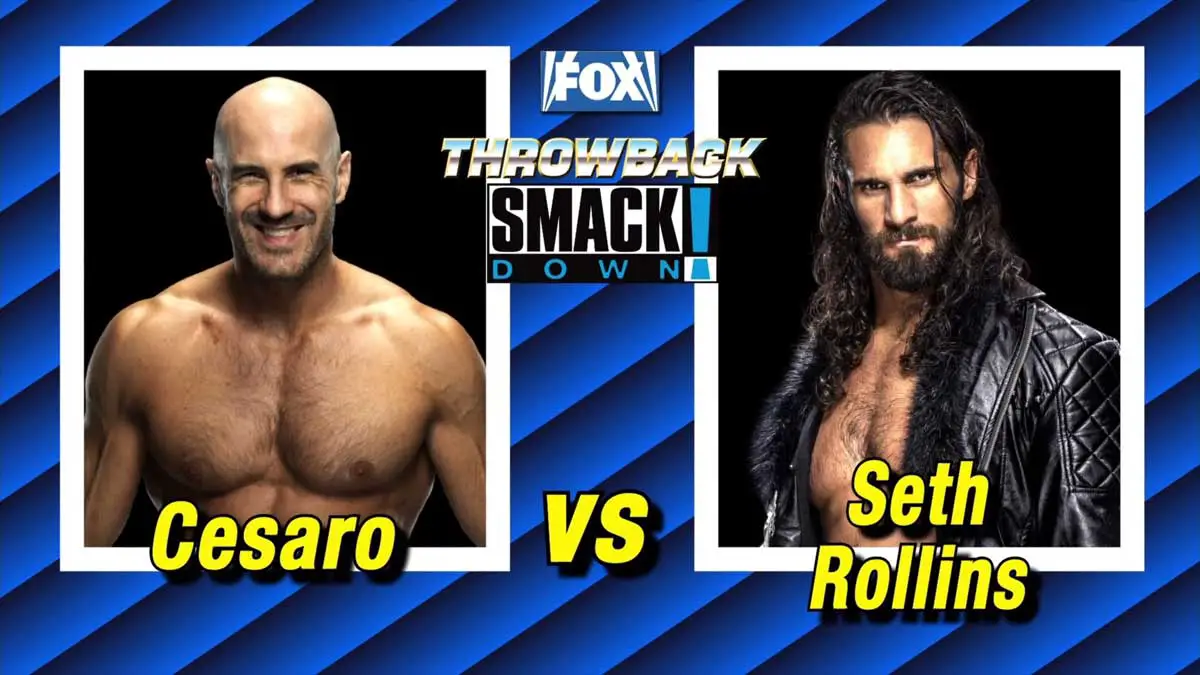 WWE is presenting a throwback edition of WWE SmackDown on 7 May 2021 episode. One match is announced for the show till now with Cesaro and Seth Rollins clashing in a rematch from WrestleMania 37.
Apart from the throwback and this one match, nothing is revealed for the show yet. However, we can expect more build-up for WWE WrestleMania Backlash 2021 PPV. Check the complete preview for the show here.
Tune in for the Live results, updates, list of winners and more video highlights for 7 May 2021 edition of Friday Night SmackDown.
WWE SmackDown 7 May 2021 Quick Results
Cesaro defeated Seth Rollins via pinfall in a singles match to get the Universal Championship at WrestleMania Backlash.
Carmella defeated Ruby Riott(w/ Liv Morgan) via submission in a singles match.
Dominik Mysterio defeated Dolph Ziggler via pinfall in a singles match.
Tamina defeated Reginald by Disqualification in an intergender singles match.
Apollo Crews, Sami Zayn, Otis, Chad Gable & King Corbin defeated Kevin Owens, Big E, Angelo Dawkins, Montez Ford & Shinsuke Nakamura via pinfall on Nakamura in a 10 men tag team match.
---
The show starts with WWE's Now, Then, Forever in old graphics. Then we get some rushes of the Rock saying it's his show. Michael Cole and Pat McAfee welcome us. Cole is dressed jeans and shirt while McAfee is a light blue suit. They take us to the main event of the first ever SmackDown – Triple H vs The Rock on 26 August 1999 with Shawn Michaels as the special referee. Michaels ended up costing Rock the title with a superkick. We are reminded that SmackDown is the second longest episodic TV show in history(RAW is first) with 1133 episodes in a row.
Roman Reigns, Cesaro & Seth Rollins
WWE Universal Champion Roman Reigns comes out to his new music with Paul Heyman and Jey Uso. We see the replay of how Roman defeated Daniel Bryan last week which means Bryan is now barred from SmackDown and how Cesaro tried to save Bryan from a chair-con-to but fails. They are all in the ring now. Paul Heyman says Tribal Chief has asked him eugilize the career of his victim Daniel Bryan with a 10 bell salute. Paul himself "ding!" on the mic 10 times and Roman is somehow supressing a grin as the Thunderdome crowd boo and start chanting "You Suck".
Roman takes the mic and says he is the man of his word and he did what he said. He gave everybody what they wanted- Daniel Bryan did not want to here. He defeated him and got rid of him. If Bryan wanted to be here, he would have acknowledged him. He says he will now replace Bryan with someone who would most certainly acknowledge him. The Usos music hits and Jimmy Uso makes his return to the show for the first time since Hell in a Cell. Jimmy and Jey embrace in the ring.
Cesaro makes his way out and takes the mic at the stage. Cesaro says Roman can never replace Daniel Bryan. He then says he does not have time for Roman tonight as he has his focus on the match against Seth Rollins. Roman starts laughing at Cesaro. Rollins attack Cesaro from behind and they brawl at the ramp. Officials separate them.
Former SmackDown Manager Teddy Long makes his entrance. He announces that if Cesaro beats Rollins, he will face Roman Reigns at WrestleMania Backlash. Cesaro gets in the ring and asks Rollins to come in. Roman attacks him from behind and Cesaro gets thrown into the steel steps. Rollins picks him up and gets him in the ring and beat him up some more. The referee gets him apart as we cut to the break.
Cesaro vs Seth Rollins
Stipulation- If Cesaro wins, he faces Roman Reings at WrestleMania Backlash for the Universal Championship
Cesaro is getting back to his feet and the bells rings as we return. Rollins unloads on him in the corner. The referee separates him. Rollins hits slingblade for a two-count. The Usos are at the ringside. Rollins hits a knee from the top for another two-count. Rollins throw Cesaro out in front of the Usos. Cesaro is driven into the barricade and the apron before they return to the ring. Roman looks at the match from backstage. Cesaro fights back with an uppercut. He gets him in the military press but Rollins slips and hits a chop block and slams him down to get another two-count.
Rollins goes for the suplex but Cesaro blocks him and overpowers Rollins into hitting a suplex of his own. Cesaro with big uppercuts, whips Rollins into corner and hits another uppercut. A discuss clothesline gets him a two-count. Cesaro tries to go for the swing but Rollins resists and Cesaro gets a two-count. Rollins sends him to the apron and Cesaro decks him. Cesaro goes to the top when Jey interferes, giving Rollins the chance for superplex and falcon arrow combo for a near fall. We go to the break.
Cesaro goes for the sharpshooter as we return. Rollins powers out but Cesaro gets him locked up in the second attempt. Rollins tries to grab the ropes but Cesaro transitions into a crossface. Rollins hits a neckbreaker. He follows with a big kick at the back of Cesaro's neck. Cesaro scoops Rollins and drops him on the top turnbuckle. Rollins counters to hit a buckle bomb but Cesaro comes back with a big clothesline. Both men are down now.
Rollins gets up and hits a punch. Cesaro returns the favor and they trade strikes for a while. Rollins manages to drop Cesaro to the outside. Jimmy distracts the official but Rollins stops Jey from interfering. As he was going back, Jey tries to catch him. Rollins shouts at him that he is not Roman and shoves him down. The referee stops Cesaro from getting out and Jimmy hits Rollins with a superkick. Cesaro takes the Usos out with a suicide dive and takes Rollins back to the ring. Cesaro hits the Neutralizer on Rollins to get the pin and the win.
Winner – Cesaro
After the break, the commentators confirms Roman Reigns vs Cesaro Universal Championship match at WrestleMania Backlash. We get the replay of what happened with Uso interferring. Seth Rollins is with Roman Reigns now. He shouts at Roman and asks him whether he should be pissed at Jimmy or at him. Roman says he has not heard from Jimmy till now. Then he retorts at Seth that since he lost, now he has to deal with Cesaro. Rollins tells Roman that either he ends Cesaro or he will.
We get a throwback to Stone Cold Steve Austin attacking Booker T in a supermarker on 13 December 2001 edition of WWE SmackDown.
Teddy Long is backstage with Sonya Deville. They were talking when Sami Zayn comes in and tries to get Teddy on his side for his conspiracy documentary. He then asks for the Intercontinental title match. Long jokes he got something better for him and tells him that he will go one on one with The Undertaker. Long then says that he will team up with Apollo Crews. Sonya and Teddy list other members of the 10 men tag team match. Long tries to get Sami to dance. Sami dances for a bit reluctantly before going away.
Roman Reigns is with the Usos. He tells Jimmy that he put a spotlight on him but he screwed up. Roman says he changed the game and gave him the same opportunity but Jimmy is making mistakes. Jimmy says Roman won't be taking to him in the same way as he talks to Jey. And he is nobody's bitch. Jimmy goes away. Jey looks at Roman and goes to talk to his brother.
Carmella vs Ruby Riott(w/ Liv Morgan)
Ruby & Liv are already in the ring. Carmella makes her entrance. They lock up and Ruby takes Carmella to the corner. They come to stalemate. Carmella slips out of the corner and goes the moonwalk. Ruby with a shoulder tackle. Carmella comes back with a takedown. Liv Morgan is shouting at her from the ringside as Carmella beats down Ruby. Ruby counters to sends Carmella into the turnbuckle.
They trade strikes before Ruby hits the STO. Ruby goes to the top and Carmella kicks at her legs and then superkicks at her face. Carmella tries to use the ropes for advantage. Morgan was the apron and Carmella kicks her down. Ruby tries to roll her up. Carmella counters with a pin attempt of her own. Ruby goes for the jacknife pin but Carmella wraps her legs around Ruby's neck to get the submission.
Winner – Carmella
A throwback to SmackDown 4 July 2002 episode when Edge and Hulk Hogan won the World Tag Team titles. Another throwback after the break. We get to see Brock Lesnar and the Big Show imploding the ring in June 2003.
Bayley's Celebration of Women's Champion
Bayley comes out for what was described as the "celebration of Women's Champions." She takes the mic and starts her promo. She says you have to be a superstar just to be in the WWE ring. But it is one thing to be a superstar and a great champion. She will now present some of the greatest women's champions. She starts with Alundra Blayze(held women's championship for three years), Jacqueline(first ever women and African America Cruiserwieght Champion), Lita, Trish Stratus, Ivory, Beth Pheonix, Molly Holly and finally Bianca Belair. She mentions Belair's smile and says Belair is so naive and she has no idea that she will not end up at her level. She is only looking out of her. However, she only see insecurities in Bianca. She claims to win the title from Bianca at Backlash.
WWE SmackDown Women's Champion Bianca Belair's music hits and she comes out to the ring. Bianca says she is at her best in her life and it will get better at Backlash. Bianca takes a shot at Bayley's insecurities comment and says she is just confidence and Bayley should worry about herself, claiming that she will become the longest reigning champion. Bayley starts laughing at Bianca's comments. She tries to take Bianca down but Bianca throws her in the corner and hits a few shoulder blocks. A dropkick from Bianca before Bayley catches her with a knee. Bayley throws Bianca in the corner before beating down on her for a while.
The Usos are arguing backstage. Jimmy tells Jey that they use to be the best tag team. They argue over family and Jey only benefitting Roman Reigns. Jimmy tells Jey to ask Roman whether he needs him or not and if Roman says no, he will stand down. Jimmy asks him to imagine them as the SmackDown Tag Team Champions before walking away.
Throwback to 27 June 2002 when John Cena debuted against Kurt Angle and got appreciation from The Undertaker.
Dominik Mysterio(w/ Rey Mysterio) vs Dolph Ziggler
Rey and Dominik make their entrance. We get the confirmation of Dirty Dawgs vs The Mysterio SmackDown Tag Team champions match at WrestleMania Backlash. Dolph Ziggler enters with Robert Roode. Ziggler takes the mic and taunts Dominik. He says he can go toe to toe all night long with Rey, but Dominik does not belong to the ring or industry. He tells him to get out of the ring so that men can handle their business. Dominik asks Rey to take on Dolph and Rey agrees.
The bell rings and Dolph fients a superkick. Dominik shoves Ziggler down and Ziggler comes back with a big strike. Dominik with a big punch and a dropkick. Ziggler goes out to the floor. Dominik tries to follow but Ziggler trips him at the apron. Ziggler beats him down on the floor. Back to the ring, Ziggler keeps control for a while. Ziggler with a neckbreaker to get a two-count. Dominik tries to fight back with punches but Ziggler keeps control. Ziggler goes for the suplex but Dominik counters into a cradle to get the pin.
Winner – Dominik Mysterio
Dominik slips out of the ring quickly and celebrates with Rey Mysterio.
We get the replay of Tamina defeating Shayna Baszler last week and Tamina's promo from Talking Smack. Kayla Braxton is with Reginald and Women's Tag Team Champions Nia Jax and Shayna Baszler. Reginald says Tamina left a sour taste in his mouth with her win last week. He says next week, Nia and Shayna will rip apart Tamina and Natalya in the title match. The commentary team confirm Reginald vs Tamina match.
Throwback to 11 November 1999 when Arnold got involved in beating down Triple H and celebrated with Stone Cold.
We cut to Roman Reigns backstage. He asks Paul Heyman to get his cousin. Heyman asks which one and Roman gives him a dirty look. Heyman says he understood and goes away to get Jey Uso.
Reginald(w/ Nia Jax & Shayna Baszler) vs Tamina(w/ Natalya)
Tamina and Natalya enter. Tamina goes to the ring. The bell rings and Tamina goes for the superkick. Reginald moves out of the kick with a summersault. He goes to the floor. As he returns, he ducks Tamina's attack a couple of times. Tamina catches his hair and tosses him into the turnbuckle. Reginald goes to the top to avoid more attack and dodges Tamina in the corner. Tamina catches him with a superkick. Tamina goes to the top for the superfly splash but Shayna run the interference to cause DQ.
Winner – Tamina(via DQ)
Nia and Shayna attack Tamina in the ring. Natalya comes in but the tag champs double team on her. The beatdown continues. Nia hits Tamina with a Samoan drop on the barricade.
We cut Apollo Crews and his team for the 10 men tag team match later today. He brings up the qualities of everyone but Sami Zayn. They hype up as we cut to Big E and his team. They are also hyped.
Apollo Crews, Sami Zayn, Otis, Chad Gable & King Corbin vs Kevin Owens, Big E, Angelo Dawkins, Montez Ford & Shinsuke Nakamura – 10 Men Tag Team Match
Chad Gable and Angelo Dawkins start with some back and forth. Dawkins with a takedown. Gable with an arm drag and Dawkins also hits an armdrag. Ford tags in for a dropkick on Gable. Gable comes out of the arm twist and tags in Apollo. Apollo with a body slam on Ford. Zayn comes in and beatup Ford for a bit. He uses the ropes to choke Ford. Kevin Owens argues with Zayn from the apron. Ford comes back with a dropkick and tags in Big E.
Sami Zayn also tags in Corbin. They circle the ring before locking up. Big E with a headlock. Big E hits a shoulder tackle before Corbin hits a clothesline. Big E with a back elbow to get a two-count. Big E is trapped in the opposite corner. Kevin Owens runs in and attacks Sami Zayn. All 10 men get involved in a brawl now. We cut to the break.
As we return, Big E is hitting shoulder blocks on Corbin in the corner. Corbin comes back with a big clothesline in the other corner. Gable tags in and beat down Big E. Sami Zayn is selling an injury near the announce table. Big E with a shoulder tackle now. Owens tags in and hits a chop and a clothesline. Apollo tries to distract KO. KO throws Gable in the corner. He whips Gable into the other corner now. Gable counters a suplex and hits a chop block. Gable starts to concentrate on KO's knee now. We cut to the break.
Otis has KO in a grip as we return. Otis hits a big splash in the corner. Apollo tags in and tries to go for the move. KO's stunner gets blocked but he hits an inverted atomic drop. Apollo hits an enziguiri. Big E is dropped by Otis on the floor with a big clothesline. Owens hits a spinning heel kick and tags in Shinsuke Nakamura. Sami Zayn comes in from the other side to eat a dropkick. Corbin is dropped from the apron. Sami eats a kick but ends up dropping Ford and Dawkins from the apron. Nakamura hits a German suplex and a kick from the top. Corbin breaks the pin.
Big E runs to start a sequence where each men start to use big moves on each other. The fight spills out to the floor. Ford ends up hitting a dive on Otis on the floor. In the ring, Nakamura hits Sami with the kinshasa. Corbin has taken the tag already and hit End of Days on Nakamura to get the pin.
Winners – Apollo Crews, Sami Zayn, Otis, Chad Gable & King Corbin
Jey Uso is with Roman & Paul Heyman in Roman's room. Roman tells him that we do things for family, because we love each other. He will give the same opportunity to Jimmy but he will have to see where he stands. And he will find out right now.
Throwback to 22 July 2004 when Vince McMahon joined Eddie Guerrero in his car.
Where Does Jimmy Stand?
Roman Reigns is in the ring with Jey & Heyman. He says he did not want to end things up like this. Jimmy enters as The Usos music hits. He comes into the ring and stands in front of Roman. He asks Jey where is he standing? He recalls how Jey was not quitting in the Hell in a Cell match until Roman put him i Guillotine. We get the replay from Hell in a Cell match between Roman and Jey. Jimmy says he would not have said I quit to Roman no matter what. Roman asks him if all this is about that match. He says he and Jey have moved forward. Roman tells Jimmy to fall in line or he can take his a*s home and explain his kids why he is watching them from television.
Jimmy exits the ring and stands on the ramp, thinking what to do. Jey comes up to him and talks to him. Cesaro attacks Roman from behind. Jimmy stops Jey from getting involved. Cesaro beats Roman in the corner. Jey hits the ring but Cesaro takes him down. Jimmy also comes into the ring now. Jimmy unloads on Cesaro but Cesaro hits him with an uppercut. Cesaro hits the neutralizer on Jey and then on Roman. Cesaro exits the ring and watches from the ramp as the show goes off the air.