WWE SmackDown Mar 18, 2022- Results, Card, Preview, Tickets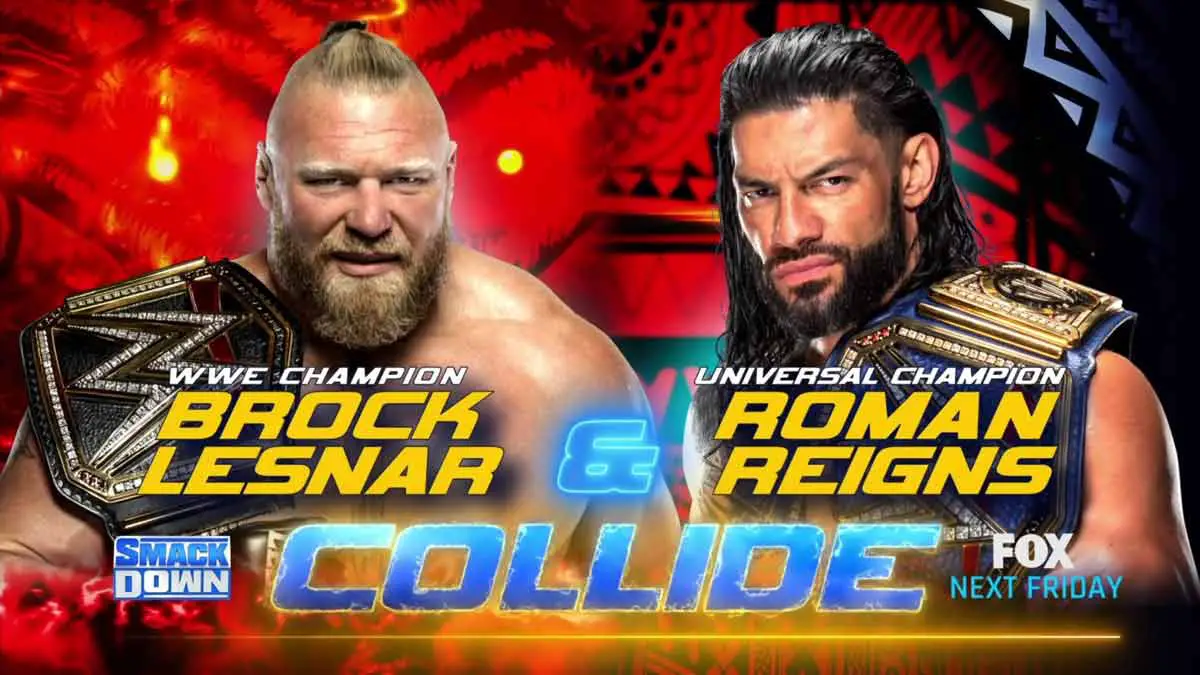 WWE SmackDown episode of March 18, 2022, will continue the road to WrestleMania 38. The show will air from Spectrum Center in Charlotte, NC.
As per WWE's advertisement, Brock Lesnar and Roman Reigns will collide on this week's show. More storylines are expected to progress as we move close to WrestleMania.
Keep scrolling for the complete details from WWE Friday Night SmackDown episode of March 18, 2022.
Show – WWE SmackDown
Date – March 18, 2022
Location – Spectrum Center, Charlotte, NC
Time – 8 PM EST
Match Card & Results
Shinsuke Nakamura & Rick Boogs defeated Los Lotharios(Humberto & Angel) in a tag team match via pinfall.
Drew McIntyre & The Viking Raiders(Erik & Ivar) defeated Happy Corbin, Shanky & Jinder Mahal in a tag team match via pinfall.
Sasha Banks & Naomi vs Rhea Ripley & Liv Morgan ended in a no-contest.
Ridge Holland defeated Kofi Kingston in a singles match via pinfall.
Live Updates
Roman & Lesnar!
After the recap of Roman Reigns and Brock Lesnar's rivalry from MSG show and last week's SmackDown, Roman comes out to the ring with the Usos and Paul Heyman. Roman takes the mic and asks the crowd to acknowledge him. Mixed response to this. He recalls how he made Brock Lesnar bleed all over New York. Heyman interrupts him and says Lesnar's flight got cancelled due to bad weather and he could not make it to SmackDown tonight.
This invites boos from the crowd. Roman is also disappointed. He responds to boos saying this is a business decision from Lesnar. Heyman interrupts again and Roman tells him to shut up. Heyman insists and Roman snaps at him. Heyman says Lesnar has landed in Charlotte and is on his way. Roman shouts at him for a while before The Bloodline leaves hastily. Heyman follows them.
The commentators cut to go through tonight's line-up. Roman and The Usos get into an SUV. Brock Lesnar charges at them with a forklift. He goes on to smash Forklift's blades through the SUV's windows. We cut to a break.
After the break, we see Lesnar has rolled over SUV but Bloodline has survived and ran away in another vehicle. Lesnar chased after them and rips out car's gate. Lesnar now makes his way out to the ring with the gate in his hand.
Lesnar kicks at the door a few times before taking the mic. He says Roman Reigns has unleashed a bi-polar beast. Roman can run and hide, but at WrestleMania, he will rip the doors off. He shouts that he is coming for blood before throwing the mic and leaving.
A replay for last week where Rick Boogs defeated Jey Uso to secure SmackDown Tag Team Title match at WrestleMania 38.
Shinsuke Nakamura & Rick Boogs vs Los Lotharios(Humberto & Angel)
Humberto ducks Nakamura's clothesline. He riles up Nakamura who hits a knee to the ribs before a clothesline and a running knee. Humberto now puts on a headlock. Angel gets a blind tag and attacks Nakamura from behind. They double team to drop Nakamura. More attack in co-ordination which ends with double dropkicks. Humberto is back in and puts on another headlock.
Nakamura misses an enziguiri and Humberto hits him with an elbow drop. Angel comes in and beats him up more. He hits a corner splash. Humberto comes in to knock Boogs off the apron with a dropkick. Quick corner splashes from Los Lotharios. Nakamura counters finally and brings in Boogs. Boogs drops both opponents in quick succession.
Boogs does overhead press on Humberto before throwing him out of the ring. Boogs picked up Angel in a pumphandle to do bicep curls before hits Boogs Cruise finisher for the pin and the win.
Winners – Rick Boogs & Shinsuke Nakamura
Drew McIntyre & The Viking Raiders(Erik & Ivar) vs Happy Corbin, Jinder Mahal & Shanky
We get a replay of how Drew McIntyre and Viking Raiders were beaten up backstage last week by Corbin and his accomplices. Drew & Raiders make their way to the ring as we cut to the break.
Corbin and team are at Gorilla position now and Corbin gets interviewed. Corbin says WrestleMania weekend will be his best ever weekend. Moss jokes and asks what will be an long episode of Happy Talks will be called? "Nappy Talks." Corbin is not happy with that joke. They make their way to the ring.
Erik charges at Shanky as the match starts. Shanky deals with hime easily and drops Erik before bringing in Jinder. Erik drops Mahal with a spinebuster. Ivar tags in for some double team. Mahal brings in Corbin after getting beaten up a bit. Ivar knocks Corbin to the floor before Corbin comes back to trade shots. Corbin hits a spinebuster on Ivar. Drew gets into the ring but is stopped from getting in on the action by the referee.
Mahal is in control against Ivar as we return. Ivar drops Mahal but Corbin intervenes to stop the tag. Mahal tries to sweep Drew on the apron but Drew hits him with Glasgow kiss. Ivar rolls over and tags in Drew. Corbin tags out quickly to Shanky and Drew drops Shanky with a clothesline. More offense follows as Mahal gets in and is sent to the floor. Drew hits a Michinoku driver on Shanky before hitting Claymore kick for the pin and the win.
Winners – Drew McIntyre & The Viking Raiders(Erik & Ivar)
Sami Zayn cuts a promo backstage and says Johnny Knoxville has made his life a hell. He challenges Knoxville for "everything goes" stipulation to be added to their match at WrestleMania.
Sasha Banks & Naomi vs Rhea Ripley & Liv Morgan
Sasha and Naomi with early double team to brings down Morgan. Sasha and Morgan switch waistlocks before Morgan stops a hip tosss. More back and forth action and both women ends up going for dropkick at the same time. Sasha offers a handshake, only to put Morgan in a headlock and brings in Naomi. Naomi hits a leg drop. Morgan hits a kick to the back and brings in Ripley for a dropkick.
Naomi counters a body slam and puts on a side headlock. Rhea picks Naomi up but Sasha bets a blind tag. Naomi goes to the floor and Sasha hits a knee to Rhea's face. Rhea counters in the ring with a delayed vertical suplex. Morgan comes in and gets a two-count with a quick pin attempt. Liv sends both opponents to the floor and Rhea hits them with a cannonball from the apron. We cut to a break.
Naomi hits an enziguiri as we return. Tags to Sasha and Morgan. Sasha comes in hot with quick attacks. She hits double knees in the corner before Meteora from the top for a two-count. Morgan hits a dropkick and tags in Rhea for a missile dropkick. Sasha counters with a backstabber and hits a splash. Naomi hits split legged moonsault. Morgan breaks the pin. Morgan is thrown to the floor.
Naomi and Sasha goes for double suplex from the top but Morgan comes in to complete Tower of Doom. Everyone is down in the ring. Natalya and Shayna Baszler attack to cause a DQ.
Result – No Contest
Some brawling continues after the match unti; Natalya and Baszler drops everyone. Zelina and Carmella also come into the ring for a face-off.
Johnny Knoxville replies to Sami from a recorded video. He says he has built a career out of ignoring common sense and he is still standing on his feet. He says Sami is a great competitor in the ring but he can take anything he dishes out to him at WrestleMania. He accepts the match to be anything goes, he accepts!
Michael Cole tells Pat McAfee he has been asked to meet Vince McMahon in his office right away. We cut to a break.
We return from the break to see Sonya Deville talking to Natalya and Shayna Baszler backstage. She says she likes the way they carry themselves and what they did to those teams in the ring. She is adding them to the tag title match at WrestleMania.
McAfee Apologizes!
Pat McAfee is seen leaving Mr. McMahon's office. He looks off as he walks backstage. He enters the ring and gets on the mic. McAfee talks about tuning in to USA Network one night when he was a kid to stumbled on pro wrestling for the first time. It was saw something that inspired him and shaped him forever. That night, he thought that he was put on this earth to do this only.
After he retired from other professions, he got a call from Michael Cole(whom he calls the Greatest of All Time!) asking if he wanted to work Friday nights and he said hell yeah. Austin Theory interrupts him as he comes into the ring. McAfee says he was just told that he should apologize to Theory or lose his job. He starts apologizing but stumbles on saying the word "sorry."
McAfee then finally apologizes Theory for beating his a**, for the fact that his parents raised a douchebag like him, that he made him relevant. Austin takes a selfie with him while McAfee looks at him angrily. Theory shoves him hard before running away from the ring.
Kofi Kingston vs Ridge Holland
Kofi starts with a dropkick. He unloads with punches in the corner before Holland puts on a side headlock. Kofi hits a running uppercut. Ridge shoves him out of the corner. Kofi counters on the apron and slams his face to the announce table.
Back from break, Kofi hits double chops and a dropkick. He ducks a lariat before hitting one of his own. A boom drop follows before Holland stops Trouble in Paradise. Kofi continues with a gamengiri. Sheamus distracts the referee and Butch shoves Kofi to the mat. The referee realizes what happened and ejects Sheamus and Butch from ringside.
Kofi rolls up Holland for a two-count. He counters a body slam and hits double knees. Kofi throws a stick at Sheamus and Butch. Butch charges the ring enraged. The distraction allows Holland to scoop Kofi to hits Northern Grit slam for the pin.
Winner- Ridge Holland
Flair on Top!
Charlotte Flair comes out to the ring before the break. She gets the mic and says she is the most decorated woman in sports entertainment. Talking about how she took down Ronda last week, Flair says no one has caused Ronda Rousey more pain than she. Flair takes more shots at Ronda and says when her legacy is bigger than Ronda's.
Flair then says when Ronda loses at WrestleMania, she will run away once again for having another baby while Charlotte will be here every week because she has the love and the passion for pro-wrestling. Ronda was watching this from backstage and she comes out after listening enough. She storms out and Flair meets her ringside. They start brawling.
Ronda catches grabs Flair's leg as she goes for a kick and applies the ankle lock. Flair grabs a kendo stick and slams it on Ronda. Flair chokes up Ronda with the kendo stick now. Charlotte ends up slamming Ronda through the announce table to close the show.
---
Tickets
The tickets for SmackDown episode of March 18, 2022 are available at Spectrum Center in Charlotte, NC. The prices start from $54.
Preview
Collision Ahead: After Roman Reigns attacked Brock Lesnar at MSG, Lesnar was adamant last week at SmackDown that he wants Roman in the ring right away. Paul Heyman informed him that Roman was not there on the show. But, they will now meet in the ring this week on SmackDown. What kind of explosion will we see in the ring?