WWE RAW Results August 8, 2022, Live Updates- Lashley vs Ciampa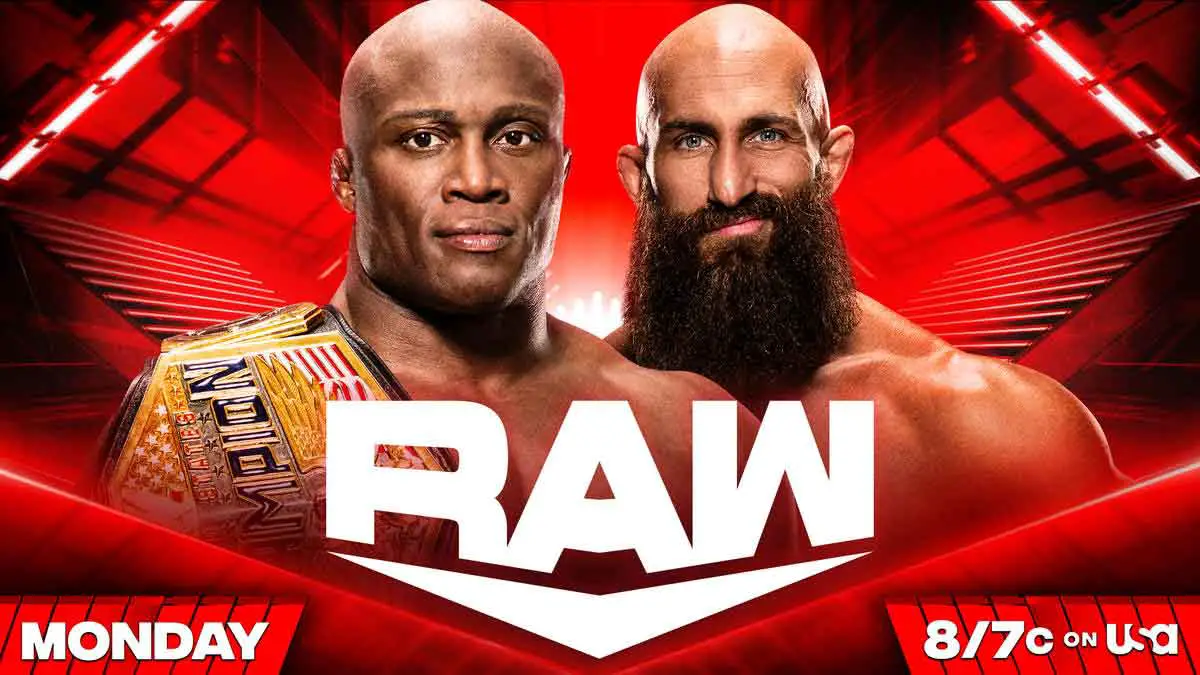 We will be here with WWE RAW Results from August 8, 2022 episode with all the live action from Rocket Mortgage Fieldhouse in Cleveland, OH.
Bobby Lashley will defend the United States Championship against Ciampa after Ciampa became the #1 contender for the title last week. Rey Mysterio will face Finn Balor in a singles match where the rivalry between Edge and Judgment Day is expected to continue.
More changes are expected to take place on the show as things continue to unravel under the new management. Bayley, Dakota Kai and Iyo Sky will look to continue their rivalry with RAW Women's Champion Bianca Belair. The tournament to crown new Women's Tag Team Champions will also start from this episode.
Tune in as we post results from WWE Monday Night RAW episode of August 8, 2022, here with live action, all the updates, winners and highlights.
Live Updates
The show opens with a recap of Bayley, Dakota Kai and Iyo Sky's return at Summerslam and their exploits last week. The commentary team reveals the bracket for Women's Tag Team Championship tournament. Bayley, Kai and Sky make their way to the ring.
Bayley Wants a Hungry Division!
Bianca will be nothing without her. First, they took care of Becky's shoulder and then they lit the fire under the rest of the women's division. Bayley claims that they have brought hunger back in this division to make it a women's division that we deserve. She then wonders why she is the only one who realized how much of a Lethal Women Iyo Sky is or how valuable Dakota Kai is. She names Kai wrong and the crowd gets on her back. Bayley gets rattled by the boos from the crowd.
Kai says they will show everyone what they are when they will enter the Women's tag team championship tournament and win it. Alexa Bliss, Asuka and Bianca Belair make their entrance and head to the ring. Huge cheers from the crowd. Alexa gives heads up to Kai and Sky that they would have to face them if they win tonight. Bianca addresses Iyo and says she is not finished with her.
Bianca then lays out a challenge for 3-on-3 match. Bayley knocks off and says there is no need for that match to take place in Cleveland. She proposes a match for Clash at the Castle. Bianca accepts the challenge before starting a brawl. They all go to the floor as they brawl. Bianca and Bayley are in the crowd. Others also follow them as several referees and crew members come out. Bliss takes out everyone with a dive. We cut to a break.
Seth Rollins vs Angelo Dawkins
Rollins makes his entrance for the match after we return from the break. Dawkins comes out with Montez Ford. Rollins starts with a side headlock. He brings down Dawkins to his knees but misses the stomp. Dawkins puts the side headlock now. They run the ropes and Dawkins nails Rollins with a dropkick. Dawkins hits a running tackle. Rollins rolls to outside. Ford mocks him with some mimicry. Dawkins comes out and tackles Rollins to send him flying over the announce table. We cut to a break.
Dawkins is fighting back against Rollins as we return. Rollins trips him into the turnbuckle. He kicks away Ford as he was checking on Dawkins. Ford gets agitated and comes into the ring with a steel chair. The referee keeps him under control and boots him from ringside. Dawkins clotheslines Rollins to the floor and hits a suicide dive. Back to the ring, he hits a pumphandle suplex and a corner splash. Dawkins hits a silencer to get a close two-count.
Rollins gets a two-count with a roll-up. He nails a rolling elbow but Dawkins avoids the stomp and hits a sit-out powerbomb for another close two-count. Rollins rolls to the floor and sends Dawkins into the steel steps when he follows. Dawkins avoids the stomp again but Rollins ends up hitting him with a pedigree to get the pin.
Winner – Seth Rollins
After the match, Rollins hits Dawkins with the stomp. Ford runs out to stop any further attack. Rollins runs away.
---
We see a replay of Edge's return at Summerslam, his promo last week and how he ended up hitting a spear on Dominik accidentally last week. Edge is now backstage with Rey and Dominik. He apologizes for the spear on Dominik last week. Rey understands but Dominik is pi–ed off. Edge tries to talk to him but Dominik just pushes him away. Rey tries to calm Dominik down but Dominik does not listen to him and goes away. Rey follows him to try to talk to him. We cut to a break.
---
We get a recap of how Ciampa became the #1 contender for United States Championship last week. Kevin Patrick is backstage with The Miz and Ciampa backstage. Miz takes an offense on using Phenomenal word for describing Ciampa's performance last week. Ciampa says the first ever US Champion Harley Race believed in him and helped him train. He says he dedicates tonight to Harley Race. Lashley will feel his sacrifice when they meet in the ring and will feel that he has already lost.
Ezekiel vs Kevin Owens
Ezekiel is already in the ring. Kevin Owens makes his entrance fired up. The bell rings and Owens starts to unload with punches and stomps. Ezekiel rolls to the floor and Owens sends him into the ring post, steel steps and then into the announce table. Owens hits a powerbomb on the apron. Ezekiel is hurt and the referee is calling for medical team. Owens just watches him as the medical team brings out a gurney to take Ezekiel away.
Winner – Kevin Owens
No Fear for Judgment Day!
Finn Balor makes his entrance with Damian Priest. Balor takes the mic in the ring and says both Rey Mysterio and Edge think they should fear them, but they can't get on a same page and Dominik is angry with them. Balor claims that they do not fear anyone. Damian Priest challenged Edge for a match in Toronto at RAW in two weeks. Priest says Edge may have started the Judgment Day, but Judgment Day will end Edge.
Rey Mysterio is backstage and Edge meets him, asking about Dominik. Rey says he has not found Dominik yet. Edge offers to be in his corner for his match next. Rey replies that he knows Dominik and he will come out for him eventually. Balor and Priest watch from the ring. We cut to a break.
Rey Mysterio vs Finn Balor
Rey Mysterio makes his entrance after the break. He looks behind, but there is no sign of Dominik. They start and Balor slams him into the corner, unloading on him. Rey reverses a whip and slams Balor's face into the corner. Balor reverses a whip but Rey hits a back elbow and a hurricanrana to send him to the floor. Rey hits a seated senton on the floor. He looks around for Dominik again. Back to the ring, Rey hits another seated senton and a hurricanrana to send Balor into the turnbuckle.
Balor ducks a springboard crossbody. He stomps as Rey tries to recover on the ropes. Balor hits elbows into his back. Rey counters with a tackle from the apron. Balor hits back with a knee and drops Rey with a big blow to the chest. Balor goes for three amigos. Rey reverses the third suplex. Rey fires with kicks. He rolls through the sunset flip and hits a dropkick to get a close two-count. Rey unloads from the second drope. Balor picks him up on the shoulders but Rey counters with a bulldog/facebuster to get another two-count. Rey sets up for 619 but Priest saves Balor by getting in the way. Balor slams Rey into the ringpost to take us to a break.
Balor fights back on the top rope. He slips out and drops Balor's face to the turnbuckle. Balor goes to the floor and Rey flips him into the barricade. Priest trips Rey on the apron. Edge runs out and attacks Priest, taking him into the crowd. Balor goes to attack Rey but Rey counters with a sunset flip to get a two-count. They trade shots in the middle of the ring now. Rey hits calf kicks and an enzuigiri. Balor counters with a flying clothesline and then nails him with a shotgun dropkick. Rey avoids Coupe de Grace and sets up Balor for 619. Rhea Ripley comes to the stage with a beaten up and bloodied Dominik. Balor hits Rey with 1916 DDT and follows up with Coupe de Grace to get the pin.
Winner – Finn Balor
Balor and Rhea stand on top of Dominik on the stage while Rey can only watch from the ring.
---
Dana Brooke and Tamina are getting interviewed backstage for Women's Tag Team Championship tournament when they get interrupted by Bayley, Kai and Sky. Bayley reminds everyone that she was the first Women's Tag Team Champion. Dana says she is ready to eliminate her friends from the tournament.
Dakota Kai & Iyo Sky vs Tamina & Dana Brooke – Women's Tag Team Championship Tournament Round 1 Match
Bayley, Iyo Sky and Dakota Kai make their entrance for the match. Dana Brooke and Tamina come out next. Dana and Kai start. Dana goes for a waistlock. She drops Kai to the mat and hits an elbow drop to get a two-count. Tamina tags in and rocks Kai with a big uppercut. She knocks Iyo from the apron. Tamina hits a suplex and Kai rolls to the floor. Iyo checks on her. Dana gets the tag and hits a crossbody to take out both opponents. Dana argues with Bayley as we cut to a break.
Kai is in control against Dana with a chinlock. Sky sent Dana into the barricade during the break. Kai stomps on Dana and brings in Sky for quick double team attacks involving dropkicks and pump kicks. Sky hits a crossbody with Dana in the corner. Sky hits double knees against the turnbuckle. Kai tags in. "Bayley Sucks" chants from the crowd. Dana counters a running knee with a powerbomb to get a two-count. Kai stops Dana from a tag. Sky comes in and Dana jumps over her to tag in Tamina.
Tamina slams Sky's face into the turnbuckle, and continues to manhandle her for a while. Sky hits back with a heel kick. Tamina hits a superkick and a Samoan Drop. Kai breaks the pin. Dana takes Kai back to the floor. Bayley pulls out Kai and Dana crashes into the barricade. Tamina is on the top. Sky meets her there. Kai gets the blind tag but Tamina kicks her away. Sky is sent back to the floor but she gets her boot up on Tamina's dive. Kai comes in and hits a Scorpion kick on Tamina. She hits a big boot in the corner. Sky tags in to hit moonsault from the top to get the pin.
Winners – Dakota Kai & Iyo Sky
Kevin Owens is caught up by Kevin Patrick and is asked about his brutal assault on Ezekiel. He replies that unlike Ezekiel, he knows who he is. And with most eyeballs on RAW tonight, it was the perfect opportunity to show who he is.
---
Dominik is the medical room with Rey Mysterio alongside him.
---
We cut to a video package for the legacy of United States Championship. Ciampa makes his entrance in Harley Race's robe. The Miz is with him. We see an Instagram Post from Ciampa which has pics with Harley Race, who Ciampa calls "The Boss." We cut to a break.
Bobby Lashley(c) vs Ciampa – WWE United States Championship
Lashley makes his entrance after the break. Miz removes Ciampa's robe as the announcements are done and we are ready to go. Ciampa comes right out of the gate with punches. Lashley drops him with tackle. Lashley goes for a delayed vertical suplex and hits it despite blocking attempts from Ciampa. Lashley unloads on him in the corner from the second rope. Ciampa slips out but Lashley puts him to the corner again.
Lashley catches him in a crossbody, but Ciampa slips out and hits a chop block to bring Lashley to his knees. Ciampa hits a couple of chops but Lashley no-sells them. Lashley hits a back elbow. Ciampa rolls to the floor to avoid a spear. Miz tells Ciampa something. Miz then goes to distract Lashley but Lashley was quick to drop Ciampa off the apron. Lashley goes to drive Ciampa into the ringpost but Miz gets in the way. Lashley throws Ciampa into The Miz to take us to a break.
Ciampa is removing the turnbuckle pad as we return from the break. Ciampa hits Lashley with kicks before putting on a chinlock. Ciampa took over control with a knee strikes on the apron to take control during the commercials. Lashley hits a shoulder tackle, a clothesline, corner clotheslines and a tackle in the corner. Ciampa hits him with a big boot. Lashley hits dominator to get a two-count. Ciampa counters dominator with a reverse DDT to get a two-count himself.
They trade strikes. Ciampa hits a kick to knee and hits a DDT to get another two-count. Lashley blocks the Fairytale ending and hits a spear. Miz puts Ciampa's legs on the ropes to break the pin. AJ Styles attacks The Miz and Miz runs away into the crowd. Ciampa puts Lashley into an inside cradle to get at two-count. Ciampa removes the turnbuckle pad finally. Lashley drops him with a tackle. Lashley was going for the Hurt lock when Miz and AJ Styles run back into the ring to disrupt him.
Ciampa sends Lashley into the exposed turnbuckle and hits a knee strike, but Lashley kicks out. Lashley goes for the Hurt lock but Ciampa counters and puts him in crossface. Lashley struggles for a while but rolls over and powers up to get Ciampa on his shoulders. Ciampa slips out and catches Lashley with Willow's bell to get a near fall. Lashley hits Ciampa with a spinebuster to stop him in his tracks. Lashley puts Ciampa in the Hurt Lock. Ciampa holds for a while but taps out after a few seconds.
Winner – Bobby Lashley
AJ Styles vs The Miz No Disqualification match is announced for later tonight.
Omos vs Andrea Guercio & Spencer Slade – 2-on-1

Handicap Match
Omos dominates from the get go and drops his opponents multiple times. Omos throws Slade into the corner over his partner and hits a back splash. He throws Slade across the ring, drops the other one with a big boot, and hits chokebomb on Slade to get the pin.
Winner – Omos
Seth Rollins is interviewed backstage and is asked about Riddle's exclusive interview next week. Rollins gets angry on being asked about Riddle. Rollins says Riddle is not gonna give us any earth shattering announcement, but will only say, "Bro", "Randy"… Rollins says Riddle is capable of flushing his own potential down the toilet, and we just need to ask Dana White about it. Rollins says Riddle might just announce that he would hang up his boot, and if he doesn't, Rollins would have to Cody Rhodes his a–.
---
Alpha Academy makes their way to the ring. Gable will face Dolph Ziggler.
Chad Gable vs Dolph Ziggler
They start with feeling out each other before some mat wrestling and quick transitions. They push each other. Ziggler goes for the legs and gets a two-count with a backslide. Gable completes a single leg takedown but Ziggler gets another two-count with a cradle. Ziggler once again counters with a sunset flip to get a two-count. Ziggler gets up with a bridge. Gable gets on the waistlock, slams Ziggler into the turnbuckle, sunset flips and hits a deadlift German suplex in one swift motion to get a two-count. Gable hits a dragon screw leg and starts to work on Ziggler's knee. Gable hits a big chop and then hits a monkey flip to get another two-count.
Gable goes to the top and shooshes the crowd. Ziggler avoids the moonsault from Gable and hits a spiked DDT. Ziggler goes for a superkick, but Gable counters with an ankle lock. Ziggler targets punches on Gable's knees but Gable rolls over and puts on ankle lock again. Ziggler kicks him away but Gable avoids the fameasser to put on the ankle lock again. Ziggler kicks him away but his knees give out when he goes for a superkick. Gable hits a powerbomb to get a two-count and puts on the ankle lock again quickly. Ziggler gets a two-count with a cradle. He hits a superkick to get the pin.
Winner – Dolph Ziggler
Otis tries to attack Ziggler but Ziggler runs away from the ring.
---
Nikki ASH and Doudrop cut a promo backstage saying that they will crush Asuka and Alexa Bliss' dreams next week. Alexa and Asuka cut a counter promo but get interrupted by Bayley and company. WWE crew run past them in a hurry. They all get surprised by their movement. Bayley's trio leave and we see AJ Styles walking towards the entrance.
AJ Styles vs The Miz – No Disqualification match
They start by trading blows. AJ goes for a ground and pound. Miz slips to the floor and AJ slams him onto the announce table. AJ clears the announce table. Miz slams him into the table and then throws him into the barricade. AJ hits a sliding knee from the apron as Miz was looking to bring out something from underneath the ring. AJ brings out a kendo stick and a steel chair, but wants a table. Miz hits him with a dropkick.
They get into the ring and Miz unloads with kendo stick. He sits on the chair and AJ hits him with back with punches and runs him over the chair with a clothesline. AJ takes Miz to the announce table where Miz counters to throw him over the barricade and into the crowd. We cut to a break.
AJ brings out a table as we return from the break. Miz hits him with a kendo stick in midsection. Back to the ring, Miz unloads with more stick shots. He goes to choke AJ with kendo stick. AJ fights back with elbows and hits a Pele kick. AJ gets his hands on the kendo stick and goes to unload on Miz. AJ hits a side Russian Leg Sweep using the stick to get a two-count. Miz hits back with a big boot. AJ counters Skull Crushing Finale with a roll-up. He hits Phenomenal Forearm but Ciampa pulls out the referee out of the ring.
AJ attacks Ciampa and slams his face into the apron. AJ was looking for the Styles Clash but he changes his mind midway and is now looking to use the table. Ciampa fights back on the apron but AJ ends up dropping him through the table with a forearm shot. Miz rolls up AJ to get a two-count. AJ hits back with punches before Miz cuts off the Phenomenal Forearm by throwing a chair at his face. Miz hits Skull Crushing Finale but AJ kicks out. Miz hits him with kendo stick. AJ counters by sending him into a chair set up in the corner. AJ hits Styles Clash to get the pin.
Winner – AJ Styles
AJ celebrates his win. Security is trying to stop someone at the barricade. Styles' attention goes there. It was Dexter Lumis. The security takes him back. We cut to a replay from the match. AJ continues to celebrate as the show goes off the air.