WWE RAW Results September 5, 2022, Live Updates- Lashley vs Miz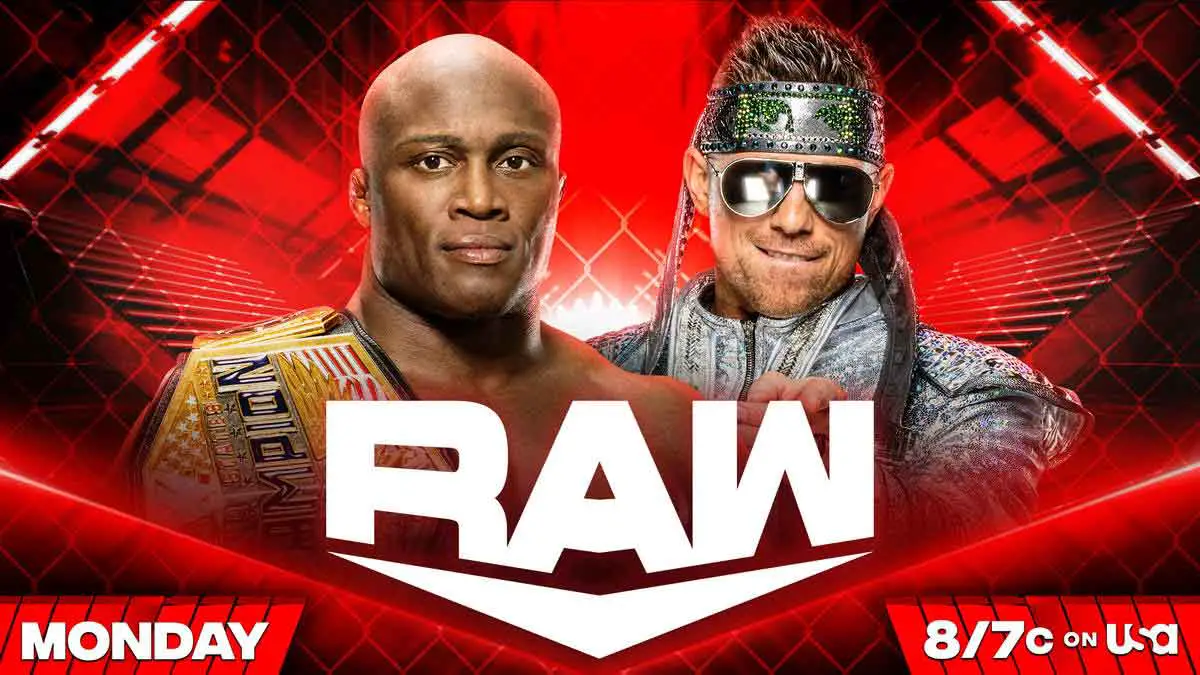 Welcome to the WWE RAW Live Results blog for September 5, 2022 episode which will feature a steel cage match for United States Championship.
Bobby Lashley and Miz's feud will end with a steel cage for the US title. The show will be the fallout show from Clash at the Castle. We might know if Bayley gets a shot at Bianca Belair's RAW Women's Championship after pinning her in a tag team match. Also, WWE might address the controversy around Women's Tag Team Championship final where Dakota Kai was pinned despite not being the legal woman.
It is also expected that WWE will start to build towards Extreme Rules 2022 event. A fatal 4-way match is rumored to find a new #1 contender for tag team titles held by the Usos. It will also be interesting to see what Austin Theory, Kevin Owens and others will do. Dominik turned on Rey Mysterio and Edge and we might hear more from him on that.
Tune in as we post results from WWE Monday Night RAW episode of September 5, 2022 with live updates, complete action, highlights, winners and videos.
Live Updates
Dominik's Judgment
Edge opens the show. We see the recap of Dominik turning on Edge and Rey Mysterio at Clash at the Castle. Edge starts to talk about Dominik's childhood, and how he used to stay at his family home when WWE use to tour San Deigo. He felt Dominik is always like a nephew, but Dominik does not feel anything similar. He then apologizes to Dominik for hitting him with a spear by mistake. He did not come back to be between Dominik and Rey, but to help them with Judgment Day since it was his mistake.
Edge says he is not looking at Dominik as a kid anymore. Edge calls out Dominik to come out to the ring or he will find him. Rey Mysterio's music hits and he comes out. Rey says his son messed up big and he is asking for an apology on his behalf. Edge says Dominik is old enough to stand for his action. Edge once again calls out Dominik. Judgment Day's music hits and Rhea Ripley comes out to the stage. Rhea tells Edge to calm down. She says Edge and Rey got what they deserve at Clash at the Castle. Rhea says Dominik is not a baby anymore, she saw potential in him and turned him into a man.
Rey tells Dominik to snap out it. He asks Dominik to make amends with Edge and make things right. Rhea tells Rey that Dominik is not listening to him anymore. She tells Edge that he has to pass his Judgment Day. Rhea and Dominik proceed towards the ring and Rey says he does not want to be part of this. Rey leaves the ring and meet Dominik and Rhea on the ramp. Rey tries to talk to Dominik, but he does not pay attention. Rey leaves.
Finn Balor and Damian Priest attack Edge from behind. Edge continues to fight back until Dominik hits him with a chop block. Balor and Priest beat up Edge. Dominik and Rhea stop Rey from getting involved. Rhea drops Rey with a clothesline and then sends her into the steel steps. Dominik hands a steel chair to Balor who works on Edge's knee. Balor hits Coupe de Grace on Edge's knee against a chair. Rey gets into the ring and Judgment Day leaves.
---
McKenzie Mitchell catches up The Miz and Tomasso Ciampa in the parking lot and asks him about Dexter Lumis possibly being in his car last week when he drove off. Miz says it was nothing as such. They see a car lying flipped over in the parking. Miz and Ciampa say it was Dexter Lumis who did this.
New Day(Kofi Kingston & Xavier Woods) vs Alpha Academy(Otis & Chad Gable) vs Los Lotharios(Humberto & Angel) vs The Street Profits(Angelo Dawkins & Montez Ford) – #1 contender for WWE Tag Team Championship
Angelo and Woods start the match with some back and forth. Angel tags in Kofi and for some weird reason, Kofi and Woods have to face each other now. Woods try to give Kofi an easy pin but it is broken by other teams. A brawl breaks out in the ring. Everyone is thrown out except New Day, who hit a suicide dive on others to take us to a break.
Humberto hits a back body drop on Ford. He knocks off New Day from the apron. Humberto avoids an enzuigiri. Ford kicks him away and Gable tags in. Ford hits an enzuigiri and tags in Dawkins. Dawkins drops Gable with quickl tackles. Kofi gets in and Dawkins tackles him into others on the floor. Ford tags in for a double team on Gable. Otis breaks the pin attempt. More chaos continues with each team getting their moves going in turn. We cut to a break.
Ford hits a suplex on Otis. Ford goes to the top but others stop him from hitting a move. Angel and Humberto take others out with moonsaults. Ford hits a splash on Otis but Gable quickly puts him in an ankle lock. Braun Strowman's music hits suddenly and he comes out. Gable let go off Ford and he rolls to the floor. Strowman comes into the ring and clotheslines Gable. Others come in and Strowman starts to take them down one by one. He splashes Otis from the apron. Strowman starts taking out everyone with tackles on the floor. Strowman stands tall as we cut to another break.
Result – No Contest
Nikki ASH & Doudrop vs Aliyah & Raquel Rodriguez
Nikki starts against Aliyah. Nikki takes over control and tags in Doudrop. Aliyah avoids Doudrop in the corner before Doudrop brings her down to her knees. Doudrop knocks off Raquel before she starts to manhandle Aliyah. After a while, she tags in Nikki who hits a dive on Raquel. Doudrop drops Aliyah with a backdrop but Raquel breaks the pin. Aliyah fights back against Nikki and tags in Raquel.
Raquel comes in hot against Nikki. Doudrop gets a tag and hits a senton on Raquel after Nikki is thrown to the floor with a fallaway slam. Doudrop goes to the second rope but she gets distracted by Aliyah tackling Nikki on the floor. Raquel hits the Gigoda bomb on Doudrop after picking her up from the second rope and gets the pin.
Winner – Raquel Rodriguez & Aliyah
Rey Mysterio says he needs to talk to Dominik alone. Judgment Day is trying to destroy his life and attacked Edge, who is like a family to him. He wants someone from Judgment Day for a match tonight.
Theory Got KOed!
Austin Theory comes out to the ring. He says things did not go as planned, but Crown Jewel was an absolute success… sorry, it was Clash at the Castle. Theory says he still has the MITB breifcase which gaurantees that he will be a future World Champion. Unlike all of us, he gets up when he gets knocked down, even if that knockdown comes from World Champion boxer like Tyson Fury. Theory stutters since his jaw is hurting. He gets enraged and says he will end Roman's 2 years title reign and will soon be Universal Champion.
Kevin Owens' music hits and he comes out. Owens mocks Theory on being KO'ed by Fury. The crowd gets behind him with "You got KOed" chants. KO also says he can now call him Austin also. Owens says Theory is on top of delusional people that he would like to deal with. Owens then says Fury did him favor because either of Drew or Roman would have put him down if he had cashed in. Theory replies by mocking Owens for not being able to win MITB ever.
Theory says Owens can be his first challenger when he becomes champion. Owens then brings up Drew not being able to beat him a few weeks back, and how he could have ended Roman's reign at 6 months if not for Jey Uso and Paul Heyman. Owens then says he knows what happens next in these situations. A referee runs into the ring and Owens challenges Theory for a match. Theory accepts.
Austin Theory vs Kevin Owens
Theory slips to the floor and KO hits him with a clothesline. Theory catches him with kicks when they return to the ring. Owens turns around a whip and hits a clothesline in the corner. A cannonball from KO follows. Theory goes to the floor and Owens hits him with a splash. We cut to a break.
Theory is under control as we return. Owens turns around and sends into the barricade. Owens hits a senton to get a two-count. Theory drops Owens intothe turnbuckle with a drop toe hold. A dropkick gets him a two-count. He hits a clothesline in the corner before a fallaway slam. Theory puts on an arm and shoulder lock. Owens drops him with clotheslines. Theory drops to the floor but gets his knees up when Owens goes for a senton. We cut to a break.
Owens hits a Swanton Bomb as we return. Theory blocks a stunner and hits a Rack bomb to get a two-count. Owens hits elbows to block ATL and nails a superkick. Theory avoids pop-up powerbomb. They go to the floor and Theory slams KO's head into the steel steps. Owens manages to beat the count. Theory hits a DDT to get a two-count. Theory takes KO to the top. KO hits body shots to knock him down to the mat again. Theory fights back and Owens hits him with fishermen's superplex. Owens hits a pop-up powerbomb and a stunner to get the pin.
Winner – Kevin Owens
Miz and Ciampa are getting interviewed backstage once again. Ciampa says Miz has proposed Steel Cage match so that there can be no distraction and not because he is afraid of some one who should not be named(Dexter Lumis). Miz says he is being underestimated and ridiculed throughout his career, and he will once again prove everyone wrong.
Damage Control in Control?
Damage Control make their entrance. Dakota starts the promo and says they are ready to take over control of the division. Iyo Sky announces that they will take over Women's Tag Team titles next week. Dakota confirms that she was not the legal one in the final last week. Bayley brings up that she has pinned Bianca Belair. Bianca comes out and proposes a match tonight. Bayley says she is not working today as it is Labor Day, and she is just celebrating that she has beaten Bianca. Bianca clarifies that three of them had to team up on her to beat her.
Bianca mocks Bayley by saying that she still has the title, and unless Bayley has the title, they are not in control of anything. Damage Control surrounds Bianca but they do not attack her, and instead get out of the ring. Bayley says she has already defeated her, and do not need to prove anything. Bayley says Bianca's ego is not able to handle this loss. She adds that right now, she is focused on Dakota and Iyo getting their shot at tag team titles, and when she will need the RAW Women's title, she will get it one way or the other.
---
Gargano says he has been swimming with the sharks throughout his career, and is really excited to show everyone what he is capable of. Austin Theory interrupts him and says he is still only talking. Gargano says he was about to announce that he is returning to ring next week.
Rey Mysterio vs Damian Priest
Rey tries to rush Priest. He avoids a chokeslam but then runs into a big boot. Priest whips Rey hard into the turnbuckle. He hits a running tackle in the corner. Priest whips Rey to the corner again but misses a tackle. Rey hits some kicks before hitting a springboard crossbody. Rey hits calf kicks. Damian hits him back with knee strikes. Rey hits a boot and sends Damian to the floor with a headscissors. He hits a basement slide before Dominik comes out with the rest of Judgment Day. Damian cuts off his dive with a big shot. We cut to a break.
Priest has Rey in a headlock as we return. Rey hits a jawbreaker before Priest stuns him with a clap. Rey hits back with a low dropkick and then sends him to the floor with a low bridge. Rey hits a suicide dive. Rey hits a springboard moonsault in the ring and gets a two-count. Rey unloads with punches on the ropes. Priest picks him up and drops him on the turnbuckle. Priest hits a thrust kick now. Rey hits him with a DDT. Rey goes to the top but Priest nails him with a shot. Priest gets him up on his shoulder on the top rope and Rey counters with hurricanrana.
Preist ducks a 619 and hits a spinning heel kick. Priest goes for Razor's Edge but Rey counters to drop him on the ropes. Dominik gets on the apron to stop 619. Rhea distracts the referee and Priest drops Rey with a lariat. Priest hits a chokeslam to get the pin.
Winner – Damian Priest
Bobby Lashley is interviewed backstage. Lashley says Miz chose a steel cage match because he thinks that it will keep him safe from Dexter Lumis. However, it will also mean that he is trapped inside with him.
---
Braun Strowman is interviewed backstage and says the monster of all monsters is back and nobody is safe. He also says that he will be on SmackDown.
---
We get a recap of Matt Riddle vs Seth Rollins match. We get Riddle's interview after the match where he says Rollins capitalized on his emotion and he wants a rematch. Seth Rollins is caught up and asked about the rematch. Rollins declines Riddle's request.
Bobby Lashley(c) vs The Miz – Steel Cage Match for WWE United States Championship
Miz attacks Lashley with the US title belt from behind before the bell could ring. Ciampa and Miz pull Lashley to the floor and beat him down. Miz once again blasts Lashley with the title. Ciampa holds Lashley against the post and Miz hits him with a steel step. The match has not officially started. We cut to a break.
Miz gets a two-count after the break as we see the match already in-progress. Miz tries to climb the cage but Lashley pulls him back. Miz slams him into the cage now. He triest to leave through the door but Lashley pulls him back. Miz ducks a clothesline but Lashley once again pulls him back as he tries to escape the cage. Lashley hits tackles and a belly-to-belly suplex. Lashley hits corner tackles before Miz avoids a spear and tries to run out through the cage.
Ciampa tries to pull Miz out of the cage but Lashley proves to the stronger one in the tug of war. Lashley slams Miz into the steel cage multiple times. Miz hits back elbows to avoid Hurt lock. Miz climbs to the top of the cage now. Lashley pulls him down and slams him face first onto the cage. Lashley tries to climb and escape but Ciampa hits cage with a chair. Lashley falls back to the match. Miz hits a running knee to get a near fall before we cut to a break.
Miz has Lashley in a crossface as we return from the break. Lashley gets up on his feet and gets Miz on his shoulder to drive him into the cage. Miz hits a knee to counter spear. Miz climbs to the top. Lashley pulls his leg from the top rope. Lashley hits a superplex now. Miz sends him into the cage to counter spear. Miz hits Skull Crushing Finale to get a two-count. Miz crawls towards the open door now. Lashley stops him from escaping. Lashley throws Miz to the other corner. He goes towards the door.
Ciampa tries to slam the door on his face but Lashley holds the door and Ciampa himself runs into it. Miz slams the door on Lashley's face. Miz climbs the cage and crosses over. Dexter Lumis is lying under the ring. Miz sees him and jumps back into the cage. Lashley hits a spear to get the pin.
Winner – Bobby Lashley
After the match, Lumis climbs inside the cage. Lashley shuts the door from outside. Lumis puts Miz in a choke and puts him to sleep. The show goes off the air.