WWE RAW Results from July 18, 2022, Live Updates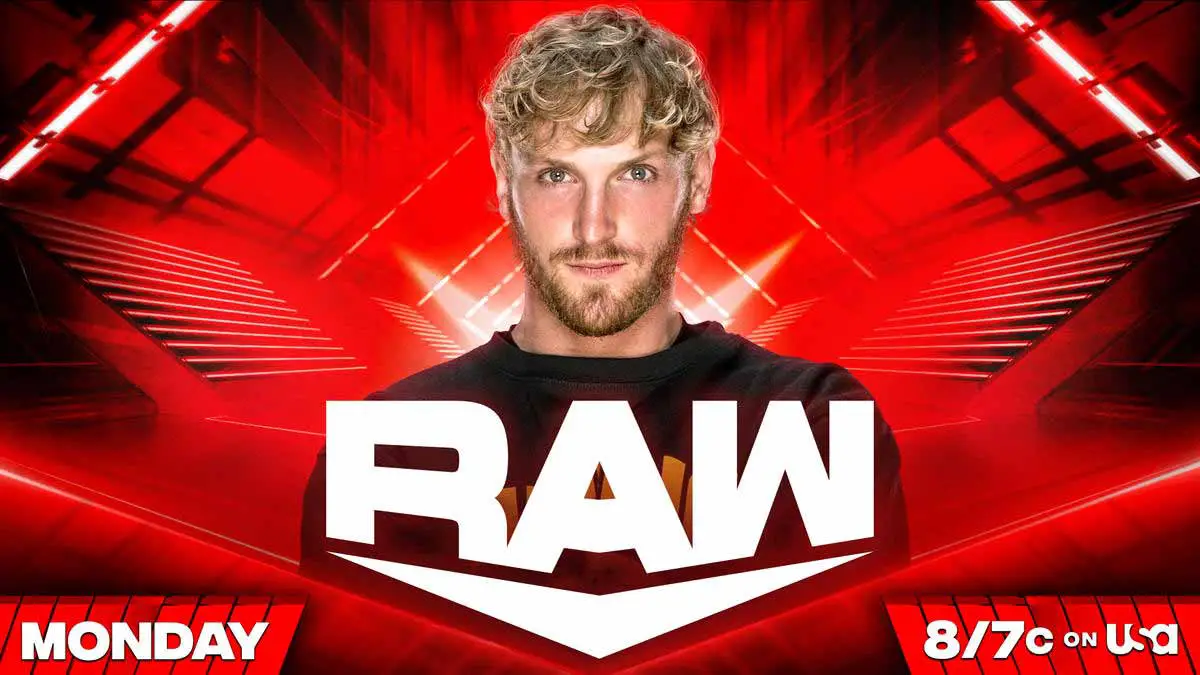 We are here with live blog for WWE RAW Results from July 18, 2022 episode from Amalie Arena in Tampa, FL.
The build-up for SummerSlam 2022 continues as Logan Paul comes to The MizTV before a possible match against him. We see another rematch between Bianca Belair and Carmella for RAW Women's Championship.
There is just one match announced for the show so far. We can expect the likes of Seth Rollins, Riddle, The Usos, The Street Profits, Becky Lynch and others to be involved on the show. Keep tuned in for the complete results from WWE RAW July 18, 2022 episode with live updates, winners, video highlights and more.
Live Updates
Titus O'Neal is opening the show. He is announced as WWE Global Ambassador. He talks about all the social and humanitarian work that WWE is involved in.
The Big Time Express!
Becky Lynch comes out to watch the match between Bianca and Carmella. She takes the mic in the ring and talks about all the obstacles she has had in path since WrestleMania. She says she is Big Time Express and we can get off at the appreciation status when she becomes RAW Women's Champion. She goes on to announce that the winner from tonight will face her at Summerslam for the title.
Bianca's music hits and she makes her entrance. Bianca brings up Becky causing distraction last week to cost her match last week. She says this story is not Becky Lynch WrestleMania comeback story, but this is Bianca Belair Summerslam story. Bianca goes on to talk about Becky beating her in 26 seconds last year at Summerslam and she has worked since then to get her reputation back and is standing as RAW Women's Champion. She claims that she will defend the title tonight and then at Summerslam.
Carmella comes out now and tells Bianca that she is making a mistake by underestimating her. Carmella claims that Bianca felt outmatched by her last week, and that's why conveniently got counted out. Carmella also announces that she will lose the title tonight if she gets counted out. Bianca says she is the bravest, the toughest…. Becky attacks her from behind to start a brawl. Carmella joins her in beating up Belair for a while. Bianca makes a comeback but Becky ends up dropping her with a manhandle slam. We cut to a break
Bianca Belair(c) vs Carmella – WWE RAW Women's Championship
The referee checks with Bianca if she is ready. Bianca tells him to get the match started. The bell ring and Bianca goes for a waistlock. Carmella takes her down and sends her to the corner. Carmella misses a hip attack. Bianca hits a backbreaker, a couple of punches and a dropkick. Carmella gets out of the ring to avoid a sprinboard moonsault. Bianca brings her back. Becky gets to the ringside to distract her but Bianca is alert this time around.
Carmella goes to the floor again and ends up slamming Bianca into the ringpost. Bianca beats the count easily. Carmella then throws her into the timekeeper's area. Bianca makes the ring at 8 this time. Carmella avoids a move in the corner and throws Bianca to the floor and into the steel steps. Bianca is down until the referee reaches 7. She springs up to beat the count at the last second. We cut to a break.
Carmella catches on Bianca's braids. Bianca hits her with a dropkick. She unloads with 10 punches in the corner and then hits a handspring moonsault to get a two-count. Carmella counters Glam Slam with a roll-up and tries to use the ropes, only to get a two-count. Bianca catches Carmella's crossbody and turns it into a suplex. Carmella drops her neck on the ropes to get a close two-count. Carmella is frustrated now. She pushes Bianca a couple of times. Bianca hulks up and no-sells another push. Bianca hits KOD to get the pin.
Winner – Bianca Belair
Becky stands up from the commentary and gets the title. She gets into the ring with the title. She goes to hand the title to Bianca, but drop it in front of her and leaves the ring.
---
We see a recap of Jimmy Uso losing to Angelo Dawkins after a bad call at SmackDown and Adam Pearce announcing Jeff Jarrett as the special guest referee. The Street Profits are backstage for an interview. Omos and MVP come in and MVP reminds how Omos spiked him last week. Dawkins says MVP is talking up too much as a hype match. He challenges MVP for a match. MVP says he is not dressed but will make a match official against Omos.
The KO Show with Riddle
Kevin Owens is out for The KO show. He brings out Riddle as his guest for tonight. Riddle vs Seth Rollins match is confirmed for Summerslam. Riddle gets into the ring and thanks him for inviting him to the show. Owens asks him to sit down. Owens explains that he step away for a while because he was obsessed with Ezekiel and Elias. He says that while he was watching RAW on TV during this time and felt Riddle is calm and collected. So, he decided that he has to be more like Riddle and not care about Ezekiel, Elias or Elrod.
Owens says he has brought out Riddle for discussing his match against Rollins at Summerslam. He says Rollins pretended to be his best friend earlier this year, but humiliated him later. Owens wants to be Riddle's best friend. He says RKO was good, but Bro-KO would be better. Riddle says Owens is the biggest liar in WWE. Owens retorts by saying he has trusted Randy Orton, who is the biggest snake in WWE. Riddle does not like it and stands up to challenge Owens. Seth Rollins' music hit and Riddle turns toward the stage. But Rollins does not come out. Riddle turns towards Owens and Rollins' music hits once again. Rollins attacks Riddle from behind and hits him with the stomp.
---
Kevin Patrick interviews Seth Rollins backstage. Rollins says Riddle is so stupid it offends him. Riddle has proven to be stupid by trusting Orton and turning down Kevin Owens. Ezekiel comes in and tells Rollins that it was not cool. Rollins tells Ezekiel to stay out of his business or eat a stomp. Ezekiel replies that he is making Seth Rollins his business.
---
We see a recap of Judgment Day and The Mysterios rivalry. Damian Priest gets the mic and says last week they didn't hurt Rey because they know Dominik will join them. He guarantees that Dominik will join Judgment Day tonight. He brings up Edge and how they eliminated him. Balor says he can watch that video over and over again. Rey Mysterio's music cuts him off. We cut to a break.
Damian Priest vs Rey Mysterio
The match is already going on as we return. Rey hits a springboard splash. Priest cuts him off with a big shot. He unloads on Rey in the corner. He whips Rey from corner to corner and hits a corner splash. He hits a backbreaker next to get a two-count. Rey counters and hits a hurricanrana. Priest misses in the corner and crashes into the ring post. Rey hits a springboard crossbody. He hits a tornado DDT to get a two-count.
Balor gets on the apron. Dominik pulls him down. Balor sends Dominik into the barricade and Rey hits Balor with a basement slide kick. Priest catches Rey with a superkick to get a near fall. Rey drops him on the ropes and hits 619. Priest catches Rey when he goes for the seated senton and ends up hitting the Razor's Edge to get the pin.
Winner – Damian Priest
After the bell, Priest starts stomping on Rey. Balor brings in steel chair and sets up for the con-chair-to. Priest tells Dominik that he joins Judgment Day tonight or they take out Rey's head. Dominik gets into the ring and stops them. He agrees to join Judgment Day. Priest tells him that it does not work like that. Balor slams a steel chair on Dominik's back. Rey rolls out of the ring to avoid con-chair-to. Judgment Day dup stands tall in the ring.
---
We get another mystery vignette.
Seth Rollins vs Ezekiel
They lock up and Rollins takes him to the corner for a stalemate. Some wrestling on the match until Ezekiel hits a couple of shoulder tackles. Ezekiel puts on chinlock. Rollins gets to his feet and hits a knee. Rollins unloads in the corner, Ezekiel hits a mule kick. Some back and forth action continue until Rollins hits a knee drop when Ezekiel was hanging on the top rope. We cut to a break.
Ezekiel is fighting back and hits some quick moves. He hits a spinebuster to get a two-count. He goes for the powerbomb but Rollins slips out. Rollins counters with a cradle to get a two-count. Rollins hits a superkick and gets a two-count. Rollins misses the stomp and Ezekiel gets a couple of pin attempts. Ezekiel counters the stomp and hits a powerbomb to get a two-count.
They trade punches and chops in the middle. Rollins nails Ezekiel with a Pele kick. Rollins goes for a springboard knee but Ezekiel catches him with a knee midair to get another two-count. Ezekiel goes to the top. Rollins hits him with superplex and falcon arrow combo to get another near fall. Ezekiel blocks Pedigree. Rollins nails him with a couple of shots at the back of his head and hits a stomp to get the pin.
Winner – Seth Rollins
We cut to backstage after a recap of Omos teaming with The Usos against Street Profits and R-Truth. The Usos come in and hype Omos to beat Dawkings tonight. They go out to watch the match from the sidelines.
---
20 year Celebration is announced for Rey Mysterio next week at Madison Square Garden. Balor and Priest are backstage and say that they saw right through Dominik when he agreed to join Judgment Day. Priest says Dominik should have hit him in the head with the chair. They promise to end it all next week.
Omos vs Angelo Dawkins
They lock up and Omos tosses Dawkins across the ring. Ford grabs Omos' leg to slow him down for a bit. Omos slams him to the corner. His leg is caught in the ropes when he goes for a big boot in the corner. Dawkins hits some quick moves and keep Omos under pressure. MVP pulls his leg and the referee catches him to call for the disqualification.
Winner – Angelo Dawkins(via DQ)
Adam Pearce comes out as both sides get into the ring. Pearce announces that MVP will team up with Omos to take on Street Profits.
Omos & MVP vs The Street Profits(Angelo Dawkins & Montez Ford)
Omos and Dawkins start the match. Omos slams Dawkins with a splash in the corner after he gets distracted by the Usos. Omos continues to manhandle Dawkins taking him corner to corner and hitting running tackles, elbows, etc. He stands on Dawkins' hand for a while. Dawkins is slammed to the corner once again. MVP tags in, still in suit. MVP hits kicks and punches. Dawkins fights back but MVP slams his face on his knees. MVP hits a balling elbow. Dawkins nails him with a big punch.
Tags to Ford and Omos. Ford waits on the ropes and hits a Gamengiri. Omos catches his crossbody, but Ford slips out and hits quick kicks and enzuigiri. Omos catches him with a punch midair and then hits a big boot. Dawkins breaks the pin. Dawkins sends him into The Usos on the floor. The Usos come in and the referee gets distracted. Profits double team and brings Omos down behind the referee's back. Ford hits the Frog Splash but Omos kicks out. Ford cannot believe this. He goes to the top once again but The Usos trip him to cause a DQ.
Winners – The Street Profits(via DQ)
The Usos and Omos bring down The Profits after the match. Omos and MVP leave to the back. The Usos stand tall over the Street Profits to close the segment.
---
Sarah Schreiber is cut off backstage by Veer Mahaan. Veer says "Boo" and leaves. Sarah brings in her guest The Miz. Miz says he does not want to reveal any of the surprises he has planned for the Miz TV tonight. He also hopes that Logan Paul track back from his challenge that he has put out for SummerSlam so that they can become tag team champion in future. He also warns that Logan will learn that he does not want to be Miz's enemy.
---
Theory enters for his match against AJ Styles and gets on the mic. He says he will leave SummerSlam as the United States Champion as well as Universal Champion. We cut to a replay of Brock Lesnar beating up Otis and Chad Gable to somehow claim that the winner between Brock Lesnar vs Roman Reigns match is going to be easy to beat with MITB cash in. He also goes on to cliam that everyone backstage and the crowd are all jealous of him.
AJ Styles cuts him off from the stage. AJ says he will be the first person to challenge Theory for whichever title Theory would be holding after SummerSlam. AJ also claims that the locker room just think that Theory is a jacka**. Theory talks about being the youngest US champ and youngest MITB winner and asks AJ what he was doing at his age. AJ tells him that he will beat some respect into him. Dolph Ziggler enters as AJ gets into the ring.
---
After the break, we get a follow up to the mystery man teaser who writes on the mirror, "I AM COMING TO…"
Theory vs AJ Styles
Theory gets an early advantage with some quick attack. AJ lands on his feet as Theory hits a back body drop. AJ hits some quick moves. Theory drops AJ with a couple of shots. AJ hits chops and a backbreaker to keep control. Some corner tackles follow. Theory comes back with shots before whipping AJ from corner to corner. Theory puts on a chinlock. AJ gets to his feet and forces Theory to the floor. Theory pushes Ziggler into the barricade. AJ nails him with an enzuigiri as Theory gets back to the ring.
Theory is in control as we return. AJ hits a combination strikes to bring down Theory. He hits a low clothesline and then a neckbreaker to get a two-count. Theory sends him into the turnbuckle and hits a dropkick. Theory hits a brainbuster to get a two-count. AJ puts on a calf crusher but Theory catches the ropes quickly. Theory slips to the floor. AJ goes for a penalty kick but Theory picks him up and drops him on the announce table with a spinebuster. Theory sends AJ back to the ring. Ziggler nails Theory with a superkick. Theory is down on the floor and the referee counts him out.
Winner – AJ Styles(via count-out)
After the match, AJ hits Theory with The Styles Clash.
---
We get a video package to summarise the rivalry between Becky Lynch and Bianca Belair starting from SummerSlam 2021.
Nikki ASH, Doudrop & Tamina vs Asuka, Alexa Bliss & Dana Brooke
Some quick start with Alexa Bliss and Nikki. Asuka comes in and Nikki traps her in the apron cloth and unloads on her. Tamina and Doudrop hit her with splashes. Dana Brooke takes out Doudrop and Tamina with a crossbody. This turns into 24/7 skit as Akira Tozawa rolls up Dana to win the title. Dana gets into the ring to get hit with a swinging neckbreaker from Nikki.
Nikki gets the pin to win the title. Alexa hits Nikki with a DDT to win the title. Doudrop drops Alexa to win the title next and is quickly hit with a superkick from Tamina. Tamina gets rolled up by Dana, who ends up with the title again. Dana runs away. Doudrop and Tamina follow her. The tag team match continues and Asuka drops Nikki. She puts on the Asuka lock to get the submission win.
Winners – Asuka, Alexa Bliss & Dana Brooke
After the match, Alexa comes in and hugs Asuka.
Miz TV with Logan Paul
Miz welcomes us to the Miz TV and brings out Logan Paul. Logan says he is here in front of him face to face and asks him if accepts his challenge. Miz tells him that they should talk about the good things first and takes us to the replay of their WrestleMania match, beating The Mysterios. They cut back to the ring and Logan asks the crew to keep airing the footage which has Miz hitting him with Skull Crushing Finale.
Miz says he just wanted to teach him a lesson. Logan tells him that his lesson has forces him to sign a WWE contract to face him at Summerslam. Miz goes on a rant pointing out his accomplishments. Miz praises Logan for adapting to WWE quicker than anyone else, be it a superstar or a celebrity. Miz then adds that it was a tag team match and Logan can not stand on his own. Miz declines Logan's Summerslam challenge.
Logan goes through a list of his accomplishments and says every time someone has told him that he can't do it, he has gone on to succeed in that field. Logan reveals that he will be hosting a talk show next week on RAW to prove that he is better than Miz there also. Logan then starts a "Tiny Balls" chant to entice Miz into accepting his Summerslam Challenge. Miz reveals his T-shirt saying I have massive balls and accepts the match at Summerslam.
Miz goes to attack Logan but Logan takes him down with a double leg. Logan clotheslines him to the floor. Ciampa attacks Logan from behind. Miz enters the ring to join the attack but Logan escapes. Sarah Schrieber gets into the ring for quick comments from The Miz on Logan's talk show. Miz says RAW and WWE is his house because he is awesome. The show goes off the air.