WWE RAW- October 18, 2021- Live Results & Updates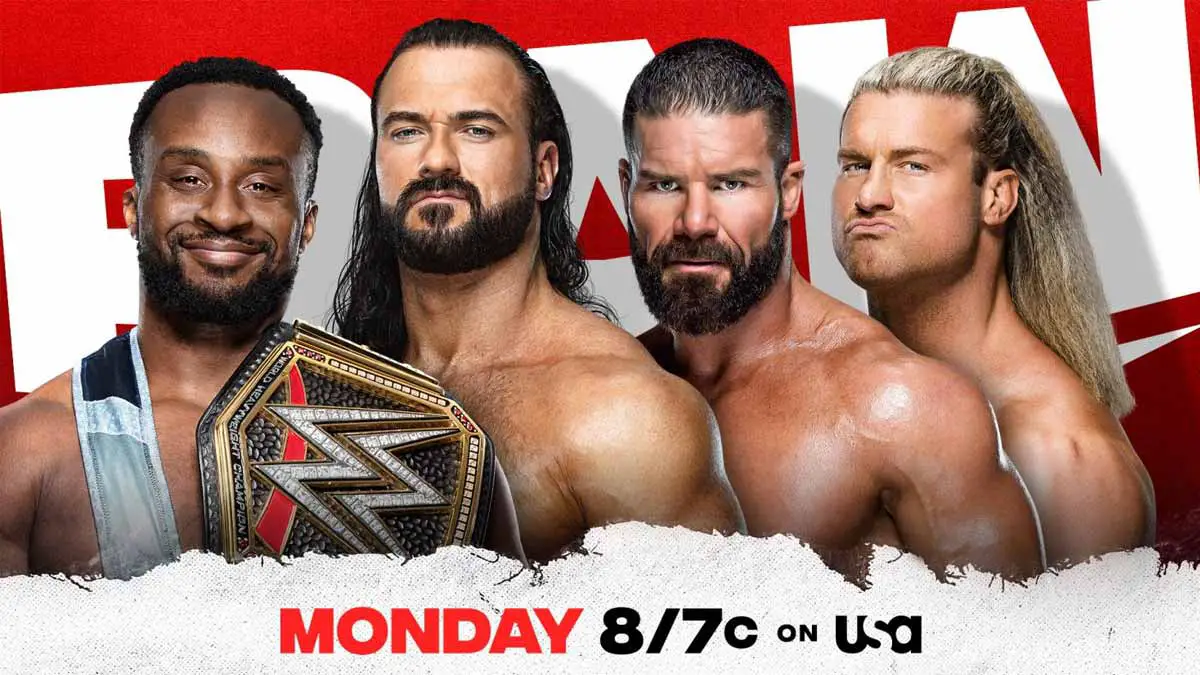 WWE RAW will present the go-home episode of Crown Jewel PPV on October 18, 2021 episode. WWE has announced several matches for the show including the semifinal matches for King of the Ring and Queen's Crown Tournament.
The show, airing from Golden 1 Center in Sacramento, CA, will also serve as the final build up towards Crown Jewel PPV as it is expected for the go-home show before the PPV. Drew McIntyre & Big E will teamup again to take on Dirty Daugs. Charlotte Flair will defend the RAW Women's Championship against Bianca Belair in a big match.
Read on to check the complete details for WWE Monday Night RAW episode of October 18, 2021, with live results, updates, preview, match card, start time, and how to watch and live streaming details.
Show – WWE Monday Night RAW
Date – October 18, 2021
Location – Golden 1 Center, Sacramento, CA, US
Time – 8 PM EST(October 13- 12 AM GMT)
Results
Xavier Woods defeated Jinder Mahal via pinfall in King of the Ring Tournament Semifinal match.
Austin Theory defeated Jeff Hardy in a singles match via pinfall.
Big E & Drew McIntyre defeated Dirty Dawgs(Dolpzh Ziggler & Robert Roode) in a tag team match via pinfall.
Mansoor defeated Cedric Alexander in a singles match via pinfall.

RK-Bro(Randy Orton & Riddle) defeated Street Profits(Montez Ford & Angelo Dawkins)

in a tag team match via Disqualification.
Doudrop defeated Shayna Baszler via pinfall in the Queen's Crown Tournament Semifinal match.
Finn Balor defeated Mace in a singles match via pinfall.
Bianca Belair defeated

Charlotte Flair(c) via Disqaulification in the WWE RAW Women's Championship Match

. Flair retained the title.
Flair Wants Respect
Charlotte Flair opens the show. She gets to the ring and wonders where are the ballons and "Thank You Charlotte" chants and her farewell party as this is her last day on RAW. Flair is pissed that instead of all of this, she has to defend her title against Bianca Belair tonight. Flair reminds how she defeated Bianca two weeks back and continues to be pissed in general.
Bianca Belair interrupts her and reminds Flair that she lost to Flair after Becky attacked her. The promo continues for a while where Bianca says it is possible that she might end up being the Smackdown and RAW Women's champion by the time she returns from Saudi Arabia.
We cut to backstage to Xavier Woods and Kofi Kingston. They are hyped for Woods' King of the Ring semifinal match against Mahal.
Xavier Woods vs Jinder Mahal – King of the Ring Tournament Semifinal
Mahal drops Woods to start. Woods takes him to the corner. He drops Mahal to the ropes and hits a dropkick to the back of the head. Woods hits some chops and then unloads with punches. Mahal hits a running tackle to drop Woods. Mahal puts on the side headlock. Woods gets to his feet and hits an enziguiri and a side Russian Leg sweep.
Mahal hits a backdrop suplex to take the control back. Woods rolls up Mahal for a two count. Woods gets dropped to the floor with a back body drop. We cut to a break.
Mahal is in control as we return. Woods hits shoulder tackles but Mahal drops him with a gutbuster. Mahal goes for the Cobra clutch but Woods tries to fight back, only to be dropped by Mahal. Mahal misses a legdrop. Woods drops Shanky from the apron. Woods goes for the splash but Mahal catches him with the Khallas. Woods grabs onto the ropes to avoid the pin.
Mahal takes Woods to the top. Woods drops him to the mat and hits an elbow drop to get the win.
Winner – Xavier Woods(advances to the final)
After the match, Kofi Kingston takes Woods to the King of the Ring throne setup at the stage. Kofi puts the robe and crown on Woods as they celebrate his win.
After the match, Kofi Kingston takes Woods to the King of the Ring throne setup at the stage. Kofi puts the robe and crown on Woods as they celebrate his win.
Earlier today, Austin Theory was discussing his win over Jeff Hardy last week when he gets interrupted by 24/7 Champion Reggie and usual chasers. Theory separates R-Truth and Reggie and Reggie runs away. R-Truth says he has a theory over why Theory is getting so hyped up. He challenges Theory to meet him in the ring.
We see a recap of the storyline between Goldberg and Bobby Lashley this far. We will see both of them in an interview later tonight.
Austin Theory vs R-Truth Jeff Hardy
Austin Theory made his entrance before the break. R-Truth comes out and apologizes to Theory saying that he did not accept the challenge for himself, but for his friend. Jeff Hardy's music hits and he comes out to face Theory in a match.
Theory drops Hardy with a big punch and dances a bit. Hardy fires back with big righs and sends Theory to the floor with a dropkick. Theory sweeps his feet on the apron and drops him on the floor from the apron. We cut to a break.
Theory stomps on Hardy as we return. Hardy with a takedown and leg drops on the midsection. He hits a splash and throws Theory to the floor to hit him with basement slide. He hits a crossbody against the barricade by jumping from the steel steps. Theory stops the Swanton bomb and hits his finisher to get the win.
Winner- Austin Theory
Post-match, Theory takes the selfie with Hardy once again. As he gets up, Hardy drops him with Twist of Fate and takes the selfie himself now.
We see the recap from last week where Drew McIntyre and Big E started infighting after tagging. Big E is at Gorilla position warming up when Drew comes up. Drew says he saw the footage last week and it was unintentional from Big E. They decide to co-exist for their match tonight.
Sonya Deville and Adam Pearce are backstage when Charlotte Flair interrupts them. Flair gets angry over having to defend her title tonight.
Big E & Drew McIntyre vs Dirty Dawgs(Dolpzh Ziggler & Robert Roode)
Big E starts with Ziggler and slams his face to the floor. Big E drops Ziggler again before tagging in Drew. Drew hits a few chops before Ziggler kicks at his feet and tags in Roode. Roode goes to unload on Drew before Drew drops him with a clothesline and a suplex. Big E comes in but Roode puts on a head lock. Big E hits a tackle to come back.
Ziggler pulls Roode out from the splash at the apon. Ziggler was going for the fameasser but Big E drops him in the timekeeper's area. Roode sends him into the barricade to take us to the break.
Back from the break, Dolph & Roode continue to be in control for a couple of minutes. Big E drops Roode and Drew runs riot with a hot tag. Big E recovers and helps Drew to clear the ring. Big E hits the Big Ending on Roode to get the pin.
Winner – Big E & Drew McIntyre
Mansoor vs Cedric Alexander
Cedric starts with a kick to the midsection and chops. Mansoor hits a dropkick and before Cedric hits him with back body suplex. Cedric continues to batter Mansoor with big right hands. Cedric puts on a crossface. Mansoor gets hyped and back to his feet but Cedric keeps control for a while.
Mansoor comes out of the lock and hits a running kick. Mansoor keeps up with the attack and hits a neckbreaker for the win.
Winner – Mansoor
After the match, Mansoor comes out to cut a promo. He says Mansoor continues to be naive even after he taught him so much. Mansoor snaps and tells him to shut up and claims that he will beat him at Crown Jewel.
RK-Bro(Randy Orton & Riddle) vs Street Profits(Montez Ford & Angelo Dawkins)
Riddle starts by dropping Ford with a waistlock takedown. Ford turns an armbar into a pin attempt. They both go into some showboating until Ford catches Riddle with a dropkick. Dawkins takes a blind tag to drops Riddle with another dropkick. Riddle escapes the double suplex. Randy sweeps Dawkins out from the apron. Riddle decks Ford before hitting a moonsault on Dawkins on the floor. Ford takes everyone out with a suicide dive to take us to the break.
Orton has Ford in a chin lock as we return. Riddle comes in and spins Ford around before dropping him with a gutbuster. Ford leaps out of a chin lock and tags in Dawkins. Dawkins tackles Riddle down and throws him in the corner for a splash. More attack from Dawkins before he hits a swinging neckbreaker.
Orton gets the hot tag next and runs riot against Dawkins and Ford. This continues until AJ Styles' music hits and he attacks Orton with a phenomenal Forearm.
Winner – RK-Bro(via DQ)
Post match, Omos drops Riddle on the apron and then drops Ford with an F5. AJ picks up Orton and Omos runs him over with a big boot.
Shayna Baszler vs Doudrop – Queen's Crown Semifinal Match
Before the match starts, Zelina Vega and sits at the Throne setup at the stage. She also wears the robe and the crown meant for the tournament winner. Both Shayna and Doudrop are not amused but this.
Baszler starts with kicks at Doudrop's legs. Doudrop tosses her across the ring before Shayna resumes her tactics of kicking at the legs. Doudrop throws her in the corner and hits a cannonball. Baszler transitions into a Kirafuda clutch and holds onto it tight.
Doudrop takes her to the corner and slams her into the corner. Shayna holds onto the Kirafuda Clutch. Doudrop looked like fading out but she gets over Shayna and gets the pin with the lock still on.
Winner – Doudrop
Post-match, Shayna is arguing with the referee over the pin while Doudrop goes to celebrate her win at the stage and has a brief staredown with Vega.
Finn Balor vs Mace
Xavier Woods is out at the stage for this match, sitting on the throne.
Mace starts strong and overpowers Balor out of a headlock attempt. Mace launches Balor in the corner and manhandles Balor for a while. Mace stops Balor's reversal attempt a few times. Balor then hits double stomps at the chest, and quickly follows with slingblade, shotgun dropkick and Coupe de Grace for the win.
Winner – Finn Balor
After the match, Balor goes to the stage and stares Woods down. Woods taunts him back and points the sceptre at Balor. Balor yanks Woods down off the throne platform as he pulls the sceptre. Balor and Woods face off and Kofi Kingston comes out to calm things down.
Charlotte Flair(c) vs Bianca Belair – WWE RAW Women's Championship
They start with some back and forth action. Charlotte beats up Bianca in the corner. Bianca forces her to the floor. Charlotte sends her over the announce table to take us to the break.
Bianca hits a body slam but Flair cuts her off quickly. Flair hits a few chops before dropping her with a back body suplex. Bianca htis a dropkick and a moonsault. Bianca hits a delayed vertical suplex next. Flair gets her knees up on a splash. Flair hits a powerbomb for a two-count.
Flair manages to deliver a top rope moonsault, but Bianca kicks out at two. Bianca drops Flair with a spinebuster but Flair rolls to the floor before Bianca could cover her. Bianca takes Flair back to the ring but Flair rolls out of the ring again. Bianca starts a brawl on the floor and sends Flair over the announce table now. We cut to another break.
Back and forth action continues as we return from the break. Bianca rocks Flair with a big forearm strike from the apron. Flair returns the favor by dropping Bianca from the top rope. Flair then hits a moonsault from the top to the floor. Back to the ring, Flair misses the Natural Selection.
Bianca hits an awkward looking faceplant. Flair kicks out of the pin. Flair stops the KOD and hits a spear after some more back and forth. Bianca kicks out of the pin again. Bianca hits a German suplex next for a near fall. They end up on the top. Bianca slips out and hits a powerbomb for another near fall. Flair resorts to using a steel chair which leads to a DQ.
Winner – Bianca Belair(Flair retains the title)
After the match, Flair looks to attack with chair more. Bianca hits a dropkick against the chair and then smacks at Flair's back to sent her tumbling to the floor. Bianca stands tall in the ring to close the show.