WWE RAW January 3, 2022: Results, Preview, Tickets, Match Card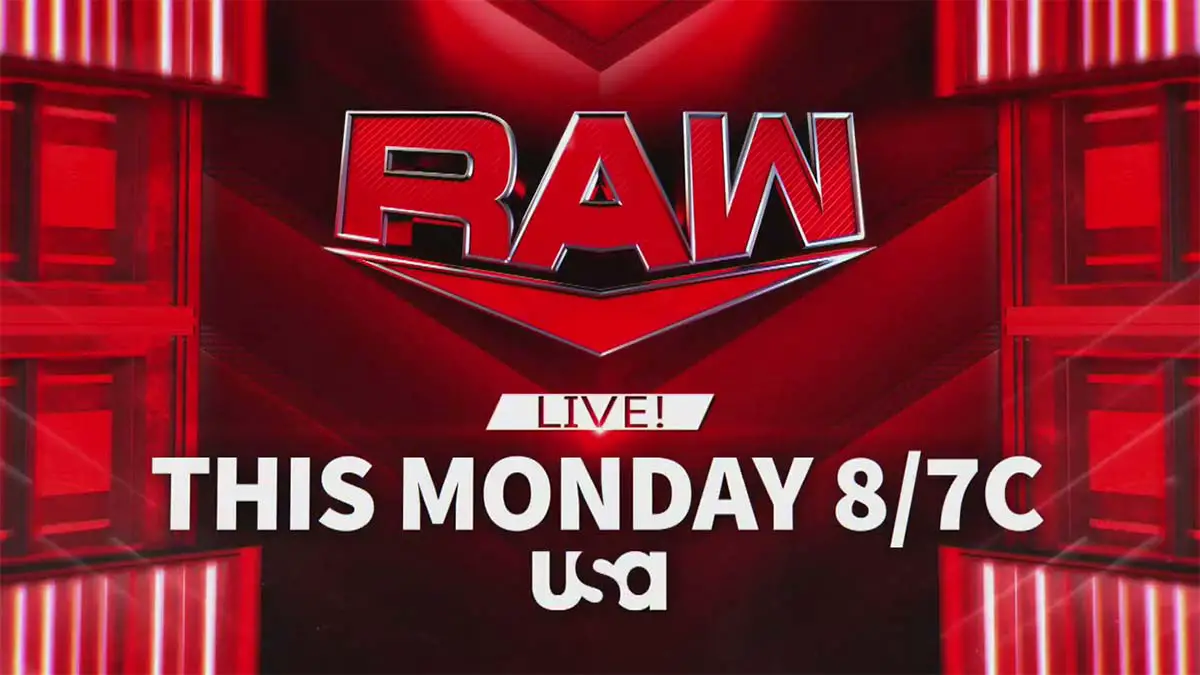 WWE RAW episode of January 3, 2022, will be the fallout of the WWE Day 1 PPV event. It will also be the very first Raw of the new year and we can expect a banger episode with Brock Lesnar back as the WWE Champion. The event will air live from the Bon Secours Wellness Arena, Greenville, SC.
As of now, no matches have been announced for the forthcoming episode of Raw. But, we can expect WWE to start to build up towards WWE Royal Rumble 2022 PPV from this episode onwards. New Championship contenders for both WWE title and RAW Women's title.
Check here for the complete details on the January 3, 2022, episode of WWE Monday Night RAW.
Show – WWE RAW
Date – January 3, 2022
Location – Bon Secours Wellness Arena, Greenville, SC, US
Time – 8 PM EST (January 4 – 1 AM GMT)
Match Card & Results
Alpha Academy(Chad Gable & Otis) defeated RK-Bro(Randy Orton & Riddle) in a tag team match via pinfall.
Dana Brooke & Reggie defeated Tamina & Akira Tozawa in a mixed tag team match via pinfall.
Queen Zelina Vega & Carmella(c) defeated Rhea Ripley & Nikki ASH via pinfall to retain WWE Women's Tag Team Championship.
The Street Profits(Angelo Dawkins & Montez Ford) defeated Apollo Crews & Commander Azeez in a tag team match via pinfall.
Damian Preist(c) defeated Dolph Ziggler via pinfall to retain WWE United States Championship.
Omos defeated AJ Styles in a singles match via pinfall.
Bobby Lashley defeated Kevin Owens, Big E & Seth Rolins via pinfall in a fatal 4-way to become the #1 Contender for WWE Championship.
Live Updates
New WWE Champion Brock Lesnar!
The show opens with the replay from main event match from Day 1 where Brock Lesnar won the WWE Title. Paul Heyman is in the ring and he introduces Lesnar as he comes out. Lesnar picks up a steel step and throws it into the ring. He sets it up in the middle of the ring, and climbs up to use it as a podium. Lesnar says he wants to give a shoutout to his buddy Roman Reigns and tells him to tune in to Monday Night RAW to see the new WWE World Champion. He tells the crowd to acknowledge him.
Lesnar thanks Paul Heyman for negotiating his free agency and then a title match at Day 1. Heyman says at Royal Rumble, Lesnar will defend the title against the winner of fatal 4-way #1 contender match. Heyman cuts a promo on all 4 competitors. Heyman says Rollins has realized that his wife will leave him if does not win WWE Championship. Heyman takes shots at Kevin Owens and then goes on to say that Roman will have diffculty surviving on SmackDown without him.
He says nobody talks about MVP, so, they will move to Lashley. Heyman gives props to Lashley. He points out how Lashley speared Lesnar and put him in Hurt lock at Day 1, but those attacks were from behind. When he comes face to face with Lesnar, he will go down as Lesnar wanna be. He also praises Big E saying that Big E would not have lost the title if not for Lesnar. They have nothing but respect for Big E, but he will lose against Lesnar if they ever come face to face. Lesnar and Heyman go to the back after the promo.
Randy Orton and Riddle are at Gorilla. Riddle talks about how fun it was hanging out with Migos at WWE Day 1, and brags about his connections. Riddle proposes a new RK-Bro rap group but Orton isn't interested, and isn't sure how Riddle has all his celebrity connections. Orton is once again upset. Orton points out how they were able to defeat Otis and Chad Gable last week in singles match when Riddle listened to him. Riddle keeps joking around until they go out.
After the break, Orton and Riddle are in the ring. Alpha Academy's Otis and Chad Gable come out. Gable brags about his Master's Degree and talks about how they will win the titles soon. They rush the ring and attack Orton and Riddle before the bell to send them to the floor. Otis hits Riddle with an overhead throw on the floor. We cut to a break.
RK-Bro(Randy Orton & Riddle) vs Alpha Academy(Chad Gable & Otis)
The match has already started as we return from a break. Riddle charges in with a forearm. Gable cuts him off with a back elbow. Gable hits tiger suplex. He starts to work on Riddle's knee. Otis tags in and slam Riddle to the mat. He hits a standing splash. Riddle drops Gable from the apron and Otis crashes into the ring post. Orton was looking to tag in but Gable sweeps Orton from the apron. Otis clotheslines Orton on the floor. Riddle hits a dropkick on Otis but he does not get affected at all. Otis catches Riddle and hits a body slam to get the three count.
Winners- Alpha Academy
Sarah Schreiber is backstage with MVP and Bobby Lashley for an interview. Schreiber goes to ask about Lesnar but MVP interrupts her. MVP says Lashley has a Herculean task to complete to get the title shot from Lesnar. MVP says that line almost like he is mocking Lashley. He leaves after that. Lashley just says Lesnar fears him.
After the break and we get a recap of storyline between Omos and AJ Styles. Omos is backstage with Kevin Patrick for an interview. Patrick asks him how he feel AJ said he regrets taking Omos under his wing. Omos stops him in between the question and puts his entire hand over his face. Omos says that's how he feels about AJ's statement. Omos walks off.
Dana Brooke & Reggie vs Tamina & Akira Tozawa – Mixed Tag Team Match
Some back and forth between Tozawa and Reggie. Tozawa with a big right hand. He goes for a running boot in the corner but ends up hitting Tamina with it. Tamina hits a big spal on her. Reggie rolls over Tozawa to get the pin.
Winners- Reggie & Dana Brooke
Becky's Next Challenger?
Becky says New Year brings new hopes even if you have failed for the last 5 years. She says while the women's division might have a New Year's resolution for becoming the RAW Women's champion, but her resolution is to remain the champ. Becky says over the last 365 days, she has a work of art. She explains that when you go to a museum, you might see a famous panting but could not understand the complexities of it. However, it makes you feel something, just like she makes us feel various things.
Becky tries to inspire everyone in a condescending manner. Liv Morgan comes out and takes shots at Lynch's jacket. She says Becky does not need to worry about her since she is the hardest critic of herself. Becky did get one thing wrong. She will give her everything everytime she get into the ring. Becky says she might win the title one day, but that day will come when she retire. Becky adds that someone might beat her to win the title, but it will not be Liv.
Bianca Belair's music hits and she comes out. Bianca is tired of listening to Becky feeling that she is untouchable. Bianca says she stepped aside to allow people to take a shot at Becky, but now she is back to take on Becky. Becky advises both of them to start a support group who lose to her, and that group should be called women's locker room. Both Bianca and Liv want to challenge Becky. Becky tells them that they should get out of her ring and decide who will it be to challenge her next.
The duo attacks Becky and send her to the floor. They start to brawl between themselves. Bianca was about to hit KOD on Liv when Becky comes in and pushes them. Becky hits Manhandle Slam on Bianca and leaves.
Seth Rollins was backstage. Kevin Owens walks in. Rollins asks him what they should do with Paul Heyman problem and wonders whether they should staple his mouth shut. Owens likes that idea but first they need to figure out what to do in fatal 4-way tonight. Owens proposes one of them wins tonight and the other person should help him to beat Brock Lesnar at Royal Rumble, and then they face-off at WrestleMania 38. Rollins says it is a great plan and agree that they can trust each other. Rollins is laughing as he walks off. Owens yells at him and asks him if he is not lying.
Queen Zelina Vega & Carmella(c) vs Rhea Ripley & Nikki ASH – WWE Women's Tag Team Championship
Vega and Ripley start the match. Some trash talk from Vega before she slaps Rhea. Rhea slaps her back and quickly takes control. She hits a delayed vertical suplex for a two-count. Carmella gets her protective face mask on. Nikki tags in and takes Vega brings her down for a 2 count. Nikki drops Vega with a clothesline.
Vega pulls Nikki face-first into the ropes, then unloads on her with fists on the mat. Vega puts on a submission now. Nikki fights back but Vega slams her back to the mat. She drops Rhea off the apron. Nikki goes to attack her but Vega rolls her up in a crossbody like manuever to get the pin.
Winner – Zelina Vega & Carmella
After the match, Rhea gets into the ring and is pretty disappointed. Nikki is shocked.
The Street Profits come out and cut a promo. They announce their entry to Royal Rumble match.
After the break, Rey Mysterio announces that he and Dominik are entering Royal Rumble match.
The Street Profits(Angelo Dawkins & Montez Ford) vs Apollo Crews & Commander Azeez
The bell rings. Ford takes some wild shots and runs around to escape Azeez. Azeez hits a big shoulder block to drop him. He covers Ford but Dawkins breaks the pin. Ford hits an enziguiri on Azeez. Both men drag themselves to tag out. Dawkins and Crews enter the match with hot tags.
Dawkins hits a clothesline, flying elbow and a neckbreaker on Crews. Azeez comes in to break the pin. Azeez takes Crews to the floor and Dawkins manages to slam him into the ring post. Back to the ring, Crews and Dawkins go back and forth. Ford takes the blind tag as Dawkins drops Crews. Ford hits a splash to get the pin on Crews.
Winner – The Street Profits
Doudrop goes backstage to Adam Pearce and Sonya Deville's office. She is upset why same women – Liv Morgan and Bianca Belair – are getting the title shot again and again for the RAW Women's Title. She demands a title shot. Deville says they are not giving handouts, but next week we will have Morgan vs Belair vs Doudrop on RAW for the #1 contender to face Becky at the Royal Rumble.
Miz & Maryse Face Edge & Beth!
Miz and Maryse are in the ring. They have come out in their ring gears. Miz says he was about to defeat Edge with one Skull Crushing finale and get the respect from us that he deserves. He points out how he has been grand slam champion and still has to prove himself against Edge. He continues to rant against Edge for a while and about Beth Pheonix interfering in the match.
The crowd cheers as Miz replays last week's wedding segment. Miz says that crowd is jealous of them and that true love always win. Miz recalls that he vowed that he would end Edge's career. He takes more shots at Edge for hiding behind his wife. The crowd boos at the irony. Maryse chimes in by saying that Miz is intelligent and brave and other things. She says she would punch Beth Pheonix if Beth was here tonight.
Beth's music hits and she comes out to the stage. Edge's music hits and he joins his wife. They both enter the ring and take the mic. Beth asks Maryse what she was saying. Edge takes shots at Miz for duping in her pants watching Beth coming out. Edge says he did not ask for Beth to help him out. Beth says it was her idea. Edge proposes a match between the two pairs. Miz ends up accepting the challenge.
Maryse is not happy at this and starts arguing with Miz. Beth drops her with a big shot. Miz checks on Maryse as she recocers. Miz and Maryse leave the ring and keep arguing on their way back.
Big E is backstage with Patrick, who asks him how motivated he is to re-gain the title at Royal Rumble. Big E says being the WWE Champion meant so much for him. Losing to Brock Lesnar is something to be sad about. He starts on his path back to win the WWE Championship and nobody can stop him.
AJ Styles vs Omos
AJ starts with a low kick. Omos throws him to the corner. AJ quickly get out to the floor. Omos comes to the apron and AJ kicks at his knee. AJ gets back to the ring but Omos runs him over with a big boot. Omos beats him in the corner. He whips AJ from corner to corner and AJ crashes into the post.
AJ fires back with kicks to the leg and a flurry of strikes. Omos scoops him up but AJ slips out. AJ with boots and forearm strikes before dropping Omos' face into the ropes. AJ goes for the Phenomenal Forearm but Omos cuts off the move with a slap at his chest. Omos picks up AJ high in the air and slams him to the mat. He hits double handed chokeslam powerbomb and gets the pin.
Winner – Omos
After the break, we get a recap of how Alexa Bliss lost herself when Charlotte Flair teared down her doll Lilly at Extreme Rules in September. Her journey back to RAW starts next week.
Bobby Lashley vs Kevin Owens vs Big E vs Seth Rolins – #1 Contender match for WWE Championship
Lashley clotheslines Rollins to the floor and fights him on the floor. Big E and Owens fight in the ring. Lashley slams Rollins into the ringpost. Big E hits a spear through Owens from the apron to take him to the floor. Big E & Lashley face off in the ring now. They start to trade strikes. Lashley runs over Big E with a big forearm. He follows with a vertical suplex. Owens gets back and eats a neckbreaker and a suplex from Lashley.
Lashley goes to spear Rollins and Owens but they step aside and Lashley crashes into the barricade. Big E hits Rollins with a belly to belly suplex and then slams Owens into the apron. Big E clears the table. Owens saves Rollins from an Urinage and they works together to slam Big E into the steel steps and ring post. Owens helps Rollins to hit a powerbomb on Big E through the announce table.
After the break, Lashley is trying to fight back against Owens and Rollins. All four men are in the ring now. We see Owens hits a splash on Lashley during the break. Owens and Rollins whip each other into Lashley in the corner. Big drops Rollins with Urinage. Owens hits him with a superkick. Lashley runs through Owens. Big E & Lashley decides to team up now.
Rollins and Owens run into the crowd and climb up the stairs. Big E and Lashley follows. Lashley applies Hurt Lock on Rollins. Owens slams him with a trash can to break the lock. Big E slams him into a production crate with a chokeslam.
Lashley and Big E are fighting in the crowd as we return from another break. Rollins comes into the frame. Owens takes out everyone with a senton from the top tier. Rollins and Owens show some endearment for each other. They pick Big E and take him to the ring. Owens hits a senton and Rollins quickly follows with splash on Big E, but he kicks out of the pin.
Big E hulks up but they hit double superkicks. Big E cuts off the stomp but Owens manages to hit pop-up powerbomb. Lashley breaks the pin and hits suplexes on Owens and Rollins. Lashley hits a running tackle on Owens on the floor. Big E was going for a Big Ending on Rollins but Lashley hits him with a spear. Rollins also gets hit with a spear. Owens goes for a stunner but Lashley hits him with a spear and gets the pin.
Winner – Bobby Lashley(to face Lesnar at Royal Rumble for WWE Championship)
Lashley celebrates his big win as we go to the replay. Lesnar is watching backstage. Kevin Patrick asks him for a comment. Lesnar says, "Tell Roman Reigns, I will see him this Friday at SmackDown."