WWE RAW February 14, 2022: Results, Card, Preview, Tickets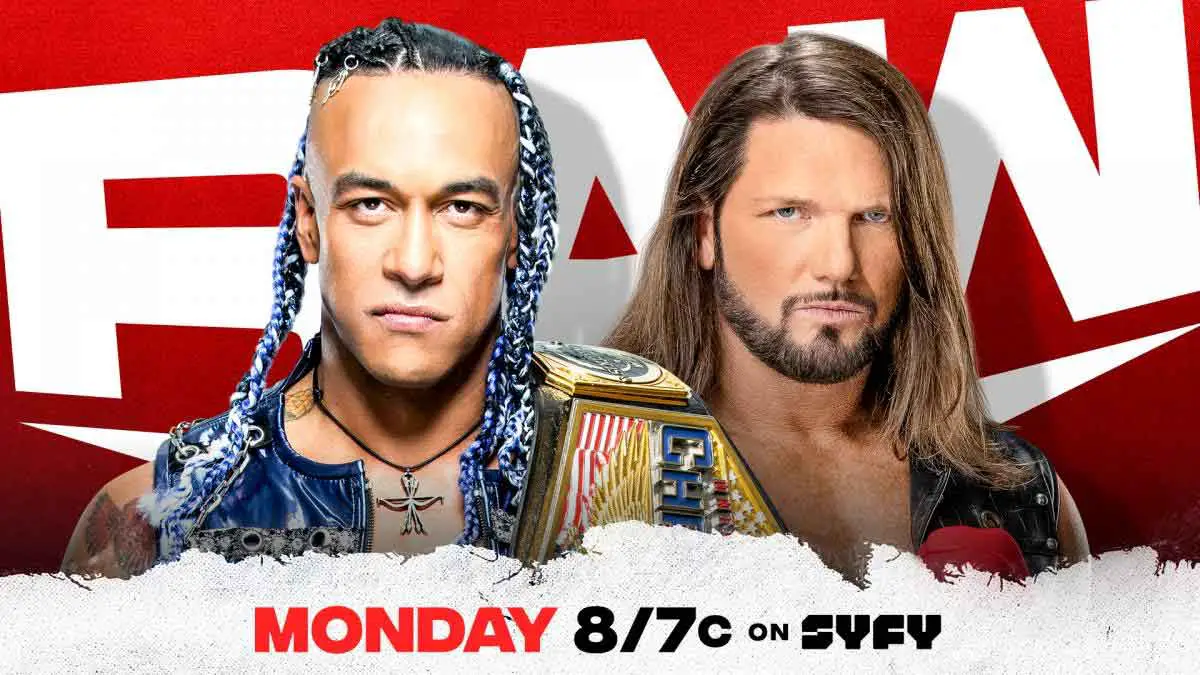 WWE RAW episode of February 14, 2022, will be the go-home edition of the Elimination Chamber. The forthcoming episode of the red brand will air live from the Gainbridge Fieldhouse, Indianapolis, IN.
The next episode of Raw will mark the return of one of the WWE title challengers in Brock Lesnar. Meanwhile, one of the other participants of the Elimination Chamber match AJ Styles will face Damian Priest for the United States title. RK-Broga Celebration is also announced. Lita will also appear to hype her match against Becky Lynch.
Continue reading to get all the details on the February 14, 2022 episode of Monday Night RAW.
Show – WWE RAW
Date – February 14, 2022
Location – Gainbridge Fieldhouse, Indianapolis, IN, US
Time – 8 PM EST
Match Card & Results
The Street Profits(Montez Ford & Angelo Dawkins) defeated The Dirty Dawgs(Dolph Ziggler & Robert Roode) in a tag team match via pinfall.
Damian Priest(c) defeated AJ Styles via pinfall to retain WWE United States Championship Match.
Omos defeated Hurt Business(Shelton Benjamin & Cedric Alexander) in a handicapped match via pinfall.
Gauntlet Match

Rhea Ripley eliminated Nikki ASH via pinfall.
Rhea Ripley eliminated Liv Morgan via pinfall.
Rhea Ripley eliminated Doudrop via pinfall
Bianca Belair eliminated Rhea Ripley via pinfall to win the match.

Alpha Academy(Chade Gable & Otis) defeated The Mysterios(Rey Mysterio & Dominik Mysterio) in a tag team match via pinfall
Seth Rollins defeated Randy Orton in a singles match via pinfall.
Live Updates
Who Wins Elimination Chamber?
WWE Champion Bobby Lashley comes out with MVP. Lashley says Elimination Chamber has changed lives but so has he. MVP adds that while there is 1 in 6 chance for Lashley to retain the WWE title, but those odds change as none of the other participants is Almighty. Rollins comes out and says it is good news that Lashley is WWE Champion, but bad news is that it will not be for long. MVP tells him that it will bad news for him if he keeps running his mouth.
Riddle enters and recalls his experience of getting locked in a bathroom once, and compares it Elimination Chamber. He invites both Rollins and Lashley to his RK-Bro-Ga party. Austin Theory comes out and says he has learnt so much from Mr. McMahon in the past few weeks and will emerge victorious from the Chamber. AJ Styles comes out and says he wants to enter WrestleMania as the double champion. So, he will first defeat US Champ Damian Priest tonight and then win the Elimination Chamber match.
Brock Lesnar comes out and enters the ring. He puts his coat and hat on Theory before having a staredown with Lashley. Theory attacks Lesnar from behind and pays for it. Others leave the ring as Lesnar starts to hit suplexes on Theory. He hits F5 on Theory to end that segment.
The Street Profits vs The Dirty Dawgs
Tomasso Ciampa is out on the commentary for this match. Ford and Ziggler start. Montez starts with quick moves. Roode runs a distraction to take the control over. Roode and Ziggler keep control for a while. Ford hits Ziggler with an enziguiri and tags in Dawkins. Dawkins hits quick moves on Roode and Ziggler. Ziggler is down on the floor.
Roode hits a spinebuster to stop the momentum and gets a two-count. Ciampa takes a big shot on Ziggler on the floor. Dawkins hits a spinebuster on distracted Roode. Ford tags in and hits a frog splash to get the pin on Roode.
Winner – The Street Profits
We go to backstage for RK-Broga party. Riddle talks with guests but Randy Orton is not there. Queen Zelina Vega thinks the party is for her but Riddle starts a "broga" chant. Randy watches all this on TV from locker room. Kevin Patrick goes to interview him and asks why he is not at the party. Orton says he is not really a broga party guy and he wants to focus on his match against Seth Rollins tonight.
Kevin Owens cuts a promo backstage. He says he doesn't think he will be in the Elimination Chamber match and that means, he probably will not be in WrestleMania card also. KO says this that bothers him, but on the bright side, he will not have to compete in Texas. He adds that the people of Texas questioned his integrity after he had glowing things to say about them last week. But, he was lying last week and can't stand Texas.
Damian Priest(c) vs AJ Styles – WWE United States Championship Match
AJ starts with a side headlock. Damian pushes him away and then hits ana armdrag. AJ hits him with a couple of chops. Damian takes shots at AJ's body. AJ fires back with his own shots in return. Damian hits a backbreaker. He hits a flurry of kicks. AJ answers with his own flurry of strikes. AJ goes for the Styles clash but Priest counters and hits a powerslam for a two-count.
AJ hits a Pele kick. He clotheslines Priest to the floor. AJ goes for a penalty kick from the apron but Priest sweeps his leg with a spinning kick. They go back and forth for a bit. Priest moves away from the Phenomenal Forearm and counters a roll-up with a sitout pin for the pin and the win.
Winner – Damian Priest(retains US title)
We go to the therapist's office with Alexa Bliss. Alexa says she has not been aggressive in the last week and she is happy. The therapist says she is entitled to a gift. Alexa asks for the music to stop. The therapist gives a deflated doll and its parts that used to be Lilly. He wants Alexa to be at peace, but Alexa looks troubled by it. He also pulls out an intact Lilly and says he has an idea. The segment ends.
Omos vs Hurt Business(Shelton Benjamin & Cedric Alexander)
Cedric tries to jump on Omos from behind. Omos grabs his throat and holds on for a while. Omos pushes him to the corner. Benjamin tags in and Cedric grabs Omos' leg to give Shelton a chance to take punches on Omos. Omos sends him to the corner but misses a splash. Shelton tags in Cedric before getting dropped with a punch from Omos. Omos grabs Cedric for chokeslam. He hits a big boot on Shelton as he charges at him. Omos hits a double handed chokeslam powerbomb on Cedric. Omos stands on top on Cedric to get the pin.
Winner – Omos
WWE 24/7 Champion Dana Brooke is with Reggie in a restaurnat. Akira Tozawa and Tamina are also there incognito.
Contract Signing
Adam Pearce is in the ring for a contract signing for Lita vs. Becky Lynch RAW Women's title match at Elimination Chamber. Lita and Becky make their entrance one by one. Becky says she has not slept whole week thinking about how her idol is coming after her so close to WrestleMania. She says not to listen to the fans as they feel good seeing them miserable.
Lita asks the fans whether she should go back or sign the contract. She says she has not returned for just one match but has a whole damn run left in her. Lita says we saw last week that she still has what it takes to beat her. Lita signs the contract. Becky says she is pushing her and she has studied Lita's career closely and she knows all her weaknesses. Becky threatens to go after her neck.
Becky says there will be tear in people's eyes when she is done with Lita. She signs the contract and Lita says the only thing that's ending on Saturday is her title reign when she becomes Raw Women's Champion.
Gauntlet Match – Winner Enters Last in Elimination Chamber match
Nikki ASH vs Rhea Ripley
Nikki traps Rhea in the ring apron and unloads. She runs over Rhea with a running tackle. Nikki puts on a arm lock. Rhea pushes her into the corner. Rhea charges and Nikki counters with a kick to her knee. Rhea tries to rally with punches but Nikki once again kicks at her leg. Nikki hits her with punches for a while.
Rhea makes a comeback and drops Nikki in the middle of the ring. Rhea deadlifts Nikki for a riptide but Nikki slips out. Nikki goes to the top for the move but Rhea brings her down and hits Riptide for the pin. Nikki ASH gets eliminated.
Liv Morgan vs Rhea Ripley
Liv starts with a rolls up. Rhea counters but Liv attempts more roll ups. Liv hits a dropkick, a running knee in the corner and a snapmare to get a two-count. Liv puts on a headlock. Rhea gets to her feet and rams her into the corner to break.
Liv comes back with Snapmare and a facebuster to get a two-count. Back and forth before Liv hits X-Factor. Liv misses a missile dropkick. Rhea puts on inverted cloverleaf. Liv gets to the ropes and sends Rhea into the turnbuckles. Rhea gets Liv into a fireman's carry, but Liv slips out. Ripley hits a kick and follows with riptide for the pin. Liv Morgan is eliminated.
Doudrop vs Rhea Ripley
They lock up and tussle for a while. Doudrop puts on a headlock. Rhea hits punches at body. Rhea hits a shoulder tackle but Doudrop is unmoved. Rhea has to hit two more times to drop Doudrop. Doudrop comes back with a backdrop. Doudrop keeps control for a while.
Rhea moves out of a senton and hits short clotheslines. Doudrop hits back with tackles and Rhea replies with more short clotheslines. Rhea hits a dropkick to bring Doudrop down. She goes for the riptide but Doudrop is too big for her. Some back and forth action before Rhea hits riptide to get the pin. Doudrop is eliminated.
Bianca Belair vs Rhea Ripley
Bianca is in control as we return. She gets a couple of two-counts on her pin attempts. She hits a back elbow and then a suplex. Both women block each other's suplex before Rhea hits a delayed vertical suplex. Bianca puts on Cobra Twist.
Rhea hits a snapmare after coming out of it. Bianca comes back with handspring moonsault. Rhea hits a big boot. Bianca sends her into the turnbuckle. The screen goes black as Rhea suffers a wardrobe malfunction. Both women are down on the floor as we go to break.
Back from the break, Belair goes for the Glam Slam but Ripley stops it. Bianca hits some kicks and hits the Glam Slam for a two-count. Rhea slips out of KOD. She smashes Bianca's face into the turnbuckles. Bianca cuts her off with palm strikes.
Back and forth action before Bianca goes for a handspring moonsault, only for Rhea to get her knees. Rhea hits a missile dropkick for a two-count. She puts on an Inverted cloverleaf. Bianca counters and hits a spinebuster. She follows with a backbreaker rack and KOD for the pin and the win.
Winner – Bianca Belair
Back to RK-Broga party. Riddle is singing a song for Randy now. Otis runs him over with a tackle. Others run away as Chad Gable and Otis destroy the party.
We are at the restaurant with Reggie and Brook. R-Truth comes in to ambush Brooke for the title, but they run away while also dodging Tamina and Tozawa. When they get to the safety, Reggie asks Brooke if they can be take their friendship to another level. Brooke replies that she does not want to lead him into anything. Reggie says he understand and then rolls Brooke up to get the pin and win the 24/7 title.
Alpha Academy vs The Mysterios
We return to see that the match is already started. Otis drops Rey Mysterio with a running tackle. Otis whips him hard into the corner before hitting a standing splash. Gable tags in and drops Rey on his knees. Rey fights back with punches to the ribs. Rey trips Gable into the turnbuckle. Gable tags back Otis. Otis works on the chin. Otis misses a Vader bomb.
Dominik hits a dropkick, hurricanrana and tornado DDT for a two-count. He gives Eddie Guererro a tribute with three amigos. Gable stops the third suplex and hits one of his own. Rey tags in after Dominik sends Gable to the floor. Rey drops Otis from the apron. The Mysterios hit suicide dives on both opponents to send us to the break.
Rey gets the hot tag and hits a hurrincarana. He drops Otis from the apron before reversing a sunset flip for a two-count. Rey hits a back elbow before Gable counters a bulldog into a German suplex. He bridges it for a two-count. Rey counters electric chair into a bulldog. Otis try to get involved but Dominik comes in for double team on him to send him to the floor.
Rey trips Gable to the ropes and they hit stereo 619. Miz comes to the apron to distract Rey and sends him to the floor. Dominik goes the splash but Gable counters it and gets the pin.
Winner – Alpha Academy
We return back to the therapist's office and he declares that Alexa Bliss is fine now and that and she will be fine as long as she has the new Lilly. Bliss thanks the doctor and shakes his hand before making him shake Lilly's paw. She then says there is one spot left in the Elimination Chamber and enters the match. The graphics confirm her spot in the match.
Randy Orton vs Seth Rollins
Rollins comes out of the lockup to mock Orton. Orton gets irritated and starts unloading with punches. Rollins slip out of corner and attacks Orton's knee. Rollins charges into the corner and then hits a snapmare. A kick on the back as Rollins continues to work. He hits a running boot from the floor with Orton dangling on the apron.
Back to the ring, Rollins hits a double ax handle from the top. Rollins puts on a chinlock for a while. Orton lures him into a kick and unloads with punches. He hits a couple of clotheslines. Rollins avoids an armdrag but Orton sends him to the floor after avoids the stomp. Orton drops Rollins on the announce table with a side slam. Back to the ring, Orton goes for the draping DDT, but Rollins hits him with back body drop to send him to the floor. Rollins hits a diving knee drop and then a suicide dive to take us to the break.
Back from the break, Rollins hits a suplex despite Orton's attempt to stop it. Rollins goes to the top and gives Orton time to trip him. The Viper hits a superplex. Orton drags himself to top of Rollins but he kicks out of the pin. They trade shots for a while. Rollins hits back with enziguiri and then drives Orton into the turnbuckle. Rollins hits a slingblade and gets ready for the stomp. Orton counters with a body slam for a two-count.
Rollins counters DDT with a roll-up and then hits a superkick for another two-count. Rollins hits a rolling elbow to the face and then to the neck. He gets ready for the stomp again, but Orton avoids it and manages to hit draping DDT. Orton hits RKO but Alpha Academy's music hits before he could move for the pin. Riddle is chasing them out. They attack Riddle and Orton goes to the floor to help him out. Orton returns to the ring and Orton hits him with the stomp to get the pin.
Winner – Seth Rollins
---
Tickets
The tickets price of Monday Night Raw on February 14, 2022 ranges from $39 to $672. You can check the tickets below.
Preview
Brock Lesnar Returns: Royal Rumble winner Brock Lesnar will mark his return to the red brand just a few days before the WWE Championship Elimination Chamber match and address his opponents. 
AJ Styles vs Damian Priest: AJ Styles will certainly try to walk inside the Elimination Chamber with the US title around his waist, but for that, he has to defeat Damian Priest in the go-home edition of Raw. 
RK-BROGA Party: Randy Orton and Matt Riddle will throw a toga party (RK-BROGA Party) to celebrate their win over Alpha Academy in their Academic Challenge.
Lita Stops By RAW: Lita will face WWE RAW Women's Champion Becky Lynch at Elimination Chamber in Jeddah, Saudi Arabia. Before that match, Lita will stop by RAW to hype this match. Does Lita have one last trick up her sleeves to get an upper hand heading into Elimination Chamber?