WWE NXT Live Results 15 June 2021- NXT's Change, Tornado Tag Team Match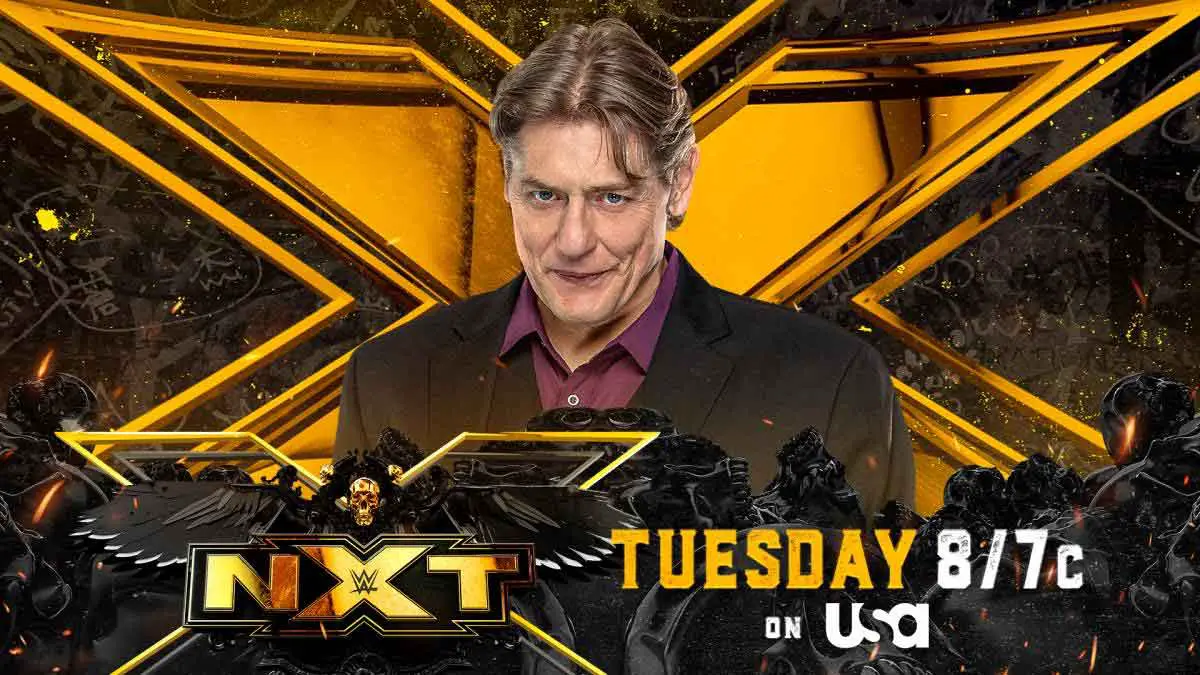 A big change is teased for NXT on 15 June 2021 episode. William Regal has hinted that all this chaos has forced him to make some changes. What will be those changes? There have been reports mentioning Samoa Joe's return as an authority figure. Will that be the case?
Additionally, Kushida will offer another open challenge for NXT Cruiserweight Championship while Tomasso Ciampa & Timothy Thatcher will go against GYV in a tornado tag team match. More fallout is expected coming from NXT TakeOver: In Your House 2021 PPV.
Join us as we bring you the complete action, live results, updates, list of winners and video highlights from WWE NXT 15 June 2021 episode.
Event Name – WWE NXT
Date – 15 June 2021
Location – Capitol Wrestling Center, Orlando, FL, US
Time – 8 PM EST(16 June 2021 12 AM GMT/5:30 AM IST)
NXT 15 June 2021 Quick Results
Breezango(Tyler Breeze & Fandango) defeated Imperium(Fabian Aichner & Marcel Barthel) in a tag team match via pinfall.
Kushida defeated Trey Baxter to retain NXT Cruiserweight Championship via pinfall.
Raquel Gonzalez & Dakota Kai defeated Kacy Catanzaro & Kayden Carter in a tag team match via pinfall.
Tommaso Ciampa & Timothy Thatcher defeated The Grizzled Young Veterans in a Tornado Tag Team match via submission.
The Big Change
William Regal comes out and talks about being with NXT from day one and his work as General Manager. Regal gets emotional as he talks out it being developed into an incredible product. He adds that the recent chaos has made him think that he has given all he can to NXT and is not capable of giving us what we deserve anymore.
NXT Champion Karrion Kross enters with Scarlett. Kross takes a shot at Regal for getting emotional. Kross says he told Regal last week that he has lost control. Now Regal should tell everyone he is leaving and walk away. Kross asks Regal to admit that he was right about it.
Samoa Joe's music hits and he comes out with a big pop from the crowd. Joe has a staredown with Kross in the ring. He says Regal wanted to talk to him. Regal says he wants Joe to be the new General Manager of NXT. Joe says he won't be because while Regal has been weary after a tough year, he has brought in great talent to NXT from around the world. But he can make sure that Regal gets the respect he deserves from everyone in the roster.
Regal agrees to it, but he has two conditions. Joe could not be a competitor in NXT now and he will not get his hands on anyone unless provoked. Joe accepts the offer. He then tells Kross what he is doing in the ring still. Kross heads back with Scarlett.
Breezango(Tyler Breeze & Fandango) vs Imperium(Fabian Aichner & Marcel Barthel)
Breeze and Barthel start. They switch the armbar to start. Barthel hits a shoulder tackle and big blows to Breeze. Breeze hits a jawbreaker. Fandango tags in to hit a dropkick. Aichner tags in and hits an arm drag. Aichner works on Fandango's arm and slams it into the turnbuckle. Fandango counters to hit chops. Aichner tries to go for a sunset flip. Fandango counters and throws him out.
Breeze misses a dive on the floor but Fandango takes Imperium duo down with a moonsault. Fandango and Barthel trade uppercuts in the ring. Fandango hits a knee to the ribs as we cut to the break.
As we return, Aichner is in control. Aicher hits big blows to the back. Fandango hits a kick coming off the ropes, but tag is denied. Aichner and Barthel work on his arm. Fandango rolls up Barthel for a two-count. Barthel once again stops him from tagging out. Fandango drops Aichner from the arpon. Fandango drags himself to his corner. He drops Barthel with a back body drop as he tries to cut him off. Breeze gets the tag and so does Aichner. Aichner runs him over with a clothesline and drops Fandango from the apron.
Winners – Breezango
After the bell, Aichner drags Breeze back as tries to leave the ring. Aichner unloads on Breeze and Barthel also joins him. Breeze try to fight back but they destroy him. Imperium hits double team European Bomb and drape the Imperium flag over Breeze.
William Regal is trying to stop Adam Cole and Kyle O'Reilly's brawl with security. Regal tell them that they will settle this with an Unsanctioned Match at the Great American Bash on July 6. He also tells them to pick their own opponents for a match next week. Samoa Joe shows up and tries to break the fight up but Cole shoves him. Joe snaps and chokes Cole out. Joe says when Cole wakes up, tell him that Mr. Regal expects an answer.
Santos Escobar cuts a promo backstage talking about Legado del Fantasma's match at NXT TakeOver. He warns Bronson Reed that he is coming for him one-on-one and will take the North American Title from him.
Kushida vs Trey Baxtor – NXT Cruiserweight Championship
Kushida is out for the cruiserweight title open challenge. Trey Baxter gets a vignette introducing him. Baxter makes his entrance now. The bell rings and Kushida twists Baxter's arm. Baxter avoids initial moves and keep Baxter on the mat. Baxter rolls him up as he goes for a singles leg takedown. They run the ropes and Baxter holds on the ropes to avoid an arm drag. Baxter dodges a clothesline and hits head scissors. Baxter hits a big right hand from the ropes. Baxter poses in the ring as he throws Kushida out.
Kushida returns and drags him to the apron. Baxter kicks at his knee on the ropes and hits a plancha on the ramp. Kyle O'Reilly comes out to the stage and is watching the match. We cut to the break.
Kushida snaps Baxter's arm. Baxter hits a spin kick. Kushida avoids his moves and hits an inverted atomic drop. Kushida with a clothesline in the corner, hip toss and cartwheel dropkick to get a two-count. Baxter hits a springboard spin kick. Both men get to their feet and start trading punches. Kushida hits a big right hand and Baxter replies with a standing Spanish fly. Baxter hits a springboard 450 to get a near fall. Baxter sets up Kushida on the top. Kushida locks on the hoverboard lock and drops Baxter to the mat with the lock on. Kushida puts on the Hoverboard lock in the middle and gets the immediate submission.
Winner – Kushida
After the match, Kushida celebrates in the ring. Kyle O'Rielly comes to the ring and issues a challenge for a singles match next week.
McKenzie Mitchell is backstage with Franky Monet. Franky says the people want more Monet, so next Tuesday she will give an encore performance of her world premiere. Monet stops Aliyah and Jessi Kamea and tells them that they could have won the Takeover dark match against Sarray and Zoey Stark if it wasn't for Robert Stone. Stone walks out of a room and Monet says changes her tune to say Kamea and Aliyah would do better if they would listen to Stone. Monet walks off. Stone praises her some to Aliyah and Kamea, and says great minds think alike.
Mercedes Martinez cuts a promo against Tian Sha members. She threatens to hit Boa with a steel chair again, says she and Li are 1-1, so they can run it again. She then tells Ying that next time she won't even be able to get out of her chair because she's going to knock Ying right out of it.
Million Dollar Coronation
Ted Dibiase makes his way out for LA Knight's coronation. Ted's gaurds are standing in the corner with the Million Dollar title on display in a briefcase. Dibiase introduces LA Knight and takes us to vignette for him. Knight makes his entrance now. Knight starts his promo and the crowd starts to boo him. Knight ignores the boos and addresses Dibiase now. He says it is rare to be in the ring with your heroes in this business. He is banged up after his match at TakeOver, but it was worth it. "We want Cameron" chants from the crowd.
Knight says how he was a big fan of Million Dollar man back in the day. He needed Ted here tonight so he can express his gratitude and appreciation, and to honestly just say thank you. They shake hands. Dibiase says he's very welcome, and earned it. Dibiase puts the Million Dollar belt on Knight's shoulders. Some pyro go off as Dibiase does his laugh.
After the pyro stops, Knight says now that he has everything he needs, he needs to drop everything he does not require. Knight drops Dibiase with a big right hand and stomps on him. Cameron Grimes runs out to make the save. Grimes and Knight brawl for a while before Knight is forced to run away. Grimes check on Dibiase as the segment comes to a close.