WWE Crown Jewel 2019- Predictions and Preview
Check out the preview and predictions for WWE Crown Jewel 2019 PPV show.
Date: 31 October 2019
Location: King Fahd International Stadium, Riyadh, Saudi Arabia
Pre-Show Time- 7 PM Local/12 PM EST/4 PM GMT/9:30 PM IST
Main Show Time– 8 PM Local/1 PM EST/5 PM GMT/10:30 PM IST
Lacey Evans vs Natalya – First-Ever Women's Match in Saudi Arabia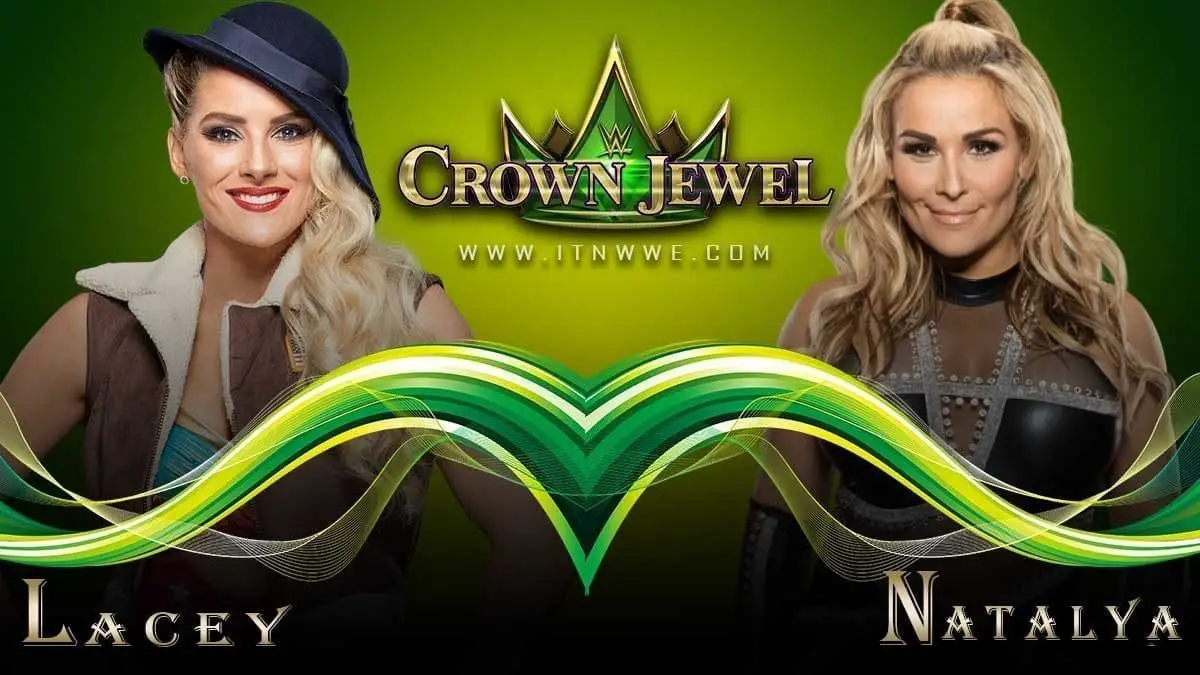 Preview- This is going to be a significant moment for WWE and female wrestlers. After holding off for two years, Saudi Arabia Government has allowed WWE to hold women's match at their event. Lacey Evans and Natalya will be the first set of women to showcase the women's wrestling to the live audience in Riyadh. They have just completed their rivalry with 4 back to back matches and Natalya won the last of those matches. They won't have much difficulty putting on a great match.
Predictions- It will make sense that Lacey Evans wins this match at Crown Jewel 2019 as she is a star in the making.
Seth Rollins(c) vs The Fiend Bray Wyatt – WWE Universal Championship Match
Preview- The Fiend started attacking Seth Rollins since Clash of Champions. It led to a Hell in a Cell match, which was ended in a referee stoppage and a chorus of boos. Do we need the Rollins vs the Fiend match at Crown Jewel after the debacle at the previous PPV? Definitely not! And if WWE's advertisements are correct, we will also see this match for two more times at RAW and then at Survivor Series. And all of these matches take place with Bray Wyatt being a SmackDown star and the end of the Wild Card rule. If the storyline was not bad enough, Seth Rollins has now burned the Firefly Fun House.
Prediction- WWE titles have never changed hands in either three of the events on Saudi Arabia. I don't see that the trend will change here. Seth Rollins to retain the title and set up another match with the Fiend.
Mansoor vs Cesaro
Preview- When they were in the country last time, WWE felt that they need to put over a local star. And they only have one athlete signed with them from Saudi Arabia. Hence, Mansoor won the 50 men Battle Royal which did not have any reward than a mere bragging right. After that show, Mansoor was completely forgotten and did not even compete in NXT. Now as WWE is returning to the country with Crown Jewel, Mansoor is once again put into a match. And his opponent is none other than WWE's utility man Cesaro.
Prediction- Mansoor to get another win in his hometown of Riyadh at Crown Jewel 2019.
Tyson Fury vs Braun Strowman
Preview- The Saudi Prince wanted Tyson Fury to perform in his country, even if it meant throwing an amount which is enough for the rest of the roster for one night(read $15 million). Fury(and ESPN) got the perfect opportunity to increase his appeal and brand value in North America. The storyline here is just similar to the one between Big Show and Floyd Mayweather.
Fury comes to SmackDown's Fox premiere. Strowman taunts him which makes Fury "2 furious." When Fury asks for an apology, they brawl instead and the match gets set for Crown Jewel. The difference between that Mayweather/Big Show storyline and this one will be that this match will help Fury much more to establish himself as a brand. And that Strowman may come out of this, looking far worse than Big Show did after losing to Mayweather.
Prediction- If Tyson Fury is undefeated in professional boxing, why would he lose in a pro-wrestling match.