Samoa Joe Relinquishes WWE NXT Championship After Undisclosed Injury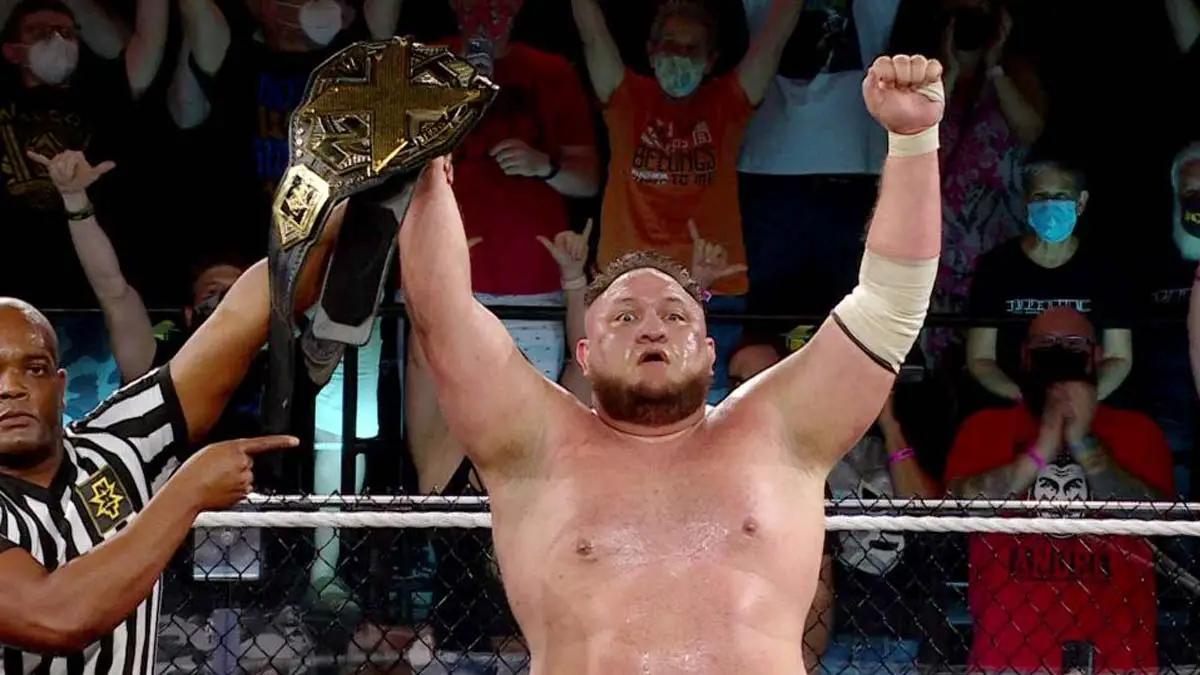 WWE NXT Champion Samoa Joe has dropped the title due to an undisclosed injury.
On Sunday, Samoa Joe took to Twitter and released a video where he explained how he came back to NXT to ensure that a wrestler does not become bigger than the brand.
He then added that the time has come for him to stand on similar principles. He revealed being told by medical staff that he has to step away from the ring for an indeterminant amount of time due to an injury. And therefore, he has decided to relinquish the NXT Championship. You can check the video below.
"Upon my return, my goals were very simple. I sought to ensure that respect and integrity due to both NXT and its championship. I sought to ensure that everybody understood that the needs for one individual will never outstrip the sum of the brand. Today, I find myself having to stand on my principles. Recently, WWE Medicals has informed me that due to certain injuries, they would like to have me step away from the ring for a brief, but still indeterminant amount of time. I realize that this week, we are on the cusp of a new NXT. We are on the brink of a new era in our history. I realize that this era deserves a fighting champion. That's why I make this very difficult decision. Effective immediately, I relinquish the NXT Championship. Best of luck to those who will fight for it. My sincere condolences for whoever wins, because I will be along shortly to collect what's mine."
Samoa Joe returned to NXT in May and started working as an enforcer for General Manager William Regal. Upon being provoked by Karrion Kross, the NXT Champion at that time, he decided to leave the enforcer role and returned to the ring.
Joe then defeated Kross at NXT TakeOver: 36 to win the NXT Championship. He was yet to defend the title before the video came out where he announced that he is dropping the title.
Joe was released by WWE back on April 15 this year as he looked to return to in-ring action. Joe was deemed unfit for in-ring action due to concussion issues. He spent almost one year from April 2020 to April 2021 on the commentary desk. Triple H quickly brought him back to NXT and ensured that they have a plan for in-ring return. After having participated in just one match, Joe is back on the shelf now.
Currently, it is not clear whether this injury is legitimate or a work. NXT is going under revamp starting from September 14 episode. So, it might a case that WWE decided to take a different direction with the brand altogether and hence came up with this angle.
It is also possible that Samoa Joe has a legitimate injury or that his concussion issue has come back. We wish that all is well with Joe and wish him the best for the future. It was really pleasing to see Samoa Joe back in the ring.
NXT earlier advertised a fatal 4-way match to determine Joe's challenger for the title on September 14 episode. It will interesting to see if that match is turned into a title match right away or that WWE books some other way to crown the new champion.
Keep tuned in for more news and updates from WWE.