NJPW World Tag League 2021- Results, Schedule, Card, Points Table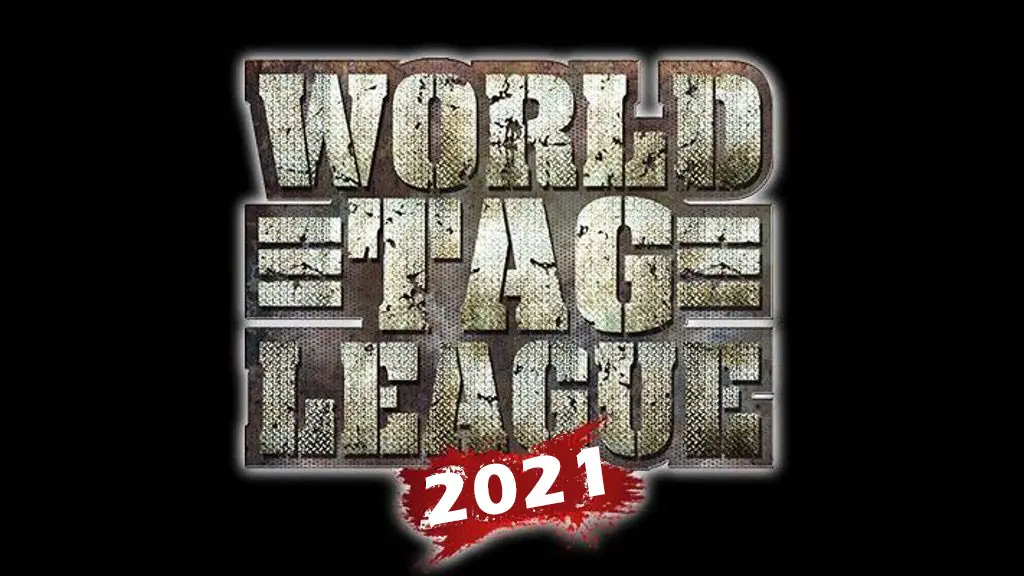 NJPW World Tag League is a yearly tournament to find the best tag team in NJPW. The 2021 edition will be the 10th tournament under the World Tag League name. Earlier, it was also known as G1 Tag League or Super Grade Team League. The winner of World Tag League 2021 will challenge for IWGP Tag Team Championship at the Wrestle Kingdom 16.
Read on to find complete details on NJPW World Tag League 2021 – participants, complete schedule, results, points table and more information.
Format
World Tag League 2021 will feature 12 teams in a round-robin format. All the teams will face each other at least once in the league phase. The top 2 teams in the league standings will face-off in the final of the tournament to decide the winner.
How To Watch
Every event under World Tag League 2021 will air via NJPW World streaming service. The service costs ¥999 per month.
Points Table/Standings
| No | Wrestler | Match(es) | Win(s) | Loss(es) | Draw(s) | Points |
| --- | --- | --- | --- | --- | --- | --- |
| 1 | Dangerous Tekkers (Zack Sabre Jr & Taichi) | 11 | 8 | 3 | 0 | 16 |
| 2 | Tetsuya Naito & SANADA | 11 | 8 | 3 | 0 | 16 |
| 3 | EVIL & Yujio Takahashi | 11 | 8 | 3 | 0 | 16 |
| 4 | Hiroshi Tanahashi & Toru Yano | 11 | 8 | 3 | 0 | 16 |
| 5 | Hirooki Goto & YOSHI-HASHI | 11 | 8 | 3 | 0 | 16 |
| 6 | Bad Luck Fale & Chase Owens | 11 | 7 | 4 | 0 | 14 |
| 7 | Great-O-Khan & Aaron Henare | 11 | 7 | 4 | 0 | 14 |
| 8 | Tanga Loa & Tama Tonga | 11 | 7 | 4 | 0 | 14 |
| 9 | TenCozy (Satoshi Kojima & Hiroyoshi Tenzan) | 11 | 3 | 8 | 0 | 6 |
| 10 | Tomoaki Honma & Togi Makabe | 11 | 2 | 9 | 0 | 4 |
| 11 | Yuji Nagata & Tiger Mask | 11 | 1 | 10 | 0 | 2 |
| 12 | Minoru Suzuki & Taka Michinoku | 11 | 0 | 11 | 0 | 0 |
Match Card & Results
Night 1 – November 14, 2021 – Tokyo
Location – Korakuen Hall, Koraku, Bunkyo-ku, Tokyo
Start Time – 4:30 AM EST/ 18:30 PM JST
Yuto Nakashima vs Kosei Fujita(draw)
Dangerous Tekkers (Zack Sabre Jr & Taichi) defeated Minoru Suzuki & Taka Michinoku – World Tag League Tournament Match
TenCozy (Satoshi Kojima & Hiroyoshi Tenzan) defeated Yuji Nagata & Tiger Mask – World Tag League Tournament Match
Tanga Loa & Tama Tonga defeated Tomoaki Honma & Togi Makabe – World Tag League Tournament Match
Bad Luck Fale & Chase Owens defeated Great-O-Khan & Aaron Henare – World Tag League Tournament Match
Hiroshi Tanahashi & Toru Yano defeated EVIL & Yujio Takahashi – World Tag League Tournament Match
Tetsuya Naito & SANADA defeated Hirooki Goto & YOSHI-HASHI – World Tag League Tournament Match
Night 2 – November 17, 2021 – Toyama
Location – Toyama Techno Hall West Hall, Tomosugi, Toyama-shi, Toyama
Start Time – 4:30 AM EST/ 18:30 PM JST
Yuto Nakashima defeated Ryohei Oiwa
Tanga Loa & Tama Tonga defeated Yuji Nagata & Tiger Mask – World Tag League Tournament Match
Hirooki Goto & YOSHI-HASHI defeated TenCozy (Satoshi Kojima & Hiroyoshi Tenzan) – World Tag League Tournament Match
Hiroshi Tanahashi & Toru Yano defeated Tomoaki Honma & Togi Makabe – World Tag League Tournament Match
Great-O-Khan & Aaron Henare defeated EVIL & Yujio Takahashi – World Tag League Tournament Match
Tetsuya Naito & SANADA defeated Minoru Suzuki & Taka Michinoku – World Tag League Tournament Match
Dangerous Tekkers (Zack Sabre Jr & Taichi) defeated Bad Luck Fale & Chase Owens – World Tag League Tournament Match
Night 3 – November 19, 2021 – Nagano
Location – Matsumotodaira Regional Park Gymnasium, Kambayashi, Matsumoto-shi, Nagano
Start Time – 4:30 AM EST/ 18:30 PM JST
Kosei Fujita vs Ryohei Oiwa(Draw)
Hiroshi Tanahashi & Toru Yano defeated Yuji Nagata & Tiger Mask – World Tag League Tournament Match
Great-O-Khan & Aaron Henare defeated Minoru Suzuki & Taka Michinoku – World Tag League Tournament Match
Bad Luck Fale & Chase Owens defeated EVIL & Yujiro Takahashi – World Tag League Tournament Match
Tetsuya Naito & SANADA defeated Tomoaki Honma & Togi Makabe – World Tag League Tournament Match
Dangerous Tekkers (Zack Sabre Jr & Taichi) defeated TenCozy (Satoshi Kojima & Hiroyoshi Tenzan) – World Tag League Tournament Match
Hirooki Goto & YOSHI-HASHI defeated Tanga Loa & Tama Tonga – World Tag League Tournament Match
Night 4 – November 23, 2021 – Kanagawa
Location – Culttz Kawasaki, Fujimi, Kawasaki-ku Kawasaki-shi, Kanagawa
Start Time – 4:00 AM EST/ 18:00 PM JST
Yuto Nakashima vs Kosei Fujita(Draw)
Hirooki Goto & YOSHI-HASHI defeated Yuji Nagata & Tiger Mask – World Tag League Tournament Match
EVIL &Yujiro Takahashi defeated TenCozy (Satoshi Kojima & Hiroyoshi Tenzan) – World Tag League Tournament Match
Bad Luck Fale & Chase Owens defeated Tomoaki Honma & Togi Makabe – World Tag League Tournament Match
Tanga Loa & Tama Tonga defeated Minoru Suzuki & Taka Michinoku – World Tag League Tournament Match
Great-O-Khan & Aaron Henare defeated Dangerous Tekkers (Zack Sabre Jr & Taichi) – World Tag League Tournament Match
Tetsuya Naito & SANADA defeated Hiroshi Tanahashi & Toru Yano – World Tag League Tournament Match
Night 5 – November 28, 2021 – Tokyo
Location – Korakuen Hall, Koraku, Bunkyo-ku, Tokyo
Start Time – 4:30 AM EST/ 18:30 PM JST
Yuto Nakashima vs Ryohei Oiwa (Draw)
TenCozy (Satoshi Kojima & Hiroyoshi Tenzan) defeated Tomoaki Honma & Togi Makabe – World Tag League Tournament Match
Tetsuya Naito & SANADA defeated Bad Luck Fale & Chase Owens – World Tag League Tournament Match
Hiroshi Tanahashi & Toru Yano defeated Great-O-Khan & Aaron Henare – World Tag League Tournament Match
EVIL & Yujiro Takahashi defeated Hirooki Goto & YOSHI-HASHI – World Tag League Tournament Match
Dangerous Tekkers (Zack Sabre Jr & Taichi) defeated Tanga Loa & Tama Tonga – World Tag League Tournament Match
Yuji Nagata & Tiger Mask defeated Minoru Suzuki & Taka Michinoku – World Tag League Tournament Match
Night 6 – November 30, 2021 – Tokyo
Location – Korakuen Hall, Koraku, Bunkyo-ku, Tokyo
Start Time – 4:30 AM EST/ 18:30 PM JST
Yuto Nakashima vs Ryohei Oiwa (Draw)
Bad Luck Fale & Chase Owens defeated Minoru Suzuki & Taka Michinoku – World Tag League Tournament Match
EVIL & Yujiro Takahashi defeated Yuji Nagata & Tiger Mask – World Tag League Tournament Match
Hirooki Goto & YOSHI-HASHI defeated Tomoaki Honma & Togi Makabe – World Tag League Tournament Match
Tanga Loa & Tama Tonga defeated TenCozy (Satoshi Kojima & Hiroyoshi Tenzan) – World Tag League Tournament Match
Dangerous Tekkers (Zack Sabre Jr & Taichi) defeated Hiroshi Tanahashi & Toru Yano- World Tag League Tournament Match
Great-O-Khan & Aaron Henare defeated Tetsuya Naito & SANADA – World Tag League Tournament Match
Night 7 – December 2, 2021 – Saitama
Location – Wing Hat Kasukabe, Yahara Shinden, Kasukabe, Saitama
Start Time – 4:30 AM EST/ 18:30 PM JST
Yuto Nakashima vs Kosei Fujita (Draw)
Tomoaki Honma & Togi Makabe defeated Minoru Suzuki & Taka Michinoku – World Tag League Tournament Match
Bad Luck Fale & Chase Owens defeated TenCozy (Satoshi Kojima & Hiroyoshi Tenzan) – World Tag League Tournament Match
Great-O-Khan & Aaron Henare defeated Yuji Nagata & Tiger Mask – World Tag League Tournament Match
EVIL & Yujiro Takahashi defeated Tanga Loa & Tama Tonga- World Tag League Tournament Match
Hirooki Goto & YOSHI-HASHI defeated Hiroshi Tanahashi & Toru Yano – World Tag League Tournament Match
Dangerous Tekkers (Zack Sabre Jr & Taichi) defeated Tetsuya Naito & SANADA – World Tag League Tournament Match
Night 8 – December 4, 2021 – Yamanashi
Location – Aimesse Yamanashi, Otsu-cho, Kofu-shi, Yamanashi
Start Time – 4:30 AM EST/ 18:30 PM JST
Shingo Takagi defeated Ryohei Oiwa
Bad Luck Fale & Chase Owens defeated Yuji Nagata & Tiger Mask vs. – World Tag League Tournament Match
Hirooki Goto & YOSHI-HASHI defeated Minoru Suzuki & Taka Michinoku – World Tag League Tournament Match
Great-O-Khan & Aaron Henare defeated Tomoaki Honma & Togi Makabe – World Tag League Tournament Match
Tetsuya Naito & SANADA defeated TenCozy (Satoshi Kojima & Hiroyoshi Tenzan) – World Tag League Tournament Match
EVIL & Yujiro Takahashi defeated Dangerous Tekkers (Zack Sabre Jr & Taichi) – World Tag League Tournament Match
Tanga Loa & Tama Tonga defeated Hiroshi Tanahashi & Toru Yano – World Tag League Tournament Match
Night 9 – December 7, 2021 – Okayama
Location – ZIP Arena Okayama, Izumi-cho, Kita-ku, Okayama-shi, Okayama
Start Time – 4:30 AM EST/ 18:30 PM JST
Yuto Nakashima defeated Kosei Fujita
Dangerous Tekkers (Zack Sabre Jr & Taichi) defeated Yuji Nagata & Tiger Mask – World Tag League Tournament Match
Hiroshi Tanahashi & Toru Yano defeated Minoru Suzuki & Taka Michinoku – World Tag League Tournament Match
EVIL & Yujiro Takahashi defeated Tomoaki Honma & Togi Makabe – World Tag League Tournament Match
Great-O-Khan & Aaron Henare defeated TenCozy (Satoshi Kojima & Hiroyoshi Tenzan) – World Tag League Tournament Match
Hirooki Goto & YOSHI-HASHI defeated Bad Luck Fale & Chase Owens – World Tag League Tournament Match
Tetsuya Naito & SANADA defeated Tanga Loa & Tama Tonga – World Tag League Tournament Match
Night 10 – December 9, 2021 – Ehime
Location – Item Ehime, Ookaga, Matsuyama-shi, Ehime
Start Time – 5:00 AM EST/ 19:00 PM JST
Yuto Nakashima vs Kosei Fujita (Draw)
EVIL & Yujiro Takahashi defeated Minoru Suzuki & Taka Michinoku – World Tag League Tournament Match
Tetsuya Naito & SANADA defeated Yuji Nagata & Tiger Mask – World Tag League Tournament Match
Dangerous Tekkers (Zack Sabre Jr & Taichi) defeated Tomoaki Honma & Togi Makabe – World Tag League Tournament Match
Bad Luck Fale & Chase Owens defeated Tanga Loa & Tama Tonga – World Tag League Tournament Match
Hiroshi Tanahashi & Toru Yano defeated TenCozy (Satoshi Kojima & Hiroyoshi Tenzan) – World Tag League Tournament Match
Hirooki Goto & YOSHI-HASHI defeated Great-O-Khan & Aaron Henare – World Tag League Tournament Match
Night 11 – December 12, 2021 – Hiroshima
Location – Hiroshima Green Arena, Motomachi, Naka-ku, Hiroshima
Start Time – 3:00 AM EST/ 17:00 PM JST
Kosei Fujita vs Ryohei Oiwa (Draw)
TenCozy (Satoshi Kojima & Hiroyoshi Tenzan) defeated Minoru Suzuki & Taka Michinoku – World Tag League Tournament Match
Tomoaki Honma & Togi Makabe defeated Yuji Nagata & Tiger Mask – World Tag League Tournament Match
Hiroshi Tanahashi & Toru Yano defeated Bad Luck Fale & Chase Owens – World Tag League Tournament Match
Tanga Loa & Tama Tonga defeated Great-O-Khan & Aaron Henare – World Tag League Tournament Match
EVIL & Yujiro Takahashi defeated Tetsuya Naito & SANADA – World Tag League Tournament Match
Hirooki Goto & YOSHI-HASHI defeated Dangerous Tekkers (Zack Sabre Jr & Taichi) – World Tag League Tournament Match
Night 12 – December 15, 2021 – Tokyo
Location – Ryogoku Kokugikan, Yokoami, Sumida-ku, Tokyo
Start Time – 4:30 AM EST/ 18:30 PM JST
Hirooki Goto & YOSHI-HASHI defeated EVIL & Yujiro Takahashi – World Tag League Tournament Finals Match