NJPW Best of Super Juniors 2023 Schedule, Card, Points Table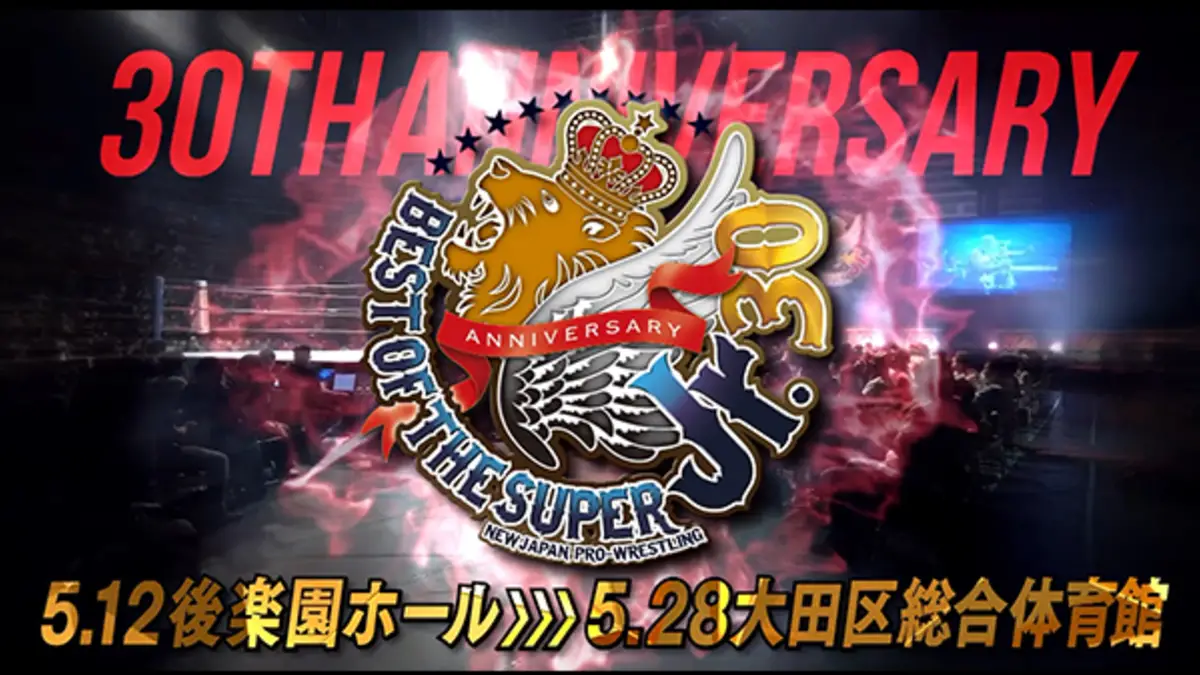 Best of Super Juniors 2023 is the 30th edition of the tournament exclusive to Junior Heavyweight Division in NJPW. The tournament will feature two stages. The first stage will be a league phase with 20 wrestlers split into two blocks. First and second placed wrestlers from both blocks will then clash in the semifinal stage to set up the final. The winner will get a title shot against IWGP Junior Heavyweight Champion Hiromu Takahashi if Takahashi himself does not win the tournament.
How To Watch
All 12 events will air on NJPW World Streaming service live and on-demand. The service costs ¥999 or around $7.5 per month.
Points Table/Standings
Block A
Mike Bailey(Points – 14, Win – 7, Loss – 2)
Titan (Points – 12, Win – 6, Loss – 3)
Lio Rush(Points – 12, Win – 6, Loss – 3)
Hiromu Takahashi(Points – 12, Win – 6, Loss – 3)
TJP (Points – 10, Win – 5, Loss – 4)
Taiji Ishimori (Points – 10, Win – 5, Loss – 3)
SHO(Points – 8, Win – 4, Loss – 5)
DOUKI (Points – 6, Win – 3, Loss – 6)
KUSHIDA (Points – 4, Win – 2, Loss – 7)
Ryusuke Taguchi (Points – 2, Win – 1, Loss – 8)
Block B
El Desperado(Points – 14, Win – 7, Loss – 2)
Master Wato (Points – 14, Win – 7, Loss – 2)
YOH(Points – 12, Win – 6, Loss – 3)
Robbie Eagles(Points – 10, Win – 5, Loss – 3)
Francesco Akira (Points – 8, Win – 4, Loss – 5)
Clark Connors(Points – 8, Win – 4, Loss – 5)
Dan Moloney(Points – 8, Win – 4, Loss – 5)
Kevin Knight(Points – 6, Win – 3, Loss – 6)
Yoshinobu Kanemaru(Points – 6, Win – 3, Loss – 6)
BUSHI (Points – 4, Win – 2, Loss – 7)
Results & Card
Night 1 – May 12, 2023 – Tokyo
Location – Korakuen Hall, Tokyo, Japan
Start Time – 5:30 AM EST
Clark Connors def. Kevin Knight – Block B
Taiji Ishimori def. Ryusuke Taguchi – Block A
Dan Moloney def. Bushi – Block B
Douki def. Kushida – Block A
Master Wato def. Francesco Akira – Block B
Lio Rush def. SHO – Block A
Robbie Eagles def. YOH – Block B
Titan def. TJP – Block A
Yoshinobu Kanemaru def. El Desperado – Block B
Mike Bailey def. Hiromu Takahashi – Block A
Night 2 – May 13, 2023 – Nagano
Location – Prefectural Budokan, Nagano, Japan
Start Time – 4:00 AM EST
TJP def. KUSHIDA – Block A
Yoshinobu Kanemaru def. Dan Moloney – Block B
Lio Rush def. Ryusuke Taguchi – Block A
Robbie Eagles def. Clark Connors – Block B
Mike Bailey def. SHO – Block A
Francesco Akira def. Kevin Knight – Block B
Taiji Ishimori def. Titán – Block A
El Desperado def. BUSHI – Block B
Hiromu Takahashi def. DOUKI – Block A
YOH def. Master Wato – Block B
Night 3 – May 14, 2023 – Nagoya
Location – International Convention Center Event Hall, Nagoya, Japan
Start Time – 4:00 AM EST
Kevin Knight def. Yoshinobu Kanemaru – Block B
SHO def. Ryusuke Taguchi – Block A
Clark Connors def. BUSHI – Block B
Taiji Ishimori def. DOUKI – Block A
Francesco Akira def. Robbie Eagles – Block B
Titán def. KUSHIDA – Block A
Dan Moloney def. YOH – Block B
Mike Bailey def. TJP – Block A
El Desperado def. Master Wato – Block B
Lio Rush def. Hiromu Takahashi – Block A
Night 4 – May 16, 2023 – Akita
Location – Prefectural Budokan, Akita, Japan
Start Time – 5:30 AM EST
YOH def. Clark Connors – Block B
Titán def. Ryusuke Taguchi – Block A
Robbie Eagles def. BUSHI – Block B
TJP def. DOUKI – Block A
Francesco Akira def. Dan Moloney – Block B
KUSHIDA def. Mike Bailey – Block A
El Desperado def. Kevin Knight – Block B
Hiromu Takahashi def. SHO – Block A
Master Wato def. Yoshinobu Kanemaru – Block B
Lio Rush def. Taiji Ishimori – Block A
Night 5 – May 17, 2023 – Miyagi
Location – Sendai Sun Plaza Hall, Miyagi, Japan
Start Time – 5:30 AM EST
Hiromu Takahashi def. Ryusuke Taguchi – Block A
Kevin Knight def. BUSHI – Block B
TJP def. SHO – Block A
Clark Connors def. Francesco Akira – Block B
DOUKI def. Lio Rush – Block A
Robbie Eagles def. Yoshinobu Kanemaru – Block B
Mike Bailey def. Titán – Block A
Master Wato def. Dan Moloney – Block B
Taiji Ishimori def. KUSHIDA – Block A
YOH def. El Desperado – Block B
Night 6 – May 18, 2023 – Iwate
Location – Iwate Prefectural Gymnasium, Iwate, Japan
Start Time – 5:30 AM EST
"Speedball" Mike Bailey def. DOUKI – Block A
BUSHI def. Yoshinobu Kanemaru – Block B
TJP def. Ryusuke Taguchi – Block A
Kevin Knight def. Dan Moloney – Block B
SHO def. Taiji Ishimori – Block A
El Desperado def. Clark Connors – Block B
Titan def. Lio Rush – Block A
YOH def. Francesco Akira – Block B
Hiromu Takahashi def. KUSHIDA – Block A
Master Wato def. Robbie Eagles – Block B
Night 7 – May 19, 2023 – Aomori
Location – Maeda Sub Arena, Aomori, Japan
Start Time – 6:00 AM EST
Master Wato def. Clark Connors – Block B
DOUKI def. Ryusuke Taguchi – Block A
Robbie Eagles def. Kevin Knight – Block B
SHO def. Titan – Block A
Francesco Akira def. Yoshinobu Kanemaru – Block B
Lio Rush def. KUSHIDA – Block A
YOH def. BUSHI – Block B
Taiji Ishimori def. "Speedball" Mike Bailey – Block A
El Desperado def. Dan Moloney – Block B
Hiromu Takahashi def. TJP – Block A
Night 8 – May 21, 2023 – Tokyo
Location – Korakuen Hall, Tokyo, Japan
Start Time – 5:30 AM EST
Titan def. DOUKI – Block A
Clark Connors def. Yoshinobu Kanemaru – Block B
KUSHIDA def. SHO – Block A
Master Wato def. BUSHI – Block B
"Speedball" Mike Bailey def. Ryusuke Taguchi – Block A
Dan Moloney def. Robbie Eagles – Block B
Lio Rush def. TJP – Block A
YOH def. Kevin Knight – Block B
Hiromu Takahashi def. Taiji Ishimori – Block A
El Desperado def. Francesco Akira – Block B
Night 9 – May 23, 2023 – Osaka
Location – EDION Sub Arena, Osaka, Japan
Start Time – 5:00 AM EST
Ryusuke Taguchi def. KUSHIDA – Block A
SHO def. DOUKI – Block A
"Speedball" Mike Bailey def. Lio Rush – Block A
Titan def. Hiromu Takahashi – Block A
Night 10 – May 24, 2023 – Osaka
Location – EDION Sub Arena, Osaka, Japan
Start Time – 5:00 AM EST
BUSHI def. Francesco Akira – Block B
Dan Moloney def. Clark Connors – Block B
Master Wato def. Kevin Knight – Block B
Yoshinobu Kanemaru def. YOH – Block B
El Desperado def. Robbie Eagles – Block B
Night 11 – May 26, 2023 – Tokyo
Location – Yoyogi 2nd National Gymnasium, Tokyo, Japan
Start Time – 5:30 AM EST
Semifinal 1 – Master Wato def. Mike Bailey
Semifinal 2 – Titan def. El Desperado
Night 12 – May 28, 2023 – Tokyo
Location – Ota-Ku Gymnasium, Tokyo, Japan
Start Time – 5:30 AM EST
Final – Master Wato def. Titan