AEW Dynamite February 23, 2022- Results, Preview, Card, Tickets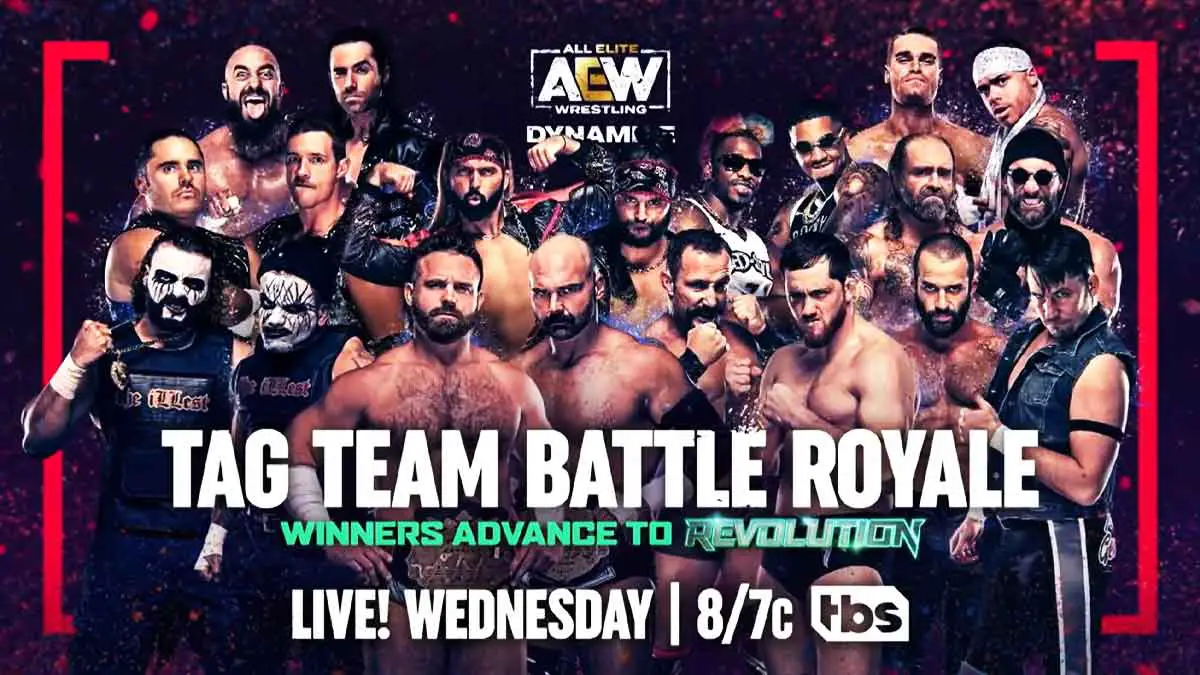 AEW Dynamite episode of February 23, 2022, is all set to present the tag-team battle royal which will determine the first team to face the AEW tag-team champions in a triple threat match at AEW Revolution 2022 PPV. The event will air from the Webster Bank Arena, Bridgeport, CT, US.
Along with the tag team battle royal, the show will also feature a rematch between Pac & Penta El Zero Miedo and House of Black. It is also announced that Chris Jericho and Eddie Kingston will have a face-to-face confrontation. Jade Cargill will also defend the AEW TBS Championship against the Bunny.
Continue reading to get complete details on the February 23, 2022 episode of AEW Dynamite.
Show – AEW Dynamite
Date – February 23, 2022
Location – Webster Bank Arena, Bridgeport, CT
Time – 8 PM EST
Match Card & Results
ReDragon(Kyle O'Reilly & Bobby Fish) won the the Tag Team Battle Royal for AEW Tag Team Title shot at Revolution defeating-The Young Bucks, 2PointO, FTR, Proud N' Powerful vs Best Friends vs The Butcher & The Blade, Private Party, John Silver & Alex Reynolds and The Gunn Club.(play-by-play)
Death Triangle(PAC & Penta Oscuro) defeated House of Black(Malakia Black & Brody King)(play-by-play)
Ricky Starks defeated 10 via pinfall in Face of the Revolution Qualifier.
Jade Cargill(c) defeated The Bunny via pinfall to retain AEW TBS Championship.
Bryan Danielson defeated Danny Garcia in a singles match via pinfall.
Live Updates
Tag Team Battle Royal – for Tag Title Match at AEW Revolution
Jurassic Express come out to the stage to watch the match. The match starts and the Butcher and the Blade choose to stay on the floor. Alex Reynolds hit them with a suicide dive. Blade comes in and eliminates Reynolds. John Silver eliminates Blade. The Gunn Club gets eliminated soon after by Santana and Ortiz. Butcher hits clothesline on Young Bucks and on ReDragon. He hits a suplex on Trent Baretta. Chuck Taylor saves him from elimination and Best Friend hug on the apron. They eliminate Butcher.
2 Point O try to eliminate Ortiz but Santana dumps both of them. Mark Quen is dumped to the floor for elimination. Matt Hary catches Kassidy to save him from elimination but a superkicks dumps him from the floor. Young Bucks hits a superkick on Ortiz to eliminate him. They hit superkick on Santana also. FTR try to get upperhand on Young Bucks but ReDragon saves them. The match continues with back and forth action.
Baretta is dumped to outside but Orange Cassidy saves him. Baretta hits a Northern Light suplex on Bobby Fish and then clotheslines him to eliminate him. We go to a break.
Tully Blanchard tries to pull Silver out as Cash Wheeler tries to eliminate him. Silver instead counters to eliminate Cash. Matt Jackson, Silver, Trent, Dax, Kyle O'Reilly and Santana are remaining. Quick moves from everyone and only Trent and Santana are left standing. They start trading strikes. Trent hits half and half suplex. Santana hits a big lariat. He hits a running boot to send Trent to the apron. Trent pulls Santana to the apron. They fight on the apron until Matt and KOR hit them with a big boot to eliminate them.
Silver, Jackson, Dax and Silver are the final four. Dax and KOR are fighting in one corner. Matt and Silver are fighting in the other. KOR takes Dax to the apron. KOR came from underneath the ropes. Harwood with big punches. Fish hits Dax with a kick on the apron and he gets eliminated. Silver hits double suplex on Matt & KOR. He hits a Back body drop on KOR and a pump kick on Matt. Silver takes KOR on his shoulder but Matt hits him with a superkick. Matt dumps Silver to outside and KOR is just behind him to throw him over the ropes to win the match.
Winners – ReDragon(Kyle O'Reilly & Bobby Fish)
After the match, Young Bucks and ReDragon are arguing in the ring. AEW World Champion Adam Page comes out and attacks ReDragon. Young Bucks do not interfere and leave. Adam Cole runs out but Page deals with him easily. He goes for the Buckshot Lariat but ReDragon pull him out. Silver hits a suicide dive on Cole and ReDragon. He sends KOR back into the ring. Page hits KOR with Buckshot Lariat.
Page takes the mic now and says its story time. Page says Cole has won championships everywhere he went. He returned to his friends when the world was crumbling around him. He came to AEW and tried starting climbing towards AEW World title. But he will never get it.
---
Bryan Danielson is backstage for an interview with Tony Schiavone. Bryan says he see himself in Danny Garcia, but he had William Regal as a mentor while Garcia has 2PointO. As for Jon Moxley saying they should first bleed before teaming up, he will get his answer later tonight.
MJF's Story
MJF is out to the ring. "CM Punk" chants from the crowd. MJF says he use to love CM Punk too just like them and asks for an opportunity here. He brings up the photograph that CM Punk showed last week and said that it was a big deal for him. That day meant more than another Friday for him. MJF says he had a learning disability when he was 11 in 2007, and had hard time in class.
But, he was good in Football and decided to try out. He was put as the middle liner by the coach. He was then confronted by his teammates and they all threw quarters at him as hard as they can. MJF went back to home and cried his heart out. But, then he realized that he get to meet CM Punk that day. He decided he will be the Best in the World.
Forward to 2013, he is watching CM Punk matches and tapes until his eyes bleed. But, in 2014, CM Punk left him. CM Punk left him when he needed him the most. MJF left his dream after realizing that when the Best in the World could not do it, how can he.
After a few years, MJF saw a photograph of CM Punk shaking hands with Bryan Danielson. That day MJF decided that he will become the best in the world inspite of CM Punk and will leave him high and dry someday. And that will happen at Revolution. CM Punk comes out and asks MJF if all of that is true. MJF leaves the ring and goes back.
Danny Garcia and 2PointO are backstage for an interview. They are upset over Danielson's comments. Garcia says he will show Danielson what voilence is.
Kings of the Black Throne(Malakai Black & Brody King) vs PAC & Penta Oscero
Penta comes out of a grave and has a shovel with him. Black and King are sent to the floor quickly before the bell. Penta hits them with a crossbody. The bell rings and Pac hits a 450-splash for a quick two-count. Penta comes in and hits low kicks to the quad. PAC comes back in and Black takes him to his corner for King to tag in. King hits a clothesline and gets a two-count to take us to the break.
Penta comes into the ring after the break but King hits with chop. Penta gets PAC on his shoulders and King chops at Penta to drop both of them. King hits them with a suicide dive to both opponents. Black hits a double knee stomp on PAC. He hits a roundhouse kick on PAC but Penta breaks the pin. PAC dodges Black's running knee and Black catches King with it.
Penta takes the blind tag. King hits a clothesline on PAC. Penta hits a crossbody on King. All four men are down. Black gets to his feet to break the standing ten count. PAC breaks up Dante's Inferno. King hits big shots at both opponents. PAC hits him with a pump kick. PAC hits another one and Penta tags in to set up for Fear Factor. Black stops it. Black goes for the mist on Penta but Penta covers Black's mouth and grabs him. Penta gets the pin with a victory roll on Black.
Winner – PAC & Penta Oscero
Post match, King beats up PAC and Penta while Black recovers and washed his mouth to take away black mist. Lights go out and Buddy Mathews is there when they come back. Mathews stare down Black before attacking PAC and Penta. King fights off Security. Buddy hesitates in using chair on Penta but Black talks to him. Buddy puts Penta face into the chair with a surfboard stomp.
Preston "10" Vance vs Ricky Starks (Face of the Revolution Ladder Match Qualifying Match)
A bit of back and forth to start. Ricky runs 10 over with running knees. 10 fights back in the corner. He counters swinging DDT into a delayed vertical suplex.
After the break, 10 tackles Starks to the floor. 10 puts on full nelson slam. Starks comes out of it and 10 hits him with a discus lariat. Full Nelson is on again. Starks turns around 10's mask and hits him with a spear to get the pin.
Winner – Ricky Starks
Jade Cargill(c) vs The Bunny – AEW TBS Women's Championship
They lock up and Cargill pushes Bunny to the ropes. Bunny does the same the next time they lock up. Cargill hits a big boot. She works on Bunny's shoulder. Bunny sends Cargill to the apron. She whiplashes Cargill's neck to the ropes. Bunny puts Cargill into the barricade with a Russian Leg Sweep to take us to the break.
The action continues after the break. Matt Hardy and Mark Sterling argue a bit. Hardy gets to the apron and throws in a knuckle as the referee is distracted. Sterling throws in the TBS title belt. Cargill stops the knuckle shot with the title. The referee gets the wind of what is going on and boots both Sterling and Hardy from the floor. Bunny goes for the Rabbit hole but Cargill counters with Jaded to get the pin.
Winner – Jade Cargill
After the match, Cargill takes the mic and asks who is falling to her next. Tay Conti comes out and says she will be the one to beat her at Revolution. Bunny tries to attack Conti but eats Tay-KO. Cargill runs over Conti with a pump kick.
Bryan Danielson vs Daniel Garcia
Danielson puts on a leg lock and takes shots at Starks. He hits a double underhook suplex and transitions into an armbar. He changes to crossface as Garcia tries to stop the move. Garcia gets his leg on the ropes to break it. Bryan runs the ropes and Garcia cuts him off with a chop block to take us to the break.
Bryan sends Garcia to the apron and knocks him off with a knee strike. He hits a shotgun dropkick as they return to the ring. Bryan works on Garcia's leg. Bryan puts on a leg lock and rains in with elbows. Garcia protects himself. Bryan hits a tiger suplex and puts on cattle mutilation. Garcia turns it around for submission move. They get to the ring and trade blows while their hands are locked.
Garcia goes for a Russian leg sweep but Bryan stops it and stomps on Garcia's face. He puts on the dragon sleeper with his legs wrapped around Garcia's neck. Garcia taps out quickly.
Winner – Bryan Danielson
Bryan takes the mic and tells Garcia what he wanted to show him. 2Point0 attacks Bryan. Jon Moxley comes out and makes the save. Garcia was looking to use the chair on Moxley but Bryan takes away the chair. Mox hits Garcia with paradigm shift. Bryan and Danielson face-off in the ring. Bryan takes the mic and says if Mox wants a match at Revolution, then he got it. But Mox should not be surprised if he is not the only person winning.
---
Tickets
The tickets price of AEW Dynamite on February 23, 2022 ranges from $57 to $664. You can check the tickets at the below link.
Preview
Tag Team Battle Royal: This week's Dynamite will feature a tag-team battle royal to determine one of the teams who will be a part of the AEW tag-team championship match at AEW Revolution. The likes of The Young Bucks, ReDragon, 2PointO, Proud N' Powerful, and many other teams are going to take part in the match.
House of Black vs Pac & Penta El Zero Miedo: Pac and Penta EL Zero M will get a chance to take their revenge against Malakai Black and King Brody of the House of Black, as these two teams will face each other next week on Dynamite. 
Chris Jericho & Eddie Kingston Face to Face: Former AEW World Champion, Chris Jericho will confront Eddie Kingston face-to-face this Wednesday on Dynamite.
TBS Championship Match: Matt Hardy has answered Jade Cargill's open challenge with AHFO's Bunny set to take on the TBS Champion.