UFC Vegas 43 Medical Suspensions: Tate & Wood Faced Six Months Suspension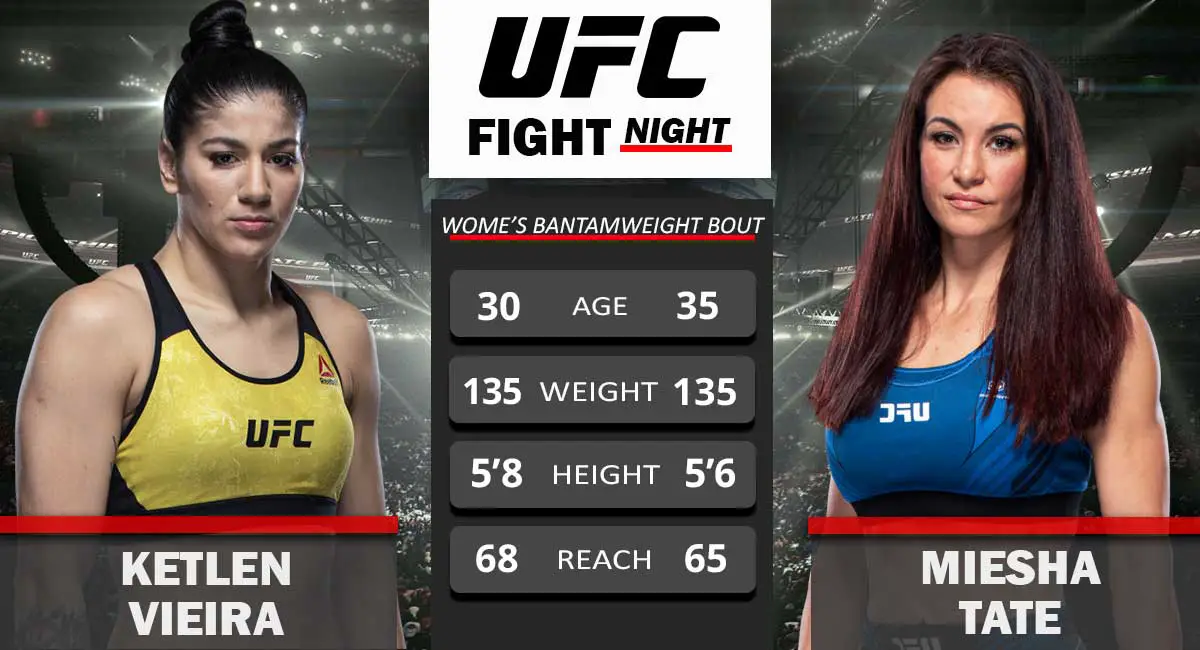 UFC Vegas 43 also known as UFC Fight Night 198 took place this Saturday and featured some thrilling bouts. Several fighters sustained many injuries, and hence a total of six fighters faced suspension for six months.
The main event took place between Meisha Tate and Ketlen Vieira where the former suffered many injuries and ended up getting a medical suspension for six months by the Nevada Athletic Commission. 
list of UFC Vegas 43 medical suspensions which can be checked out below: 
Ketlen Vieira: No Suspension
Miesha Tate: 180 Suspension (45 days no contact, bilateral nose bone fracture, and superior nasal septal fracture)
Sean Brady: 30 Days Suspension (21 days no contact)
Michael Chiesa: No Suspension
Taila Santos: No Suspension
Joanne Wood: 180 Days Suspension (21 days no contact)
Rani Yahya: 30 Days Suspension (21 days no contact due to laceration under left eye)
Kyung Ho Kang: 21 Days Suspension (14 days no contact)
Adrian Yanez: 180 Days Suspension (21 days no contact)
Davey Grant: 30 Days Suspension (21 days no contact)
Pat Sabatini: No Suspension
Tucker Lutz: 30 Days Suspension (21 days no contact)
Rafa Garcia: 180 Days Suspension or until right hand and elbow get cleared (21 days no contact)
Natan Levy: Full suspension due to injuries on feet are still unclear (21 days no contact)
Loopy Godinez: 180 Days Suspension or until right knee is cleared
Loma Lookboonmee: No Suspension
Cody Durden: 180 Days Suspension (21 days no contact)
Aori Qileng: 30 Days Suspension (21 days no contact)
Shaylin Nuerdanbieke: 30 Days Suspension (21 days no contact)
Sean Soriano: No Suspension
Luana Pinheiro: No Suspension
Sam Hughes: 30 Days Suspension (21 days no contact)