ONE 156: Eersel vs Sadikovic Results, Card, Date, Start Time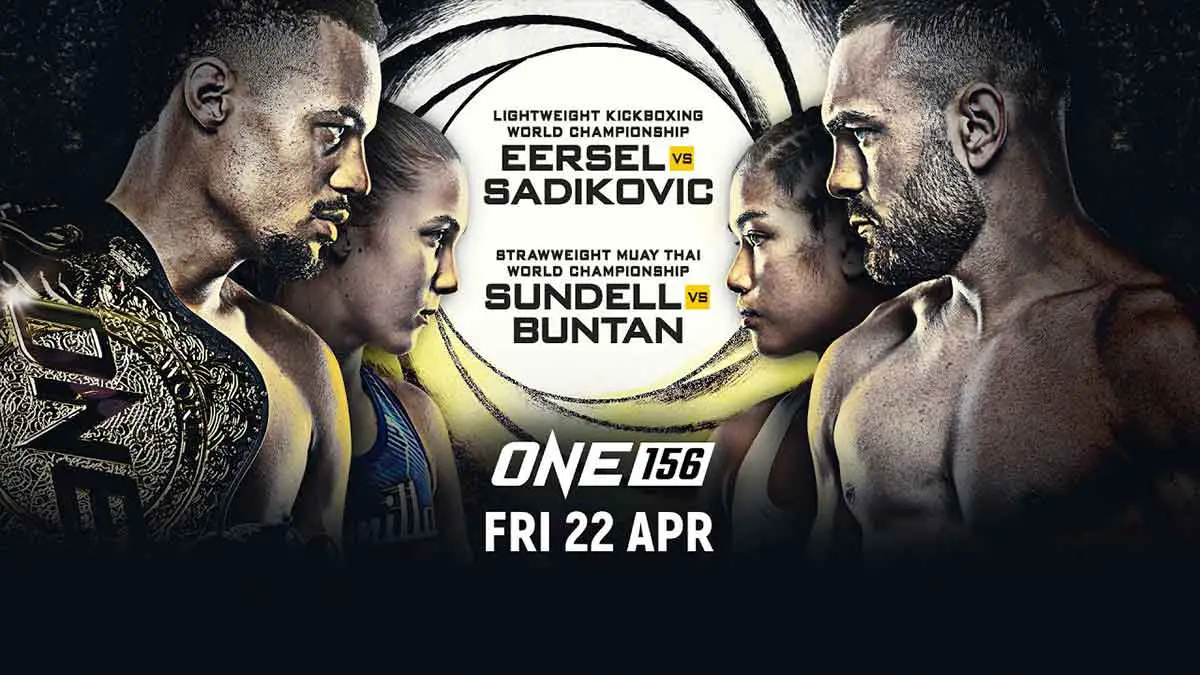 One Championship will return with ONE 156: Eersel vs. Sadikovic event on April 22, 2022, from Singapore Indoor Stadium in Kallang, Singapore.
Two title bouts will headline the event with ONE Lightweight Kickboxing World Champion Regian Eersel defending the title against Arian Sadikovic. The inaugural ONE Women's Strawweight Muay Thai World Champion will be crowned as Smilla Sundell clashed with Jackie Buntan. A new challenger for the Strawweight title will also be crowned as #1 ranked Bokang Masunyane takes on #2 ranked Jarred Brooks.
Check here for the results from ONE 156: Eersel vs Sadikovic MMA event with the undercard, start time, and weigh-in details.
Results & Fight Card
Main Card
Regian Eersel defeated Arian Sadikovic via unanimous decision – Lightweight Kickboxing Championship Bout
Smilla Sundell defeated Jackie Buntan via unanimous decision – Women's strawweight Muay Thai Championship Bout
Jarred Brooks defeated Bokang Masunyane via Submission at 4:39 in round 1 – Catchweight (58.1KG) bout
Liam Harrison defeated Muangthai Pk. Saenchai at 2:19 of round 1 – Bantamweight Muay Thai bout
Song Min Jong defeated Chen Rui via submission at 4:26 of round 2 – Bantamweight bout
Danial Williams defeated Namiki Kawahara via unanimous decision – Strawweight Bout
Prelims
Gustavo Balart defeated Yosuke Saruta via unanimous decision – Strawweight Bout
Andrei Stoica defeated Giannis Stoforidis via Split decision – Light Heavyweight Kickboxing Bout
Anissa Meksen defeated Marie Ruumet via unanimous decision – Aatomweight muay Thai bout
Windson Ramos defeated Woo Sung Hoon via unanimous decision – Flyweight Bout
Dayane Cardoso defeated Ayaka Miura via TKO at 0:56 of round 2 – Strawweight bout
Abraao Amorim defeated Dae Sung Park via TKO at 1:30 of round 2- Lightweight Bout
Jeong Tae Hong defeated Agilan Thani via Submission in round 1 – Welterweight Bout
Mikey Musumeci defeated Masakazu Imanari via submission – Catchweight Submission Grappling Bout
Keanu Subba defeated James Yang via unanimous decision – Featherweight Bout
Weigh-In
Weigh-in results will be updated shortly.
Main Card
Regian Eersel (170 lbs) vs Arian Sadikovic (169 lbs)
Smilla Sundell (125 lbs) vs Jackie Buntan (125 lbs)
Jarred Brooks (123 lbs) vs Bokang Masunyane (126 lbs)
Liam Harrison (145 lbs) vs Muangthai Pk.Saenchai (145 lbs)
Chen Rui (145 lbs) vs Song Min Jong (143 lbs)
Namiki Kawahara (123 lbs) vs Danial Williams (125 lbs)
Prelims
Gustavo Balart (125 lbs) vs Yosuke Saruta (125 lbs)
Andrei Stoica (222 lbs)vs Giannis Stoforidis (225 lbs)
Anissa Meksen (113 lbs) vs Marie Ruumet (114 lbs)
Woo Sung Hoon (135 lbs) vs Windson Ramos (134 lbs)
Ayaka Miura (124 lbs) vs Dayane de Souza (124 lbs)
Abraao Amorim(168 lbs) vs Dae Sung Park(170 lbs)
Jeong Tae Hong(183 lbs) vs Agilan Thani (183 lbs)
Masakazu Imanari (142) vs Mikey Musumeci (141 lbs)
Keanu Subba (154 lbs) vs James Yang (154 lbs)