Invicta FC 46: Rodriguez vs Torquato 2 Results, Card, Live Video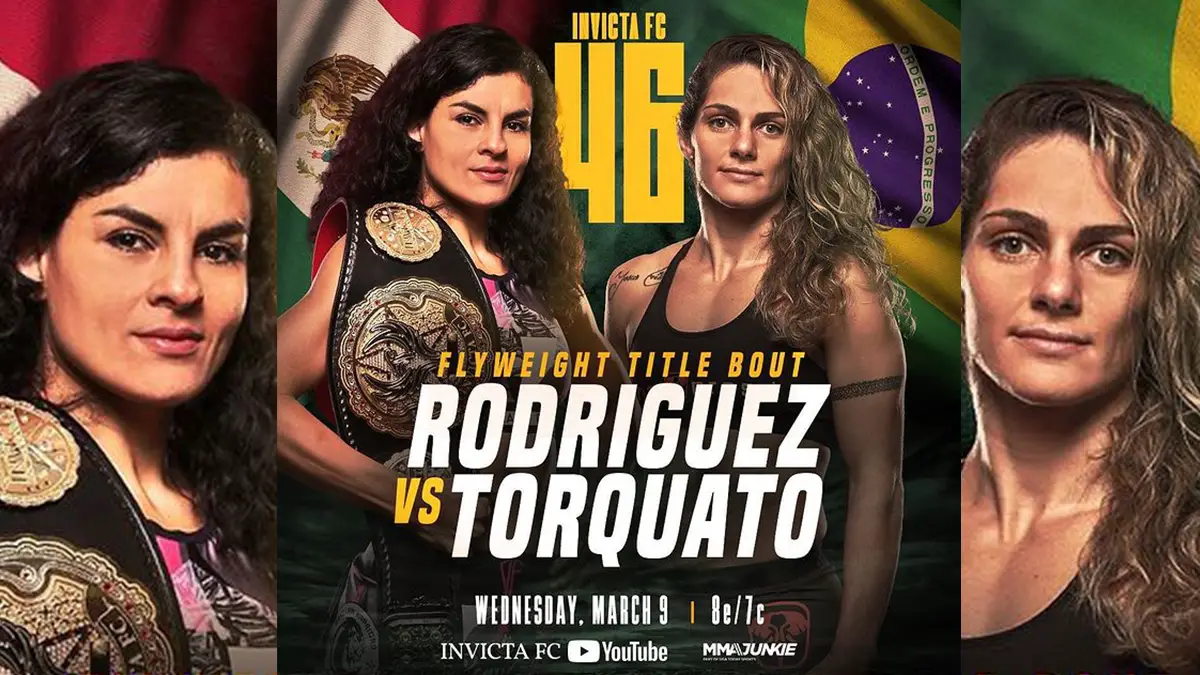 Invicta FC 46 event will be the second event from the promotion in 2022. The event will air on March 9 from Memorial Hall in Kansas City, KS.
The event will be headlined by Karina Rodríguez vs Daiana Torquato flyweight title fight. This will the second time that these two women are clashing in Invicta. Rodriguez defeated Torquato in their previous bout to snap her 6-fight winning streak. Rodriguez was supposed to fight Ketlen Souza in the main event, but Souza pulled out due to an injury.
Also on the card are Milana Dudieva vs Denise Gomes and Flore Hani vs Kristina Williams flyweight bouts, Danielle Taylor vs Liz Tracy from strawweight division, and Paulina Granados vs Monique Adriane atom weight bout.
Check here for the complete results from Invicta FC 46: Rodriguez vs Torquato 2 fight card. Also, catch the online live streaming below in the embedded Youtube video.
Events Info
Online Live Streaming
Fight Card & Results
Karina Rodriguez defeated Daiana Torquato via split decision – Flyweight Championship Bout
Denise Gomes defeated Milana Dudieva via TKO of round 3, 1:56 – Flyweight Bout
Liz Tracy defeated Danielle Taylor via unanimous decision (30-26, 30-27, 30-27) – Strawweight Bout
Kristina Williams defeated Flore Hani via split decision (29-28, 28-29, 29-28) – Flyweight Bout
Monique Adriane defeated Paulina Granados via unanimous decision – Atomweight Bout
Weigh In Results
Daiana Torquato (124.6) vs Karina Rodriguez (123.8) – Flyweight Bout
Milana Dudieva (125.9) vs Denise Gomes (125.9) – Flyweight Bout
Danielle Taylor (115.6) vs Liz Tracy (117.8) – Strawweight Bout
Kristina Williams (125.2) vs Flore Hani (125.2) – Flyweight Bout
Monique Adriane (105.4) vs Paulina Granados (105.6) – Atomweight Bout