Smith vs Geffard ESPN/Top Rank Live Results, Play by Play Updates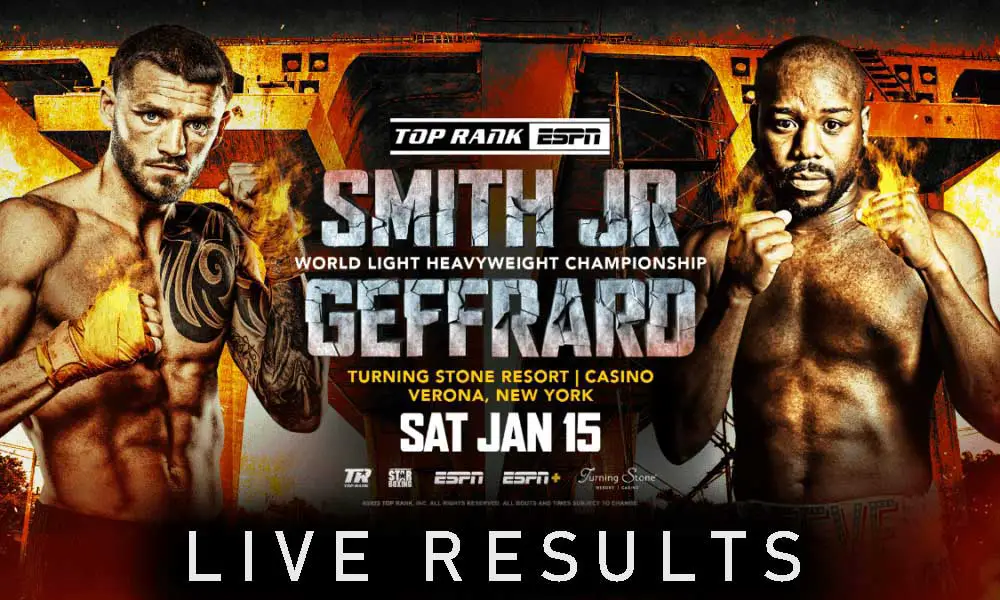 Welcome to the live results blog for Joe Smith Jr. vs Steve Geffrard ESPN Top Rank Boxing event on January 15, 2022.
Joe Smith Jr. was earlier supposed to fight Umar Salakhov and then Callum Johnson. But, he will be making his first defense of WBO Light Heavyweight title against #15 ranked WBO Light Heavyweight Steve Geffard. He won the title from Maxim Vlasov back in April 2021, which was his third win in a row after losing the WBA title bout to Dmitry Bivol.
Geffard is coming into the bout as a short-notice replacement after Callum Johnson pulled out last week. But he was preparing for another fight on the same date. He remains unbeaten after losing his first two professional bouts back in 2013, but his resume will scream that he is lucky to get a title fight here. Will he be able to take advantage of the situation here?
To find out, join us as we bring the round-by-round and play-by-play updates from Joe Smith Jr. vs Steve Geffrard boxing event and results from the undercard.
Results
Joe Smith Jr. defeated Steve Geffrard by TKO in 0:37 of round 9 to retain WBO Light Heavyweight Championship.
Abraham Nova defeated William Encarnacion via TKO in 0:55 of round 8.
Omar Rosario defeated Raekwon Butler via unanimous decision by 58-55, 59-54, 59-54
Jahi Tucker defeated Akeem Black via TKO in 1:18 of round 2.
Troy Isley defaeted Harry Keenan Cruz-Cubano via unanimous decision by 59-54, 59-54, 59-53.
Lyubomyr Pinchuk defeated Jose Mario Flores via unanimous decision by 79-73, 79-73, 80-72.
Smith vs Geffrard Live Updates
Round 1: Double jab and punch combos from Smith to start. Geffrard is keeping his hands up with Smith coming to him swinging. Smith keeps looking to connect something. Geffrard attempts double jab halfway into the round. Smith keep going at him until the round comes to an end.
Round 2: Smith comes out firing but could not breach the high gaurd. He shifts his focus on body for a while. Smith is trying different things and nails some shots to the body. Geffrard starts to get forward a bit but does not connect much. The round ends with nothing more to talk about.
Round 3: Smith is leading the punch count going into this round. Some body shot from Smith. He lands some more swings. Geffrard lands a right but Smith defends well. Smith lands more body shots as Geffrard keeps his high guard.
Round 4: Geffrard comes out on the offense in this round but settles down quickly. Geffrard looking better now. Smith keeps looking for body shots. Smith comes out with several swings and many of them connect. Geffrard on the backfoot as the round ends.
Round 5: Geffrard tries to reach out with his jabs but Smith nails him on his body. Double left jab and big right combos continue from Smith. Geffrard is countering him a bit. Smith lands some punches low and gets warning from the referee. Smith connects a clean right that rocks Geffrard to the ropes. Smith keeps pounding him relentlessly until the round ends.
Round 6: Smith keeps looking to nail punches at the head. Smith with left uppercuts and a hook to the body. Smith continues to be in control throughout the round. He gets another warning for a low shot though.
Round 7: Smith has already won this bout I guess, barring a knockout. Smith remains in control throughout but does not push the pace. He lands back to back uppercuts as we get to the final 30 seconds.
Round 8: Geffrard told his trainer that his left shoulder is hurt, as per the commentary team. Smith once again in control to start. Geffrard throws in some punches in the second time. Smith keeps nailing his shots with not much reply from Geffrard.
Round 9: This is the first time that Geffrard is in ninth round of this fight. Smith nails more shot after at his head and Geffrard is on his knees. The referee is counting but the corner has decided that the fight is over. It is not like Geffrard was getting up anyway. In replay, the machine gun punches look much more brutal.
Official Decision: Joe Smith Jr. won by TKO in 0:37 of round 9.