Devin Haney vs George Kambosos Jr. 2 Results LIVE(w/ Prelims)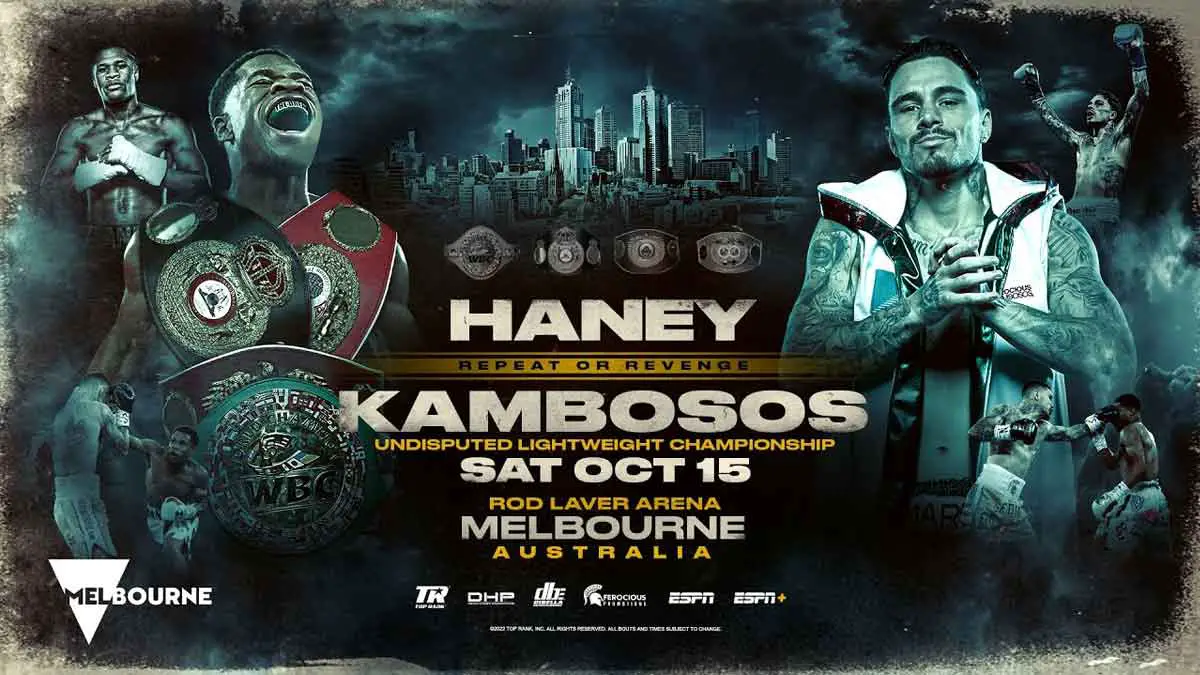 Devin Haney and George Kambosos Jr. will clash for the second time for Undisputed Lightweight Championship on October 15, 2022(October 16 in local time in Australia).
Just like the first bout, Haney will come to Melbourne, Australia, but he is the undisputed champion this time around. On June 5, Haney got an unanimous decision against George Kambosos Jr. in a bout where he clearly dominated from the start.
Kambosos was entered the bout on cloud nine having defeated Teofimo Lopez Jr. last year in November. With three lightweight titles with him, Kambosos was still not considered a favorite against Haney last time around also. Will he be able to turn things around this time around?
The undercard will also feature Moloney Brothers, Nawaphon Kaikanha, Norbelto Jimenez and New Zealand Heavyweight Hemi Ahio. Tune in below to catch all the results from Devin Haney vs George Kambosos Jr. 2 event along with prelims bouts.
Results & Card
Prelims Card (6 pm ET)
| No. | Fight | Titles/Round/Weightclass | Winner |
| --- | --- | --- | --- |
| 1 | Amari Jones vs Tej Pratap Singh | 6 rounds, Middleweight Bout | Amari Jones won via unanimous decision |
| 2 | Lorenzo Simpson vs Marcus Heywood | 8 rounds, Middleweight Bout | Lorenzo Simpson won via unanimous decision |
| 3 | David Nyika vs Titi Motusaga | 6 Rounds Cruiserweight Bout | David Nyika won via KO in round 2 |
| 4 | Hemi Ahio vs Faiga Opelu | 8 Rounds Heavyweight Bout | Faiga Opelu won via TKO in round 4 |
Main Card (8 pm ET)
| No. | Fight | Titles/Round/Weightclass | Winner |
| --- | --- | --- | --- |
| 1 | Cherneka Johnson vs Susie Ramadan | 10 rounds, Johnson's IBF super Bantamweight Championship Bout | Cherneka Johnson won via unanimous decision (97-90, 96-92, 96-91) |
| 2 | Andrew Moloney vs Norbelto Jimenez | 10 rounds, Vacant WBO International Junior Bantamweight Championship Bout | Andrew Moloney won via unanimous decision (97-90, 98-89, 99-88) |
| 3 | Jason Moloney vs Nawaphon Kaikanha | 12 rounds, Final eliminator for WBC Bantamweight Championship Bout | Jason Moloney won via unanimous decision (118-110, 119-109, 118-110) |
| 4 | Devin Haney vs George Kambosos Jr | 12 rounds, Haney's undisputed Lightweight Championship Bout | Devin Haney won via unanimous decision (119-109, 118-110, 118-110) |