WWE SmackDown Results, July 29, 2022 Live Updates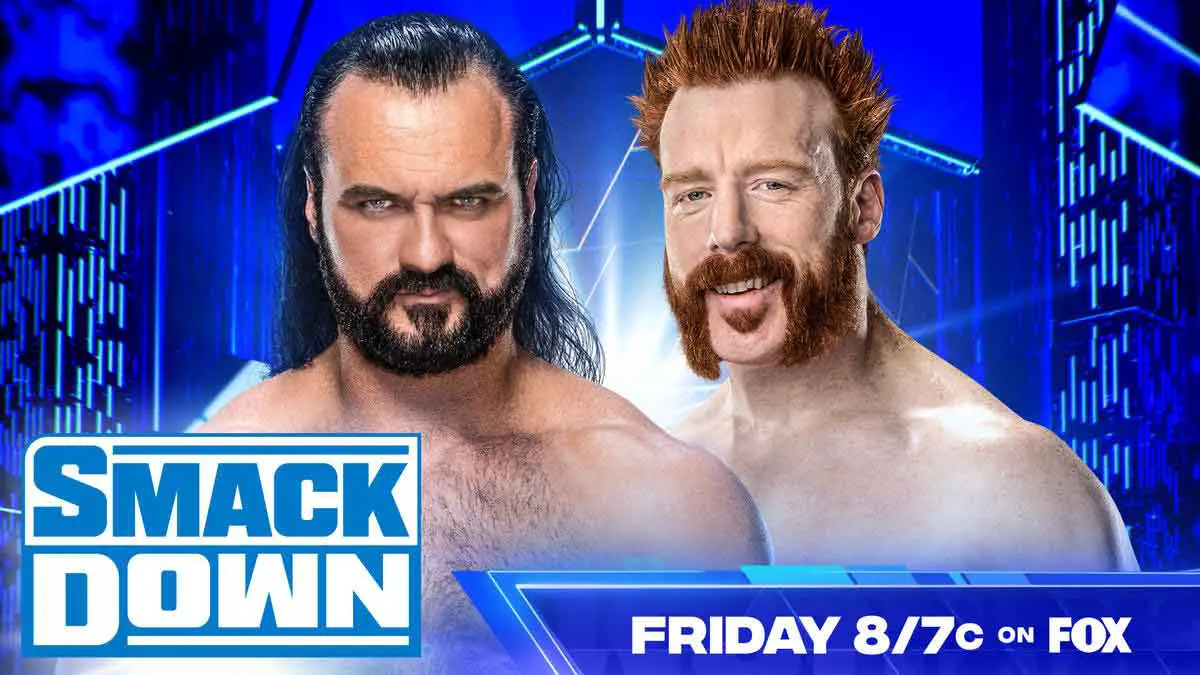 Welcome to WWE SmackDown results live blog for July 29, 2022 episode, which will be the go-home show for SummerSlam 2022.
WWE has already started building for the events after Summerslam though, as Sheamus and Drew McIntyre will clash in a #1 contender for Universal Championship in the Irish Donnybrook match. The winner will challenge for the title at Clash of the Champions.
In other matches, New Day will take on The Viking Raiders in a tag team match as their rivalry continues. Aliyah vs Lacey Evans is scheduled for this week once again, but the chances of this match taking place remain slim. MMM will present Beachwear Collection while other storylines for Summerslam are expected to continue building up.
Expect the likes of Roman Reigns, Brock Lesnar, Liv Morgan and Ronda Rousey to feature on the show in some capacity. Tune in as we bring the results from WWE Smackdown July 29, 2022 episode with live updates, videos, highlights and more details.
Live Updates
Drew McIntyre vs Sheamus – Irish Donnybrook Match for #1 Contender for Universal Championship
Drew McIntyre comes out to open the show. Sheamus attacks him on the ramp. They brawl at the ringside before getting into the ring. Sheamus is in control as the bell rings. Drew explodes from the corner with a clothesline. They continue to brawl back and forth and go back to the floor. Sheamus is thrown over the announce table.
Drew brings out a table but Sheamus catches him with an attack from behind. Sheamus sends him into the steel steps. Back to the ring, Sheamus gets a small stick which was stuffed in the corner and rakes Drew's eyes with it. He hits his signature clubbing blows to the chest by putting Drew to the apron. Drew blocks a suplex and hits it himself on the floor. Drew sends Sheamus into the barricade, ring post, steel steps and then into a beer barrel to take us to a break.
Sheamus hits a body slam as we return from the break. Sheamus brings in a chair and smacks it on Drew's back. Drew sends him into the turnbuckle. Drew hits a couple of clotheslines and a couple of belly-to-belly suplexes. Drew hits a neckbreaker and then kips up to bring in several steel chairs. Sheamus throws one chair at his face. Sheamus goes for White Noise on the chairs but Drew counters with a futureshock DDT on chairs.
Ridge Holland breaks a cane on Drew's back. Sheamus hits a Brogue kick but Drew kicks out of the pin. Drew slips to the floor. Holland tries to attack him again but Drew sends him into the ringpost and then through a table to take us to a break.
Drew is beating up Sheamus as we return from the break. Sheamus fights back and puts Drew in a tree of woe. Drew gets up and hits a German suplex from the top. Sheamus ducks the Claymore kick and hits an Alabama Slam to get a two-count. They go to the floor again. Drew sends Sheamus into a stand. Butch dives on Drew from the top of a barrel. Sheamus slams Drew with a chair to his back. Sheamus goes the avalanche White Noise and hits it, but Drew still kicks out. Sheamus is frustrated now. He hypes up Butch who brings out a big stick and hands it to Sheamus. Drew ducks it and hits Sheamus with Glasgow Kiss.
Drew picks up the stick and hits Butch and Sheamus with it. Drew goes for Claymore on Sheamus but Butch catches it. Sheamus nails Drew with another Brogue kick. Drew kicks out of the pin once again. This is awesome chants from the crowd, followed by some boos for Sheamus. Sheamus gets ready for Brogue kick once again but Drew picks him up and hits a powerbomb through a table setup in the ring. Drew waits for Sheamus to get up. Sheamus gets his hands on a stick. Drew gets emotional as he hits Sheamus with a claymore kick while Sheamus was still on his knees. Drew covers Sheamus and gets the pin.
Winner – Drew McIntyre
Kayla Braxton comes into the ring after Drew's hand is raised. Drew gives props to Sheamus and says somebody has to take the title from part time champion. Theory attacks Drew from behind with his MITB breifcase. Theory goes on to hit Drew with briefcase multiple times until Drew is down for good.
---
Pat McAfee and Michael Cole discuss McAfee's match against Happy Corbin at Summerslam. Corbin appears in the front row and mocks McAfee. He goes on to sit in the front row to watch the show. We cut to a break.
---
Theory gets interviewed as he is walking backstage. He once again claims that he will win both United States and Universal Championship at Summerslam. He continues to put himself over and claims that nobody will stand in his way to become the champion again. As he is done, Paul Heyman comes in and takes him away, mentoring him on the way.
Aliyah vs Shotzi
Shotzi goes for hammerlock but Aliyah was quick to avoid it. Shotzi throws her to the corner and stomps on her. She hits a hip attack on the ropes. Shotzi puts on the Boston Crab now. Aliyah gets to the ropes but Shotzi brings her back to the middle. Shotzi rolls over and starts firing back with kicks and forearm shots. She hits a flying clothesline to get a two-count. Aliyah hits a Meteora from the apron on the floor. Shotzi sends her into the barricade. Shotzi hits "Never Wake Up" finisher(a DDT with leg pulled up) to get the pin.
Winner – Shotzi
We see a replay of Ronda Rousey attacking Sonya Deville last week during the commercial break. Natalya interrupts a face-off between Liv Morgan and Ronda Rousey. Sonya Deville also joins her in mocking Ronda and Liv. Ronda leaves the scene and goes out to the ring where Shotzi was speaking to the crowd. Shotzi goes after Ronda but Ronda brings her down easily. She sends Shotzi packing and rants on other women for bitching about not being in the title picture. He also shouts at a fan in the front row. Ronda calls out Liv Morgan to show everyone why they are in the title match and not others. Ronda throws away her jacket as we cut to a break.
Ronda Rousey & Liv Morgan vs Natalya & Sonya Deville
Ronda starts with armdrags. Natalya works on her arm before Ronda takes her down once again by her arms. Liv tags in to get an assist on a hurricanrana. Natalya tags in Sonya for some back and forth with Liv. Liv sends her to the corner and hits a hip attack. She hits a rising knee strike and tags in Ronda. Sonya tries to catch Liv with a kick but Ronda drops Sonya. Liv and Ronda argue over the tag and Sonya takes advantage by pulling her off the apron. Sonya throws Liv into the barricade before taking her back to the ring. Natalya tags in to work on Liv for a while. We cut to a break.
Sonya hits a running knee as we return and gets a two-count. Natalya tags in and hits a leg sweep. She stomps on Liv. Liv counters and hits a codebreaker. Liv decides to go for the cover than tagging Ronda. Natalya hits back and sends her to the corner. Sonya tags in to continue working on Liv. Liv tries to fight back. Sonya nails her with a roundhouse kick. Liv quickly hits back with an enzuigiri. Liv drags to the corner but once again decides against tagging Ronda. Liv gets a two-count with a roll-up on Natalya. Natalya drops her with a discuss lariat.
Liv drops Natalya with a drop toe-hold. Liv finally tags Ronda. Ronda hits quick strikes. She hits a rising knee and a Piper's pit. Natalya attacks Ronda from behind. Liv comes in and deals with Natalya. Ronda puts Sonya in an ankle lock and gets a quick submission.
Winner – Ronda Rousey & Liv Morgan
Ronda and Liv face off in the ring after the match and Liv shows off her title.
---
The Street Profits come out to take us to a break. The Usos enter after the break. Jeff Jarrett comes out to the ring and says he has words for both teams. The Usos cut him off and asks him about various disqualification scenarios. The Street Profits get more hyped and present some of their own scenarios. Jarrett intervenes and says he is not here to contain them, but he only has one job tomorrow night, that is to count one, two and three. But that is for tomorrow night, and they can do anything tonight. The Profits attack The Usos to start the brawl. Jey Uso ends up hitting Jarrett with a superkick. The Usos realize their mistake and goes to apologize to Jeff. Jeff gets up and is not having anything from the Usos. The Profits push them to the floor and Ford hits a suicide dive.
Maxxine Dupri introduces us to a SummerSlam Special Beach Wear Collection. Mace presents special Summerslam shorts and Mansoor presents a Summerslam crop top. Max Dupri comes in and says they are looking for more clients.
The Viking Raiders(Erik & Ivar) vs New Day(Kofi Kingston & Xavier Woods)
Woods ad Erik start with some back and forth in the corner. Erik runs over Woods with an ax handle. Woods tags in Kofi who hits some quick moves. Erik counters a hurricanrana from Kofi from the top. The Vikings take control over Kofi and cut off the ring. Kofi is thrown to the floor. Ivar hits him with a crossbody against the barricade to take us to a break.
Ivar is in control against Kofi as we return from the break. Ivar drops Kofi with a big blow. Kofi counters with a SOS. Woods and Erik get the tags. Woods hits a big forearm and then a Russian Leg Sweep. Ivar comes in and is sent to the floor with a dropkick. Woods brings Erik down to the ropes and hits a dropkick on Ivar on the floor. Woods hits a DDT to get a two-count.
Kofi tags in. Ivar stops a double team attack on Erik. He sends Woods to the floor. Erik hits Kofi with a ripcord knee. Ivar tags in to hits a splash from the second rope. Erik and Ivar hits double team powerbomb to get the pin.
Winner – The Viking Raiders
After the match, The Viking Raiders bring in their shields and a steel chair into the ring. Woods goes attack The Vikings but they drop him with their shield. Kofi is thrown out of the ring. They set up a chair on Woods' leg and slam their shield on the chair to hurt Woods' ankle. WWE Crew and Kofi get into the ring to check on Woods as The Vikings exit.
---
Paul Heyman is in the ring for the special counsel address. He says he serves as the special counsel for the only undisputed Universal Champion Roman Reigns, who, he claims, will be the last man standing tomorrow night. Heyman says nobody has reached 700 days as a Heavyweight champion in 35 years. He goes on talk about how Lesnar is trying to be a spoiler. He claims that Roman will put Lesnar down tomorrow night once and for all.
Brock Lesnar's music hits and he comes out. Heyman is shocked. Lesnar enters the ring. Heyman backtracks as he offers Lesnar the mic. Lesnar has cornered him but Theory attacks Lesnar from behind with his breifcase. Lesnar nails Theory with big punches. Lesnar hits Theory with a few German suplexes and then with an F5. Theory slips out to the floor with his briefcase. Drew McIntyre runs him over with a Claymore kick. Drew stands on the ramp and stares down Lesnar. The show goes off the air.