Lana & Lashley's Wedding Destroyed by Rusev & Liv Morgan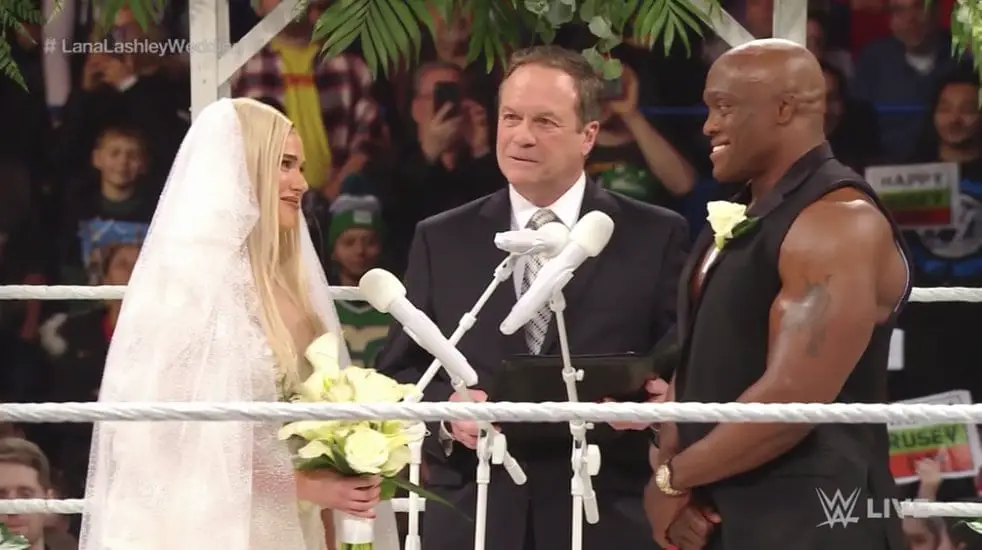 This week's RAW featured the wedding of Lana and Bobby Lashley, but the wedding was expectedly ended up getting ruined by the return of Liv Morgan and Rusev.
The wedding segment closed RAW this week which might be considered as the worst finish to a RAW episode ever. Lashley and Lana entered one after the other for their wedding as the ring was decorated for it. The chairs, where guests were supposed to be sitting, were all empty and the commentary team explained that no one actually accepted the invitation.
After Lana's multiple rants and many more antics later, the wedding officiant finally reached the part where he asked if there was anyone who would object to the wedding. A man came out to object to the wedding and revealed that he was Lana's first husband. After Lana ridiculed him, Lashley ended up hitting him with the chokeslam and cleared him from the ring.
Moments later, a woman came out to object saying that she was Lashley's first wife when he was in the army. Lana slapped the woman off the apron and asked the officiant to continue with the ceremony. As the officiant once again asked if anyone objected to the marriage, Liv Morgan made her return to the WWE. WWE RAW has already gone in the overrun by this point.
Liv said that the love of her life was in the ring for the wedding, and talked about how she could not have made it through the past year if it weren't for their love. Lashley yelled out that he had never touched Liv once in his life as she made her way to the ring. Liv then revealed that she was referring to Lana. Both Lana and Liv started crying at that point before Lana slapped Liv to start a brawl.
Several WWE officials and referees broke up the brawl and Lana once again readied to carry on with the wedding. However, before their marriage could be declared, Rusev came out from the fake cake to attack Lashley. After Rusev leveled Lashley with the Machka kick, Liv ran back into the ring and took Lana down again. Rusev and Liv ended the show standing tall in the ring.
Earlier in the show, we got to see another teaser for the return of Liv Morgan talking about her makeover. In the vignette, Morgan said someone once made her feel different, but then that person took it away. She also said the new Liv is more methodical than the older self and will strike when she will be ready. The person that she was referring to, turned out to be Lana.