Three-Way IMPACT World Title Match Announced For Hard To Kill 2022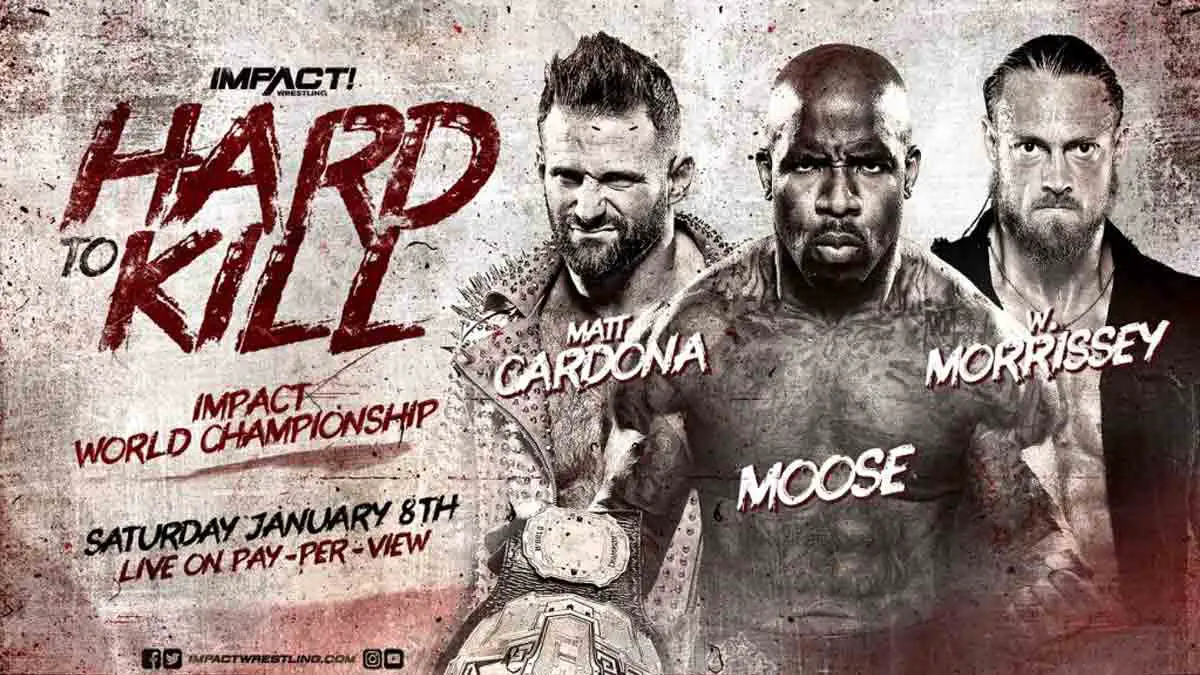 Moose will defend Impact World Championship at the upcoming Hard To Kill 2022 PPV in a three-way match against Matt Cardona and W. Morrissey.
At this week's IMPACT Wrestling episode, Matt Cardona teamed up with Eddie Edwards to defeat Moose and W. Morrissey with Cardona pinning Moose. In a post-show segment, which was posted on IMPACT's Twitter handle, IMPACT Executive Vice President Scott D'Amore came out to address Moose.
Matt Cardona has been asking for a World title shot against Moose and has managed to pin Moose in tonight's match. Moose earlier interfered in the match between Cardona and Morrissey at Turning Point 2021 event, which led to Morrissey pinning Cardona.
Moose and Morrissey formed an alliance prior to Turning Point with the pretext that Moose will give Morrissey a World Title shot in the future. Morrissey also helped out Moose to defeat Eddie Edwards in the main event match at Turning Point.
Morrissey grew frustrated with Moose as his wait for World Title shot continued. Moose told Morrissey this week that he will get his title shot if they managed to win their match against Cardona and Edwards. After Cardona pinned Moose, Morrissey also attacked Moose after the show ended.
Scott D'Amore then explained to Moose how he has created a mess of a situation. He noticed how Cardona has pinned Moose and how Morrissey pinned Cardona at Turning Point. And with Moose promising a title shot for Morrissey, he has decided to book a triple threat match at Hard to Kill.
IMPACT Hard to Kill 2022 PPV will take place on January 8, 2022. Keep tuned in for more news and updates from the event.