AEW Dynamite February 9, 2022- Results, Preview, Card, Tickets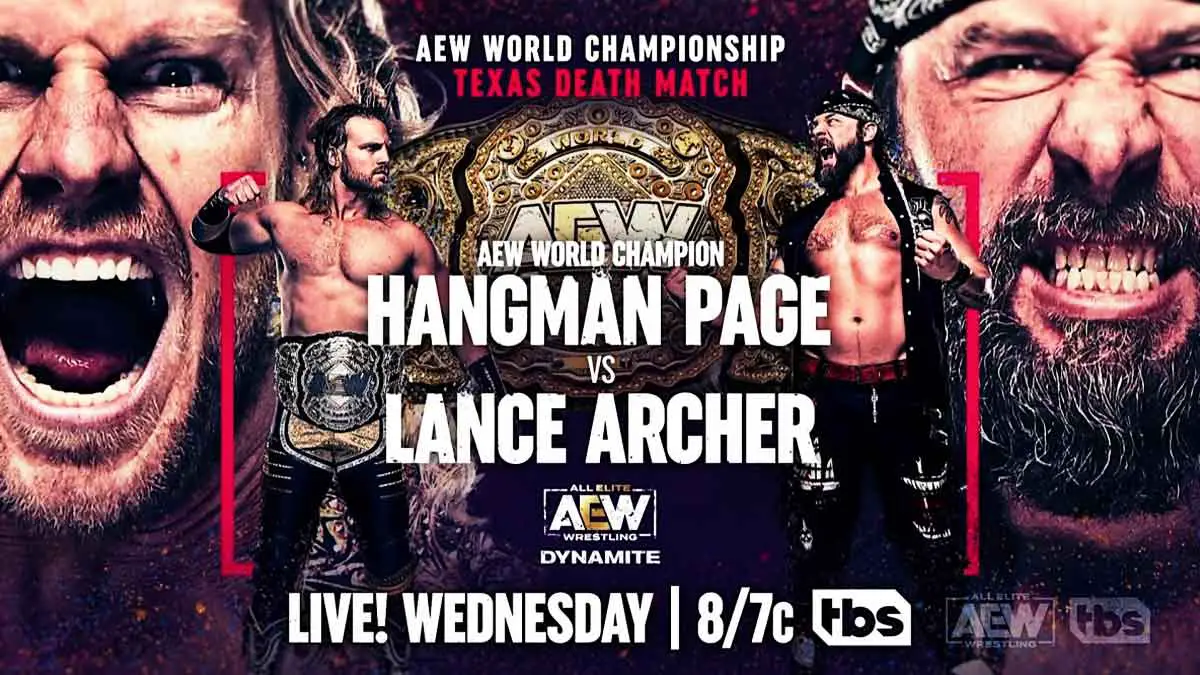 AEW Dynamite episode of February 9, 2022, will feature a Texas Death Match for the AEW World Championship between Hangman Adam Page and Lance Archer. The forthcoming episode will air from the Boardwalk Hall, Atlantic City, NJ. 
The episode will also continue the buildup to AEW Revolution 2022 PPV. A new signing is announced to come to AEW in this episode who will take part in Face of Revolution qualifying match. A meeting is announced for Inner Circle.
Continue reading to know all the details on AEW Dynamite February 9, 2022 episode.
Show – AEW Dynamite
Date – February 9, 2022
Location – Boardwalk Hall, Atlantic City, NJ
Time – 8 PM EST
Match Card & Results
Wardlow defeated The Blade in a singles match via pinfall.
Keith Lee defeated Isiah Cassidy in Qualifying match for Face of Revolution Ladder Match via pinfall.
CM Punk & Jon Moxley defeated FTR(Dax Harwood & Cash Wheeler) in a tag team match via pinfall.
Jade Cargill(c) defeated AQA via pinfall to retain AEW TBS Championship.
Serena Deeb defeated Kate Arquetta in a singles match via submission.
"Hangman" Adam Page defeated Lance Archer in Texas Death Match via knockout to retain AEW World Championship.
Live Updates
MJF Speaks
Wardlow comes out with MJF's cutout. No entrance music for him. Wardlow does not look happy as he enters the ring. He hands a paper to Justin Roberts. Roberts announce FTR & Tully Blanchard and then Shawn Spears with accolades mentioned in that peice of paper. They all get entrance music as pointed out by the commentary team. MJF is announced to come out and he is brought in on a palanquin platform and is sitting on a throne.
MJF kisses one of the accompanying girls as he comes down from the throne. Pinnacle, minus Wardlow, do a group hug. MJF takes the mic and claims that he is better than the best in the world after beating CM Punk in the dumpster fire called Chicago. MJF says he has to thank a person without whom he would not have been able to beat Punk. Wardlow takes a step forward but MJF names Shawn Spears as that man who helped him getting warmed up.
Spears shows a brand new shirt for MJF that is on sale now. MJF then says he is coming after the AEW World Championship. CM Punk comes out to the stage. He asks for a mic and Tony Schiavone holds it for him. Punk says MJF's win was more susceptible than his spray tan. Punk says he has brought the company to deal with Pinnacle. Sting and Darby Allin come out with a baseball bat. Punk says they will beat up Pinnacle if he does not get the rematch against the man who beat him.
MJF refuses but Punk says he was a talking about Wardlow. MJF refutes and it was him who beat him all by himself. Punk warns Wardlow and tells him to leave the ring to avoid getting beaten up with Pinnacle. MJF says he has a match for Wardlow tonight and then tells Punk that he can find a partner and beat FTR if he wants a rematch.
Andrade el Idolo meets Sting and Darby Allin. Andrade says he hunted down his boss and everybody knows Darby is for real. Sting says he is no kid and if he has a problem with him he can speak directly. Darby says he will never work for him and he is just gunning to get the TNT Championship back. Andrade says he will work for him and that he is going to be the next TNT Champion.
The Blade vs Wardlow
Blade attacks Wardlow before the bell and attacks his knee. Blade continues to attack the knee after the bell. Wardlow explodes with a clothesline but still selling a knee injury. Wardlow hits a trio of belly-to-belly suplexes. Blade rolls out to the floor and Wardlow follows him to slam him to the ring post. We cut to a break.
Blade counters with a knee in the corner. Wardlow comes back with a powerbomb. The crowd cheers for the powerbomb and he starts hitting the powerbomb symphony. Wardlow covers Blade after three powerbombs and gets the pin.
Winner – Wardlow
After the match, Shawn Spears comes into the ring and hits Blade with a chair while Wardlow poses in the corner.
Inner Circle Team Meeting
Jericho says it is fine that Santana and Ortiz want their own spotlight, but it was not cute that they did not tag him in the tag team match two weeks back. Santana argues that he has been battling with cup half full mentality and wants to call things as it is. He says Chris Jericho only cares about one person, Chris Jericho. Any little fight they've had, any change in focus, has always been for the betterment of Y2J.
Santana continues and wonders how the rug gets pulled under them everytime they get near the tag team titles. He then tells Jericho that the days of them playing second fiddle are over and done. Jericho brings up Eddie Guererro for getting all hyped up and trying to blame everyone around him. Jericho asks them what has Eddie Kingston done for them. Jericho says he the influencer in AEW, they have gotten main events and payoffs.
They have had the chance to become tag champs and they lost to the Young Bucks. And yet they are putting all of their problems on Jericho. Jericho wonders if he picked up wrong members of LAX. Santana gets in Jericho's face but Sammy gets in between them. Sammy says that they are a family. Jericho snaps on him and tells him to shut up. Sammy says they're a family and he stands by that, but this bickering isn't helping his goal to become the greatest champion wrestling has ever seen. Sammy takes his vest off and says unless they can figure this shit out, he is gonna quit again.
Ortiz says they've forced Sammy out and what's next? And Jericho's wrong about Eddie Kingston, they're brothers in arms, and all this bickering isn't going to settle anything. He challenges Jericho and Hager for a match next week.
Tony Schiavone interviews Roppongi Vice and they says they will face the Young Bucks on Rampage this week. Rocky Romero says he's feeling good and ready to go after COVID-19. The Young Bucks roll up and they want to fight then and there. They attack them as Adam Cole joins them. Jay White makes his appearance and throws Trent into the production truck.
Keith Lee vs Isiah Kassidy
Kassidy is out for the match with Matt Hardy and Mark Quen and is waiting for the mystery opponent. It turns out to be Keith Lee. He gets into the ring. The bell rings and Lee pushes Kassidy to the corner and then throws him across the ring.
Kassidy tries to hit him with elbow strikes. Lee whips him to the ropes, leapfrogs, drops down and then hits a crossbody. Mark Quen has a staredown with Lee to distract him. Lee ends up sending Kassidy into the ring post. Back to the ring, he hits a big shoulder tackle next. Matt Hardy has walked out on Kassidy after seeing his performance. Quen distracts Lee once again and Kassidy hits him with a gamengiri on the apron. He hits a dropkick and Lee gets to the floor.
Kassidy hits him with a tornillo dive to takes him down. Back to the ring, Lee no-sells some attack. Kassidy goes for an enziguiri but Lee catches him mid air. He slams Kassidy in the corner by picking him by his throat. Lee hits Ground Zero to get the pin and the win.
Winner – Keith Lee
Quen attacks Lee after the match but Lee deals with both members of Private Party with ease.
FTR(Cash Wheeler & Dax Harwood) vs CM Punk & Jon Moxley
FTR comes out for the match. CM Punk makes his entrance. Who will team up with him? It will be Jon Moxley. Mox enters through the crowd as usual. The match begins with Punk and Dax. Punk drops Dax with shoulder tackle after a side headlock. Moxley comes in and does the same.
Punk comes back and FTR use nefarious means to takes control. FTR work on Punk's injured knee from last week. Punk fights back to bring in Mox. Mox runs riot and drops both opponents. Mox hits a double DDT on both opponents to send them to the floor. Cash trips Mox but Punk hits him with a springboard lariat. Punk goes for a suicide dive on the floor but FTR catch him. Mox hits a dive on all of them to take us to a break.
We see how FTR has put Moxley through the table as we return from the commercials. Mox beats the 10-count from the referee, but FTR continue to keep him under control. Moxley avoids a leg drop from Dax. Cash tags in but Mox hits with a big lariat. Punk gets the hot tag and hits big punches on Dax. He hits a leg lariat, a running knee and short arm clothesline for a two-count. Dax sends him to the floor with an uppercut.
Mox and Punk hit FTR's finishing move on Dax. Mox hits Cash with a dive on the floor. Punk covers Dax but he kicks out. Cash hits a DDT on Mox on the floor. Cash hits Punk with a cheap shot. Dax hits Punk with a brainbuster but Punk somehow kicks out of the pin. FTR hit big rig on Punk. Mox comes in to break the pin. All four men are in the ring now and they trade shots.
The chaos leads to Mox putting the rear-naked choke on Dax and Punk putting Annaconda Vice on Cash. Cash taps out but the referee was distracted but Mox and Dash. Tully Blanchard comes into the ring and Punk hits him with GTS. Cash rolls up Punk and holds on to his trunks. Punk still kicks out. Punk hits GTS on Cash while Mox hits Paradigm shift on Dax. Punk covers Cash to get the pin.
Winner – CM Punk & Jon Moxley
MJF throws a fit backstage as Punk has now earned a match against him.
Jade Cargill(c) vs AQA – AEW TBS Championship Match
AQA gets a pre-recorded promo where she says she has been trained by Booker T. The match starts and Jade tackles her. AQA hits an armdrag and holds onto her arm for submission move. Jade picks her up by the same arm and poses before dropping AQA on her back. We cut to a break.
AQA fights back and brings down Jade with a slingblade. She hits a DDT next. She goes to the top for shooting star press but Jade kicks out. She goes for another one but has to stop as Jade was already up. Jade catches her crossbody and throws her over her head. Jade hits the Jaded to get the pin.
Winner – Jade Cargill
Serena Deeb vs Katie Arquette
Serena Deeb comes out and says she defeated Skye Blue in 3 minutes in her last match. And she announces a 5-minute Rookie challenge. Serena gets into the ring to face Katie Arquette. They lock up. Deeb hits an uppercut to break it. Deeb hits a spinning neckbreaker. She steps on the arm and looks at the watch on the big screen. She puts on the Serenity lock to get the submission.
Winner – Serena Deeb
Adam Page(c) vs Lance Archer- Texas Deathmatch for AEW World Championship
Only submissions or knockouts can get you the win here. Page attacks Archer on the stage during his entrance and they fight there for a while. Page sends Archer through a glass pane on the stage. Page brings Archer to the ring and hits a buckshot lariat. The referee starts counting as Archer is down on the floor. Archer gets up on 9. Page hits a plancha.
Archer comes back by hitting Page with a trash can lid. Dan Lambert starts loosening the top rope so that Page could not hit Buckshot Lariat. Archer throws Page into the barricade. Hangman lands on the barricade and hits a moonsault from it. Back to the ring, Archer counters a move to send us to a break.
Archer has double tables set up on the floor as we return. He looks to hit a chokeslam but Page fights back. He tries to send Archer down with big boots. He hits a couple of those before Archer drops him with a big shot. Archer goes to expose the floor while Jake Roberts hits him with a swinging elbow. Archer gets angry with Roberts for that. Page takes advantage and drops Archer on the floor with a DDT.
Page has a kendo stick in his hands and starts to slam it on his back. Archer hulks up with stick shots, catches the stick and breaks it. Archer hits Page with a chokeslam on a trash can. Archer hits a cannonball on the floor. Archer brings out a bunch of chairs from underneath the ring and finally takes out a barbed wire chair. He hits a big boot on Page before hitting him with Blackout on a steel step.
Archer brings him back to the ring and looks for a powerbomb. Hangman has put a barbed wire across his arm and hits rolling elbow strikes with it on Archer. He hits a backdrop suplex on Archer. Page jumps off the referee's back to hit Buckshot Lariat which took Archer through the table. Both men are down as the referee starts counting down. Page gets up and into the ring as the referee reaches the 10 counts.
Winner – Adam Page
After the match, Adam Cole comes out to the ring and picks up the AEW World title to make his title intentions clear. He hands the title to Page before leaving to the back. The show goes off the air with Page in the ring.
---
Preview
AEW World Championship Match: Lance Archer is all set to challenge Hangman Adam Page in a Texas Death Match for the AEW World Championship. Will Hangman Page be able to continue his momentum or will Lance Archer will end the title reign?
New Signing Debuts: Tony Khan has announced that a new free agent will come to AEW and signs a new contract with the company. This new signing will also face Isiah Kassidy in the qualifier for Face of the Revolution Ladder match.
Inner Circle Team Meeting: Things have been rocky between Chris Jericho and Santana & Ortiz for the past few weeks. The tag team refused to tag in Jericho in their trios match a couple of weeks ago, leading to Jericho using nefarious ways to make his presence felt. Jericho has now called for a team meeting of Inner Circle.