AEW Dynamite Dec 22, 2021 – Results, Preview, Match Card, Tickets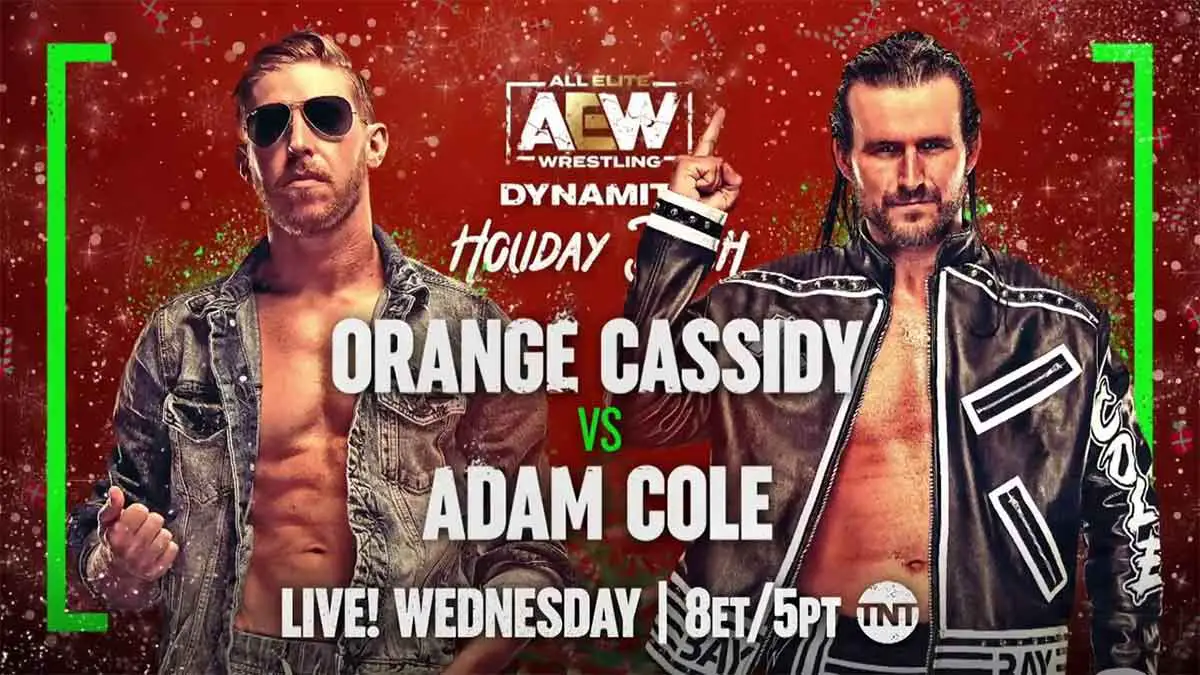 AEW Dynamite Holiday Bash special edition will air on December 22, 2021. A stacked is presented by AEW in the holiday season with CM Punk teaming up with Darby Allin & Sting to face MJF and FTR. The show will air live from Greensboro Coliseum, Greensboro, NC.
Malakai Black will feature against Griff Garrison in a singles action whereas Adam Cole will face Orange Cassidy. Britt Baker will throw a special Christmas Party with Tony Schiavone and Nyla Rose & Ruby Soho will clash in the TBS Championship Tournament semifinal match.
Keep on reading to check the complete details on AEW Dyanmite Holiday Bash edition on December 22, 2021, with results, preview, match card, start time, tickets details, location, and more information.
Date – December 22, 2021
Location – Greensboro Coliseum, Greensboro, NC
Time – 8 PM EST (December 23 – 1 AM GMT)
Match Card & Results
Adam Cole defeated Orange Cassidy in a singles match via pinfall.
Wardlow defeated Captain Shawn Dean via pinfall in a singles match.
Ruby Soho defeated Nyla Rose in TBS Championship Tournament Semifinal match via pinfall.
Malakai Black defeated Griff Garrison in a singles match via pinfall.
CM Punk, Darby Allin & Sting defeated MJF, Cash Wheeler & Dax Harwood in a tag team match via pinfall.
Live Updates
Adam Cole vs Orange Cassidy
They face off in the ring and Cole does his "Bay Bay" bit. Cassidy puts Cole's hands in his pocket. Cassidy takes Cole in a side headlock. Cole reverses it. Cassidy hits an armdrag and a roll up for a two-count. Cole hits a back elbow after more headlocks and reversal. Cole wraps his leg aorund OC's neck. OC comes out of it. Cole kicks at his midsection. He controls OC's wrist. OC reverses it and then gets a two-count with crucifix.
Cole puts on a chinlock now. OC gets more pin attempts. Cole hits a backstabber to end that sequence. Cole whips him from corner to corner. Cassidy hits a back elbow and a big boot. Cole nails him with a punch and sets up OC for a superplex. OC drops him and hits a crossbody. Cassidy hits a tornado DDT for a two-count.
The Young Bucks and Brandon Cutler comes out to ringside. Best Friends attack them. Cassidy takes them out with a suicide dive. Cole attacks him from behind and throws him into the steel steps. Cole goes for the running knee against the steps but Cassidy moves away. We cut to a break.
Both men are down with double clothesline as we return. Cole nails his forearms and Cassidy replies with his lazy strikes. Cassidy hits a superkick. Cole lands a low kick before Cassidy nails another superkick. Cole hits a suplex. He gets him in the fireman's carry. OC slips out but runs into a big boot. Cassidy with a stundog millionaire and a tornado DDT for a near fall.
Cole hits Ushi-Garoshi and a pump kick. Cole sets up Panama Sunrise but Cassidy gers away. Cassidy gets a two-count and then hits a Michinoku Driver. Cassidy dives from the top but Cole cuts him off with a superkick. Cole hits Panama Sunrise and OC kicks out of the pin. Cole misses the last shot and OC hits a piledriver for a near fall.
Bobby Fish comes out and distracts the referee. Kyle O'Rielly, making his first AEW appearance, attacks Cassidy behind referee's back. KOR drops Cassidy and runs out. Cole hits the last shot for the pin and the win.
Winner – Adam Cole
After the match, Kyle O'Reilly comes back in the ring and gets in Cole's face. Some tension between them but they work together when Best Friends attack. Fish also comes into the ring to help them out. Fish and KOR hit high low on Trent. They hold Chuck for Cole to hit a superkick. They stand tall in the ring. The Young Bucks are surprised at the developments. They come out to the ring. Cole is confused with whom to stand between the two teams. He leaves without saying anything.
Page & Bryan
We get the recap of Adam Page vs Bryan Danielson match from last week. It is announced that they will face off in a rematch at the TBS debut of Dynamite in two weeks. Tony Schiavone is in the ring and he brings out the AEW Champion. Tony asks that he might have defeated Bryan if had a couple of more minutes. Page says he was handed this championship after 60 minutes and he never felt less of a champion in AEW's three years history. Bryan comes out to the stage to interrupt him.
Bryan mocks him that Page is disappointed despite still being the champion. He says AEW fans should have been disappointed because he should have been the AEW Champion after kicking his a** for 60 minutes. Bryan says he hurt his leg a week before that in the match against John Silver. So, he will not take part in another match until January 5th. He also wants judges if they get to another time limit draw.
Page says he thought of several matches like Ladder match, inferno match and more. He credits Bryan for taking him where no one else took him. Page agrees to judges but tells Bryan to pay them in advance as he will end the match before that. Page tells Bryan that he is not a B+ Player(something that Bryan used to say to Kofi Kingston).
We cut to backstage with the Pinnacle. MJF is not happy that Wardlow did not pick champagne in advance and should have been there when Punk, Darby and Sting attacked him. MJF then rants on his opponents for the night. MJF says Punk is still rusty. Dax Harwood says they are a family and they will always be on the top.
Wardlow vs Captain Shawn Dean
Wardlow runs over Dean and then hits a powerbomb. He hits three more powerbombs before getting the pin.
Winner – Wardlow
After the match, Shawn Spears gets into the ring and hits Dean with steel chair. Wardlow is not interested in that and walks away.
Nyla Rose vs Ruby Soho – TBS Women's Championship Tournament Semifinal
Rose attacks Ruby just as the bell rings. Ruby is having trouble removing her jacket. Rose beats her down for a while. Ruby fights back with flurry of strikes. Nyla drops her with a big shot. She slams Ruby into the corner and then toss her around. Ruby puts on an overhook on the arm.
Nyla drops her with an Urinage. She hits a clothesline and then throws Ruby to the floor. Nyla hits double ax handles from the apron. Ruby hits a couple of chops. She follows with uppercuts and headbutts. She misses a charge and crash into the steel steps as Vickie Guerrero pulls Nyla out.
Nyla slams Ruby face first with an Alabama slam to counter poison-rana. Ruby is fighting back with clothesline and kicks as we return from the break. Ruby hits a tornado DDT for a near fall. Nyla brings out a steel chair on the floor. Ruby hits a dropkick against the chair. Ruby brings her back and goes to the top. Vickie pushes her from the top as the referee was checking on Nyla. Nyla sets up Ruby on the ropes and hits a diving knee drop on her shoulder. Ruby kicks out of the pin.
Nyla looks to work on her shoulder. Ruby puts on a dragon sleeper. Nyla waves at Vickie and she gets up on the ramp. Ruby hits a superkick to Vickie. Nyla drops her with a powerbomb for a near fall. Nyla drags her to the corner and was pulling her up to the top when Ruby hits back with a Pele kick to the face to get the pin.
Winner – Ruby Soho(advances to the final)
Malakai Black vs Griff Garrison
Black hits a big kick to start. Black goes to the floor and to argue with Brian Pillman. Garrison hits a suicide dive to take advantage. Back to the ring, Black gets the control back with his strikes. Black goes for a heel hook but Garrison grabs the ropes quickly. Black still in control for a while.
Garrison slams him to the ropes and then hits a big rolling elbow from the corner. Black hits back with knee to the face. Black gets the win with a single leg Boston Crab.
Winner – Malakai Black
Black holds onto the Boston Crab even after the bell. Pillman gets into the ring to attack Black. Black drops him with Black Mass kick.
Matt Hardy is backstage and says he wants Private Party as the #1 contender, so, Isiah Cassidy will injure Jungle Boy at Rampage this Friday. Jungle Boy, Christian and Luchasaurus fire back with their promo.
CM Punk, Darby Allin & Sting vs MJF, Cash Wheeler & Dax Harwood
CM Punk starts. MJF teases starting but tags out to Dax. They lock up and Dax comes with a side headlock takeover. Punk hits a hip toss. Punk hits an open palm slap. Harwood hits a shoulder tackle. Punk hits another hip toss. Cash comes in and hits a body slam. Darby comes and Cash hits him with a back elbow and an uppercut. Darby hits a dropkick and an arm drag. Cash tags out to MJF.
Darby tags in Punk and and MJF runs away like a chicken around the ring. Punk follows him and tags out to Cash. Cash invites Punk for show of strength but hits him with a knee. Punk reverses the arm wrench and brings in Sting. Sting works on the arm, before dropping him with an elbow.
Cash avoids scorpion deathlock. MJF tags in and chops at Sting. Sting drops him with a short arm clothesline and tags in Punk. MJF once again runs away from the ring and into the crowd. Punk follows him as he climbs the stairs. MJF comes back from another section with Punk still in pursuit. MJF tags in Dax. Darby takes out all three opponents with a suicide dive. We cut to a break.
Darby has Cash under control as we return. Dash gets a tag but Darby fights all the opponents in their corner. But numbers game works against him and he is sent into the barricade. FTR working on Darby now with quick tags as they corner him. They take a cheap shot at Punk. MJF comes in and mocks Punk with GTS sign. MJF hits a bodyslam before tagging out. FTR hits more body slams on Darby.
Darby counters with a roll-up and then a body slam on Cash. Sting tags in and unloads on FTR. He slams Dax's face into the turnbuckles, a back body drop on Cash and a spinebuster on FTR. Darby hits a running splash in the corner and Punk hits a running knee. Sting puts on Scorpion Deathlock on Dax. Cash runs an interference and MJF slams Sting's face with a bulldog. We cut to another picture in picture break.
Sting fights back and drops Cash with a clothesline. Dax tags in quickly. Sting hits a body slam but could not tag out. MJF comes in but Sring drops him and then hits a diving headbutt on MJF's groin. Punk tags in and runs over FTR with quick moves. A bulldog clothesline combo from Punk. Punk gets a two-count with crossbody splash into the pin attempt. Dax tags in and Punk continues to work against both members of FTR. Cash grabs Punk's leg as he goes to the top. Dax joins him on the top and they tread strikes. Dax hits a superplex and Cash hits a splash to get a near fall.
Punk avoids a move and Darby takes out Dax. MJF has gone missing in the last few minutes. Punk drops Dax with roundhouse kick. Darby takes out MJF as he was hiding behind the timekeeper's table. Punk and Dax trade strikes in the ring. Punk goes for GTS but FTR hit their double team finisher. Sting comes in and MJF hits him with a DDT. Sting gets up quickly and he works MJF on the ropes. Sting throws MJF over the ropes and onto FTR on the floor. Sting hits a crossbody from the top to the floor on all three opponents.
MJF is sent into the ring. Punk was looking for GTS on MJF but Dax pushes MJF out. Punk hit Dax with GTS followed but scorpion death drop from Sting and Coffin drop from Darby. Punk covers Dash for the pin.
Winner – CM Punk, Sting and Darby Allin
Punk, Sting and Darby stand tall as the show ends.