NFL Schedule 2023-24: Date, Start Time, Tickets, TV Channels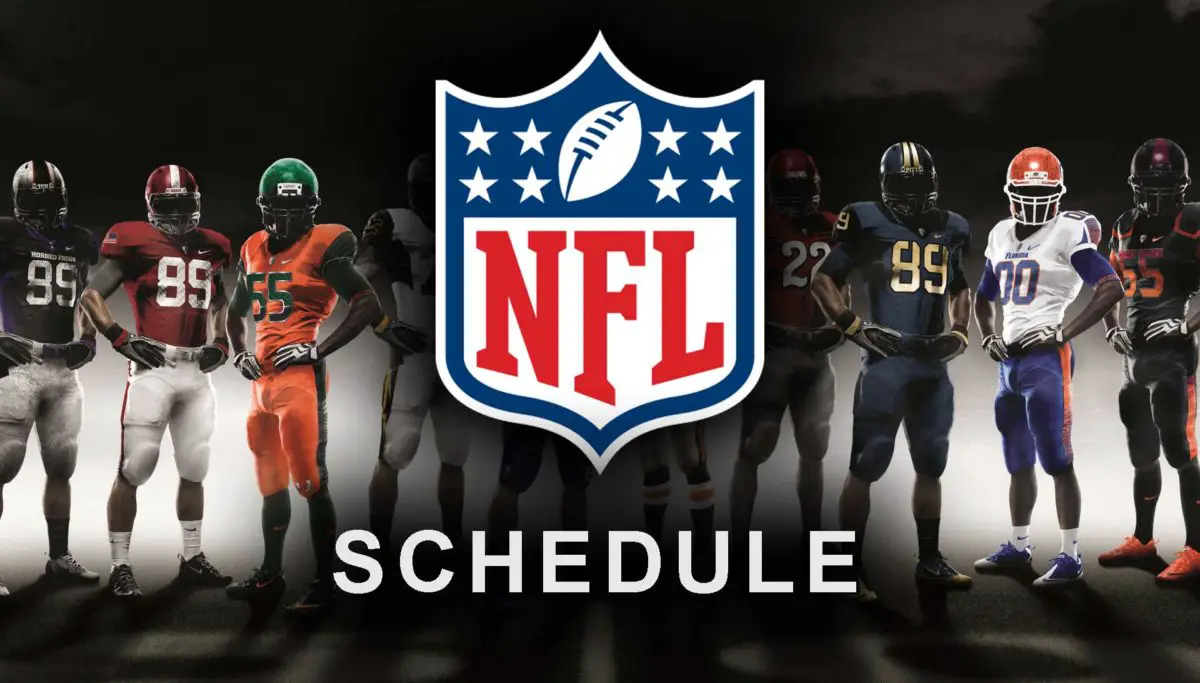 NFL Season 2023-24 will start on September 7, 2022, with the first official game of the season, and will end on February 11, 2023, with Super Bowl LVIII game. Pre-season will start on August 3, 2023, while the Hall of Fame event will take place on August 3, 2023.
Check below for the complete schedule for all AFC and NFC games of NFL Season 2023-24 with TV Channel, Online Streaming Platforms, tickets, start times, and locations, including International Games, Playoffs, and Super Bowl.
Preseason Week 3
Thursday, August 24, 2023
Friday, August 25, 2023
Saturday, August 26, 2023
Sunday, August 27, 2023
Week 1
Thursday, September 07, 2023
Sunday, September 10, 2023
Monday, September 11, 2023
Week 2
Thursday, September 14, 2023
Sunday, September 17, 2023
Sunday, September 18, 2023
Week 3
Thursday, September 21, 2023
Sunday, September 24, 2023
Monday, September 25, 2023
Week 4
Thursday, September 28, 2023
Sunday, October 01, 2023
Monday, October 02, 2023
Week 5
Thursday, October 05, 2023
Sunday, October 08, 2023
Monday, October 09, 2023
Week 6
Thursday, October 12, 2023
Sunday, October 15, 2023
Monday, October 16, 2023
Week 7
Thursday, October 19, 2023
Sunday, October 22, 2023
Monday, October 23, 2023
Week 8
Thursday, October 26, 2023
Sunday, October 29, 2023
Monday, October 30, 2023
Week 9
Thursday, November 02, 2023
Sunday, November 05, 2023
Monday, November 06, 2023
Week 10
Thursday, November 09, 2023
Sunday, November 12, 2023
Monday, November 13, 2023
Week 11
Thursday, November 16, 2023
Sunday, November 19, 2023
Monday, November 20, 2023
Week 12
Thursday, November 23, 2023
Friday, November 24, 2023
Sunday, November 26, 2023
Monday, November 27, 2023
Week 13
Thursday, November 30, 2023
Sunday, December 03, 2023
Monday, December 04, 2023
Week 14
Thursday, December 07, 2023
Sunday, December 10, 2023
Monday, December 11, 2023
Week 15
Thursday, December 14, 2023
Sunday, December 17, 2023
Monday, December 18, 2023
Week 16
Thursday, December 21, 2023
Saturday, December 23, 2023
Sunday, December 24, 2023
Monday, December 25, 2023
Week 17
Thursday, December 28, 2023
Saturday, December 30, 2023
Sunday, December 31, 2023
Week 18
Sunday, January 07, 2024
Wild Card
Saturday, January 13, 2024
Monday, January 15, 2024
Divisional
Saturday, January 20, 2024
Sunday, January 21, 2024
Championship
Sunday, January 28, 2024
Pro-Bowl
Sunday, January 31 – February 06, 2024
Super-Bowl
Sunday, February 11, 2024
Previous Games Scores