UFC 268 Live Results: Usman vs Covington 2 (Nov. 6)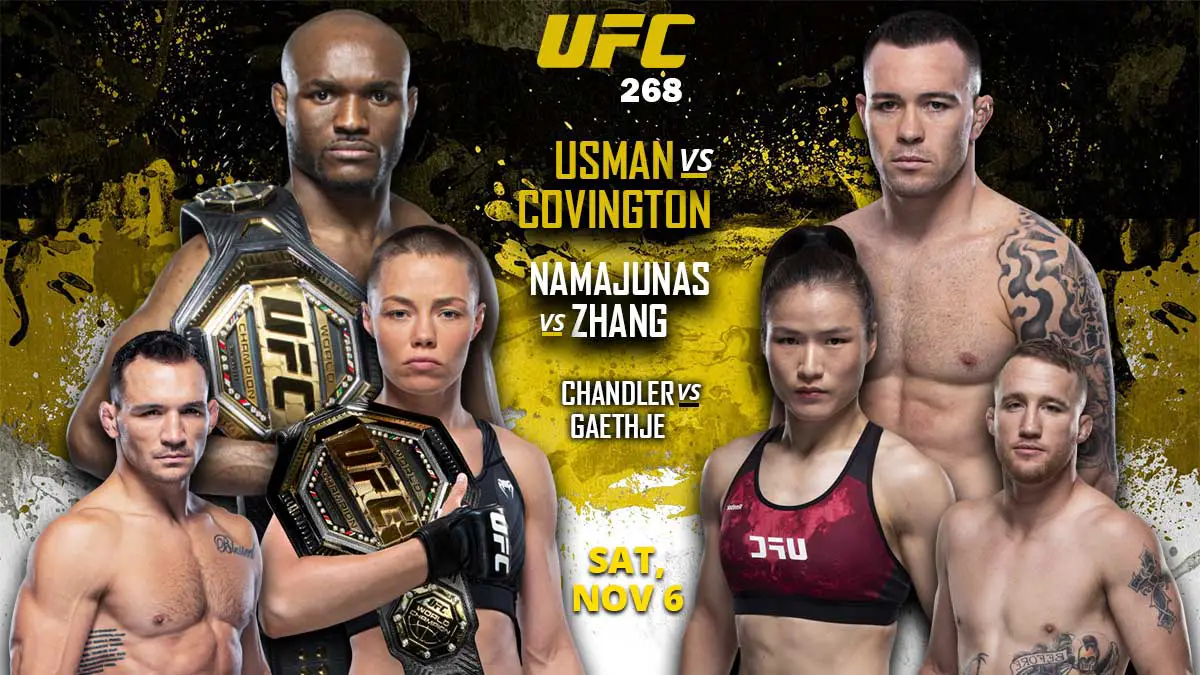 Welcome to the live results blog for UFC 268: Usman vs Covington II, airing from Maddison Square Garden, New York City on November 6, 2021, where we will cover the play-by-play updates from the main card and results from early prelims and prelims.
UFC is going all out with a big and fully stacked card for MSG with two title rematches. UFC Pound for Pound #1 fighter Kamaru Usman will defend his Welterweight title against Colby Covington in their second title match. Rose Namajunas would look to repeat the 1-minute knockout that she handed to Zhang Weili at UFC 261 as she defends the Women's Strawweight title.
Opening the main card will be Justin Gaethje vs Michael Chandler in the bout that will probably decide the next challenger for Lightweight Championship. Shane Burgos vs Billy Quarantillo featherweight bout and Frankie Edgar vs Marlon Vera bantamweight bout will cap off the main card.
The preliminary rounds will feature former Lightweight title contender Al Iaquinta and Alex Peiriera who remains the only men to defeat Israel Adesanya in Kickboxing.
Join us as we bring you the live results and round by round updates from the main card of UFC 268 here along with the results from the prelims round also.
UFC 268 Results
Early Preliminary Card(6 PM ET, ESPN+, UFC Fight Pass)
Ode' Osbourne defeated CJ Vergara via Unanimous decision (28-29, 28-29, 28-29) – Flyweight bout
Melsik Baghdasaryan defeated Bruno Silva via Unanimous decision (29-28, 29-28, 29-28) – Featherweight bout
Dustin Jacoby defeated John Allan via Unanimous decision (29-28, 29-28, 29-28) – Light Heavyweight bout
Gian Villante defeated Chris Barnett via KO/TKO (Kick) Round 2, 2:23 – Heavyweight bout
Ian Garry defeated Jordan Williams via KO/TKO (Punch) Round 1, 4:59 – Welterweight bout
Preliminary Card(8 PM ET, ESPN+ UFC Pass)
Nassourdine Imavov defeated Edmen Shahbazyan via KO/TKO (Elbows) R2, 4:52 – Middleweight bout
Chris Curtis defeated Phil Hawes via KO/TKO(Punch) R1, 4:27 – Middleweight bout
Bobby Green defeated Al Iaquinta via KO/TKO(Punches) R1, 2:25 – Lightweight bout
Alex Pereira defeated Andreas Michailidis via KO/TKO(Flying Knee) R2, 0:18 – Middleweight bout
Main Card(10 PM ET, ESPN+ PPV)
Justin Gaethje defeated Michael Chandler by unanimous decision(29-28, 29-28, 30-27) – Lightweight Bout
Shane Burgos defeated Billy Quarantillo by unanimous decision(29-28, 29-28, 29-28) – Featherweight Bout
Marlon Vera defeated Frankie Edgar via KO/TKO, R3, 1:05 – Bantamweight Bout
Rose Namajunas(c) defeatd Zhang Weili via split decision(48-47, 49-46, 47-48) to retain UFC Women's Strawweight Championship.
Kamaru Usman(c) defeated Colby Covington via unanimous decision(48-47, 48-47, 49-46) to retain UFC Welterweight Championship.
Live Updates
After plenty of action on the preliminary cards, the main show is now live. The video package for the show is on. You can check the results from prelims above. The commentary panel goes through the three main bouts of the night. We get video packages for the two title fights.
Justin Gaethje vs Michael Chandler – Lightweight Bout
Walkouts – The video package for this fight is airing. Michael Chandler walks out and he looks pumped. Justin Gaethje quickly follows him. It is mad that this fight is such early on the card and that this is just 3 rounds bout. The crowd is also loud. Bruce Buffer screams into the mic to start the card.
Round 1: Both men are cautious to engage. They both miss early attacks. Gaethje lands the first punch and follows quickly with a low calf kick. Jaethje lands more calf kicks. Chandler has his back against the wall and he comes firing back. No one had landed a big strike on the top half though. It's mainly kicks at the legs till now. Chandler lands massive punches now. He catches Gaethje with a flying knee. Chandler is also cut open at a couple of places. They are going for all out brawl. Chandler lands uppercuts now. Gaethje is keeping calm now while Chandler is going all out. Chandler goes for a takedown but Gaethje defends. Chandler avoids an uppercut as the first round comes to a close. Round to Chandler 10-9.
Round 2: Chandler's leg looks a bit off. Both men are much more composed in this round and both are able to get their strikes going. Gaethje forces Chandler back to the math. Gaethje lands a big punch and Chandler is down on his knees. Gaethje follows with big right hands and Chandler avoids getting knockout out by grabbing his leg for a takedown attempt. Gaethje lands more strikes on his back before catching him for a choke attempt. Chandler is bleeding hard. Both men are back to their feet now. Chandler tries to fire back. He has switched his stance to southpaw. Gaethje lands another big punch. Gaethje's calmness is getting him through this. Chandler catches Gaethje's eyes inadvertently just as the round was about to close. Round to Gaethje 10-9. Overall 19-19.
Round 3: Chandler ducks more punches. First minute of the round gets away quickly with no significant action. Gaethje lands big punches and Chandler is asking him to attack more. Chandler goes for a double leg takedown and turns Gaethje upside down in a cart wheel. But Gaethje quickly counters by getting on his back quickly. From here on, it is all Geathje. Chandler is showing brave face and asking for it. His hands are down. Chandler goes for another takedown but fails. Geathje lands more punches as the fight comes to close. Round to Gaethje 10-9, Overall 29-28 Geathje.
Official Decision – Justin Geathje wins by unanimous decision by a score of 29-28, 29-28, 30-27.
Shane Burgos vs Billy Quarantillo – Featherweight Bout
Round 1: Quarantillo starts as the more aggressive one here. He is landing more punches. Some good kicks from Billy as Burgos also gets away with his strikes. Burgos pushes him to the cage with a body lock. Burgos is landing stomps on his feet. Billy once again lands more punches as they come to the center again. Burgos forcces his back momentarily. After first 2 and a half minutes, they both have settled to lands jabs and punches. Quarantillo goes for a takedown and pushes Burgos to the cage. Burgos avoids getting dropped and they had to come to the center again. Burgos lands a big punch as we come to last 40 seconds. Quarantillo pushes him back to the wall and stomps on his feet as the round comes to an end. It's too close to call who won that round.
Round 2: Burgos land a solid shot to start. Quarantillo pushes him back with his aggression. Buros is boxing well. Billy is tryint to counter. Occassional leg kicks also from both men. Burgos avoids a big punch and Billy almost slips. He pushes Burgos to the cage though. They tussle near on the fence for a while before coming to the center again. Billy gets the headlock on. Burgos trips him but Billy gets to his feet quickly. Burgos is able to land inside kicks and jabs. Billy is almost at throwing haywire punches. He goes for a takedown but fails. Burgos is successful in getting his inside kicks. They starts to brawl in the final 50 seconds of this round. Buros is getting better attack going again in this exchange. Billy was about to get dropped but he manages to survive this round. Round to Burgos, Overall 19-18.
Round 3: Both men try to engages quickly in this round. Burgos is getting the low kicks going in between which has kept him ahead in this fight. Billy gets dropped but he grabs Burgos' leg in a takedown attempt. Billy is trying to go for finish here. Burgos is able to defend well. He lands a knee as Billy goes for another takedown. The fight has gone stale for a minute or so. Billy is at Burgos' back now, but is not able to do much damage. Billy lands a knee to the ribs as they go for body locks. Burgos lands more punches as the round comes to an end. Round to Burgos. Overall 29-27.
Official Decision – Shane Burgos wins by unanimous decision 29-28, 29-28, 29-28.
Frankie Edgar vs Marlon Vera – Bantamweight Bout
Round 1: Vera with early calf kicks while Edagar wants to fire in punches. Edgar goes for a takedown but Vera defends. Edgar with big right hand. Edgar grabs the leg but Vera escapes. Edgar fires in a kick to the face. Vera puts him in a headlock when he attempts another takedown. Edgar gets on top and takes a few punches. He starts to grind down in ground and pound. Vera is hitting him back with elbows now. Edgar punches on his ribs. Vera is able to survive and is trying to go for triangle choke a few times. Edgar tries to shift position but Vega lands kicks to his face. Edgar is back to ground and pound. The round ends with both men on the ground.
Round 2: Vera is extra careful to start the round. Edgar almost catches his leg when he goes for a low kick. Vera lands a kick to biceps and Edgar nails a jab. Edgar takes him down again and Vera's elbows were not enough to stop him. Vera tries to kick his way out of it, but Edgar keeps him on the ground. He starts to get his punches away. Vera manages to get back to his feet. He avoids another single leg takedown. Lot of movement from both men. Vera lands a knee to the face. Vera nails another knee to the face and he is the one dictating their movement after they got up. Edgar nails a series of low kicks. Vera misses the flying knee now. Vera forces Edgar to run away from his strikes. Edgar once again almost catches him on the takedown just before round 2 ends.
Round 3: Edgar fires punches and then lands combination punches. Vera is unable to land his punches in first minute. His sidekick catches Edgar's ribs. Lot of movement from both men. Vera is getting his kicks away in between. Edgar catches one of the kicks and gets on the waistlock. Vera is quick to get out of it. Edgar lands combination punches. A big kick to the face from Vera knocks Edgar to the mat and the referee stops the bout immediately. Edgar is not happy with the stoppage but he is definitely not ok after that kick.
Official Decision: Marlon Vera wins by TKO/KO after 3 minutes 50 seconds.
Rose Namajunas(c) vs Zhang Weili – UFC Women's Strawweight Championship Bout
Round 1: Weili starts with a low calf kick to the outside. She continues to pin those outside kicks. Lots of watching from both women here. Rose is not committing to those kicks. She gets a combination going to force Weili to back peddle. She tries another combination after a while but Weili nails a kick in reply. Weili takes her down to the mat now. Weili is on top but it takes her 30 seconds or so to get her strikes going. Rose gets up but Weili has grabbed her leg. Rose avoids another takedown. No more significant action until Rose sweeps Weili's legs with just 10 seconds left in the round.
Round 2: Weili lands a big punch after yet another cautious start. Weili is moving side to side. Rose feints kick a few times. Weili lands combination punches. Both women connect with punches at the same time. Weili hits kicks and Rose fires back with her punches. Rose also lands a low kick. Rose was going for a jab but Weili nails her with a left. Weili catches her leg and completes another takedown. Rose is able to defend against any more damage. Rose completes a takedown of her own and they tangle against the fence. Rose tries to land big punches as the second round comes to a close.
Round 3: Weili lands more sidekicks to start. She is not moving as much now. Rose is waiting for an opening. Weili lands another body kick but could not follow up. They keep moving in circles. Rose lands an outside low kick. A big right hand follows after a few kicks. Weili lands a body shot. Weili goes for a flurry of strikes but Rose trips her. Weili pushes her on the fence. Rose hits shoulder strieks and Weili has to close her down. Weili lands another low kick. Weili lands a punch but Rose fires back with two. Weili completes another takedown but Rose stops her from taking complete control. Weili gets in the ground and pound position just as the third round comes to an end
Round 4: Weili lands a sidekick to the face. They both land punches and counterpunches. Weili grabs the leg one more time but this time Rose kicks her away and trips Weili. They both are quickly on their feet. Weili gets on the waistlock. Rose is able to prevent the lock. She rolls over and gets in the ground and pound position. They are jockeying for position. Rose lands punches on the ribs. Weili almost escapes but Rose maintains the guard position. The round comes to end with some more strikes from Rose.
Round 5: Rose forgets her mouthguard and they hand it to her after 10 seconds. Once again both women are unable to land any significant strikes in first minute. Rose just jumps on Weili to complete a takedown. Rose uses her knees to get some seperation between them and lands punches. Weili is trying to fire back with her own strikes to get out of this jam. Rose is the one in control though. Weili is trying everything to get back in the fight, but Rose is keeping her on the mat. This final round might have just shifted the bout in Rose's favor. One minute remaining and Rose is still retaining gaurd position. Rose gets up and hits a big kick. Weili tries to get up but Rose once again goes on ground and pound until the round finishes.
Official Decision: Rose Namajunas wins by split decision by the score of 48-47, 49-46, 47-48 to retain the Women's Strawweight Championship.
Kamaru Usman(c) vs Colby Covington – UFC Welterweight Championship Bout
Round 1: Both men attempt jabs. Colby goes for a takedown and turns Usman upside down and even grabs his right leg. But Usman is able to get away from it. They are back to their feet and both are pretty cautious to engage. Usman lands a few jabs. Usman with a takedown attempt and lands a few punches to the back of Colby's head. Colby lands some left hands before they get to a bit of scrambling.
Round 2: Both men are staying outside. Kamaru lands some odd shots. They are staying out of harms way mostly. Colby starts landing sidekicks. A big roundhouse kick to the face but Usman has his hands up. Kamaru is able to lock on his shoulder as Colby attempts a takedown. Colby tries hard but fails to get the takdeown. Usman also fires with sidekicks now. Colby fires an uppercut. Usman drops him with a left and quickly lands another as he gets up. Usman has Colby in a headlock as second round comes to close.
Round 4: Colby is able to get his jabs going. Usman lands a kick at body. Colby lands a jab but misses uppercut. Colby with more combination shots now. Usman defends a kick to the face. He is composed among all this. Colby lands some punches to the body and Usman also fires back with body shots. A left from Colby before Usman fires back with jabs. They scramble to the cage now. Usman comes out of the corner with a good left hand.
Round 5: They exchange punches in the first minute. It starts to get nastier as both men land uppercuts and punches. Cobly goes for another takedown but Usman defends again. Usman lands more jabs and a big kick to head. He swats away body kicks. Usman slips defending another kick but manages to avoid big strikes. They are at the cage now. More exchanges as they return to the middle. Colby gets poked with just seconds remaining in the bout. And the referee is asking for a doctor to check on him. He is ready to go. Colby lands a few kicks at the body, but it all about passing out those seconds. Usman lands a kick at the body with 10 seconds left. It's over to judges now.