UFC 268 Weigh-Ins- Watch Live Video, Results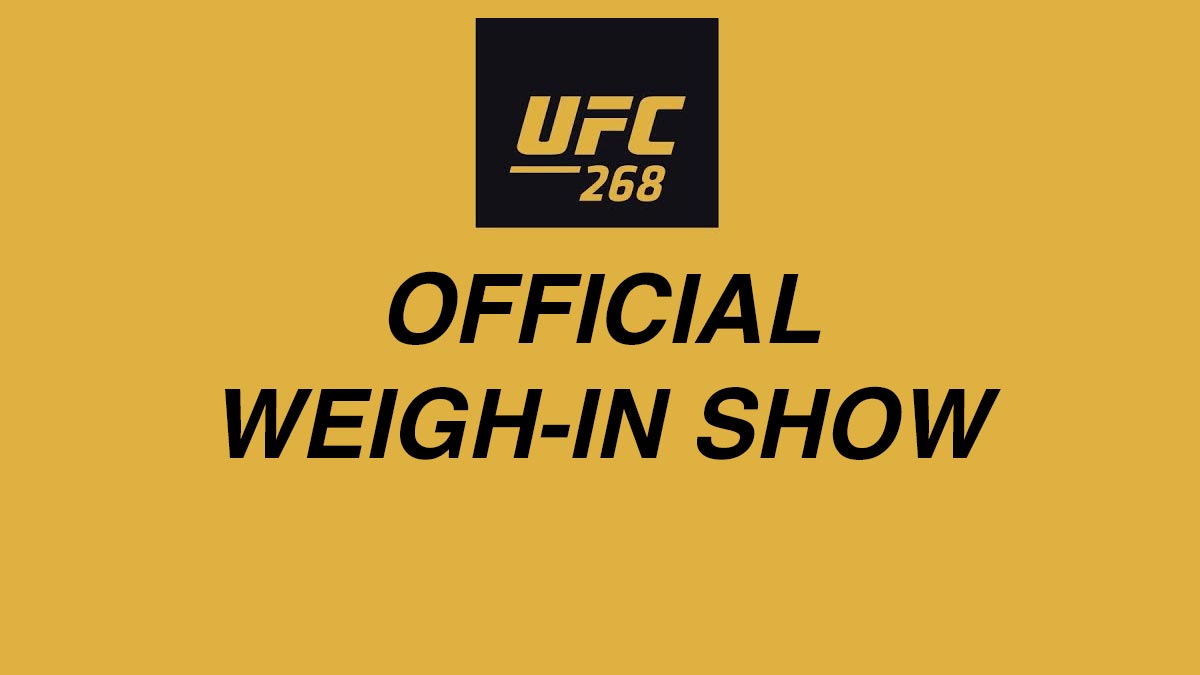 UFC 268 weigh-in show is set to go down on November 5 from 8:50 AM EST onwards. The fighters from 14 bouts at UFC 268 PPV will climb on the scale to make their fights official including the likes of Kamaru Usman, Colby Covington, Rose Namajunas, Zhang Weili, Justin Gaethje and Michael Chandler.
You can watch the complete weigh-in video embedded here on this page. We will also provide live updates from the 268 weigh-ins for each fighter.
UFC 268 airs live on November 6, 2021 from 6 PM EST/3 PM PST onwards.
Watch UFC 268 Weigh-In Live
UFC 268 Weigh In Results
The show is live and you can watch it in the above video. The panel is discussing several things related to UFC 268. Daniel Cormier is on the show and Joe Rogan joins in via video call for expert comments.
Kamaru Usman(vs Colby Covington) is out first to get weighed. He weighs in at 169 lbs.
Frankie Edgar weighs 135.6 lbs.
Rose Namajunas comes in at 115 lbs.
Justin Gaethje weighs in at 155.6 lbs.
Edmen Shabazyan – 188.4 lbs.
Billy Quarantillo – 145.4 lbs
Melsik Baghdasaryan – 145.4 lbs
Al Iaquinta – 155.8 lbs
John Allan – 205 lbs
Shane Burgos – 145.6 lbs
Alex Pereira – 185.8 lbs
Chris Curtis – 186 lbs
Chris Barnett – weight is not announced. Twitter says 263.8 lbs.
Bobby Green – 155.2 lbs
Jordan Williams – 170.6 lbs
Zhang Weili is weighed at 115.2 lbs. She removes the mask and jumps on the scale again, but no difference. She removes clothes behind the curtains and is weighed at 115 lbs officially.
Marlon Vera – weight announcement got muffled with the inset promo. It turns out to be 135 lbs.
Ian Garry – 169.6 lbs
Phil Hawes – 185.4 lbs
Rose Namajunas is asked about his record in rematches. She replies that she treats every fight as a new match. She also new kicks and punches for Weili and her speed has also got better. She is asked about her other teammates also preparing for the event Justin Gaethje and Colby Covington. She says it is more fun.
Ode Osbourne – 125 lbs
Michael Chandler – 155 lbs
Colby Covington – 169.4 lbs
Andreas Michailidis, Nassourdine Imavov, Dustin Jacoby, Bruno Souza and Carlos Vergara are still left to weigh in.
Gian Villante weighs in at 260.6 lbs.
Andreas Michailidis comes in at 185 lbs.
Nassourdine Imavov – 184.6 lbs
Dustin Jacoby – 203.4 lbs
Bruno Souza – misses weight with 148.5 lbs.
CJ Vergara – misses weight with 127.5 lbs.
Vincente Luque – misses weight with 172.2 lbs. He won't be able to be the backup for the main event title fight.