Jake Paul vs Anderson Silva Card, Tickets, Venue, Date, Time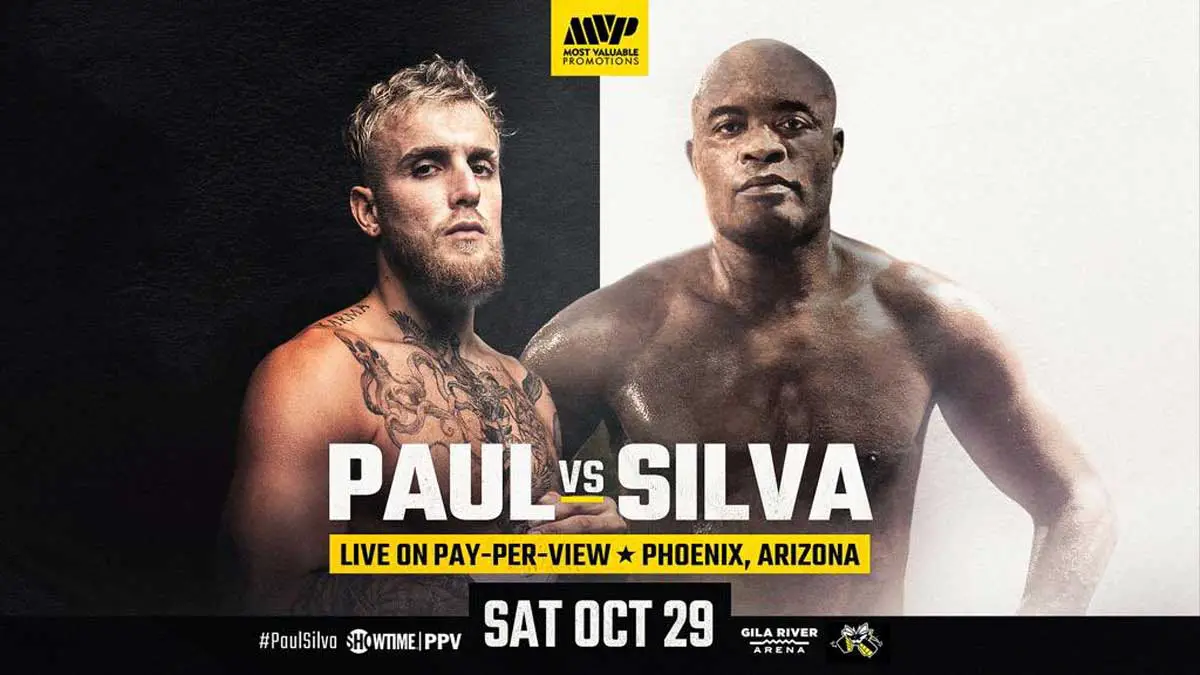 Jake Paul will take part in his sixth professional boxing bout as he faces Anderson Silva on a Showtime PPV. The event will take place on October 29, 2022, at Gila River Arena in Glendale, AZ.
This is considered Jake Paul's toughest boxing bout yet. He has previously faced celebrity boxers like Nate Robinson and AnEsonGib, or lesser experienced MMA Fighters so far like Ben Askren and Tyron Woodley. Anderson Silva, on the other hand, has won two bouts last year as he defeated Julio César Chávez Jr. and Tito Ortiz.
Paul was earlier supposed to face Tommy Fury in August, but some visa issues for Fury lead to that fight getting canceled. Fury was replaced with Hashim Rahman Jr. However, that bout was also canceled due to weight issues with Rahman. Will he be able to get past Silva and prove himself as a serious boxer?
Check below for more details for Jake Paul vs Anderson Silva with a complete fight card, date, location, tickets, news and updates, and more details.
Event Info
Tickets
The tickets for Jake Paul vs Anderson Silva event in Glendale, AZ, are available at the below link.
Fight Card
Jake Paul vs Anderson Silva – 187 lbs Catchweight bout
News & Updates
Sept 20, 2022: Eddie Hearn alluded it's Jake Paul vs The World in Paul's attempt to get respect as a boxer.
"I just think that Jake is been a bit unlucky because he was trying to fight Tommy Fury and Hasim Rahman Jr., and that would have actually given him the ability to say, 'Actually, you have to respect me now as a boxer.'"

Eddie Hearb on Paul vs Silva, ht – MMA News
Sept 17, 2022: Jake Paul once again claimed through his Instagram post that he will knockout Anderson Silva.
"Now they are telling me it's impossible to beat the greatest striker in MMA history. Yet you're about to watch me do it October 29."

ht – Jake Paul's Instagram Post
Sept 14, 2022: Jake Paul said this fight might be Anderson Silva's biggest payday ever.
"I think this could be the biggest payday of his career. Just because this is like my first big fight with another massive name who brings a ton of business to the table."

Jake Paul on PPV sales, ht- MMAFighting
Sept 13, 2022: Former UFC Fighter Chael Sonnen said that Dana White's jibe at Jake Paul might have led to him facing Anderson Silva.
"I'm not sure if we'd be here today if Dana had not publicly made that statement. And I thought maybe Dana is not right about that. Them Pauls man. they will go take a risk. But that statement by Dana is a large part what kicked this whole thing off."

Chael Sonnen on why Paul vs Silva was finalized, ht- MMAFighting
Sept 12, 2022: In the kick-off press conference in Los Angeles, Jake Paul respectfully said that he will knockout Silva in under five rounds.
"Anderson Silva is the nicest guy in the world and we love him. If my opponent is a d–khead, I'm gonna treat him like a d–khead and beat his f—ing ass, and I think people have seen that side of me. But I respect this man. I'm still gonna knock him out, but respectfully knock him out. It won't go more than five."

Jake Paul on knocking out Anderson Silva, ht- MMA Junkie
Sept 12, 2022: In the kick-off press conference in Los Angeles, Anderson Silva said Paul Brothers have potential and they show for the community.
"Everything is possible. Jake and [his] brother are training hard [to become] boxers. [They] try to [show] respect for the community. The kids have good potential and the people need to respect that."

Anderson Silva on Paul Brothers Boxing Exploits, ht- Boxing Social
Sept 12, 2022: The event was reported to air via Fite TV in UK & Ireland. More details here.
Sept 7, 2022: Tickets are announced to go on sale on September 14. Two kick-off press conferences are announced – Sept 12 in Los Angeles & Sept 13 in Pheonix.
Sept 6, 2022: Most Valuable Promotions announced Jake Paul vs Anderson Silva boxing event.