Naoya Inoue vs Aran Dipaen – Live Results, Play by Play Updates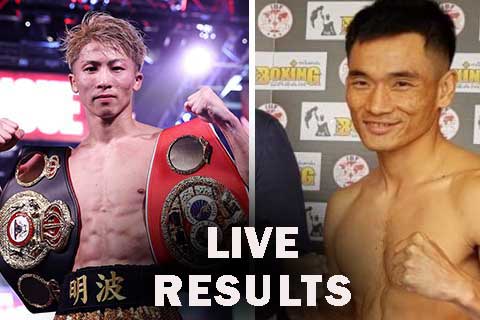 Welcome to the live results blog of the Naoya Inoue vs Aran Dipaen Boxing PPV on December 14, 2021.
Inoue will defend his WBA(Super), IBF, and The Ring bantamweight titles. This will be his third defense for the unified titles while the sixth title defense overall in the bantamweight category. Inoue is returning home after a gap of two years during which he has only fought in Las Vegas, defeating Jason Moloney and Michael Dasmariñas via knockouts.
Dipaen was not the first choice as the challenger but is brought in since he is from selected few boxers who are eligible to enter the country in these COVID times. However, Dipaen is on a 5-fight winning streak since he lost to Tommy Frank back in 2019. Will he be able to cause an upset here?
Join us as we bring the round-by-round and play-by-play updates from Naoya Inoue vs Aran Dipaen and results from the undercard.
Results
Naoya Inoue defeated Aran Dipaen via KO in 2:34 of round 8 to retain WBA(Super), IBF & The Ring Bantamweight Championship
Masataka Taniguchi defeated Wilfredo Mendez via KO in 1:08 of round 11 to win the WBO Straweight Championship
Yoshiki Takei defeated Kazuhiro Imamura – Super Bantamweight bout
Keisuke Matsumoto defeated Takahiro Araki – Super Featherwieght bout
Toshiya Ishii defeated Takuya – Super Bantamweight bout
Yuki Kajitani defeated Sho Nagasato – Flyweight bout
Tail Kamidaki defeated Haruki Takai – Featherweight bout
Inoue vs Dipaen Live Updates
Round 1: Dipaen throws the first jab after 30 seconds or so. Both men are cautious before engaging. Dipaen once again jabs at the body. More jabs from Dipaen as we reach final minute. Inoue starts throwing his punches in the final 40 seconds. He lands a good left and then a good combo. Dipaen also catches him clean with a jab as the round ends.
Round 2: Much more engagement to start this round. Dipaen with body shots and combinations but Inoue defends well. Inoue lands a punch at the body before they trade strikes. Inoue breaches Dipaen's defense with a jab. Inoue getting better and better already in the match with more jabs. A hard shot at the ribs from Inoue. More jabs from Inoue as we come to the end of round 2.
Round 3: Dipaen is on the defensive now. Inoue catches him with a good left as he looks for a jab. Inoue lands his jabs and is moving well to avoid Dipaen. He dodges another combination from Dipaen. Inoue lands his shots and moves away. A big left from Inoue catches Dipaen. A big right from Inoue. He is upping the ante. Dipaen also throws back a left but Inoue keeps up with shots. Dipean hits his punches with 30 seconds remaining.
Round 4: Dipaen does some good work to start this round but Inoue starts landing his shots after 20 seconds. Inoue is in control. He connects with his combination. Dipaen fires back with some punches. Another good combination from Inoue. Dipaen fires back but Inoue keeps up with the attack. Some body shots from Inoue. He lands another combination on the body to end the round.
Round 5: Inoue starts with more jabs from this left hand. Dipaen swings big and lands a few at the face and body. Inoue keeps working left jabs and overhead rights combo. Left jabs keep Dipaen on the backfoot. Uppercut connects. Dipaen fires back with his combination. Inoue keeps working with his shots. Its all Inoue as the round comes to an end.
Round 6: Inoue on the offense again. Dipaen fires back with some body shots. Dipaen gets into a clinch almost. Inoue with left jab and big right combo again. Another good combination rocks him. Inoue keeps up the ante and forces Dipaen to circle around near the ropes. Dipaen lands a combination on body. Inoue lands more shots as the round ends.
Round 7: Dipaen lands an overhand right and draws a warning from the referee for an illegal shot. Dipaen looks to be aggressive but Inoue gets the control back. He lands some good jabs before lands big shots. More big shots from Inoue. A good uppercut combo from Inoue rocks Dipaen. Dipaen has no answer to his opponents' work. We are into the final minute of this round when Inoue lands another combination on the face and then on the body. Inoue in control after that and just waits for the bell.
Round 8: Dipaen tries to match Inoue blow by blow to start this round. Good right hands from Dipaen before Inoue works his jab around him. Dipaen defends the jabs as we enter the second minute. Inoue continues to look for his shots. Dipaen comes forward with a right. Inoue pushes him back with body shots. Relentless punching from Inoue drops Dipaen. Dipaen gets up in 5 but Inoue lands another big left and the referee stops the fight.
Official Decision: Naoya Inoue won by TKO in 2:34 of round 8.