WWE SmackDown Results 21 May 2021- IC Title 4-Way, Roman Reigns & More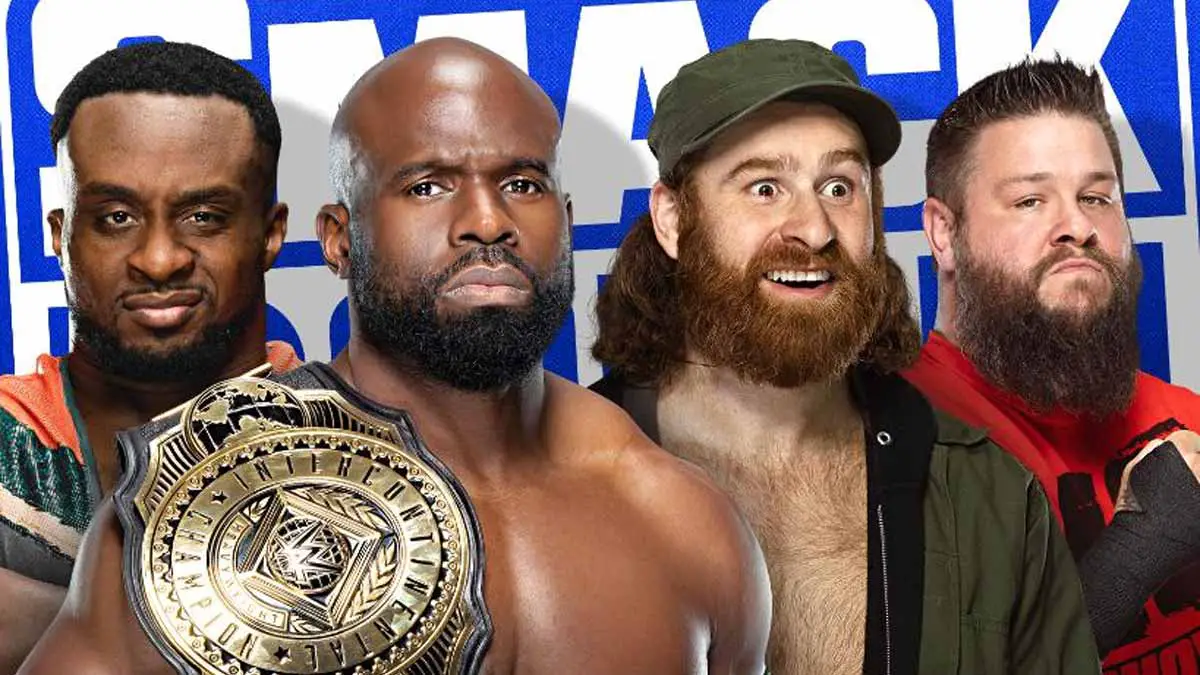 Welcome to the Live Results & Updates blog for WWE Friday Night SmackDown episode of 21 May 2021. WWE is advertising a fatal 4-way match for the Intercontinental Championship for the show. No other matches are announced till now but we can expect Roman Reigns vs Jimmy Uso storyline to continue. We have covered this in detail here in our preview for this show.
Join us as we bring you the live results, updates, winners and highlights from the show.
Event Name – WWE Friday Night SmackDown
Date – 21 May 2021
Location – Yuengling Center, Tampa, FL, US
Time – 8 PM EST(22 May 2021 12 AM GMT/5:30 AM IST)
WWE Official Page
WWE SmackDown 21 May 2021 Quick Results
Bayley, Shayna Baszler & Nia Jax defeated Tamina, Natalya & Bianca Belair in a tag team match via pinfall.
Shinsuke Nakamura defeated King Baron Corbin in a singles match via pinfall.
Dominik Mysterio(w/ Rey Mysterio) defeated Robert Roode(w/ Dolph Ziggler) in a singles match via pinfall.
Apollo Crews(c) defeated Big E, Kevin Owens and Sami Zayn in a fatal4-way match via pinfall to retain WWE Intercontinental Championship.
The Champions Parade
All the SmackDown Champions, expect Roman Reigns, are on the stage to open the show. Sonya Deville in the ring and tells us how WWE has announced the return to touring. She then goes on introduce all the champions. The Father-Son duo, the SmackDown Tag Team Champions Rey & Dominik Mysterio, followed by the newly crowned Women's Tag Team Champions Natalya & Tamina. She goes on introduce Apollo Crews who cuts her off with a promo where he says he will retain the title later tonight and will cause a total destruction.
Sonya goes to introduce SmackDown Women's Champion Bianca Belair. Sonya then announce Universal Champion Roman Reigns. Roman's music hits but it is Paul Heyman who comes out. Heyman says Roman is the only real champion and all these men and women on the stage are just titleholders. He says when the fans buy tickets to these events, they are assured that Roman will put on a show. Heyman announces Roman as the champion not just of SmackDown and WWE, but of all Sports Entertainment. Heyman says the champions parade will go on in Roman's leisure later. Sonya says this is a surprise, but it will not be the last surprise for the night.
Bayley enters the ring and berates Sonya for not acknowleding her for being the longest reigning SmackDown Women's Champion and being the MVP of the Thunderdome era. She goes on to complain how Bianca cheated to defeat her at WrestleMania Backlash. Bianca tells her that if she wants the title she should try and take it away, as she enters the ring. Bayley tells her this is not the time for it and fakes her leaving. Shayna Baszler and Nia Jax attack Bianca from behind. Bayley also joins the attack. Natalya and Tamina runs in to make the save. The brawling continues as we go into the commercials.
Tamina, Natalya & Bianca Belair vs Bayley, Shayna Baszler & Nia Jax
The match as already begun as we return. Nia hits a splash on Tamina in the corner. Shayna tags in and work on Tamina. Bayley tags in and continues to work in the corner. Tamina hits a suplex and tags in Natalya. Natalya hits a snap suplex on Baszler and Bayley. Bayley counters and tags in Baszler who works on Natalya's limbs.
Nia tags in and slams Natalya for a 2 count. Belair tags in and dropkicks Baszler, then kips up. Belair takes Baszler to the corner for thrusts. Baszler counters and applies the Kirifuda Clutch but Belair comes out quickly. Belair hits her with a Spinebuster. Belair goes to the top. Bayley and Nia pull Baszler to the floor to safety. Belair takes down all three of them with a crossbody. Belair is selling a knee injury as we go to commercial.
Bayley is working on Bianca as we return. Bayley misses a tackle in the corner. Tamina gets the hot tag and unloads on Bayley. She drops Shayna and Nia from the apron before dropping Bayley with a crossbody slam. Natalya gets the tag and hits basement dropkick. Tamina comes back with a superkick and covers but Bayley grabs the ropes to break the pin. Natalya misses the discuss lariat and Shayna tags in. Natalya tries to put on the Sharpshooter but the things go haywire with everyone starting to get involved with big moves. Bayley pulls Bianca out of the ring and hits her with Belly to Belly suplex on the floor. Natalya drops her on the floor. Shayna Baszler catches Natalya into the Kirifuda Clutch to get the submission.
Winners – Shayna Baszler, Bayley & Nia Jax
Big E is backstage with Kayla Braxton. He talks about IC title main event match and says this is his chance to show he is the best among the very best and he will leave the arena as the rightful Intercontinental Champion.
We get another chapter from Aleister Black's Lessons from Father's Book. Black says something along the lines of "Fathers lessons are hard but they are the truth. And without truth where will we be in this agony!!" The promo continues for a while.
King Corbin vs Shinsuke Nakamura
Corbin makes his entrance as the commentators recals how Nakamura attacked Corbin after their match last week and took away the crown. We see Instagram videos and pictures from Nakamura going around with the crown. Corbin takes the mic and says he was going to just concentrate on his match but seeing this makes him enraged. He goes on to say he will take back the crown tonight after beating down Nakamura and put it on top of the head of one true king.
Nakamura's music plays on an electric guitar. There is someone on the stage and Corbin asks him who he is. The man introduces himself as Rick Boozs and he is here to play for the real King Shinsuke Nakamura. Nakamura makes his entrance as Boozs plays his theme on the electric guitar. We cut to the break.
Nakamura is working on Corbin in the corner as we return. Corbin runs over him. Nakamura is on the apron and Corbin drops him on the apron. Back to the ring, Nakamura hits some quick strikes but Corbin catches his kick and hits a powerbomb to get a two-count. Corbin hits some big blows in the corner as he holds Nakamura's hands behind. Corbin continues to boot Nakamura in the corner. Corbin puts on a chinlock.
Nakamura fights back with some punches in the ribs but Corbin drops him with a back elbow. Corbin continues to be in control for a while. Nakamura catches him with a spinning kick. Nakamura hits a few more kicks. He misses kinshasa as Corbin hits a German suplex to get a two-count. Nakamura avoids the chokeslam but Corbin hits the deep six for a two-count. Boozs starts to play guitar and Nakamura catches Corbin in an inside cradle to get the win.
Winner – Shinsuke Nakamura
Nakamura slips out of the ring immediately and starts celebrating while Boozs plays along his theme on guitar.
Jimmy Uso goes to Sonya Deville locker room and tells her that The Usos are ready to go big after a year. He asks for The Usos vs the Street Profits match. Sonya asks him if he has checked with his brother Jey. Jimmy says he would not be here if he didn't know Jey has his back. Deville says this match needs a bit of advertising and announces it for next week.
Roman Reigns makes his entrance with Paul Heyman and Jey Uso. We cut to a break.
Kevin Owens cuts a promo backstage on the IC title match later tonight. KO recalls how he was called "Prizefighter" in the first two years of his WWE career and he plans on living upto it again tonight. Owens says if Commander Azeez tries to interfere again, he will shove the Nigerian Nail up his Azeez. And when it's all said and done, he plans on being a three-time Intercontinental Champion.
Parade of the Champion – Roman Reigns
We get a replay of Roman vs Cesaro match from WrestleMania Backlash and how Seth Rollins attacked Cesaro afterwards. Back to the ring, Roman Reigns takes the mic and says he is a humble man and does not like to brag about himself much. He will let his special counsel Paul Heyman celebrate him. Heyman is delighted to have this opportunity and thanks Roman for it. Heyman recalls how Roman returned at Summerslam, send Fiend packing to RAW, humbled Braun Strowman, KO'ed Kevin Owens, and stacked both Edge and Daniel Bryan at WrestleMania 37. Heyman then mentions Roman ending Daniel Bryan's career and defeated Cesaro last Sunday.
Heyman asks Roman what else does he wants to get done. Roman tells him to bring out Jimmy Uso. Heyman tells the operator to hit Jimmy's music. But instead, Cesaro comes out to his music. Cesaro is in a suit and has his injured right hand in a cast and a sling. Cesaro tells Roman to stop his yapping. Roman threatens that he will break his other arm also. Cesaro says it is just a flesh wound and he can wrestle Roman with no arms also. Cesaro asks for a rematch at Hell in a Cell.
Seth Rollins jumps on Cesaro from behind and beats him down at the ramp. Rollins sends him into the barricade and steel steps. Rollins looks really mad. Officials run out to separate them. Rollins goes on and hits the stomp on Cesaro. Rollins is shouting at Cesaro, "why did you do this to me?" Rollins is taken backstage but runs out to hit another stomp at the ramp. Officials take Rollins to the timekeepers area before he runs back to hit another stomp while still cursing at Cesaro. Rollins finally goes away and Cesaro is now taken out on stretcher.
After the break, we see Rollins at backstage and he is still mad. He is asked for an interview when he sees Cesaro being taken out. He grabs Cesaro by his neck and asks him why is he doing this to him. The medics take Cesaro away as Rollins continues to reel.
Dominik Mysterio vs Robert Roode
The Mysterios makes their entrance. We get the replay of how they won the titles at WrestleMania Backlash. The Dirty Dawgs come out next. Roode tells Dominik that he should let this win get to his head since Rey did all the work in their win. Roode says tonight he will prove once and for all that Dominik does not belong here.
Roode enters the ring and the bell rings. Roode drive Dominik into the corner for shoulder tackles. Roode hits a couple of suplexes. Dominik counters the third one into an inside cradle for a two-count. Roode takes him back to the corner and puts him on the top rope. Dominik pushes Roode down and hits a crossbody for a two-count. Roode charges but Dominik hits a back elbow. Roode counters a tornado DDT. Roode goes for the powerbomb but Dominik drops him on the ropes for 619. Ziggler gets to the apron to distract him. Rey catches superkick from Ziggler and sends his feet into the steel steps.
In the ring, Roode gets a pin attempt. Roode misses a tackle in the corner and ends up into the ringpost. Dominik hits 619 and a top-rope splash to get the pin and the win.
Winner – Dominik Mysterio
Dominik celebrates in the ring with Rey while Roode is in anguish on the floor.
Jimmy tells Jey that they will take on Street Profits next week. Jey asks him why he setup the match without asking him first. Jimmy says Roman does not need and he also does not need Roman. He recalls how Jey won the Andre the Giant Battle Royal without Roman. Jey says he will have to still tell Roman about this match. He owes that to him.
After the break, the commentators hype WWE's return to touring. We cut to Roman Reigns sitting in his room. Jey tells him that Jimmy got the match without asking him. Roman takes offense on Jey refering to Jimmy and him as "we" and Roman and Jey are we since they are the family and they are together. Roman hugs Jey while still being angry.
The Street Profits cut a promo and will disrespect the Usos respectfully. They mock The Usos where Montez Ford did an impersonation of Jimmy Uso. Angelo Dawkins says it won't be pretty what they do to The Usos next week. They want the smoke.
Apollo Crews(c) vs Sami Zayn vs Kevin Owens vs Big E – WWE Intercontinental Championship Match
Kayla Braxton catches Sami Zayn at the Gorilla. Sami accuses Kayla of being a corporate hack and a propagandist, and says she wants him to lose his confidence. Sami says no matter what anyone says, he will win back his Intercontinental Title tonight. Sami Zayn enters for the match. Kevin Owens enters next as we cut to the break.
Big E enters after the break. Apollo Crews follows him with Commander Azeez.
Kevin Owens starts by going after Sami. Big E attacks him from behind and Apollo goes after Big E. KO and Sami are down on the floor. Apollo rains down on Big E in the ring. Big E hits a back elbow on Apollo just as KO enters to hit an atomic drop. Sami comes from behind and hits big blows to KO. Sami uses the ropes to hurt Owens. Big E comes and takes Sami out to the floor. He drops Apollo with a forearm before setting up both Apollo and Sami on the apron to hit a splash. KO takes him out with a suicide dive.
After the break, Apollo catches Big E with a dropkick. KO slams Apollo's face into the steel steps and Apollo does the same to KO. Apollo goes to work on Big E when Sami attacks him. Apollo slams his face to the barricade before Sami takes him out with a moonsault. KO takes Sami to the ring to hit a senton. Big E breaks the pin. KO and Big E go at it in the ring. Big E hits a clothesline to drop KO. Apollo drops Big E on the rope and hits a trio of German suplexes. KO break the pin.
Sami hits an exloder suplex to send KO into the turnbuckle. Sami misses the Helluva kick, but also avoids a Stunner. Sami hits the Blue Thunderbomb to get a two-count. Sami goes for a superplex but KO hits an avalanche brainbuster. Apollo comes in and breaks the pin. Apollo hits a knee to Big E as he goes for the spear. Apollo drops KO on the apron. Big E's spear takes him and Apollo to the floor as we go to another commercial.
Apollo hits a suplex on Big E as we return. Apollo keeps Sami and KO out as he keep working on Big E. Azeez hypes Apollo up from the floor. Big E hits a belly to belly on Apollo and then on Sami. Another Belly to belly on Apollo. Sami cuts him off as he was going for the standing splash. KO comes in and Sami avoids pop-up powerbomb. Sami goes for a suplex but KO counters to hit another brainbuster for a two-count. KO goes to the top and Apollo drops him on the turnbuckle. They fight in the corner. Sami hits a headbutt to Apollo. Apollo goes for an exploder on Sami when Big E hits a German suplex on both of them. KO hits a splash on Big E to get a near fall. All four men are down.
KO hits clothesline on Apollo in one corner and hits a cannonball to Sami in the other corner. Big E comes in and gets hit by the German suplex and a cannonball. Sami hits the blue thunderbomb on KO to get a two-count. Sami goes to the top when Apollo fights him off. KO hits superkicks to Sami and Big E and hits pop-up powerbomb on Apollo to get a two-count.
Sami takes KO out to the timekeepers area. Sami Zayn hits an exploder suplex on KO on the floor. Big E hits Urinagi on Sami and then Big Ending on the Apollo. Azeez pulls Big E out to the floor to break the pin. Big E sends him into the ring post. Big E goes back to the ring but sees fog and mist near the entrance. It's Aleister Black, who enters the ring. Big E is shocked. Apollo grabs Big E's legs as Black hits the Black Mass on Big E. Apollo covers Big E to get the pin and the win.
Winner – Apollo Crews(retains Intercontinental title)
Aliester Black back goes to the stage and stares down at the ring as Apollo celebrates with his title. The show goes off the air.