WWE RAW Live Results 12 July 2021: Lashley vs Woods, AJ Styles in Action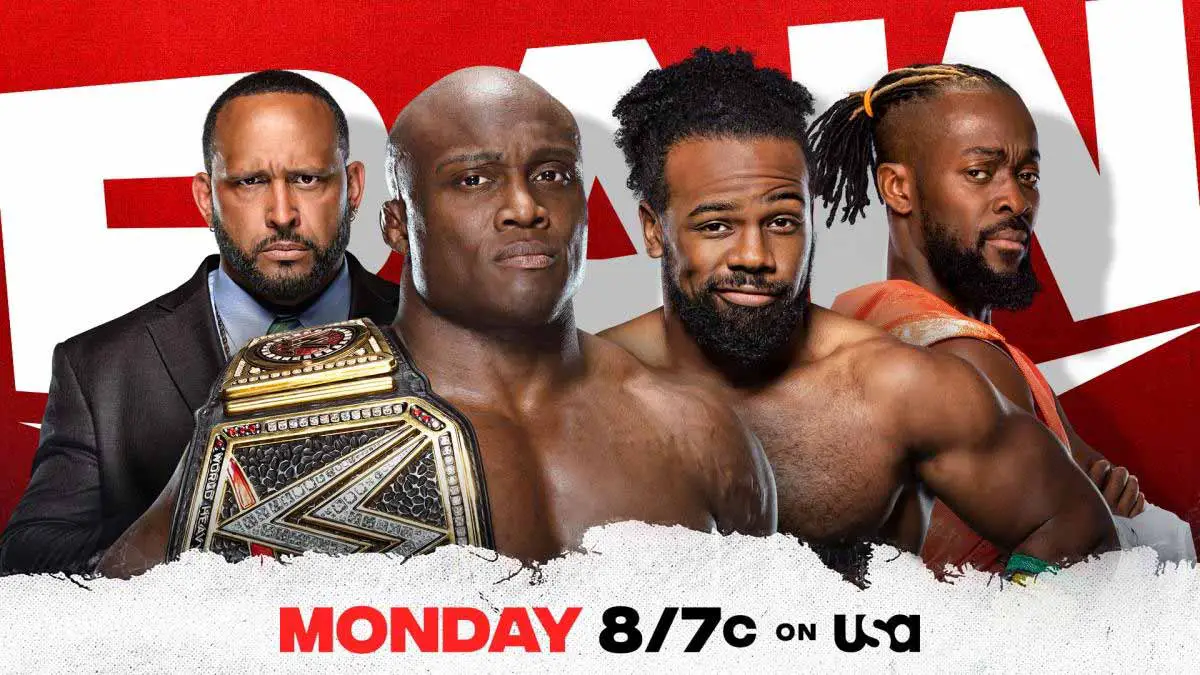 Welcome to the live blog for WWE RAW episode of 12 July 2021. This pre-taped go-home episode for Money in the Bank 2021 has many matches advertised already. Join us as we bring you the live results, updates, winners, and highlights from the RAW 12 July 2021 show. Check here for more details in preview.
Show – WWE Monday Night RAW
Date – 12 July 2021
Location – Yuengling Center, Tampa, FL, US
Time – 8 PM EST(13 July 2021 12 AM GMT/5:30 AM IST)
WWE RAW 12 July 2021 Quick Results
Xavier Woods defeated Bobby Lashley in a singles match via pinfall.
Nikki ASH defeated Asuka, Alexa Bliss & Naomi in a fatal 4-way via pinfall.
Ivar defeated AJ Styles in a singles match via pinfall.
Omos defeated Erik in a singles match via pinfall.
Sheamus(c) defeated Humberto Carrillo in a singles match via pinfall to retain WWE United States Championship.
Ricochet defeated John Morrison in a Falls Count Anywhere match via pinfall.
Rhea Ripley defeated Natalya in a singles match via pinfall.
Bobby Lashley vs Xavier Woods
The show starts with a recap of what happened between Hurt Business and New Day last week. New Day comes out now. MVP hypes Lashley at Gorilla Position before Lashley makes his entrance. Their lady friends are also with them.
Lashley slams Woods face-first into the mat to start the match. Woods puts on a headlock and hits a big boot. He works on Lashley's knee and hits an elbow drop on the back of the head to get a quick two-count. Lashley overpowers Woods and tosses him onto the floor. Lashley then drops Woods on the steel steps and has a face-off with Kofi Kingston as we cut to the break.
Lashley is unloading on Woods in the corner as we return. Lashley hits a big shoulder tackle, and follows with a running tackle. He misses the next tackle in the corner and Woods hits a kick to his face. Woods counters Lashley to hit Tornado DDT. Woods hits a plancha on the floor. Woods hits a roundhouse kick after Lashley drops him on the apron. A splash from the top is followed by a crossface.
Lashley overpowers Woods to hit a side slam. Woods avoids the Dominator once, but Lashley hits a spinebuster and then the Dominator for a near fall. Lashley runs Woods into the ring post. Lashley takes Woods back to the ring and hits a spear. Lashley does not go for the pin though. Woods gets Lashley in an inside cradle and gets the pin out of nowhere.
Winner – Xavier Woods
Lashley is in disbelief as Woods and Kofi celebrate. Kofi taunts Lashley from the floor as Woods recover beside him. Lashley leaves the ring and looks lost as he leaves MVP alone at the ringside.
We see the replay of Woods' win over Lashley after the break. MVP is backstage and is caught by Kevin Patrick who asks him whether Lashley has left the building. MVP says Lashley has indeed left but not to read too much into it. MVP says Lashley will be there in the VIP Lounge later tonight.
We go to the recap from Drew McIntyre vs Jinder Mahal match from last week which ended in a disqualification after Veer and Shanky attacks. Jinder took away Drew's Claymore Sword. We see Jinder entering the arena tonight. He asks for the Sword from Veer and Shanky.
Eva Marie & Doudrop at Alexa's Playground
We cut to Alexa's Playground. Alexa talks about being excited about the return of fans next week. Eva Marie interrupts her. Doudrop is with her. Alexa says Doudrop's name is fun to say. She repeats the name a few times and asks Doudrop to follow. Doudrop does so, but Eva tells her to not repeat it. Alexa asks Doudrop to define her time at RAW in one word. Eva cuts Doudrop and says it is Eva-Lutionary. Alexa says the question was for Doudrop. Eva snaps and says Alexa's Playground is dingy and leaves. Doudrop bids good bye to Alexa and leaves. Alexa is upset at Eva now.
Drew's Sword & Jinder's Bike
Jinder Mahal is in the ring with Veer and Shanky. He says he may have got too far with Drew by taking away his sword. He extends his apologies for it and will
Drew appears on the big screen and says Jinder has been a liar and wants to know what is his plan. Jinder says he got the sword refurbished. He uncovers the sword but it is broken. Jinder says he doesn't know how it happened. Drew says it was a replica and shows that the actual sword is with him. Drew says Jinder's bike is not a replica though and goes to destroys it. Jinder, Veer and Shanky are angry in the ring.
Nikki ASH is at Gorilla Position. Riddle comes up and says why does not she just fly to the top of the ladder and win the Money in the Bank. Nikki says she is almost a superhero and flying isn't for her. Riddle goes on and on and asks Nikki if she knows about his story. Nikki says she has a match next and makes her entrance.
Nikki ASH vs Asuka vs Alexa Bliss vs Naomi
Nikki is in the ring as we return. Asuka, Naomi and Alexa make their entrance for the match. Naomi hits a dropkick on Asuka and Nikki. Naomi takes Alexa to the corner for a corner tackle. Alexa hits a crossbody on Naomi for a two-count. Asuka enters the ring and Nikki gets a pin attempt on her. Asuka kicks at her back and tosses her out. Noami and Asuka go at it now. They miss the kicks at each other, and goes to kick each other at the same time.
Nikki and Alexa get in the ring now. Alexa was going for the Sister Abigail but Nikki thwarts her attempt and hits a dropkick. Alexa and Nikki look at Eva and Doudrop. Noami hits a dropkick on Nikki. Asuka hits a bulldog on Naomi. Alexa hits a spiked DDT on Asuka for a two-count.
Alexa now moves out of the ring and approaches Eva and Doudrop. Alexa goes to scare Eva and Doudrop attacks her with big blows. Doudrop drops Alexa over the barricades. Eva goes to check on Alexa but she is gone. We cut to a break.
Asuka is in control against Nikki and Naomi. She hits some quick kicks and drops kicks on both attempts. Asuka hits a bulldog on Naomi and goes to pin her to get a two-count. Naomi comes back with a kick on Asuka. She also drops Nikki with a flatliner. She tries to get a pin on both Asuka and Nikki for close counts. Nikki hits a tornado DDT on Naomi and Asuka breaks the pin.
Nikki low bridges Asuka to the floor. Naomi counters and goes for a jackknife pin attempt. Nikki kicks out but Naomi modifies it into submission. Asuka comes back and puts Naomi in the Asuka lock. Nikki breaks the hold this time. Nikki hits a headbutt from the top but Naomi breaks the pin. Asuka sends Naomi out of the ring. Asuka and Nikki trade some pin attempts quickly before Nikki finally gets the pin.
Winner – Nikki ASH
We see replay of Riddle pinning AJ Styles last week after some interference by The Viking Raiders. Erik and Ivar are backstage with Sarah Schreiber now. She asks about tonight's singles matches and next week's title shot. Ivar rips AJ and dismisses his idea of how Vikings are. He says AJ will learn to respect the Vikings tonight. Erik says it is Omos's first singles match and he will find a crack in his mighty armor. They raid together.
AJ Styles vs Ivar
AJ Styles enters for the match with Omos. We cut to a break.
After the break, AJ cuts a promo on The Viking Raiders and talks about how he lost his spot for Money In the Bank due to them and how they cost him the match against Riddle last week. Erik and Ivar enter for the match.
The bell rings and AJ hits a big chop to start. Ivar no-sells the chops and overpowers AJ to drop him in the corner. Ivar hits a cannonball in the corner. AJ tries to fight back but Ivar runs him over. Omos tries to interfere from the floor but the referee catches him. AJ takes advantage and delivers a kick from behind.
AJ hits a DDT on Ivar to get a two-count. AJ grounds Ivar but Ivar gets to his feet quickly and throws AJ over with a backdrop. Ivar with a big slam and a low crossbody splash. AJ counters a suplex but Ivar cartwheels out of the way and comes right back, decking AJ for a close 2 count. Ivar walks into a kick from the corner. AJ couldn't get the sunset flip. AJ nails a Pele kick to stun Ivar in the corner. Ivar comes right back out of the corner with the big seated splash for the pin to win.
Winner- Ivar
Erik vs Omos
Erik goes for a waist lock but Omos is too big for him. Omos throws him away. Erik ducks shots and unloads with kicks and punches. Omos levels Erik with a big shot. Erik counters and kicks at the knee from behind. Omos is unpertubed by it. Omos runs into boots in the corner. Omos puts on a bear hug in the middle Erik tries to fight free but Omos drops him to the mat.
Omos throws Erik across the ring. Omos misses a running shot into the corner. Erik unloads on Omos. Omos comes back with a running clothesline. Omos yells at Erik while standing over him as fans boo. AJ tells Omos to finish off Erik. Omos hits the double arm chokeslam to get the pin and the win.
Winner – Omos
Sheamus(c) vs Humberto Carrillo – WWE United States Championship Match
Carrillo is barely able to stand in the ring. Sheamus hits a brogue kick and gets the pin.
Winner – Sheamus(retains US Title)
After the match, Sheamus celebrates in the ring. He once again attacks Carrillo and stomps on him viciously for a while. Damian Priest comes out to make the save. Sheamus runs away without getting into a brawl.