UFC Vegas 50 | Fight Night 203- Weigh-In Results, Live Video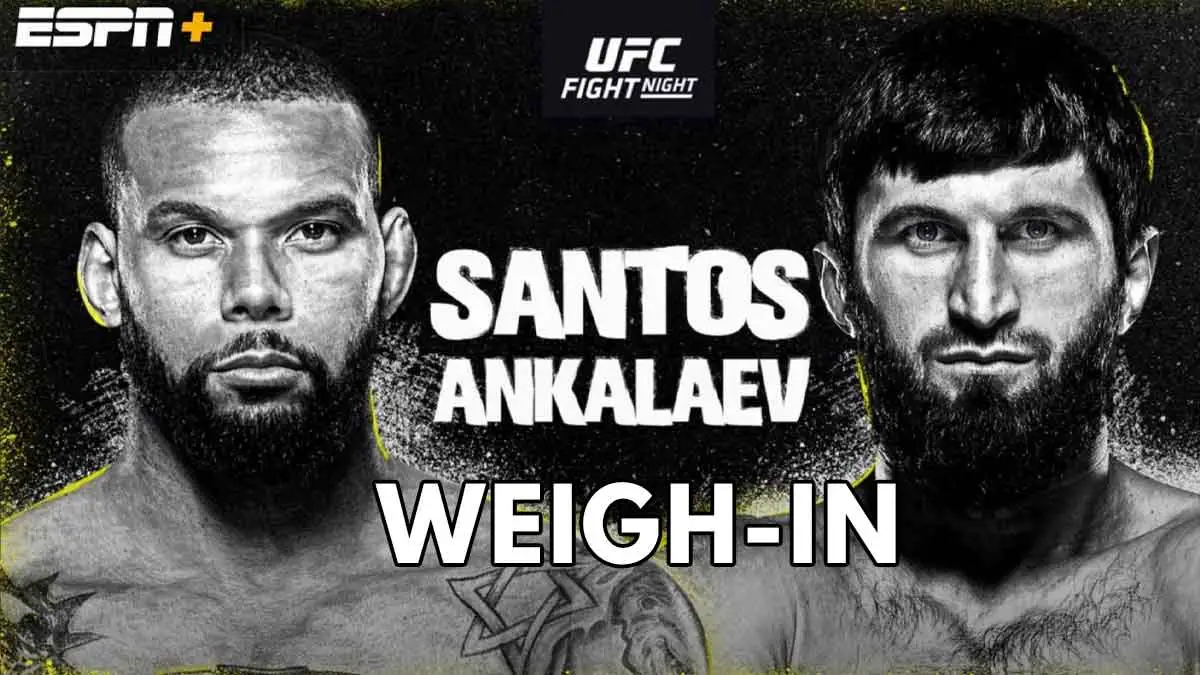 The weigh-ins for UFC Vegas 50: Santos vs Ankalaev will start from 12 PM ET on March 11, 2022, from Apex Arena in Las Vegas, NV.
The main event Light Heavyweights – Thiago Santos and Magomed Ankalev will step up on the scale along with 26 others. This includes Alex Periera, who will be stepping in his second UFC bout. Co-headliners Marlon Moraes and Song Yadong will also try to come under bantamweight limits.
Check here for the live updates from the weigh-in event for UFC Vegas 50 or UFC Fight Night 203. Also, find the live streaming of weigh-in below.
Weigh-In Results
Thiago Santos (205.5 lbs) vs. Magomed Ankalaev (205 lbs) – Light Heavyweights
Marlon Moraes (135 lbs) vs Song Yadong (135.5 lbs) – Bantamweights
Alex Caceres (145 lbs) vs. Sodiq Yusuff (145.5 lbs) – Featherweights
Khalil Rountree Jr. (205 lbs) vs Karl Roberson (203 lbs) – Light Heavyweights
Drew Dober (155 lbs) vs Terrance McKinney (156 lbs) – Lightweights
Alex Pereira (186 lbs) vs Bruno Silva (185.5 lbs) – Middleweights
Matthew Semelsberger (169 lbs) vs A.J. Fletcher (170 lbs) – Welterweights
JJ Aldrich (125.5 lbs) vs Gillian Robertson (125.5 lbs) – Flyweights
Trevin Jones (135 lbs) vs Javid Basharat (136 lbs) – Bantamweights
Damon Jackson (145.5 lbs) vs Kamuela Kirk (145 lbs) – Featherweights
Miranda Maverick (125.5 lbs) vs. Sabina Mazo (125.5 lbs) – Flyweights
Dalcha Lungiambula (186 lbs) vs Cody Brundage (185.5 lbs) – Middleweights
Guido Cannetti (136 lbs) vs Kris Moutinho (135 lbs) – Bantamweights
Azamat Murzakanov (205.5 lbs) vs. Tafon Nchukwi (205.5 lbs) – Light Heavyweights